Alex Len: Breaking Down Star Power and Bust Potential for Maryland Star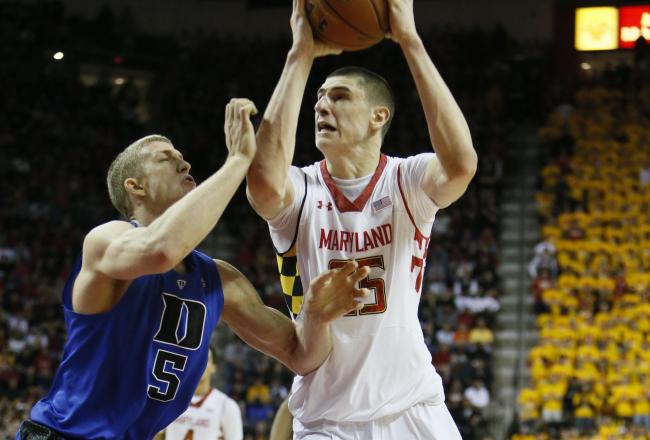 Mitch Stringer-USA TODAY Sports
Maryland center Alex Len has established himself as one of the premier NBA draft prospects in the country. He showed promise as a freshman and is fulfilling it as a sophomore.
While most of the prospects in the projected 2013 field are likely of the supporting cast variety, Len has the chance to be a featured member of a pro offense.
Let's take a look at what gives him star power, and what would have to happen for him to bust as a draft pick.
Physical Tools
The numbers don't lie. Alex Len is an easy 7'1'' with a monstrous wingspan that projects somewhere in the 7'1'' to 7'3'' range.
All it takes is a mini-hop for his fingers to reach the rim.
He's got a strong frame that has not yet developed, meaning his upper-body strength is only going to build.
Athletically, Len is light on his feet, and at times shows eye-opening agility and nimble footwork when dealing inside. When given room, he has the ability to explode at the rim and finish with authority, combining power and length to form a deadly combination.
Post Game
Len has shown flashes of a post game that could make him a legitimate No. 2 scoring option in an NBA rotation.
With room to operate, Len has the shiftiness to shake his defender and create separation over either shoulder. With an extremely high release point, Len has no trouble getting off uncontested looks. He also sports a soft touch in the paint and on his mid-range jumper.
The first play shown below has Alex Len isolated against Kentucky's Willie Cauley-Stein, a seven-foot athlete who resembles a realistic NBA defender. Len uses two dribbles and a pump fake to separate and turn over his right shoulder, a difficult move for righties to pull off.
For most big men, getting off the shot is half the battle, but that's just not a problem for the 7'1'' Len. If he can start converting them with consistency, he's going to command routine double-teams at the NBA level.
He also shows a nice touch in the mid-range facing up. If he becomes a threat here, it will open up a few more avenues for Len to explore for points. Because of Len's mobility and ability to attack the rim, defenders would have to choose whether to play off or sit back. A mid-range jumper gives him more offensive options, and makes Len a multidimensional threat with the ball in his hands.
In the first play below, Len and teammate Nick Faust execute a perfect pick-and-pop, with Len setting the screen, drifting to space and converting the catch-and-shoot jumper.
As a finisher at the rim, Len isn't just relegated to catching and dunking. While Len can get high enough off the ground where he can throw it down over a defender, he also has the agility to elude defenders in the air and finish acrobatically.
In the first play below, Len finds a way to avoid disruptive arms and pull off the up-and-under reverse. It's an example of how he can turn a difficult, contested look into an easy scoring opportunity.
Star Power
Alex Len is one of the few, if any, NBA prospects in this year's projected draft class that has the potential to become a star.
Check off the size and athleticism, check off the skill set and check off the desire and intensity.
The only thing holding this kid back will be consistency. Though only 19 years old, he doesn't always make his presence felt. Part of that has to do with Maryland's offense, which is too quick to audible if the initial entry pass isn't available.
Along with his offensive skills, Len also projects as a two-way defensive rim protector.
Overall, if Len can sustain the ups and minimize the downs, he's got every trick in the bag shared by the top centers in the game.
Bust Potential
We've just seen so many raw big men never reach their potential. Does Len have the chance to be a bust? Well I suppose it depends on where he goes in the draft, and how you define a bust.
I don't think there's any question that Len will have a long career in the league, whether it's as a starter or a reserve. But this isn't a guy like Cole Aldrich, who was taken No. 11 overall and can barely sniff the floor.
It's possible that Len never reaches All-Star status, but his basement is high enough to keep him from sticking to the bench. Len will be a regular contributor for years to come, with a ceiling that's capable of anchoring an offense and a defense.
This article is
What is the duplicate article?
Why is this article offensive?
Where is this article plagiarized from?
Why is this article poorly edited?