Pac-12 Football: Biggest Spring Wide Receiver Battles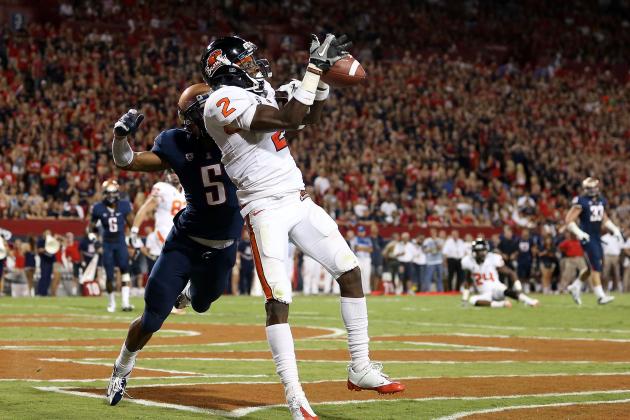 Christian Petersen/Getty Images
Oregon State receiver Markus Wheaton
The Pac-12 consistently produces some of the best wide receivers in the country every year, and this year is no different.
Oregon State's Markus Wheaton, USC's Robert Woods, Cal's Keenan Allen and Arizona's Dan Buckner are just a few of the elite receivers that will now be playing on Sundays instead of Saturdays.
Who's going to fill those big shoes?
Almost every Pac-12 team will have a battle for the wide receiver position this spring. Only four schools don't appear to have their depth charts' top slots up for grabs at the receiver position; Colorado, Oregon, Washington and Washington State all return with their top receivers.
For eight other teams, it's time to grind it out in spring practice and find another playmaker(s) with great hands.
Begin Slideshow

»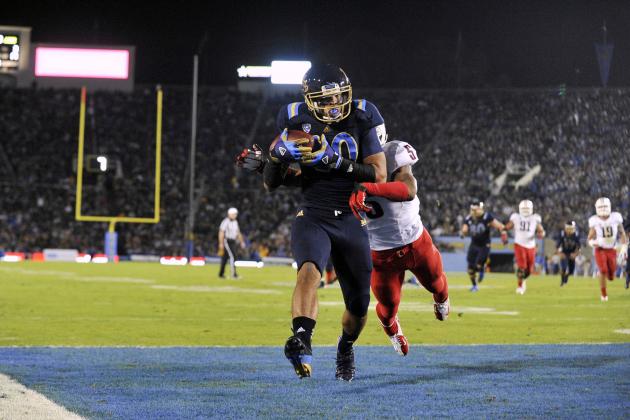 Andrew Fielding-USA TODAY Sports
UCLA's Jordan Payton
The good news for UCLA is that Shaquelle Evans will return for another year, but the bad news is that they lose their second-leading wide receiver, Jerry Johnson.
Devin Lucien (10 receptions, 188 yards) and Jordan Payton (18 catches, 202 yards and one touchdown) were the primary reserves last year, so they should be the leading contenders. They will have some competition this spring from true freshman 4-star Eldridge Massington who has already enrolled at UCLA.
Other receivers in the battle: Kenneth Walker (11 catches, 87 yards), Logan Sweet (two catches, 47 yards), and Jerry Rice Jr. (seven catches, 52 yards).
Jayne Kamin-Oncea-USA TODAY Sports
Nelson Agholor
Robert Woods declared early for the 2013 NFL Draft. And while the Trojans take a big hit losing him, they still have Marqise Lee.
The problem for USC is that it must find another great receiver to take the defensive pressure off of Lee, who was routinely double-teamed last season.
USC, despite scholarship restrictions, has great depth at wide receiver. Nelson Agholor (19 catches, 340 yards and two touchdowns) looks like a solid candidate for the top spot—against Oregon, he hauled in six catches for 162 yards and one touchdown.
George Farmer, if he can stay healthy through practice, could finally live up to his 5-star hype. He's had two years of various injuries that have kept him from challenging for a starting spot.
Finally, De'Von Flournoy and Victor Blackwell are sleepers.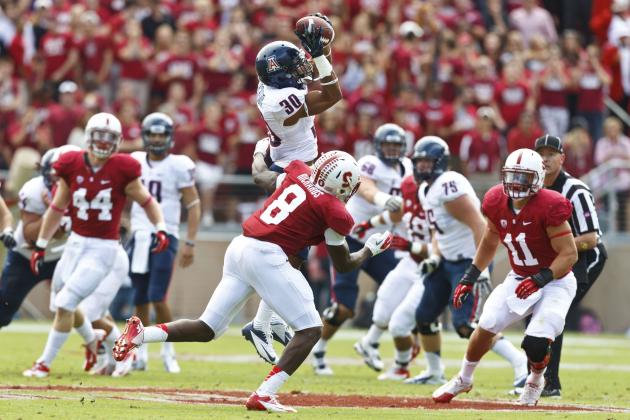 Jason O. Watson/Getty Images
Johnny Jackson
The Wildcats lose their second-leading receiver in Dan Buckner (61 receptions, 773 yards, five touchdowns). The good news is Austin Hill returns. Arizona usually runs a three-receiver set, so with Hill and Garic Wharton back, they need at least one other receiver to solidify the depth chart.
Johnny Jackson (25 catches, 187 yards, one touchdown) looks like the guy to beat—he missed some playing time due to injury but Garic Wharton (19 catches, 264 yards, two touchdowns) filled in nicely.
Richard Morrison (23 catches, 171, two touchdowns) also has a shot here—his role became more muddled when he stepped in as the Wildcats' punt returner, but he will certainly challenge at the wide receiver position.
Arizona should be in good shape for this spring because so many receivers have game day experience.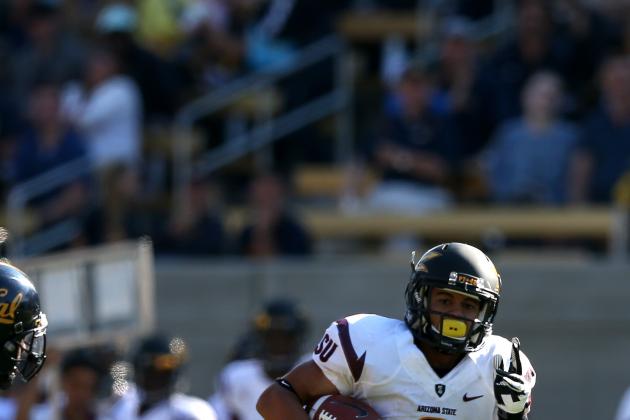 Ezra Shaw/Getty Images
D.J. Foster
Wide receivers Rashad Ross, Jamal Miles and J.J. Holliday are all now no longer on the team.
Both D.J. Foster (38 catches, 533 yards, four touchdowns) and Kevin Ozier (21 catches, 324 yards, five touchdowns) return, and they look like the top guys to compete for a starting role.
Other receivers who will challenge: Richard Smith (14 catches, 141 yards, two touchdowns), Alonzo Agwuenu (11 catches, 115 yards, one touchdown) and Kyle Middlebrooks (one catch, six yards), who converted from running back to wide receiver.
JUCO Jaelen Strong signed his letter of intent, but it appears that his anticipated arrival will have to wait a year. 247 Sports National Recruiting Director JC Shurburtt informed me that Strong has reclassified to 2014.
Stephen Dunn/Getty Images
Dres Anderson
With Dennis Erickson now hired as the Utes' co-offensive coordinator, expect the offense to become "pass happy."
Utah's passing game was pretty much non-existent last season—the most productive Ute receiver, Dres Anderson (36 catches, 365 yards, three touchdowns), finished with a No. 33 ranking in the league. Anderson returns along with Kenneth Scott (32 catches, 360 yards, three touchdowns).
Devonte Christopher (22 catches, 301 yards, two touchdowns) and Luke Matthews (19 catches, 204 yards) are gone.
The competition at wide receiver should be interesting with the Ute offense getting a little excitement injected back into it—Utah's total offense was ranked No. 11 in the league last season.
Anthony Denham (11 catches, 135 yards) could make a strong push this spring, but I'm actually looking forward to what JUCO transfer Andre Lewis brings to camp.
At 6'4", 220 pounds, Lewis could be that big target Utah has been looking for, but that may have to wait until fall camp—as of Jan. 9, Lewis hadn't enrolled.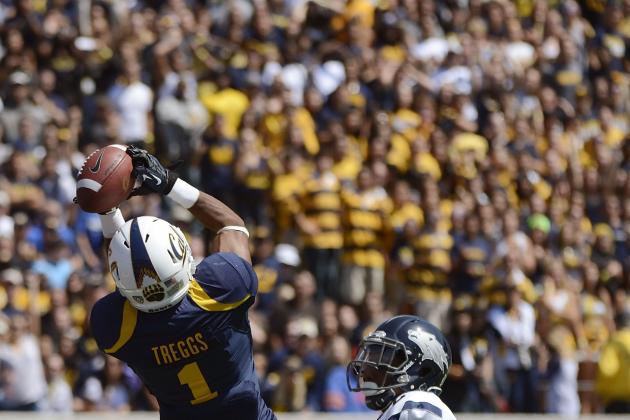 Thearon W. Henderson/Getty Images
Bryce Treggs
Keenan Allen has declared early for the 2013 NFL Draft. And while the Golden Bears take a big hit, wide receivers in Chris Harper (41 catches, 544 yards, two touchdowns) and Bryce Treggs (21 catches, 216 yards, one touchdown) return in hopes of remaining productive.
Normally, the battle for starting receiver wouldn't be an issue with two experienced receivers returning, but new head coach Sonny Dykes will be running an Air Raid offense, which means the offense will have five receivers seeing a lot of playing time.
Expect to see an aerial show at spring practice with everyone battling for the top spots at receiver.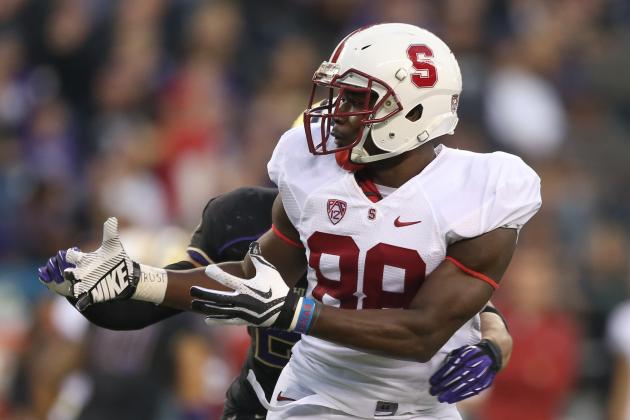 Otto Greule Jr/Getty Images
Ty Montgomery
Not only does Stanford lose its team leader in receptions (tight end Zach Ertz), but it also loses its most productive wide receiver Drew Terrell (33 catches. 463 yards, four touchdowns).
Stanford relies heavily on its tight ends, so with Ertz (and early NFL defector Levine Toilolo) gone the wide receivers might have to pick up some slack this year.
As far as experienced receivers returning, the Cardinals have three receivers who each had one reception last year: Devin Cajuste, Sam Knapp and Jordan Pratt.
The most experienced returning receiver, Ty Montgomery (26 catches, 213 yards), looks like the top guy everyone else will be challenging.
Keep your eyes on 4-star freshman Francis Owusu who could make an immediate impact in fall camp.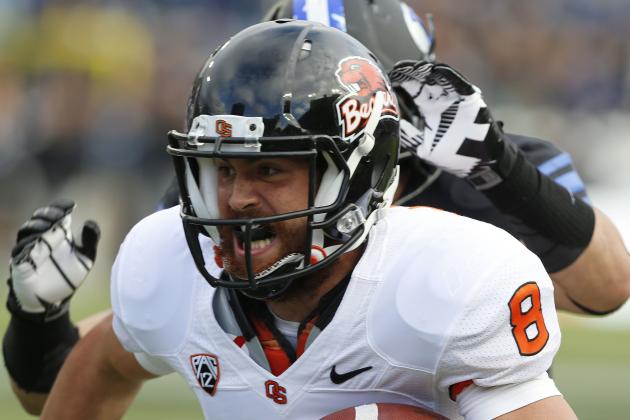 George Frey/Getty Images
Richard Mullaney
The Beavers lose one of the league's best receivers in Markus Wheaton, who was also ranked No. 17 nationally. The other half of the dynamic duo, Brandin Cooks (67 catches, 1,151 yards and five touchdowns), returns but the Beavers will have to find another big target to avoid having Cooks double-teamed on every play.
Kevin Cummings (18 catches, 208 yards, one touchdown), Obum Gwacham (two catches, 12 yards, one touchdown), Micah Hatfield (nine catches, 86 yards, two touchdowns), Richard Mullaney (13 catches, 156 yards, one touchdown) and Mitch Singler (four catches, 64 yards) all have some experience and should be in the mix.
Keep your eyes on Richard Mullaney.