SEC Offenses That Won't Struggle vs. Alabama in 2013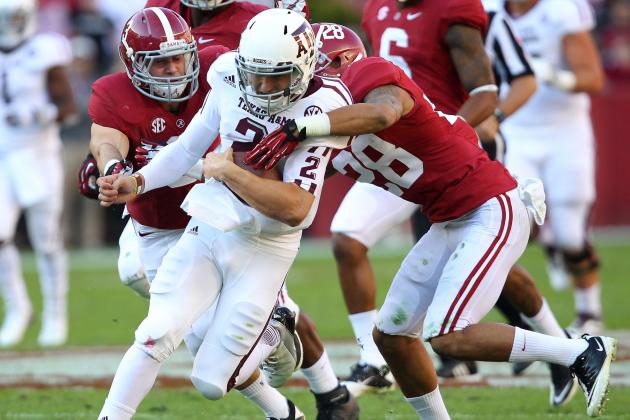 Mike Zarrilli/Getty Images

That Alabama defense is going to remain one of the best in all of college football with seven starters returning. Nick Saban and defensive coordinator Kirby Smart will make sure that some of the younger guys are ready to fill in their roles and keep this unit near the top once again. But while this conference is known for defensive production, the offensive side of the ball is slowly coming to life.
There were three SEC teams that finished in the top 25 in total offense last season, and a total of six offenses averaged more than 400 total yards a game. This conference still has a long way to go before becoming Pac-12 or Big 12 status, but there are offenses that can put up numbers and present you with balanced football on Saturdays.
The question now is which of these SEC teams will be able to move the ball on the Crimson Tide next year without running into issues?
The answer may actually surprise you.
As we break down the SEC schedule for Alabama next season and how some of the teams are looking, here are the offenses that will give Saban a few headaches on game day.

Note: All stats come from cfbstats.com unless otherwise noted.
Begin Slideshow

»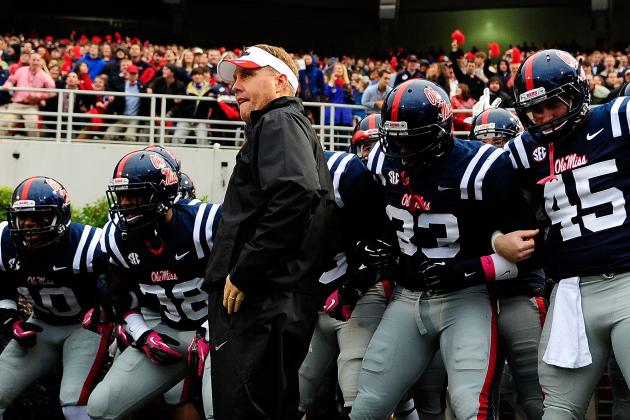 Stacy Revere/Getty Images

Ole Miss: You have to love the direction Ole Miss is heading as a team, but there simply isn't enough offensive firepower to get excited. These teams met last season and the Rebels were held to only 14 points and a subpar 218 total yards. Quarterback Bo Wallace and running back Jeff Scott are nice pieces with potential, but you have to go with the more talented Alabama defense in this matchup.
Kentucky: Unless we are talking about college basketball, Kentucky and the offense stand absolutely no shot. This team couldn't do much of anything right last year, and is now starting the season off with a new coaching staff that usually always results in growing pains. Alabama has won 18 of the last 19 matchups against the Wildcats and it is hard seeing that trend come to an end, particularly because of the stifling Tide defense.
Arkansas: Last season the Razorbacks offense was supposed to be one of the best in college football. Well, when it met Alabama, it only produced 137 total yards and turned the ball over an inexcusable five times. Now Arkansas has to find a new quarterback, will likely start a true freshman in Alex Collins at the running back position and has to replace three starting offensive linemen. It won't get any easier for the folks out in Fayetteville.
Tennessee: Put Tyler Bray, Cordarrelle Patterson and Justin Hunter back on this team and the Volunteers would at the top of this list to give the Alabama defense a stiff test. Unfortunately, all of them have decided to leave early for the NFL draft and force head coach Butch Jones to pick up all of the pieces. The Volunteers have no real answer at quarterback, must replace all of the starting wide receivers and have to improve a running game that ranked eighth in the SEC. I'll take my chances with Nick Saban and his guys.
Mississippi State: I almost gave the Bulldogs a shot in this one. I really think Tyler Russell has the ability to become one of the better quarterbacks in this conference. I also like the fact that a 1,000-yard rusher in LaDarius Perkins is returning for his senior year. However, Mississippi State hasn't exactly fared well against ranked opponents in the past under head coach Dan Mullen, and only managed 47 yards on the ground in last year's meeting. You have to play the percentages and figure it won't be easy for a program that lost five of its last six games a year ago.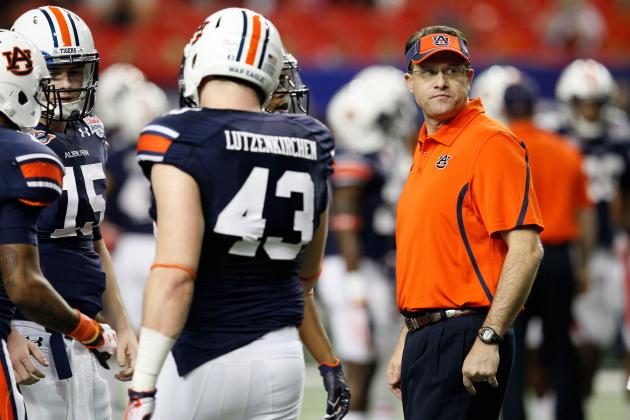 Kevin C. Cox/Getty Images

Whoops.
It looks like I'm going out on a limb on this one. The team that ranked dead last in the SEC in offensive production a season ago will have success against Alabama's defense.
Why?
Well, you have to absolutely love the hire of head coach Gus Malzahn, somebody who has had offensive success everywhere he has coached. He was even the offensive coordinator of the Tigers national championship team back in 2010, the same team that dropped 28 points and 324 total yards on the Crimson Tide. This is also a matchup that will take place during the last week of the regular season and will be held in Jordan-Hare Stadium, giving the new coach plenty of time to iron out any weaknesses.
There isn't a Cam Newton to bail Malzahn out, but he does have two dual-threat quarterbacks in Kiehl Frazier and Jonathan Wallace, guys who do have upside and will be used properly in the spread offense. There is also a 1,000-yard rusher with Tre Mason returning, as well as four of the five starters on the offensive line.
I can promise that the Tigers won't be so lousy on the offensive side of the ball next season and with the perfect storm building heading into rivalry week, the Auburn offense will give Alabama all it can handle.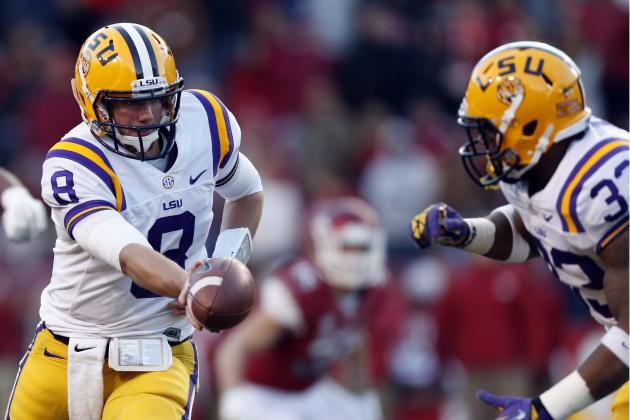 Wesley Hitt/Getty Images

LSU has been an offense to fear the last several years under head coach Les Miles. No, the quarterback play hasn't been a thing of beauty, but when you have a talented offensive line and a backfield loaded with numerous great runners, you tend to put together a string of success.
After all, this is a team that usually ranks near the top in the SEC in rushing yards and has racked up a combined 1,107 total yards in the last three games against Alabama.
Now the Tigers have an accomplished offensive coordinator in Cam Cameron calling the shots and it should help things moving forward. With his Air Coryell attack being installed, Cameron will be able to take advantage of the LSU running game and help set up the vertical attack, which should result in bigger plays in the passing game. We saw this at his most recent stint with the Baltimore Ravens, as quarterback Joe Flacco has built a reputation of being one of the best deep passers in the NFL.
The offense continues to have arguably the deepest backfield in the country with Jeremy Hill, Kenny Hilliard and Alfred Blue carrying the way. As long as the ground-and-pound style of play continues to be successful in Baton Rouge, even defenses like Alabama will have a hard time trying to stop it.
Forget about the rocky play of quarterback Zach Mettenberger. LSU is one of the few offenses in the country that can get away with being one-dimensional because it is extremely good at what it does.
The Tigers will once again give Alabama a run for its money when they make a trip to Bryant-Denny Stadium.
Scott Halleran/Getty Images

One of the early college football games of the 2013 schedule that everybody and their sister will be watching is when Alabama takes a trip to Kyle Field. Last year's meeting against the Aggies didn't quite go so well for Alabama, and with all of the offensive firepower returning, it isn't farfetched to believe that Texas A&M could once again take it to the Tide's defense.
The guy that makes this Aggies offense work starts and ends with quarterback Johnny Manziel. The first freshman ever to win a Heisman Trophy, Manziel is able to do things on the football field we haven't seen in a long time. His ability to buy extra time in the pocket and outrun most defenders, "Johnny Football" is the definition of a playmaker and difficult to prepare against.
Manziel is somebody who can do a little bit of everything, as Nick Saban told Alex Scarborough of ESPN last year:
He's a really good player, a really good competitor and that's who this guy reminds me of. He can throw it. ...He's extremely quick. He's very instinctive, has a unique ability to extend plays and seems to know when to take off and run it. And when he scrambles and makes plays he's throwing the ball downfield.
But Texas A&M also has a deep backfield with Ben Malena and Trey Williams carrying the load, two talented backs that are sure to receive more touches this season. There are also a few talented receivers with Mike Evans returning for his sophomore year and 2013 recruits JaQuay Williams and Sebastian LaRue ready to make a splash as true freshmen.
The Aggies dropped 418 total yards in last year's meeting and was the only team to knock off the defending national champions. The offense was able to do pretty much anything it wanted for 60 minutes, and with a unit that appears to be even better on paper, fans in Tuscaloosa could be shocked for the second time by the SEC newbie.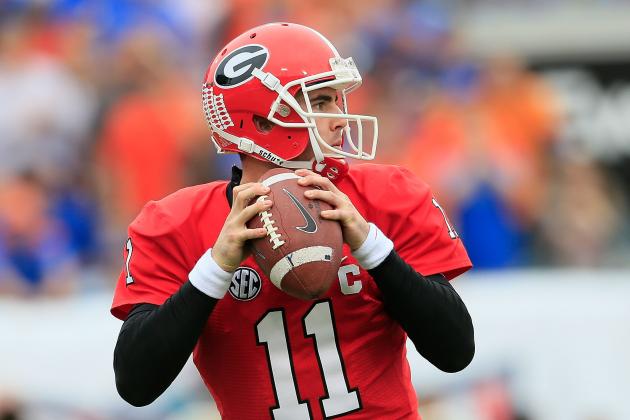 Sam Greenwood/Getty Images

I know, Alabama lucked out and won't have to play Georgia once again in the regular season. However, if everything pans out the way it looks on paper, there is a good chance that both of these SEC powerhouses could meet again in the SEC Championship Game.
How fun would that be?
As far as the Bulldogs offense is concerned, I have already written how I feel about this group of guys. Easily one of the best units in the entire country, Georgia has the players in place that could score on any defense in college football and may give a few NFL defenses a hard time. Okay, I kid, but seriously, this is a scary bunch.
Quarterback Aaron Murray may be the best NFL prospect at the quarterback position heading into the 2013 season and has put up off-the-chart numbers throughout his career. A combination of Todd Gurley and Keith Marshall at running back may be the best one-two punch in the SEC. There is also a solid receiving corps of Malcolm Mitchell, Michael Bennett and tight end Arthur Lynch that is very talented and could in fact improve last year's numbers.
I must have forgotten to mention that all five starting offensive linemen are also returning to Athens.
Georgia had the third best offense in the SEC last season and gave every fan in Tuscaloosa a near heart attack in the conference title game a season ago. As long as this group can take care of business and remain healthy throughout the year, Nick Saban and his boys will once again find it difficult to slow down this high-powered offense.