Defining Draft-Day Moments for the Baltimore Ravens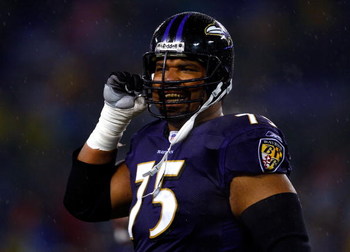 In the relatively short history of the Ravens' franchise, their success has almost perfectly coincided with draft-day choices. Ozzie Newsome is a respected GM throughout the league, mostly for what he can do through the draft.
Let's take a look at the highlights of those draft days for the Ravens. Highlights meaning, of course, both highs and lows that affected the franchise long-term.
1996 - First Round - Jonathan Ogden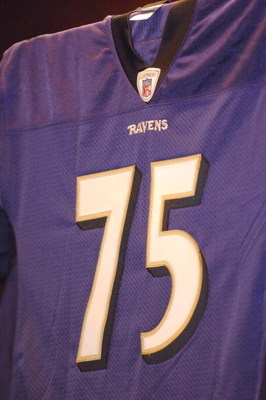 Why not start with the obvious? With the first pick in the history of the franchise, the Ravens chose a first ballot hall of famer. He would go on to anchor the left side of the offensive line for 12 years.
His 11 Pro Bowl selections is proof of his dominance for a team that utilizes its running game to the fullest.
1996 - First Round - Ray Lewis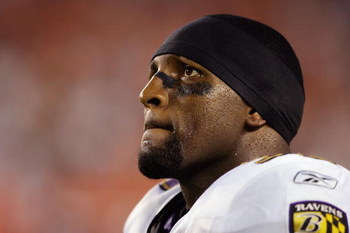 How about another obvious one? In the same round as Ogden, Ray Lewis was picked. The middle linebacker and left tackle quickly became the faces of the team, and stayed that way for over a decade.
Lewis himself would become a two-time Defensive Player of the Year, Super Bowl MVP, and multiple Pro Bowl selections. Even 13 years after his draft day pickup, when people think of the Baltimore Ravens they tend to think of Ray Lewis.
1997 - First Round - Peter Boulware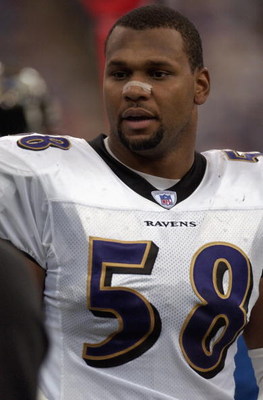 This pick, along with the selection of Jamie Sharper in the second round of the draft, would be the beginning of the formation of the Ravens defense. Boulware became a town favorite and an offensive coordinator's nightmare.
His versatility and hard hitting mentality created serious matchup problems as outside linebacker.
He eventually helped win the 2001 Super Bowl and established the defensive mentality that the Ravens have carried ever since.
2000 - Sixth Round - Adalius Thomas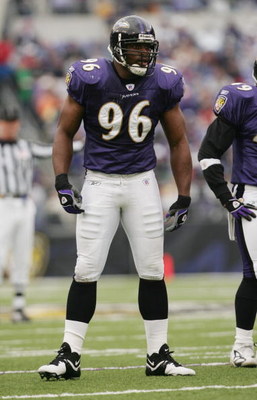 Adalius also became a town favorite because of his workmanship mentality. Drafted in a round where most guys disappear after a few years, Thomas worked his butt off to move his way up.
Specializing on Special Teams, he became the anchor of a unit that would be crucial to the Ravens success in the years of offensive struggles. After earning a spot on the starting defensive rotation, he flourished as another versatile hard hitter.
He is the model for what 6th Round picks can become in the Ravens system.
2000 - First Round - Lewis and Taylor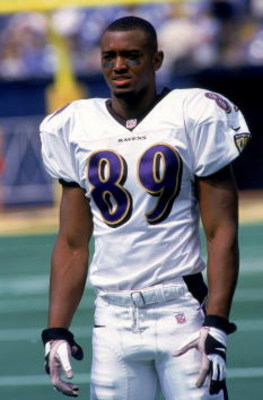 The first year in which the Ravens selected Offensive players in the first round would feature both a bust and a success. Jamal Lewis became the most important component of the offense his rookie year.
He would go on to help win a Super Bowl that same year, mostly because of a strong defense and Lewis' power running game.
He would stay successful, however, being the staple of a poor offense until 2008. In that time, he would register big yardage totals, including a 2000 yard season. Travis Taylor, on the other hand, became the model for the Ravens offensive struggles.
A first round bust, Taylor would haunt the poor Ravens offense with inconsistency and dropped passes. He was the first attempt to draft a premiere WR, something that the franchise has struggled with ever since.
2002 - First Round - Ed Reed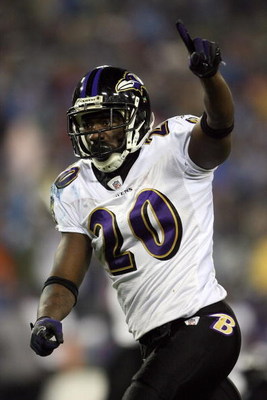 Safety Ed Reed, along with Ray Lewis, is the type of defensive player that has become the staple of the Ravens Defense. Not only does he scare opposing offenses with his tackling and gameday ability, but he can legitimately be called a playmaker.
His high interception totals every season only scratches the surface of what he does on the field. When he touches the ball, he seemingly makes a game-changing play every single time.
Anchoring the secondary, Ed Reed is already being called one of the greatest safeties of all time. That's not something you can say about most of a team's draft choices.
2003/2004 - Kyle Boller
In 2003, the Ravens made a solid first round selection with Terrell Suggs. He has been a pro bowl player and primary pass-rusher for the Ravens since. Then the Ravens traded their 2004 first round pick to move up and select Kyle Boller later in the 2003 first round.
Trading up for a franchise quarterback is something any team would do. However, Boller certainly never became the franchise quarterback. He struggled his rookie year as a starter and never really made the necessary strides to become a star QB.
He teased fans with flashes of greatness for five years before they drafted another first round QB in 2008
2004 - ALL OF IT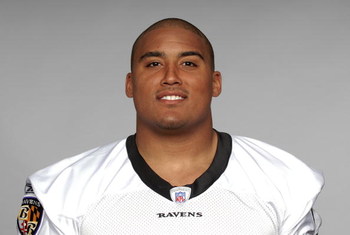 With the 2004 First Round Pick being traded away to acquire Boller, the second Round Pick became even more important. The selection of Dwan Edwards can not be seen as a successful second round pick.
Struggling for playing time, defensive lineman Edwards never showed the explosiveness he did in college.
He is an average player that has become a Ravens backup. The rest of the 2004 draft did not go so well either. No one else that year was on the 2008 roster.
Two WRs were drafted in which both struggled for years before leaving the team and the others did not last long either.
This continued the Ravens' WR struggles. Years after the Boller/2004 failure, GM Ozzie Newsome admitted the whole thing was a mistake. He vowed to never trade away a first-round pick again.
2005 - First Round - Mark Clayton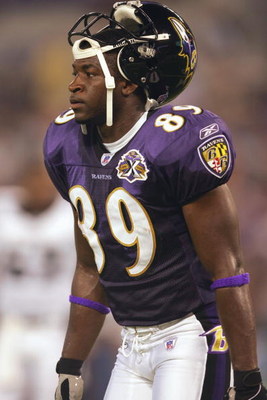 The most current stab at drafting a star WR, Mark Clayton has not been labelled as one yet. After two promising seasons to start his career, Clayton looked like he was ready to help the Ravens passing issues.
However, he has been inconsistent ever since.
He seemingly disappears in some games and mostly works the sidelines for short passes. With Joe Flacco at QB in 2008, Clayton improved his down-the-field receiving game, having a few huge weeks.
Even with that, Clayton's future with the team is up for grabs after he is a free agent in 2010. He has one more year to prove that he was worth a first round pick, something he has not done yet.
2006 - First Round - Haloti Ngata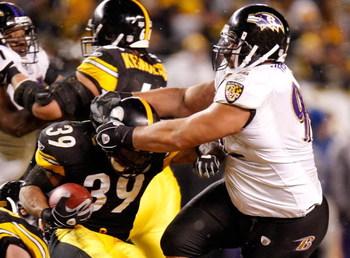 Severely under-appreciated, Haloti Ngata has become the foundation of a dominant Ravens defense. As the nose guard, Ngata sucks up multiple blockers and still manages to make tackles and occasionally sacks.
His unparalleled athleticism for his position allows him to be a complete disruptive force that running games fear.
Knowing that GM Ozzie Newsome rarely lets go of First Round successes, Ngata will be the inside force for the Ravens defense for many years.
2006 - Second Day Picks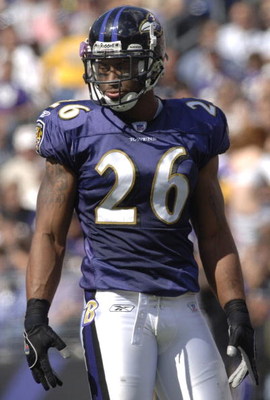 Though many didn't know it on draft day, 2006 became one of the Ravens most successful drafts. Ngata was a known talent in the first round, but its the second day picks that became important surprises.
WR Demetrius Williams in the fourth round is probably the most talented receiver the Ravens have ever drafted. He has struggled with injury issues, but many still believe he can be a star in the Ravens new offense.
In the fifth round, the Ravens picked up S Dawan Landy and TE Quinn Sypniewski. Landry started his rookie year and seems to be the perfect complement to Ed Reed.
His sure tackling and lack of mistakes fit right into a secondary that takes chances.
With the current crop of fast and small CBs that the Ravens are acquiring, his tackling ability will be crucial to the defense's success. Sypniewski started in 2007 after multiple other TE injuries and played well.
He seems to be the heir apparent to Todd Heap, possessing great blocking ability and sure hands. In the sixth Round, the Ravens picked Punter Sam Koch. His rise to pro bowl caliber Punter has helped the Ravens immensely.
In 2008, his dominance at the end of the season was a huge reason why the team reached the AFC Championship Game.
The fact that he has improved every season is remarkable. Many believe he will continue to be the Ravens punter for many years. These second day successes are a sign of Ozzie Newsome's resurgence as a master draft day GM.
2008 - First Round - Joe Flacco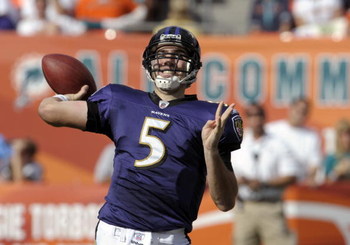 Is there any more important first Round Pick than a QB? As the Ravens can attest to, when you draft a first Round QB, you are taking a risk. Their failure can set your franchise back five years, but their success can set up your team for an era of winning football.
Just ask the Colts and Patriots.
After Boller had finally been dubbed a bust, GM Newsome made a few draft day moves to acquire Flacco earlier than most teams expected. Strange circumstances made him the starting QB week one, something the Ravens were trying to avoid.
However, Flacco quickly showed that he can be a star QB in the NFL. In his rookie year, he took the team to the AFC Championship Game and won two playoff games on the road, something no rookie QB has ever done.
His big arm and smart decision-making set him up for a huge career in football. For the Ravens especially, Flacco is a bright spot for the future of an offense that has struggled for 10 years.
Keep Reading

Baltimore Ravens: Like this team?