Duke Basketball: 5 Signs the Blue Devils Are Ready for a Deep Run in March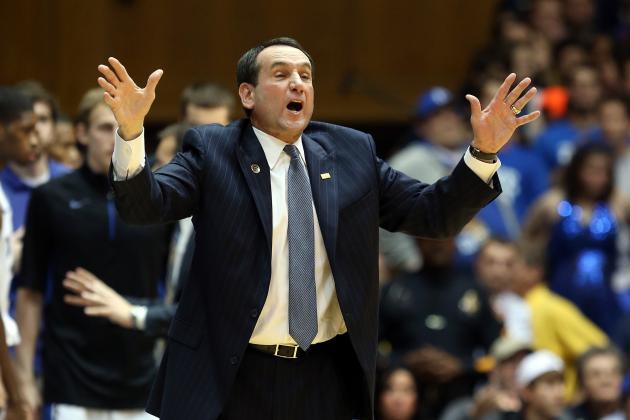 Streeter Lecka/Getty Images

As a Duke fan, it's easy to be overly critical of the Blue Devils. The team has familiarized its followers with success to such an extent that even the slightest short-coming comes off as a glaring failure when compared to high standards set by Duke teams of the past.
Moreover, basketball itself is a game centered around failure. Teams typically shoot just over 40 percent from the field, which means that the majority of possessions end in a missed shot or a turnover.
Despite all those various impulses toward negativity, there are reasons to feel good about this Duke team. It's been a season full of surprises and lingering frustrations, but even still, there are at least five good reasons that the Blue Devils are capable of a deep run in March.
Begin Slideshow

»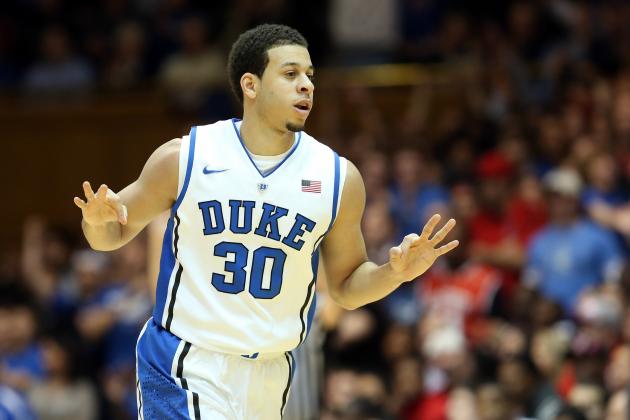 Streeter Lecka/Getty Images

It's been said over and over, but Seth Curry has been playing the entire season injured. He barely practices and he's frequently caught grimacing with pain during games. Despite being less than 100 percent physically, he's averaging 16.9 points per game.
What Curry offers is a reliant scorer who is capable of getting extremely hot from behind the arch and blowing up for huge points. When Curry is hot from behind three, Duke is next to impossible to stop on offense.
Against Maryland, Duke sort of struggled with outside shooting. Curry almost single-handedly kept the Blue Devils in the game against the Terps. He's a game-changer when the threes are falling and is capable of a reliable mid-range jumper when the shots from outside harder to come by. That sort of versatility is crucial to Duke's jump-shot centered offense.
More than his ability to put points on the board, Curry sets the tone in terms of toughness. When Duke got blown out by Miami, the team looked like they gave up when the shots were not falling. Curry's gamesmanship against Maryland kept Duke in the game all the way to the end.
In that way, Curry sets the tone in terms of effort. There's no quit in him and that intensity carries over to his teammates. Seth Curry is a leader for Duke. His ability to take charge of the Blue Devil offense and keep Duke in games even when the shooting stroke is off, means that the team ought to be able to weather the inevitable storms that arise during tournament play.
Seth Curry alone offers Duke the potential to go far in the tournament.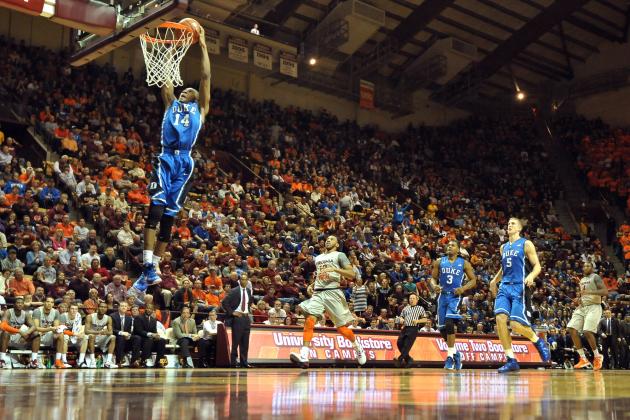 Lance King/Getty Images

Coming into the season, there were four starter spots set in stone: Quinn Cook, Seth Curry, Ryan Kelly and Mason Plumlee. The occupant of that fifth spot, however, was a subject of some debate.
Josh Hairston perhaps had the inside edge due to his defense and experience, while Alex Murphy started both preseason games. But when push came to shove and the regular season started, Rasheed Sulaimon inserted himself into the starting lineup and ran with it.
It wasn't all smooth sailing for the freshman guard. Sulaimon suffered through a shooting drought that negatively impacted other aspects of his game. Fortunately, he shrugged off the slump and has become a reliable contributor on offense.
Not only is Sulaimon averaging 11.7 points per game, he's Duke's best perimeter defender. In the NCAA tournament, Duke will need a player capable of hounding an opposing guard. Sulaimon's length, athleticism and speed allow him to defend any backcourt player the Blue Devils go up against.
Rasheed Sulaimon has added offensive and defensive stability at a position that Duke wasn't totally confident about going into the season. His contributions ensure that Duke has enough scoring and defense to deal with whatever opponent the tournament throws at the Blue Devils. Deep runs are dependent on well-rounded players, and Sulaimon is Duke's more versatile player on both ends of the floor.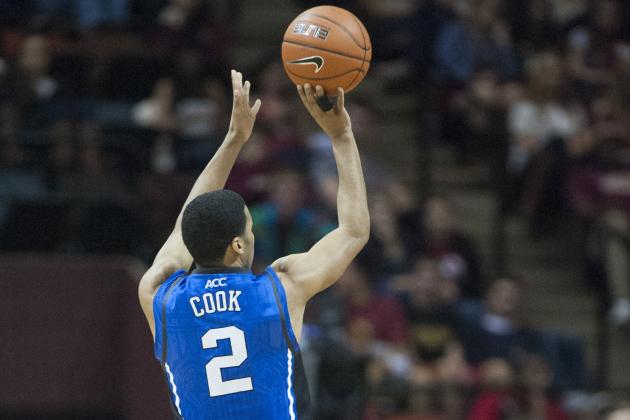 Jeff Gammons/Getty Images

Duke, as is often the case, lives and dies by the three. Although that isn't entirely true, because the Blue Devils have actually managed to squeak out a couple of games even with sub-par shooting from behind the arch.
Nevertheless, it can be frustrating to watch the Blue Devils go through spells of cold shooting that stymie the offense. If those cold stretches are long enough, then Duke is vulnerable to any team good enough to make the tournament.
Of course the flip side of the situation is obvious. If Duke is making threes, the team is nearly unbeatable. Even top ranked teams like Indiana, Florida and Michigan can be taken down by a hot shooting Blue Devil squad.
Ultimately the tournament breaks down into two parts. The first couple of rounds are offense-centric, while the Elite Eight, Final Four and championship game require a sound defensive effort. Teams like Wisconsin and Virginia are extra vulnerable in the early rounds because their sluggish offenses fail to put away lesser opponents.
If Duke is shooting even relatively well, the Blue Devils should advance through the first two rounds at least on the strength of the offense. From that point on, if Duke gets hot from deep, all bets are off and the Blue Devils might find themselves in Atlanta with tons of momentum.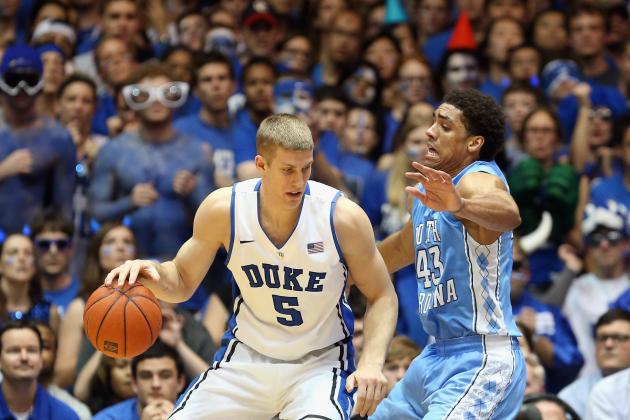 Streeter Lecka/Getty Images

As I just said, Duke can beat anybody if the team is shooting well. But that doesn't mean that the only way for the Blue Devils to topple a top ranked team is to make a boat load of threes.
Duke is currently ranked sixth in the country and none of the five teams ahead of them are without flaws.
Florida, like Duke, has a tendency to fall in love with taking threes too much, Michigan State struggles for scoring outside of a couple of players, Gonzaga is ultimately a joke, Miami is in unfamiliar territory and Indiana plays a fast tempo that leaves them prone to turnovers.
The bottom line is that no team is head and shoulders above everyone else. Therefore, Duke stands just as much of a chance as any other team. And, as the saying goes, in a land of blind men the one-eyed man is king. If Duke's one eye is the ability to drain threes, that's a pretty good weapon to take up against equally flawed top-ranked teams.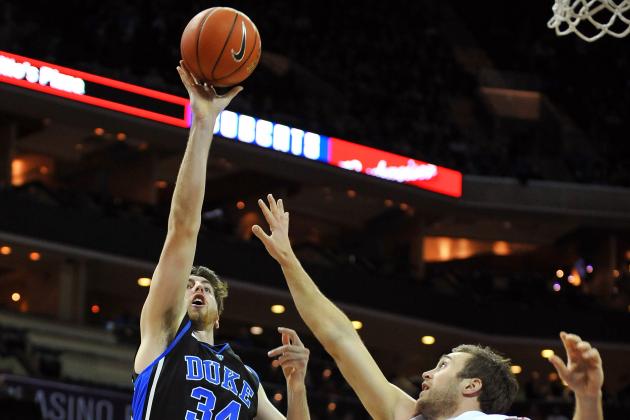 Lance King/Getty Images

This is the real wild card for the Blue Devils. If Ryan Kelly were to return from injury, how would that impact Duke?
When the Kelly was on the court, Duke was probably the best team in the country. The starting five was not only strong, but posed matchup problems for opponents that had to deal with Kelly's size and outside shooting range.
In his absence, Duke has looked disjointed on defense and been forced to toy with the lineup to figure out an offensive attack that works. If Kelly were to be back in time for the NCAA tournament, then it's probable that Duke's case as a title contender would be significantly strengthened.
The counter argument is that his return might pose problems with regard to team chemistry. Even the most optimistic estimates have Kelly coming back just before the tournament, which doesn't leave any time for the Blue Devils to reintegrate him into the rotation. Duke fans will recall the upheaval caused by Kyrie Irving's return from injury just in time for the tournament and how that ended poorly.
But Kelly isn't a point guard like Irving, so his inclusion in the team probably wouldn't be as disruptive. Better still, even if Kelly returns, his prolonged absence has offered up more minutes to the likes of Josh Hairston, Amile Jefferson and Alex Murphy. Those players have developed nicely as role players, thanks to an increased role in the team.
If Ryan Kelly were to return to Duke, he'd find that the players around him have matured and grown significantly. So long as he were able to smoothly reinsert himself into the rotation, Kelly would be coming back to a team even better than the one he last played with.
Between the emotional lift of Kelly returning and the effects of his absence in terms of player development, Duke's prospects for a deep run in March are bright.