An Early Look at the NBA Rumors Set to Dominate the Offseason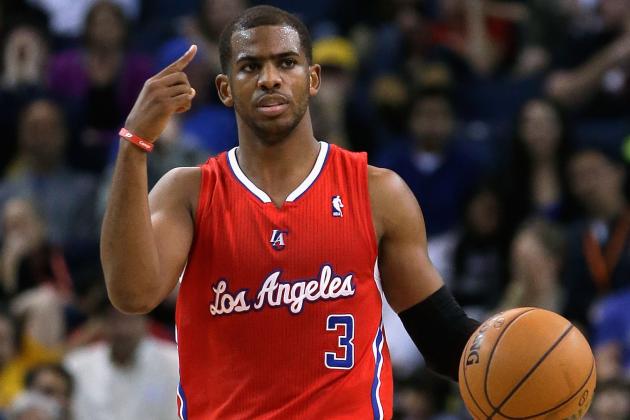 Ezra Shaw/Getty Images
Chris Paul's name may float amongst the gossip this offseason.
The NBA's head didn't pop off the pillow with that same spring of anticipation this morning.
This season's trade deadline has expired, spoiling rumors and moments of hopeful theorizing.
But while Christmas has passed without much of a bang, the summer birthday gifts may provide greater pop. This NBA offseason is set to offer plenty of intriguing opportunities of conjecture and gossip.
A list of high-profile players in uncertain situations looms this summer, and it's never too early to begin dissecting the prospective rumors of the upcoming offseason.
Begin Slideshow

»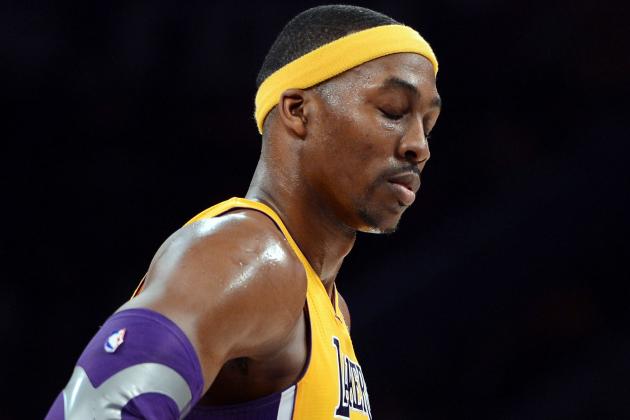 Harry How/Getty Images
Dwight Howard
The fallen-star market is still bright in a center-deprived league.
While Dwight Howard may be the most disrespected superstar of 2013, he'll still be the highest-priced free agent of the offseason.
In the last few years, there's been only a brief window of Howard not potentially being on the move.
The Los Angeles Lakers have now lost their rights to trade Howard, though they have a good shot, if they choose, to re-sign the elite big man.
No doubt, there are a number of teams that would love the guy that Lakers general manager Mitch Kupchak calls the best center in the league.
Dave McMenamin's excellent breakdown of the situation clearly illustrates Kupchak's seemingly tight grip on the rare big-man talent of Howard. The ESPNLosAngeles.com article that ran just prior to Thursday's deadline reviews Howard's desire to not speak about his future each moment of this current season.
McMenamin quotes Howard: "There's no need for me to make a decision right now. My goal hasn't changed. I want to win a championship and I want to win one here. I'm here right now and this is our chance to get one this season. It's been tough, but we have an opportunity to change all that."
In a radio interview with ESPN's Colin Cowherd, Kupchak spoke on his team's two-year window to win with Kobe Bryant under contract, naming Howard as the franchise's future.
But Howard has all the leverage.
The Atlanta Hawks will likely flirt into offseason rumors to land Howard in free agency. It's Howard's hometown, and Atlanta has the cap space. However, they'd need to prove capable of contending.
The Houston Rockets, Brooklyn Nets and Dallas Mavericks will likely swirl in the Howard gossip—all teams seeking the talents of a superstar center.
If you're sick of the constant reports on the status of Howard, you'll need to avoid the sports world this summer.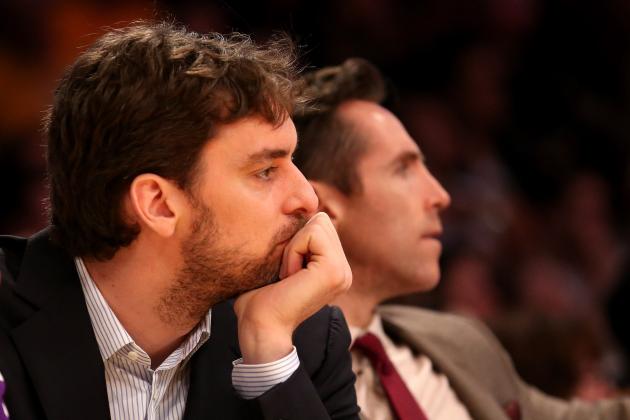 Stephen Dunn/Getty Images
Pau Gasol
Pau Gasol's reputation as a top center has dipped dramatically during his injury-riddled season, resulting in uncertainty with the Lakers moving forward.
The 32-year-old Gasol is having the worst season of his career, dropping four points off his average and shooting 45 percent, his lowest since 2003-04.
Part of the reason for Gasol's decline, other than injuries, is that he simply doesn't fit within the Lakers' current system and amongst current personnel.
If the Lakers were sure of Dwight Howard's return, they may have been more likely to deal Gasol before the deadline.
But if Howard does re-sign with Los Angeles this offseason, Gasol is likely gone.
The great T.J. Simers of the Los Angeles Times spoke with Gasol earlier in February and asked Howard the pointed question: What happens if Howard and coach Mike D'Antoni stays?
Gasol told Simers: "It would be hard for me to deal with another season knowing the facts you just mentioned."
Gasol added that he was not going to request a trade before the deadline, though it was a possibility this offseason that he might ask for a fresh start elsewhere.
He would be tough to move unless he can prove healthy. Gasol is owed $19 million for the final year of his contract in 2013-14.
Still, there could be plenty of suitors for Gasol in the NBA's shallow pool of bigs. The Lakers will need young athleticism in return.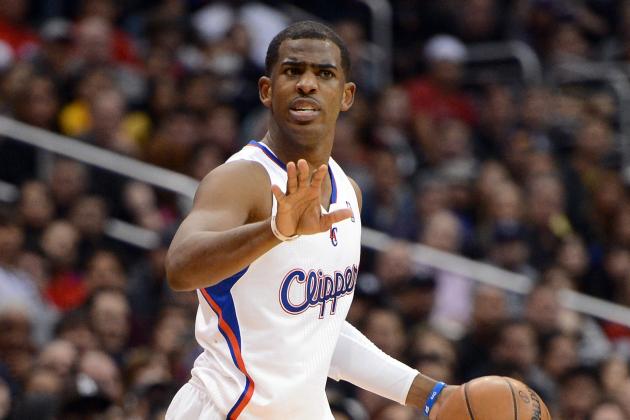 Harry How/Getty Images
Chris Paul
The man responsible for spinning around the Los Angeles Clippers might be tough to keep.
Not to read too deeply into a first-place team's lack of a move at the deadline, but the Clippers' hold on blossoming point guard Eric Bledsoe may be a sign that the team isn't completely confident in returning its most valuable All-Star.
But that slim layer of conjecture is really all there is to the notion of Paul leaving Los Angeles' only winning franchise.
In the last year of his $17.7 million deal, Paul seems to have it all in Hollywood.
He'll have a bigger contract this offseason too, likely from the Clippers.
Of course, in today's come-and-go NBA, you never know who could pull Paul away.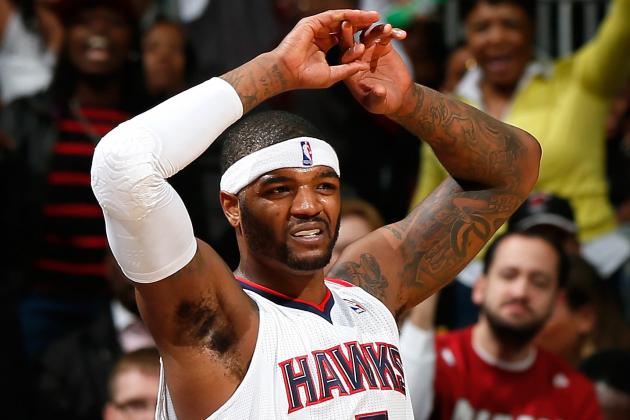 Kevin C. Cox/Getty Images
Josh Smith
Josh Smith is now the live-in girlfriend of a failed break-up attempt. That's a lot of awkward tooth brushing.
While the most-floated name around the deadline will stay in Atlanta, Smith will move into summer free agency with plans of earning a max contract.
Whether he deserves it or not, he will probably earn max dollars.
There's still a chance he sticks with his current relationship in Atlanta, especially if general manager Danny Ferry was somehow able to entice Dwight Howard into teaming up with Smith and Al Horford.
But odds are Smith lands elsewhere.
Jeff Zillgitt of USA Today reported through sources that it's "highly unlikely" Smith will opt to return to the Hawks.
Plenty of teams, including the Milwaukee Bucks, Boston Celtics, Brooklyn Nets, Phoenix Suns and Washington Wizards had conversations with the Hawks about Smith, Zillgitt wrote. His USA Today report added that the Houston Rockets and Denver Nuggets may be offseason contenders for the power forward.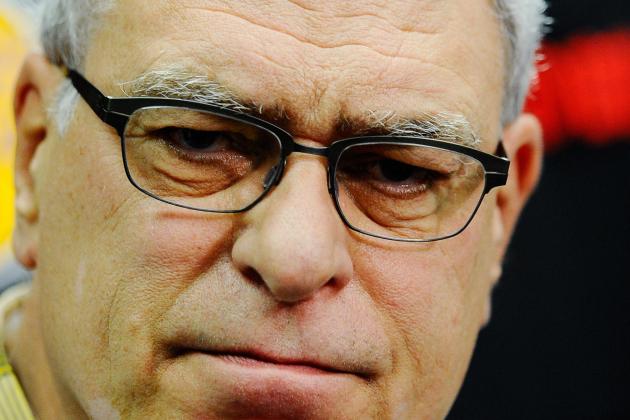 Kevork Djansezian/Getty Images
Phil Jackson
I'm throwing this down on the record: Phil Jackson will coach again.
That mind is not finished. That name will be floated as a potential fit with each open, big-market coaching position.
As explored by the Los Angeles Times' T.J. Simers, if Jeanie Buss runs the Lakers ship, her husband Phil could be an easy fit as team president. He's already expressed interest in a front-office gig.
Jack McCallum of Sports Illustrated asked Jackson in a recently published interview whether or not the legend will coach again in the NBA. Jackson responded that he's not coaching, but he told McCallum that he still holds on to the idea that he can still influence the game without being a coach.
Asked about the position of general manager, Jackson responded: "I don't like that term. Vice president of basketball operations/director of player personnel is more like it."
He obviously is not able to stay completely away from the game. First, he will return to a front office and eventually he will coach again.
The potential isn't exclusive to his wife's Lakers. His name has already been thrown around for a fit with the could-be Seattle SuperSonics; Brooklyn Nets owner Mikhail Prokhorov may already be calling daily.
Jackson will continue to provide plenty of room for speculation this offseason.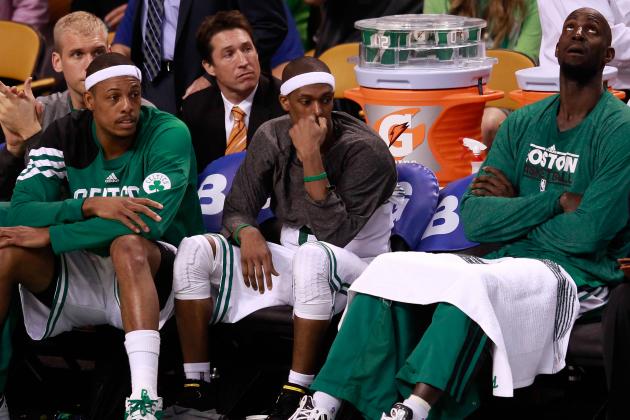 Jared Wickerham/Getty Images

The Boston Celtics made plenty of noise at the trade deadline but managed just one small deal (h/t the Associated Press via NBA.com). The addition of Jordan Crawford does not make the Celtics a contender, which is the annual expectation in Boston.
Kevin Garnett stays. Paul Pierce stays. Rajon Rondo stays. The opportunity to rebuild existed prior to the deadline, but Celtics' lead man, Danny Ainge, opted not to blow it up just yet.
This summer, all that could change.
In the same way that the Celtics were rebuilt in the 2007 offseason, they could be completely restructured in 2013.
Pierce will be paid $15.3 million next season, and Garnett will earn $12 million into 2014-15. The franchise's future is still Rondo, who is signed through 2014-15 at a team-high $13 million that season.
The New England gossip will plant plenty scenarios of change.
The team, most likely, will choose to move Garnett and Pierce and rebuild around Rondo, though the point guard is obviously worth much more in return than two close-to-retirement veterans.
It seems unlikely, however, that the Celtics will get more in return than they may have received prior to Thursday's deadline.
Jared Wickerham/Getty Images

New York Knicks fans are tasting success again.
But if the Knicks don't show well this postseason, the nature of the Big Bitter Apple will find an alternative.
The uplifted play of Amar'e Stoudemire can be seen one of two ways:
1. He has finally found his way with the Carmelo Anthony Knicks.
2. His trade value will never be higher.
The often-injured Stoudemire will earn a total of $45 million the next two seasons on his non-insured contract. Because of his big-money deal, the Knicks may never see an equal return of talent through trade.
But if this season doesn't end well, or Stoudemire's season doesn't finish with the same gusto, well, the pressure for New York to move at least one of their stars will grow.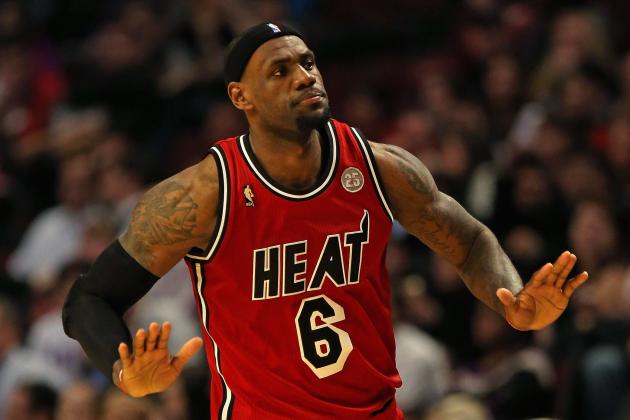 Jonathan Daniel/Getty Images
LeBron James
LeBron James could return to the Cleveland Cavaliers.
It could happen.
The game's biggest headliner will jump back into the swarm of speculation as the summer of 2014 approaches, when James can opt-out of his Miami Heat contract.
How fun would that be?
Sure, it's likely that he stays in Miami. But we know James is a showman. He also doesn't like his role as villain.
If he returns home, he may extinguish the fire of Cleveland hate.
A homecoming to the Cavaliers in a couple years may also place James in a better position to win, opting to play alongside the game's newest superstar, Kyrie Irving, instead of a further aged Dwyane Wade.
It's still more than a year away, but think back on the lead-up to James' last free-agency parade. The rumblings will begin to intensify this summer.
James, Wade and Chris Bosh can continue to play together for years to come, but it will be interesting to see how James moves into his next decision.
NBA fans can follow @jimmypspencer on Twitter for more news and analysis.