Why the Philadelphia Flyers Are in Good Shape After Season-Long Road Trip
Al Bello/Getty Images
Six straight games on the road is never easy.
But six straight away from your home building becomes exponentially more difficult in a shortened 48-game season.
That's what the Philadelphia Flyers just had to endure, and while the season-long road trek had its ups and its downs, the Flyers came out a better team as a result.
A 3-3 mark over the course of any six-game stretch isn't much to write home about, but considering Philly had to gut through six games in 10 days in six different cities and survived at all is cause for celebration.
Here are six reasons why the Flyers are in good shape after their season-long road swing.
Claude Giroux Is Back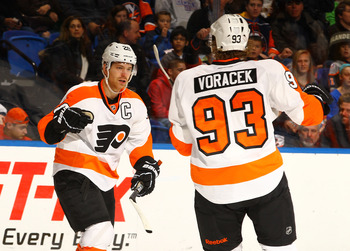 Al Bello/Getty Images
Heading into the team's six-game roadie, Giroux had tallied just three points (goal, two assists) in seven games.
But during the road swing, the Flyers captain got going.
Giroux recorded three assists in the first three games of the trip and then, after being held pointless in the team's hapless 4-1 loss in Montreal and subsequently calling out the effort level of his teammates, the captain did what captains should do—respond.
Giroux buried two goals and added an assist in the team's 7-0 blowout of the New York Islanders and sent a message in the tilt's opening shift with a hit on John Tavares followed shortly thereafter by the game's first conversion.
The native of Hearst, Ontario then closed the six-game stretch with a pair of assists in Philly's emphatic 6-5 triumph over the Pittsburgh Penguins.
The Flyers go as Giroux goes, and he appears to be going.
Jake Voracek Has Arrived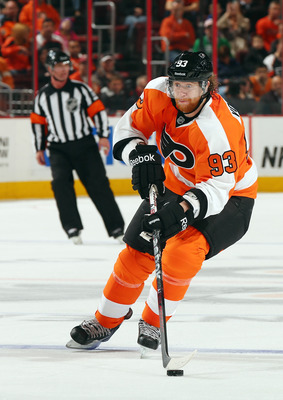 Elsa/Getty Images
The Flyers inked Jake Voracek to a four-year extension in the offseason believing he would help replace some of the offense lost when Jaromir Jagr bolted for Dallas via free agency.
Early on, that looked like a terrible mistake.
Through the team's first 12 games, Voracek had registered only eight points and just three goals. What's worse, the fourth-year pro had only recorded just one multi-point effort during those first dozen games.
But during the team's recent road trip, Voracek appeared to rediscover his game.
In six games away from home, he tallied three goals, seven assists and 10 points and is suddenly the team's leading scorer with 18 points overall. Voracek displayed his exceptional playmaking abilities with four assists in the team's romp of the Islanders on Monday and showed he can be a goal scorer as well with a hat trick in team's win over Pittsburgh on Wednesday.
With Scott Hartnell still on the shelf and Matt Read now injured, the Flyers need big-time offensive contributions from guys other than Giroux. Looks like Voracek is ready to be one of those guys.
Ilya Bryzgalov Keeps on Rolling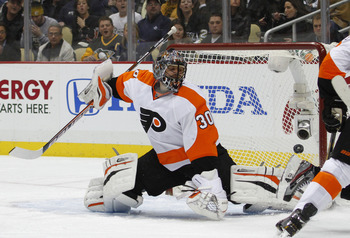 Justin K. Aller/Getty Images
His numbers may not be overly jaw-dropping, but Ilya Bryzgalov has been Philadelphia's best player to date, and that continued during the team's recent road swing.
He was hung out to dry by a complete lack of team defense in the opener of the road trip and was lifted after just 26 minutes of crease duty and four goals against in the team's setback in Toronto. But Bryzgalov bounced right back the following evening and turned aside 24 of Winnipeg's 26 total shots en route to a 3-2 victory over the Jets.
Then, after just 14 saves in a 5-3 loss at New Jersey, the enigmatic netminder responded with his first shutout of the season in the team's 7-0 drubbing of the Islanders.
Finally, in a contest in which both goaltenders were exposed, Bryz held his ground and was just good enough to earn the Flyers a one-goal victory over the Penguins.
He still is susceptible to the occasional soft goal or two, but generally speaking Bryzgalov seems more focused than a season ago and is looking the part of the franchise goaltender Philly thought it inked two summers ago.
Power Play Got on Track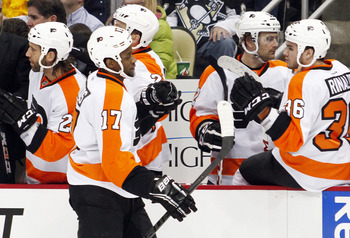 Justin K. Aller/Getty Images
Heading into the team's six-game road trip, Philadelphia's power play had converted in just half of its first 12 games. And, outside of a perfect 3-of-3 performance in a 5-3 victory over Carolina earlier this month, the Flyers' man-advantage had looked out of sorts for long stretches of the early season.
During the team's road swing though, it appeared to find some rhythm.
The power play clicked in four of the team's six games away from home and went 5-of-22 (22.7 percent) during the roadie. Philly's man-advantage had only gone 9-of-52 (17.3 percent) during the squad's dozen games prior to hitting the road.
The Flyers went 3-1 when netting a man-advantage marker during the swing and are now 6-3-1 when scoring a power-play goal this season.
Success on the man-advantage is critical for any team and Philadelphia is no exception. The Flyers' power play now needs to stay on track if this team hopes to make a charge through the Eastern Conference.
Penalty Kill Was Excellent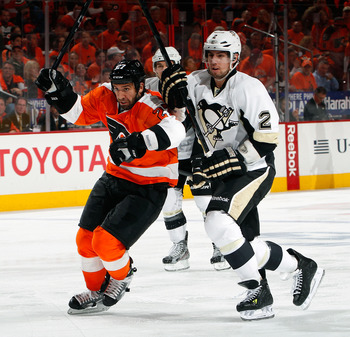 Paul Bereswill/Getty Images
The Flyers' penalty kill heading into the team's six-game road trip was downright pathetic. Now it's at least respectable.
Through the club's first 12 games, Philly had surrendered 12 power-play goals against and was killing penalties at a clip of only 77.4 percent (41-of-53).
Then the team hit the road where it allowed just two man-advantage markers over the course of 10 days. The Flyers' penalty-killing percentage during the road swing was an astounding 92 percent, and the club didn't surrender a power-play goal against through any of the first five road games.
Philly's streak was only snapped Wednesday when it ran into the special teams buzz saw that is the Pittsburgh Penguins.
What once was a serious hindrance for this team has become an area of strength in recent weeks and will go a long way toward sustainable success for the Orange and Black.
Team Earned a Signature Win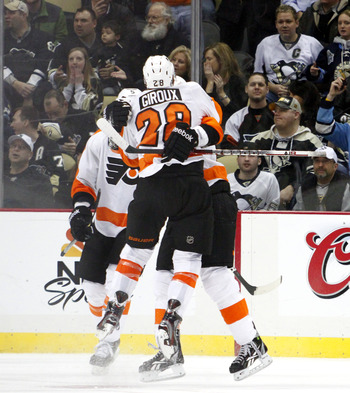 Justin K. Aller/Getty Images
Seasons, even shortened ones, are marked by signature moments. Some are good and some are bad.
The Flyers already seem to have a few bad signature moments this season (a lackluster 5-1 loss to Tampa Bay in late January, a pedestrian loss to reeling Washington in early February and a hapless 5-2 setback to Toronto kick off the team's critical road swing).
But Philly earned a positive signature moment Wednesday with a 6-5 triumph in a measuring-stick game with their arch rivals, the Pittsburgh Penguins.
In that tilt, the Flyers overcame a first-period two-goal deficit then coughed up several two-goal leads of their own (including two in the third period), only to surrender the game-tying tally with 2:03 left in regulation before notching the eventual game-winner just 32 seconds later.
It wasn't pretty by any means but a win is a win.
Bryzgalov, Philadelphia's best player to date, wasn't at the top of his game, but good teams should be able to overcome a down night from their goaltender—and the Flyers did just that.
Voracek notched the second Philly hat trick of the season. Giroux chipped in a pair of assists. The Flyers' power play came up with a big goal at a big time, and despite two power-play goals against, the team's penalty kill still successfully defended five out of seven man-down scenarios to the uber-talented Penguins.
Wins like that prove this team is headed in the right direction. It was an incredibly successful end to a road trip that saw this team get better each and every night. The question remains, however, as to whether it will continue or not.
Keep Reading

Philadelphia Flyers: Like this team?