Chicago Bulls Draw Ire of Reggie Rose: Will Trade Inactivity Hurt Them?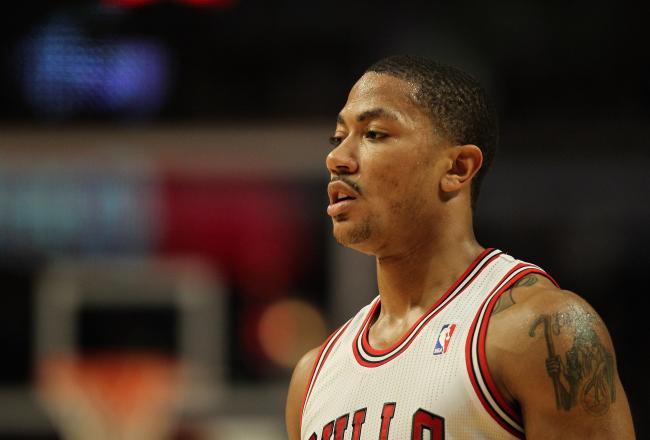 Jonathan Daniel/Getty Images
The Chicago Bulls let the NBA trade deadline come and go without completing a deal. Although it was widely assumed that the team would be silent at the 3 p.m. ET cutoff, secretly many Bulls' fans were hoping for something good. The Bulls front office treated fans to the same inactivity that has become the norm from a conservative NBA franchise.
While some fans are relieved not to see a Carlos Boozer trade or Richard Hamilton pawned off for spare parts, there is a contingent of disheartened observers. Among those who are upset is Reggie Rose.
In case you have been living under a rock over the past few years, Reggie Rose is the older brother and manager of Derrick Rose. In an article released by ESPNChicago.com, the senior Rose spoke about how the franchise's quiet trade activity will play a huge role in whether or not Derrick Rose returns this season.
Here is a sample of what Reggie Rose said to ESPNChicago.com's Scott Powers:
What have you pieced together? Have you made any moves? Have you made any trades to get better? You know all roads to the championship lead through Miami. What pieces have you put together for the physical playoffs?

Joakim Noah is a great player. Luol Deng is a great player. But you need more than that. You have to put together pieces to your main piece. The players can only do so much. It's up to the organization to make them better.

It's frustrating to see my brother play his heart and soul out for the team and them not put anything around him.
The elder Rose did not stop there. He goes on to question what the Bulls stand to gain if Derrick Rose comes back this year. In his words, "If Derrick comes back, they're going to sell more tickets."
Derrick Rose's brother says Bulls' inactivity at deadline will be "big factor" in whether he returns this season » es.pn/VzcPjm

— SportsCenter (@SportsCenter) February 21, 2013
Yikes!
Reggie Rose speaks for the pessimistic Bulls' fans who wants their team always in contention for the NBA championship.
Derrick Rose statement released by Bulls: "I have always felt that the Bulls organization's goals have been the same as mine ..."

— Nick Friedell (@NickFriedell) February 22, 2013
Where are the fans who agree with him, and why didn't they speak out sooner?
I firmly believe if fans had stood up and demanded better from the team, Vladimir Radmanovic would not be on the Bulls' bench. A player that can contribute would have taken his place.
To be fair, how many difference-makers were available?
The top of the litter was the Atlanta Hawks' Josh Smith. The freakishly athletic Smith has talent, but is he the guy that can put the Bulls over the top?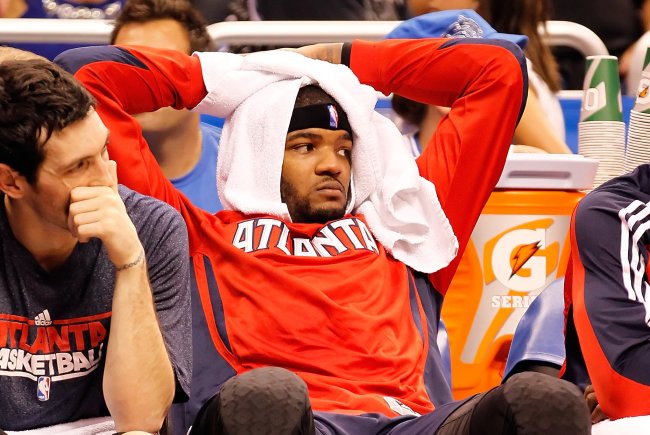 J. Meric/Getty Images
The best player traded by the deadline was the Orlando Magic's J.J. Redick. Redick is similar to Bulls shooting guard Marco Belinelli, a good shooter who can put the ball on the floor. Marco Belinelli is a better option, as he can create his own shot, and he has an inexpensive contract.
There were no clear-cut opportunities for the Bulls to get better.
The comments of Reggie Rose will carry its weight during the offseason. The Bulls must find a diamond in the rough somewhere.
I hope that they can find that piece in the NBA draft. The Bulls may have to do something they've been reluctant to do in the past; trade up to select a targeted player. They will have the assets to do so, if they choose this direction.
This year's draft pick, the coveted Charlotte pick that is unprotected in 2016, Richard Hamilton's partially guaranteed contract and a $5 million trade exception. The team is armed and ready to maneuver after the playoffs.
A possible problem lingers though. It is the team's reluctance to roll the dice. They will have to ask themselves two questions this offseason.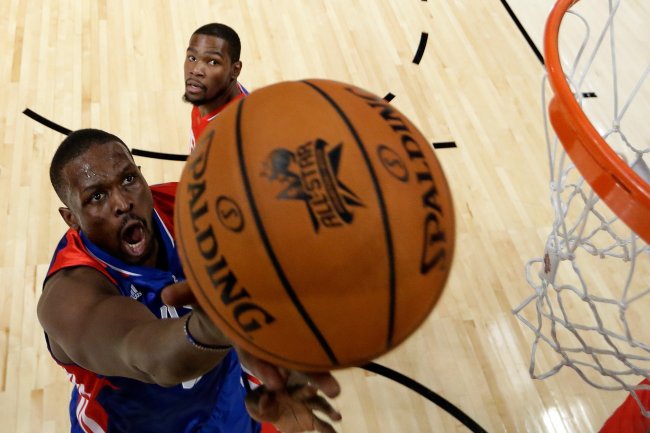 Pool/Getty Images
The first question is: Does Luol Deng have a future with the Bulls beyond the 2013-14 season? If not, it is time to trade him. If so, after overpaying him for several years, get him to agree to a pay cut.
The second question is the one raised by Reggie Rose.
Are the Bulls serious about challenging the Miami Heat for NBA supremacy? It is up to management to prove it by bringing in talent. They have done a fine job this year plugging in Belinelli, Kirk Hinrich and Nate Robinson. With the players they have brought in, the Bulls are in no danger of missing the postseason, and they have a chance to win their division.
Although it is too soon to look into the future, the Bulls will have no cap room to sign a difference-maker in free agency. The road to getting better must come via the draft or by trading for small salaried young players with a reasonable upside. They must follow the model of success used by the San Antonio Spurs.
Reggie Rose made a great point. His words mimic the feelings of several Bulls fans. Though his comments were ill timed, I am hoping that the Bulls management took notes of every word.
This article is
What is the duplicate article?
Why is this article offensive?
Where is this article plagiarized from?
Why is this article poorly edited?

Chicago Bulls: Like this team?