Oregon Football: 5 Players Most Likely to Make an Impact in the NFL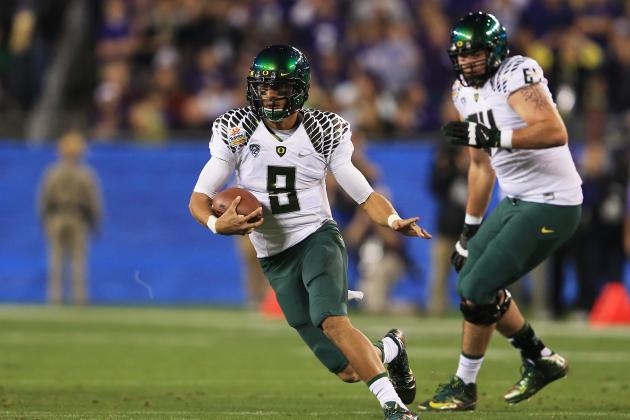 Doug Pensinger/Getty Images
Oregon QB Marcus Mariota
Being able to consistently produce NFL talent is a goal for every college football program, and the Oregon Ducks have fared well in doing just that over the past few years.
Haloti Ngata, Jairus Byrd, Max Unger and LaMichael James are just a few of the many former Ducks who play in the professional ranks.
Fans love seeing the players have success after college, and recruiting usually gets a boost when coaches can sell kids on the idea that their school gives them an opportunity to make it to the NFL.
So which current Ducks have the best chance to make it to the next level? Jump ahead to find out the five guys who will soon find themselves making plays on Sundays.
Note: Incoming freshmen were not included in this list because they haven't played yet. Also, these are just five of the many current Ducks who could play in the NFL in the future.
Begin Slideshow

»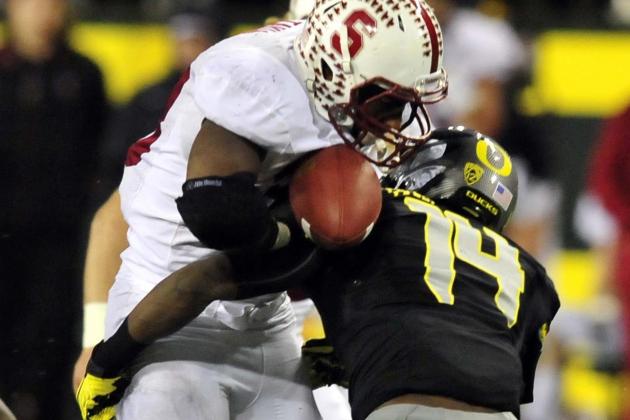 Steve Dykes/Getty Images
Oregon CB Ifo Ekpre-Olomu
After a promising 2011 campaign, Oregon cornerback Ifo Ekpre-Olomu took the next step and became a true shutdown corner this past season.
Many will point to the Arizona game as Ekpre-Olomu's breakout moment. Against the Wildcats, he had two interceptions and made a handful of other plays in the secondary.
The swagger he brings to the position is reminiscent of former standouts in the Oregon secondary such as Cliff Harris, Keith Lewis and Aaron Gipson.
The man opposite Ekpre-Olomu, Terrance Mitchell, likely has a professional future ahead of him as well. But I'm sticking with Ekpre-Olomu because of his attitude and ball-hawking skills.
With a shutdown corner being one of the most coveted positions in the NFL draft, you can expect Ekpre-Olomu to be selected early when he turns pro.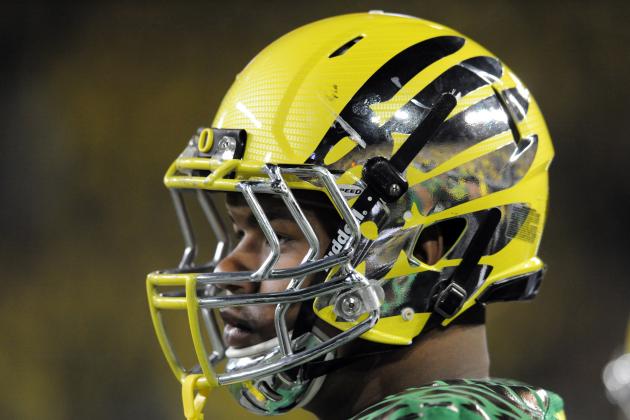 Steve Dykes/Getty Images
Oregon DT Arik Armstead
If you watch Oregon's defensive highlights from this past season, you probably won't see Armstead's name coming up very often.
But the fact that he played in every game as a true freshman says everything about the potential of the young defensive tackle.
At 6'7" and 280 pounds, his size is perhaps his most intriguing asset. While he struggled a little bit at the beginning of the season, he more than held his own by the time the Fiesta Bowl rolled around.
If he continues to build up his strength and burst off the line, Armstead could end up being a very high draft pick.
Rarely does a defensive lineman not named Clowney make an impact as a true freshman. The speed of the game and the strength it takes to stay on the field don't typically emerge until year two or three.
But I saw enough out of Armstead this past season to predict that he'll make an NFL team very happy someday.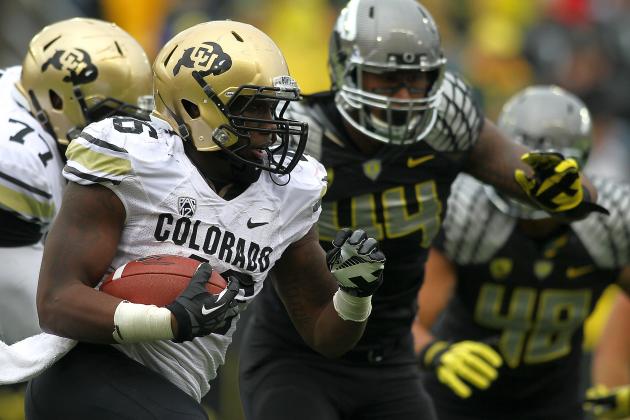 Jonathan Ferrey/Getty Images
Oregon DE DeForest Buckner chases down a Colorado ball-carrier.
Like Arik Armstead, the fact that DeForest Buckner played in all 13 games as a true freshman shows that he too has incredible potential.
At 6'7" and 230 pounds, he has a nearly identical frame to that of Dion Jordan, whom you may have noticed near the top of mock drafts everywhere.
The only difference, of course, is that Jordan started out as a tight end before switching over to defense and realizing his full potential. Buckner is a couple of years ahead in that regard, and he could be destroying O-lines everywhere by the time his junior year rolls around.
He also has the range and athleticism to cover receivers and tight ends in the flats. Given his versatility, it should come as no surprise that Buckner is No. 3 on this list.
After seeing the kind of impact many are projecting Dion Jordan to have, it's fair to envision Buckner as a Day 1 pick when he enters the NFL draft.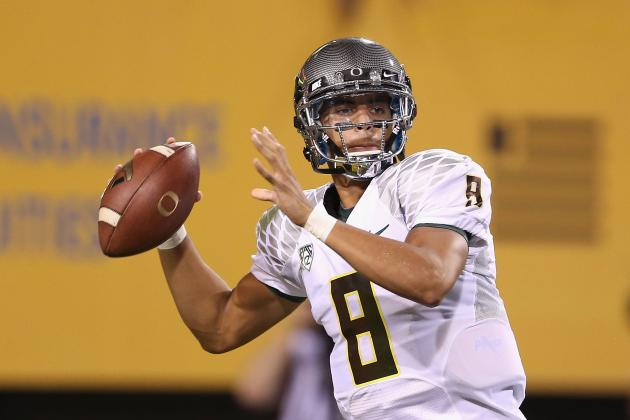 Christian Petersen/Getty Images
Oregon QB Marcus Mariota
After just one full season as the starting quarterback for the Oregon Ducks, Marcus Mariota has boosted his draft stock to an extremely high level.
Part of that comes from quarterbacks with a similar skill set having success in the NFL. Colin Kaepernick took the San Francisco 49ers to the Super Bowl after taking over the starting job partway through the year. Both Robert Griffin III and Russell Wilson had amazing rookie seasons as athletic, dual-threat quarterbacks.
Mariota has raw yet similar abilities when it comes to playing QB.
But having similar traits isn't what puts Mariota so high on this list. It's mainly his outstanding body of work from his freshman season. The Hawaiian native passed for 32 touchdowns with just six interceptions and totaled more than 700 yards on the ground.
Against USC, he completed 20-of-23 passes for more than 300 yards and four touchdowns without a pick.
His consistency in the passing game and his arm strength both need some work (yes, I'm being picky here, he's obviously above average in both categories), but Mariota had a remarkable first season.
With his breakaway speed, ability to throw on the run and quick decision making, Mariota could be one of the first quarterbacks taken when he enters the NFL draft.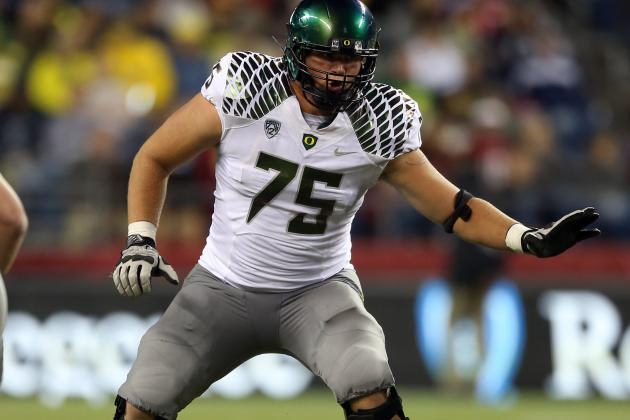 Otto Greule Jr/Getty Images
Oregon OT Jake Fisher
That's right—for all the excitement over Oregon's high-flying offense and speedy defense, an offensive lineman could be the best NFL prospect on the team.
Jake Fisher played in all 13 games as a freshman and started last season at right tackle. Rarely does an offensive lineman have the size and strength to keep up as a true freshman, but Fisher was an exception.
One of his best plays came early in the season when he hustled down the field and recovered a De'Anthony Thomas fumble in the end zone for a touchdown. His athleticism is a huge reason the Ducks rushing attack has been so successful, and his large frame gives him the ability to pass-block with the best of them.
At 6'6" and nearly 300 pounds, he has NFL size. The other starting tackle, Tyler Johnstone, has some serious pro potential as well.
But due to Fisher playing right off the bat, he gets the nod here. When he decides to go pro, expect Fisher to be a first-round lock.