Predicting the WrestleMania 30 Card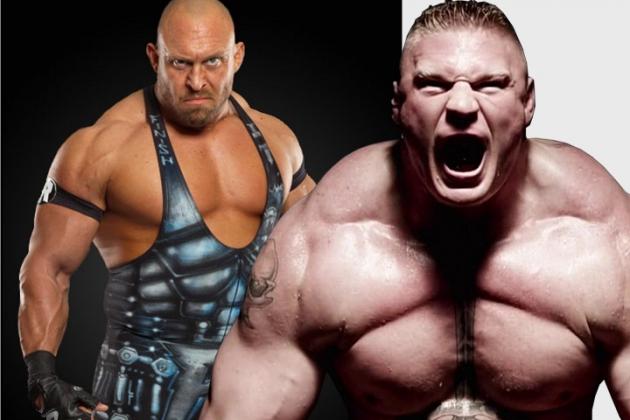 photos via iontelevision.com and fanpop.com
WrestleMania—the granddaddy of them all, the showcase of the immortals, the biggest wrestling show of the year—is almost upon us.
In just a few weeks, WrestleMania 29 will go down with The Rock, John Cena, Brock Lesnar and CM Punk in high-profile roles. It has the potential to be the highest grossing pay-per-view of all time.
Boring!
The card is just beginning to be filled in, but why speculate about WrestleMania 29 when we can take a look at next year's show? It's the big three-0, and inside a dome.
Will Steve Austin finally come back? Will Undertaker still have some gas left in the tank? Will Team Hell No still be arguing?
Wait no longer, here are predictions for every match on the card for WrestleMania 30.
Begin Slideshow

»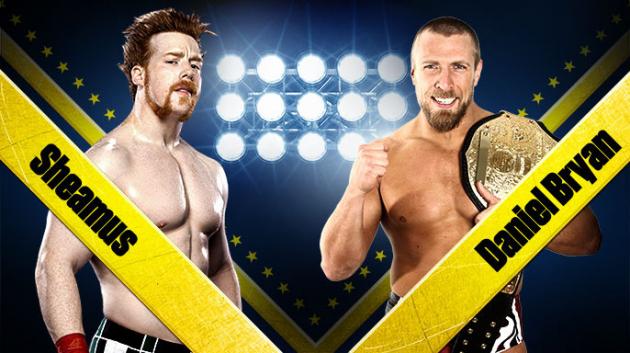 photo via wrestlingvalley.org
The Celtic Warrior pulled a fast one on Daniel Bryan last year.
He blasted him in the face with a Brogue Kick the second he turned around at WrestleMania 28.
The two also squared off the year before, but fought to a no-contest. WrestleMania 30 could be the war to settle the score.
This time, Bryan is positioned as the underdog babyface with Sheamus reverting back to his old ways as a heel.
There's a lot of money to be made with Daniel Bryan in WWE—if they work on making him a more serious character. What better way to make that statement than by having him tap out a big man?
Sheamus is popular, but he hasn't quite reached the level WWE must have been hoping. Maybe a switch back to the dark side next year could bring him back to a top role.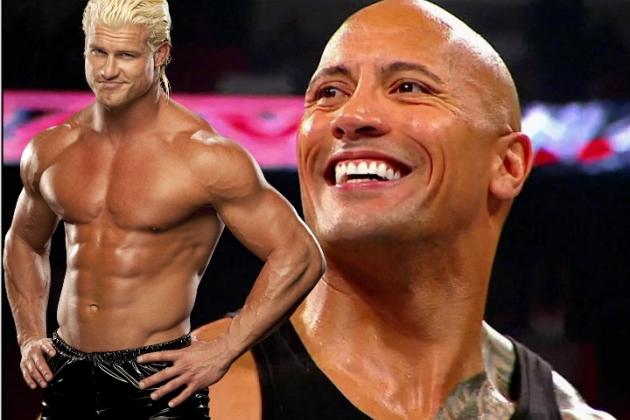 photos via dirtsheets.com and wwe.com
The Rock has not been shy about putting over other talent in the past. In prior runs, he lost to Brock Lesnar, Goldberg and even The Hurricane.
Depending on The Rock's movie career, there's no telling how many more matches he'll wrestle. You'd have to think it will probably be somewhere between five and 20.
WWE desperately needs to start elevating some talent, as WrestleMania these days seems to be all about returning stars. This year's show has four part-timers involved in the top matches (Undertaker, HHH, Lesnar, Rock).
Somebody's gotta give back, and Rock has the most to give.
Dolph Ziggler needs a little help.
The two would make a great pairing, as they both have something to offer.
Ziggler is a potential future main-eventer, and he could use the rub that a feud with The Rock would provide.
The Rock needs someone to make him look good. CM Punk carried him to a couple of decent matches, but nothing amazing. A year from now, The Rock may have to rely on someone like Ziggler to make him look like he's still at his peak.
Ziggler can bump like no man's business, and he could probably have a better match with The Great One than anyone else on the roster.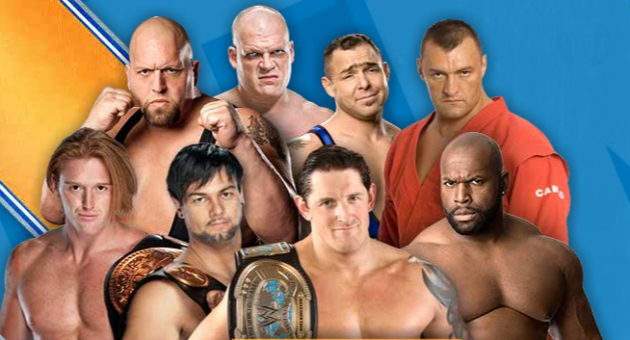 photo via thingscolesays.wordpress.com
The giant tag match has become a staple of WrestleMania the past few years. It's a way to get more wrestlers on the show, and is a nice attempt to make them feel good about themselves.
Usually, there's not much in terms of consequences with the outcome, and it's also not often that exciting.
Whether we want it or not, Mania is going to give us a six-, eight- or 10-man tag match!
Here are the people that I suspect will be involved fighting each other over some reason that isn't established until two weeks before the show:
We'll go with Team Orton vs. Team Miz
Team Orton is composed of heels. Wade Barrett, The Big Show, Mark Henry and Brodus Clay are his teammates/henchmen.
Team Miz is composed of oddball, scrappy faces like Santino, Alberto Del Rio, Christian and Kane.
The faces will win, and then all decide to dance afterwards with Hornswoggle, The Great Khali and half a dozen legends.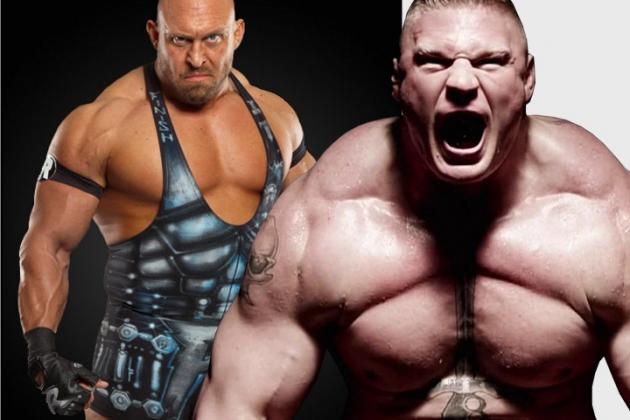 photos via iontelevision.com and fanpop.com
Brock Lesnar and Ryback face off in a battle of the monsters at WrestleMania 30, but not in the way you'd expect.
Lesnar takes on the role of the face and Ryback is the heel.
It seems that Ryback's chance as a top babyface has already fallen flat. He gets good pops from some crowds, but not the giant ones he was occasionally getting a few months ago.
Eventually, he should have a nice heel run in him.
WrestleMania history is also filled with unstoppable force vs. immovable object matches (Hulk vs. Warrior, Goldberg vs. Lesnar, Ryback vs. Henry), so this would be a natural fit.
From a visual standpoint, Ryback is one of the few people on the roster who looks like he could go toe-to-toe with Lesnar. The fans would also be easily coerced into cheering for Lesnar over Ryback, whom many fans are reluctant to get behind.
It could be a fun, hard-hitting spectacle match that gives the two big men 10 minutes to bust out every power move in the book.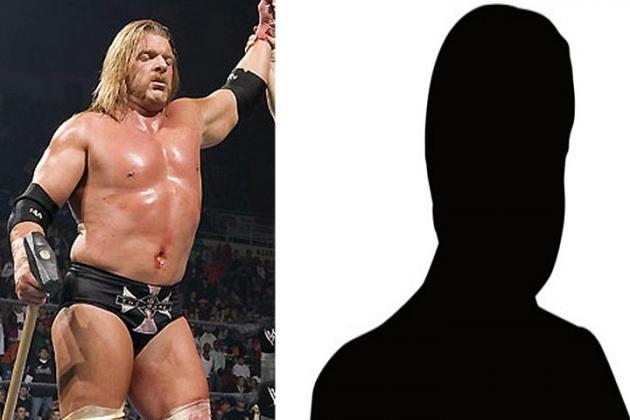 photos via wrestling-match.com and news-piper.blogspot.com
Sure, this is a cop out, but it's best to remember history when predicting the future.
As soon as Punk became red hot, Triple H came back to fight him. When Undertaker needed a WrestleMania opponent after HBK was done with him, Triple H took that spot…twice. When Lesnar entered the fold, it was Hunter who took the second shot.
Next year Hunter will be 44, but with such a part-time schedule these past few years, he should still have a few marquee matches left in him.
Besides, there's no way he'll sit out on possibly the biggest wrestling show of all time.
It's doubtful that he'll turn heel at this stage in his career, so the story will rely on him shutting up a loudmouth heel.
His opponent could be someone like Mark Henry, Damien Sandow, Cody Rhodes or even a Mason Ryan-type who suddenly catches fire and forces Hunter once again to put away the suit and slap on the trunks.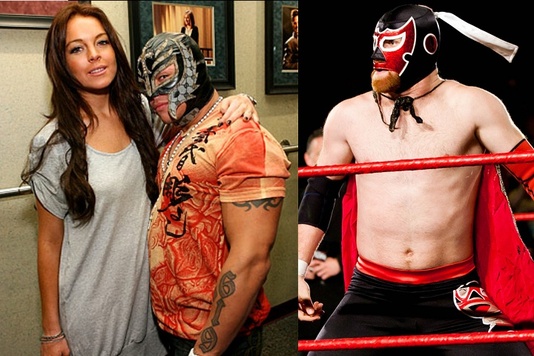 Will Lindsay Lohan get involved? (photos via thefashionspot.com and pwponderings.com)
The oft-rumored Rey Mysterio vs. Sin Cara matchup may not ever happen.
Sin Cara so far has been a flop. He just hasn't been able to connect with the crowds in the way that the WWE thought he would.
Rey Mysterio may also not be long for the WWE, either. He returned after a long layoff recently only to be put right back on the shelf.
If he has a few more matches left in him, it should be time to pass the torch.
WWE has very few high flyers in the company, and perhaps their most graceful one (Evan Bourne) can't be trusted. Meanwhile, Justin Gabriel and Tyson Kidd just haven't shown the charisma of a top star.
That leaves the yet-to-debut El Generico (or Rami Sebei, or whatever name they decide to go with) as their most appealing candidate.
Generico has a connection with the crowd that few wrestlers do.
Hopefully WWE comes to its senses and puts the mask back on him. They could then set that world record of most masks at an event that they want to break for some reason.
If WWE doesn't make Generico go through the growing pains that they make so much other talent endure, then he could have a big role by next year's show.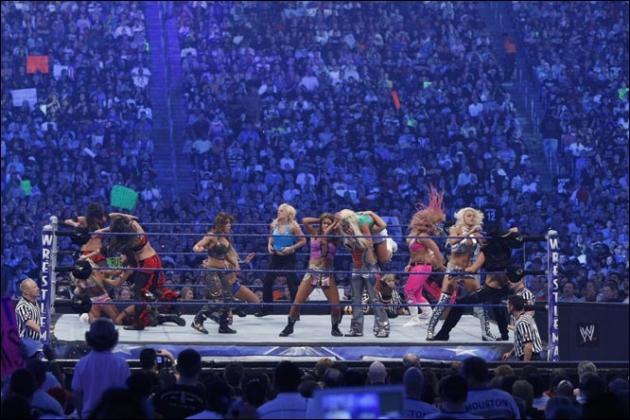 photo via the sun.co.uk
Yep, this is another cop-out prediction, but if WWE doesn't build up their Divas division and plan ahead then why should I?
Last year had a tag match with Maria Menounos; Mania 27 had a 3:17 mixed tag match; there was a 3:26 10-diva tag match at Mania 26; a three-minute 25 Diva Battle Royal at Mania 25; and a Playboy Bunny Lumberjill match at Mania 24.
While the Playboy match is very unlikely to return, a quick tag match is a pretty safe bet.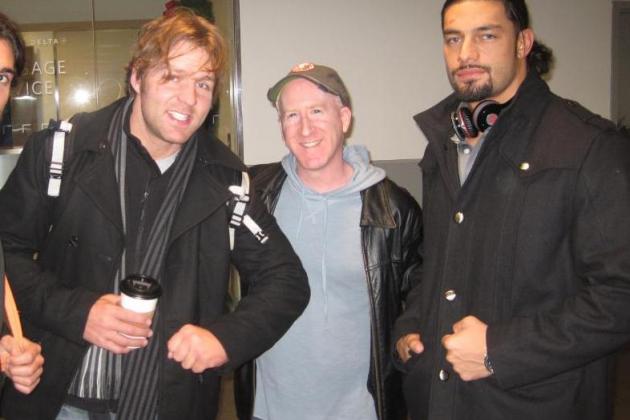 In happier times (photo via photobucket.com)
Every group breaks up eventually.
The NWO lasted about three years before their first breakup. The original formation of The Nexus lasted six months before Wade Barrett was kicked out.
How long can The Shield go?
Right now, all three members appear to have a bright future in the company.
But when the group is done dishing out justice, and decides to go their separate ways, expect Ambrose to remain a heel while Reigns and Rollins turn face.
McMahon loves his big, muscular babyfaces, and Reigns could be the next one in line for a big push and take on a Batista-like role. A showdown at WrestleMania against Ambrose could be a good start to both of their singles careers as WWE finally begins to build toward their future.
photos via prorasslin.com and zimbio.com
Austin is smart, and knows that the only guy who could overshadow him on a pay-per-view in all of wrestling would be The Rock.
With three WrestleMania appearances in a row, there's no reason to think that Rocky won't be back next year. But due to the law of diminishing returns, his match at WrestleMania 30 won't mean as much.
That would leave the perfect time for Steve Austin to have one last go-around.
Austin is still in great shape, but time is rapidly running out for one great last brawl.
We haven't seen him get physical since he took it to Alex Riley before WrestleMania 27, but it seemed he hadn't lost a step.
You have to imagine one last giant paycheck (especially with his acting career in action films approaching its expiration date) and a dream opponent in Punk would be enough to lure him back for one last match.
The two have teased us over the past couple years with a feud, but nothing has come to fruition. If Austin ever decides to return, you'd have to think that WrestleMania 30 would be the only place it would happen.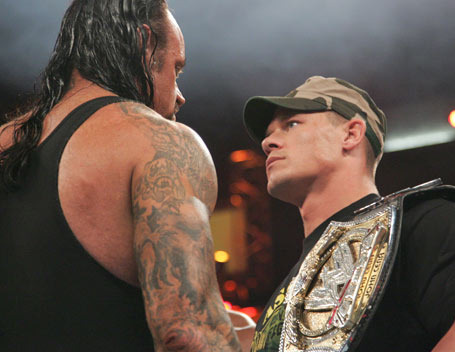 photo via wwewrestlers2012.blogspot.com
Three WrestleMania matches between Rock and John Cena would be overkill.
Assuming Cena wins this year's match, a tiebreaker could instead go down at SummerSlam.
Possibly the biggest match that the WWE has right now is The Undertaker vs. John Cena. The two haven't feuded since 2003, but Cena was a heel at the time, and not even half as popular as he is now.
The two also had a random throwaway match in 2006.
Besides that, there's been nothing.
It's questionable that Undertaker will make next year's WrestleMania. There were doubts he'd be able show up for this year's event.
But maybe another year off could heal his body enough for another classic battle. Taking on the biggest full-time wrestler at the biggest event of all time should be enough to keep Taker in ring shape.
The buyrate would probably be huge, as Cena is perhaps the only guy that fans could conceivably believe would have a chance at ending the streak.
It would be a shame if we were never treated to a big Undertaker vs. Cena feud, and WrestleMania 30 would be the perfect place to showcase it.