10 Trade Deadline Deals That Should Have Happened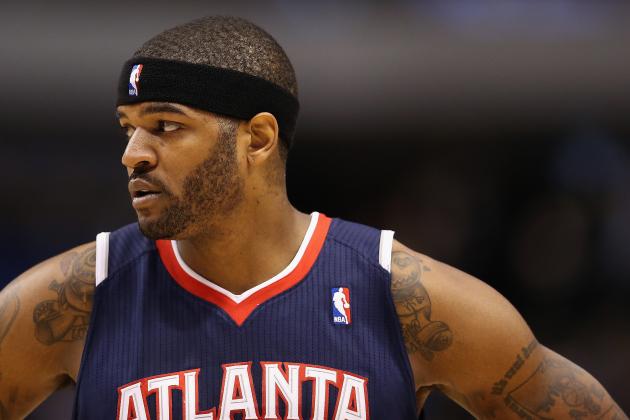 Ronald Martinez/Getty Images
Atlanta did itself a disservice by holding onto Josh Smith.
The NBA trade deadline passed by with surprisingly little activity, and many of the biggest deals fans were looking for never came through.
Sure, J.J. Redick is now with the Milwaukee Bucks. That happened.
If you're a fan of mildly amusing swaps of inconsequential players (Hakim Warrick for Josh McRoberts, anyone?), then this was a banner day for you. Outside of that niche demographic, though, the 2013 trade deadline was a disappointment.
With so few impactful deals going down, it's a lot more interesting to discuss the moves that didn't happen, but should have.
Let's take a look at what the 2013 deadline could have been, working our way from the small, strategic moves up to the true blockbusters.
Begin Slideshow

»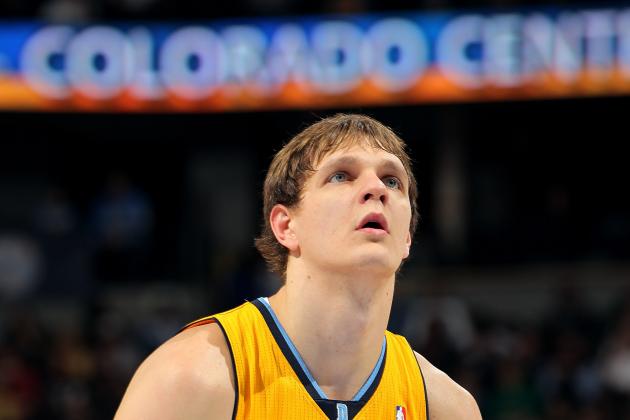 Doug Pensinger/Getty Images

There's nothing glamorous about Timofey Mozgov; the most exciting thing about him is how he inspires memories of Blake Griffin's epic posterization.
That said, true centers are a scarce commodity in the NBA, and the Denver Nuggets have three of them. There's no reason for George Karl to ever play Mozgov over Kosta Koufos or JaVale McGee, so why wasn't Denver trying to get whatever it could for the Russian's expiring contract?
A number of contenders could have used him to shore up their interior depth. Mozgov's former team, the New York Knicks, rank right at the top of that list, and they traded away Ronnie Brewer just to open a roster spot for such a player.
The reward for a player like Mozgov is never great, but he would have filled a necessary role with practically no risk. Instead, he'll continue to sit on the end of the bench in Denver, where he won't be of much use to anyone.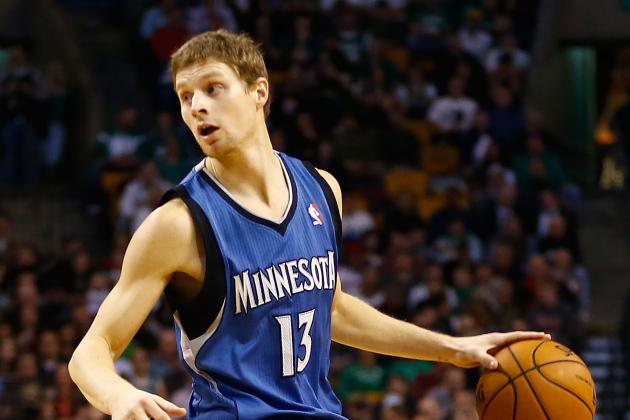 Jared Wickerham/Getty Images

It appears the Utah Jazz are content to just have miserable point guard play.
Mo Williams has returned to practice, per ESPN, but there is still no timetable for his return. As long as he is out, Earl Watson and Jamaal Tinsley have to carry the burden of running the point. That's a horrid situation for a team in the thick of the Western Conference playoff picture.
Meanwhile, injuries have rendered this a lost season for the Minnesota Timberwolves. Early on, Luke Ridnour and Jose Juan Barea were both assets. Now that Ricky Rubio has returned and the postseason is out of the question, Minnesota would have been better off parting with Ridnour and looking towards the fall.
Instead, Utah is too bad to be a postseason factor and Minnesota is too strong to make the most of its lottery destiny. Everybody loses here.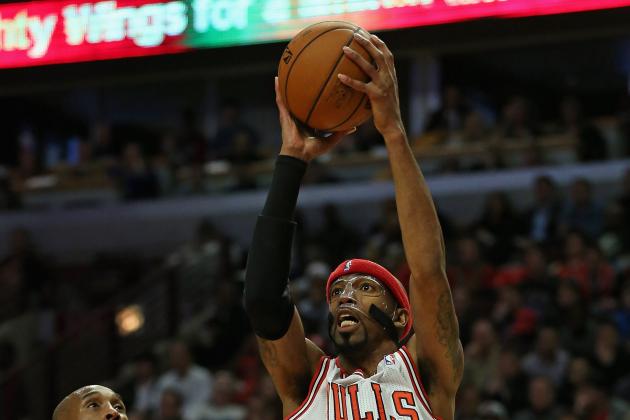 Jonathan Daniel/Getty Images

Two things can happen with Derrick Rose and the Chicago Bulls.
If the point guard returns to MVP-caliber form this season, no team is going to want a part of the Bulls in the playoffs. However, they're not going to be able to get much better on the defensive end, and Rose won't solve Chicago's wing issues on offense.
On the other hand, if Rose's rehab keeps him from making an impact this season, then the Bulls ought to throw in the towel. Without their point guard, they're not winning a championship; there's no need to string along an intelligent fanbase while he's out.
So if Chicago wasn't going to acquire a wing shooter and gear up for the playoffs, why is Richard Hamilton still there?
Dealing his contract would have gotten the Bulls below the luxury tax threshold. Even if the Bulls got nothing back in return, there's no reason for them to pay Hamilton and pay the tax when they have no shot at the title. It's that simple.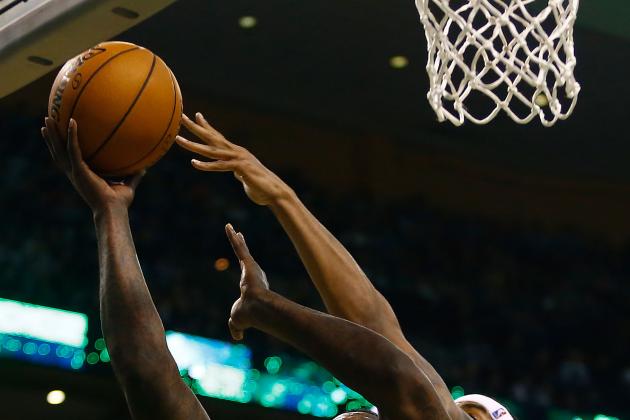 Jared Wickerham/Getty Images

What do you do with a gritty rotation player who isn't getting enough minutes?
Sell him to someone who desperately needs depth.
Once an asset on the floor for the San Antonio Spurs, DeJuan Blair has been surpassed on the depth chart this season. The Spurs are giving the diminutive power forward 13.6 minutes per game—the fewest of his career—even though he is still a capable rebounder and grinder in the post.
For a team like the Portland Trail Blazers, Blair would be invaluable. Rip City has a very good starting five, but can't compete in the West with its paper-thin bench.
Blair also has an expiring contract, so unless Gregg Popovich has some imminent plans in the works for him, this one seems like a missed opportunity.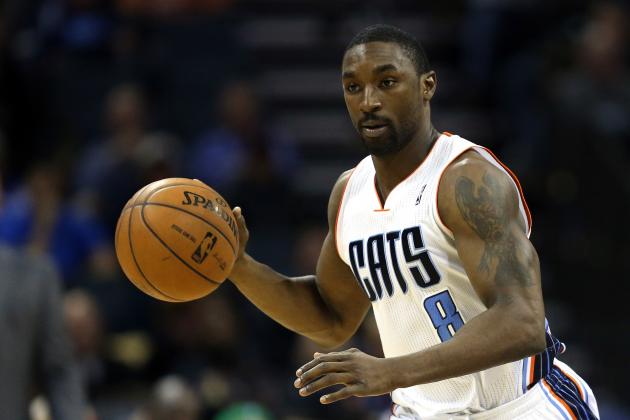 Streeter Lecka/Getty Images

If there's one thing the Charlotte Bobcats have, it's combo guards. Tons of them.
If there's one thing the Charlotte Bobcats do not need, it's combo guards. Save for Kemba Walker, none of them are useful for this team in the long term. And for Charlotte, as usual, the short term is totally irrelevant.
The Bobcats had nothing to gain by holding onto a guy like Ben Gordon. Anything he could give this team, Ramon Sessions or Gerald Henderson could do just as well, if not better.
That's not the case for the Brooklyn Nets, who have been looking for a backcourt spark off the bench all season. Even though Joe Johnson and Deron Williams have picked up their games some lately, the Nets still need a third scoring guard to attack the Eastern Conference contenders.
For whatever reason, Gordon's price tag was too high and Brooklyn backed out of the negotiations. Considering Charlotte gets nearly nothing of worth from him, the blame falls on the Bobcats here.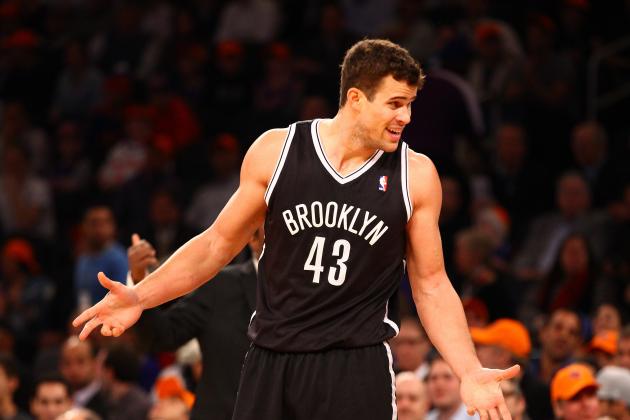 Al Bello/Getty Images

Like the Spurs, Brooklyn has a familiar post player who does not fit in its rotation anymore.
Unlike the Spurs, though, the Nets have areas in pressing need of improvement if they want to compete this season. That's what makes their decision to hold onto Kris Humphries that much more perplexing.
Humphries has played just 19.3 minutes per game this season, and that number is down to 13.7 in February. He is mired in one of his worst seasons ever and his price tag is unenviable, but this is a guy who averaged a double-double in each of his last two seasons. Though he hasn't done much of late, Humphries still ought to have some trade value.
Shipping him to Charlotte for Gordon would have made the most sense, but sending Humphries anywhere for any guard with a jumper would have been good enough.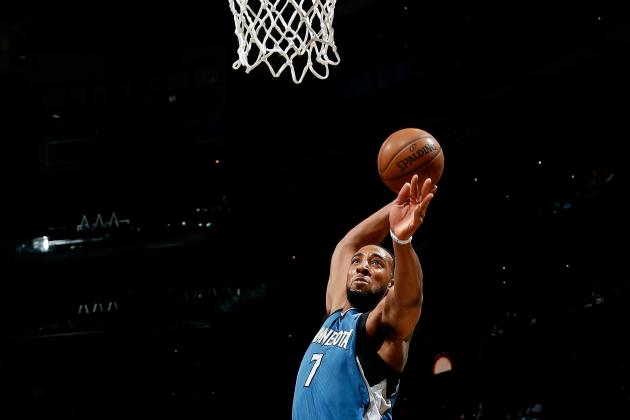 Kevin C. Cox/Getty Images

As soon as the Thomas Robinson trade came across the wire, people started whispering about Derrick Williams.
It was an absolute shock that Sacramento dealt Robinson just half a season removed from making him the fifth overall pick in the 2012 NBA draft. Sure, he was ineffective as a King, but he was also playing limited minutes on the worst team in the league for a developing player.
Houston gave up Patrick Patterson and change, and if the Rockets use him correctly, Robinson is all upside. The natural connection was that Williams could be that guy, too.
The athletic power forward became an oversized wing in Minnesota, also lacking the opportunity to properly foster his skills. Given how little he has been able to do with the T'wolves, it's easy to forget that Williams was the second pick overall behind Kyrie Irving.
That Williams stayed put probably means Minnesota wasn't offering anything like the bargain Sacramento gave Houston. A wise valuation, but it's a shame Williams is going to remain reined-in.
Bruce Bennett/Getty Images

So let's get this straight: The Bucks finally traded for an efficient shooting guard who will at least try on defense, but they refused to give up Monta Ellis?
The combination of two volume scorers in Ellis and Brandon Jennings has been a mess in Milwaukee. Though they have the talent to go up against any backcourt in the league when both players are hot, their offensive inefficiency and defensive ambivalence hurts them much more often.
Where is J.J. Redick going to play then?
He can't guard small forwards, meaning the Bucks defense might be too abominable to allow for a small-ball lineup. That means the best player traded at the deadline is going to come off the bench for a team in the middle of the pack in the Eastern Conference.
More on this foolishness in a bit.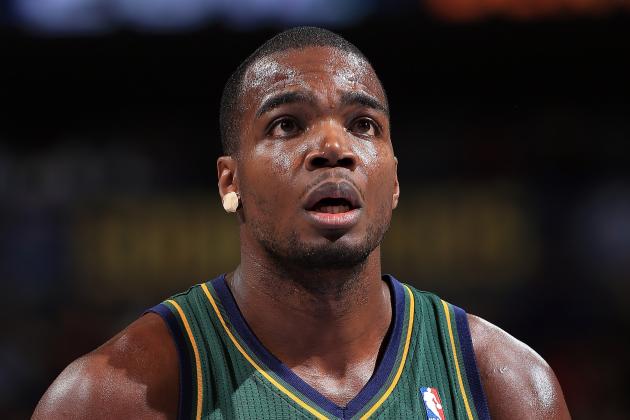 Doug Pensinger/Getty Images

Here we have the most pronounced example of an overcrowded frontcourt.
The Utah Jazz have two very good big men in Al Jefferson and Paul Millsap, and both of them have expiring contracts. Meanwhile, the Jazz also have two talented prospects in Derrick Favors and Enes Kanter just waiting to get more playing time.
As we addressed earlier, Utah's guard situation is abysmal. Trading a Jefferson or a Millsap could have had the two-pronged benefit of opening up minutes for Favors and Kanter while boosting the backcourt in both the short and long term.
If there was ever any validity to the rumor of Paul Millsap for Eric Bledsoe, per ESPNLA.com's Ramona Shelburne and Marc Stein, Utah needed to pull the trigger. That would have settled the point guard situation while also giving the Jazz intriguing young talent at nearly every position.
Both veteran big men can still be signed-and-traded this offseason, but a guy like Bledsoe might not be available then. Besides, every bit of experience Favors and Kanter could have gotten now would have paid dividends down the road.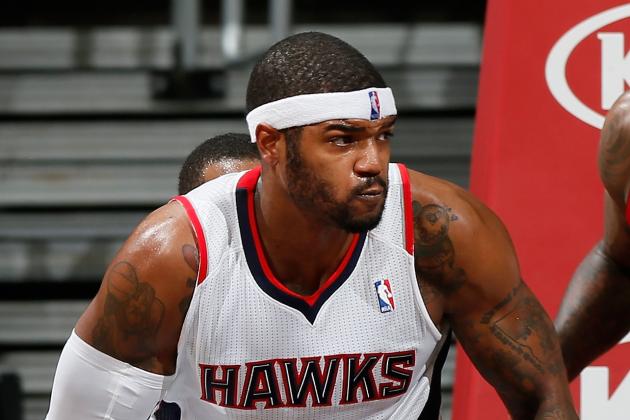 Kevin C. Cox/Getty Images

If the Bucks had buckled and given up Monta Ellis, Josh Smith could've been the final piece to one of the most exciting teams in the NBA.
Consider a starting five of Jennings, Redick, Smith, Ersan Ilyasova and Larry Sanders. The possibilities for such a unit are endless.
You have three guys who can bang around on the interior and three guys who can pour in points from the perimeter (four if Smith is feeling it). At the very least, it's a team with phenomenal spacing and a true post-up threat—two things the Bucks have lacked with their Jennings- and Ellis-centric offense.
Would Ellis and company be fair value for Atlanta? Probably not, but the Hawks can't guarantee they'll get much more this offseason. Unless they think they have a better shot to resign Smith than anyone else does, they might as well have picked up some useful pieces and explored whether Ellis is worth building around.
Besides, Ellis is likely going to opt out after this season, making both he and Smith free agents. Neither team is expected to retain their guy—though Ken Berger of CBS Sports reported that Smith would have considered extending with Milwaukee.
At the very least, it would have been much more entertaining for NBA fans if the Bucks and Hawks had rolled the dice.
Alas, as we know, they could not agree. Conservatism ruled the day, and what could have been a highly eventful deadline was not so.