Predicting the Most Underpaid Free Agents of the 2014 Class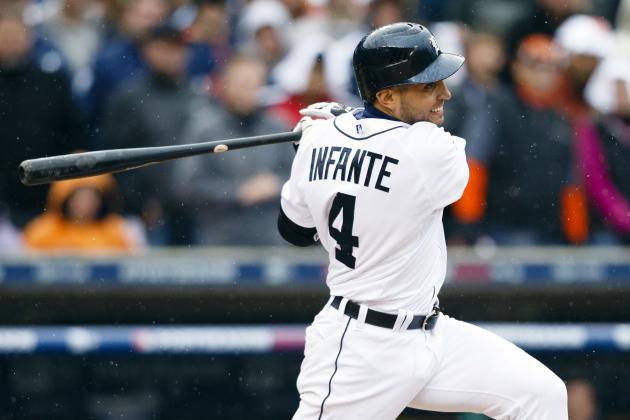 Rick Osentoski-USA TODAY Sports
Omar Infante is going to be a good bargain buy next winter.
It's hard to use the word "underpaid" in any discussion involving Major League Baseball free agents. They've always been expensive, and they're only getting more expensive.
But there's always a few cases every year of players getting less on the open market than they should have. The most notable example from this offseason is Michael Bourn, who ended up with a $48 million contract when initial projections had him getting a deal worth as much as $80 million. Relative to the contracts handed out to players like Angel Pagan and B.J. Upton, the Cleveland Indians got a steal.
So contrary to popular belief, not everyone gets exactly what he wants in free agency. It will happen again during the 2013-2014 offseason.
We're months away from having to worry about a new free-agent season starting, but here are some very early predictions for 10 players who are going to be underpaid next winter.
Note: Stats courtesy of Baseball-Reference.com unless otherwise noted.
Begin Slideshow

»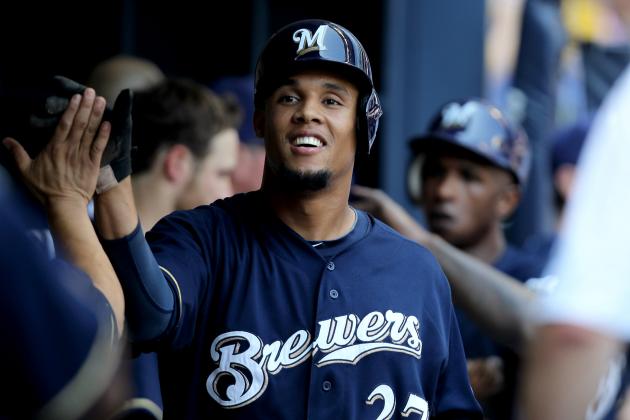 Mike McGinnis/Getty Images

Something clicked for Carlos Gomez in 2012.
The 26-year-old center fielder hit 19 home runs and stole 37 bases for the Milwaukee Brewers, and advanced defensive metrics like Ultimate Zone Rating and Defensive Runs Saved agree that he was solid defensive player (see FanGraphs).
Gomez's problem is that he's unpredictable at the plate. He rarely walks, and he's generally good for a strikeout rate over 20 percent. His on-base skills are going to suffer as long as that's the case.
Sound like anybody you know? B.J. Upton, perhaps?
Yup. Upton struggled with the same problems in his 2012 season. His walk rate dropped while his strikeout rate remained high, resulting in a .298 OBP. By FanGraphs' reckoning, he actually had a lower WAR than Gomez in 2012.
Upton got a $15 million-per-year contract from the Atlanta Braves anyway. Scott Boras, Gomez's agent, is going to push for a similar contract if Gomez repeats his successful 2012 season, but there will be a couple forces working against him.
One is that Gomez doesn't have Upton's track record. The degree to which Gomez is having his numbers inflated by Miller Park could hurt him as well. It also won't help that he'll be sharing the market with Jacoby Ellsbury and Curtis Granderson, stars who will get star-caliber contracts.
Boras will find Gomez a nice contract, but he won't come close to Upton, Ellsbury or Granderson money.
Prediction: Five years, $45 million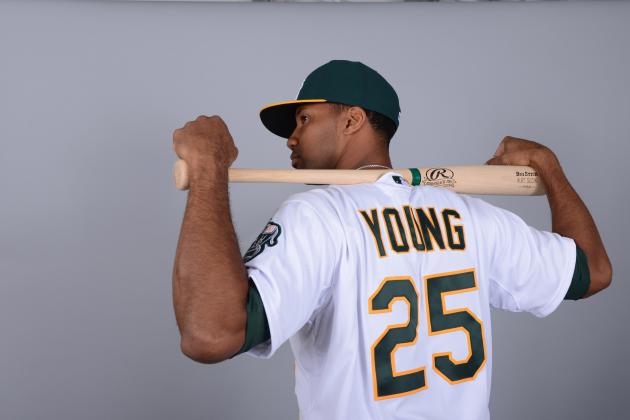 Kyle Terada-USA TODAY Sports

I'm going to go out on a limb with this one.
The Oakland A's can retain Chris Young for the 2014 season, but that will require them picking up his $11 million option. That's a lot of money to pay for a guy who is slated to be a part-time outfielder behind Yoenis Cespedes, Coco Crisp and Josh Reddick in 2013, especially for a small-market club like the A's.
If Young does hit the open market, he'll draw interest based on the fact that his track record reveals him to be a guy who can be counted on to hit 20 homers and steals 20 bases per season. He's also a very strong defensive center fielder.
However, Young is going to be in a tough spot because he'll be competing for a contract with Jacoby Ellsbury, Curtis Granderson and Gomez, which will serve to drive down his price.
But Young's bigger disadvantage is that he will have just spent the 2013 season serving as a part-time outfielder and DH in Oakland. That won't keep teams from being interested in him, but it will help drive his price down even further.
He'll be signed as a starter, but not at the money he should be signed at.
Prediction: Four years, $40 million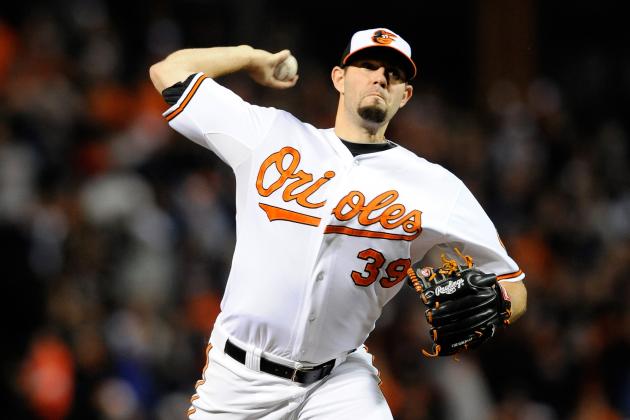 Patrick McDermott/Getty Images

It's amazing what getting out of Colorado can do for a pitcher's numbers. Just ask Jason Hammel.
After compiling a 4.63 ERA in three seasons in Colorado, Hammel had a 3.43 ERA in 20 starts in his first season with the Baltimore Orioles. He helped himself by upping his strikeouts, and was further helped by a huge drop in opponents' slugging percentage. Trading Coors Field for Oriole Park at Camden Yards helped.
Dating back to 2009, Hammel has logged over 600 innings and has compiled a better ERA+ than James Shields and Bronson Arroyo. Given that, and given the fact he'll only be coming off his age-30 season, he'll have grounds to ask for a nice contract.
Unfortunately for Hammel, he couldn't have picked a worse year to be headed to the open market. Next year's free-agent market is going to be loaded with quality right-handers, including Tim Lincecum, Josh Johnson, Roy Halladay, Matt Garza, Phil Hughes and maybe Adam Wainwright as well.
Those guys are going to hog the big money, likely forcing Hammel to accept a more modest deal in terms of both dollars and years.
Prediction: Three years, $30 million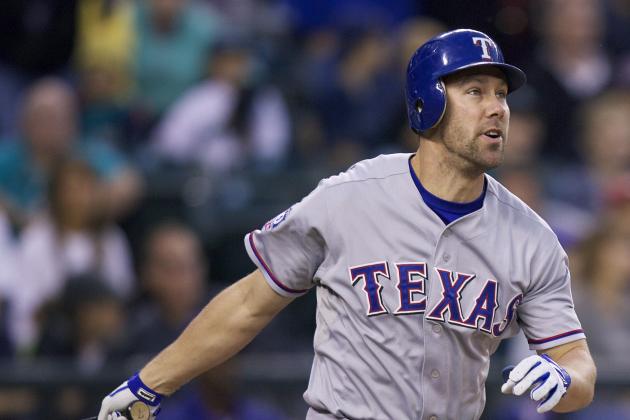 Stephen Brashear/Getty Images

They don't make 'em much more underrated than David Murphy.
Murphy has a .283/.346/.499 slash line over the last five seasons with 70 home runs and 51 stolen bases. One's first instinct is to assume that his numbers have been inflated by Rangers Ballpark in Arlington, but he's in the company of players like Carl Crawford, Jacoby Ellsbury and Ichiro Suzuki in OPS+ since 2008.
Defensively, Murphy rated as an above-average left fielder in 2012, posting a 9.4 UZR and a plus-seven DRS (FanGraphs). Though that's his primary position, he can play center field and right field too, if need be.
With Josh Hamilton gone, Murphy is going to get a chance to build his free-agent value with everyday playing time in 2013. If all goes well, he'll at least repeat the .304/.380/.479 slash line he posted in 2013.
But it won't be so easy for Murphy to get the contract he desires, as next year's market is going to be loaded with corner outfield types. He'll be sharing the market with Mike Morse, Hunter Pence, Shin-Soo Choo, Corey Hart and Nelson Cruz.
If Morse and Pence bounce back in 2012, and Choo and Hart provide their usual production, then Murphy isn't going to stand out as the best corner outfielder on the market. The best he may be able to do is something similar to Cody Ross' three-year, $26 million contract, which will be a bargain rate in relation to his sneaky-good career numbers.
Prediction: Three years, $27 million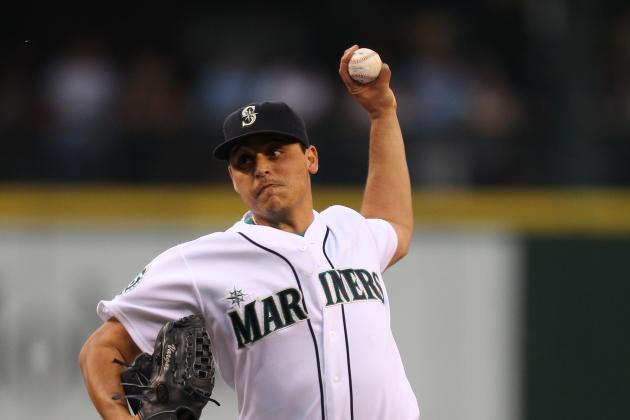 Otto Greule Jr/Getty Images

Nobody should ever mistake Jason Vargas for a Cy Young-caliber pitcher, but he's not as appreciated as he should be.
At the very least, Vargas is one of the better left-handed innings eaters in the league. He's pitched over 200 innings in each of the last two seasons, and has actually logged more innings than the likes of Mark Buehrle and Madison Bumgarner.
The knock on Vargas is that he owes his success over the last couple years to Safeco Field, and that's largely true. He has a career 3.38 ERA at Safeco Field, and his ERA+ as a Mariner was a mere 95.
But this doesn't mean Vargas couldn't succeed elsewhere with the right circumstances. Case in point, he's in a perfect spot now with the Angels, as he'll be pitching in a very pitcher-friendly ballpark and to a very good outfield defense that will be able to manage his fly-ball style.
Vargas won't be the only fly-ball pitcher on the market next offseason. Phil Hughes will be there too, and he's going to be the more attractive option because of his youth and his slightly better periphery numbers (i.e. his 99 ERA+).
Somebody is going to overpay Hughes while somebody else will probably get Vargas for a Jeremy Guthrie-esque contract. The two teams will be getting largely similar pitchers, but the team that gets Vargas will at least be getting a proven innings eater.
Prediction: Three years, $25 million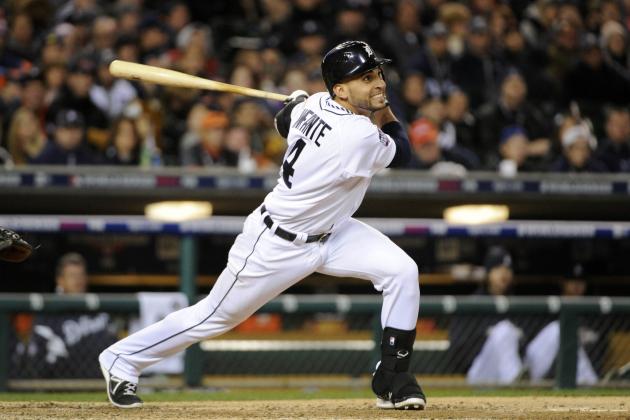 H. Darr Beiser-USA TODAY Sports

It's a lot easier to overlook Omar Infante than it should be.
Infante doesn't walk enough, but he's able to be a productive player because he doesn't strike out much, and he's able to maintain a high enough BABIP. In 2012, he showed off a decent combination of power and speed by hitting 12 home runs and stealing 17 bases.
The other thing that's easy to miss about Infante is that his transition into a full-time role at second base over the last two seasons has gone well. He's compiled an 18.3 UZR and a plus-10 DRS (FanGraphs).
Infante will be coming off his age-31 season when he hits the market next year, but all eyes will be on a second baseman coming off his age-30 season: Robinson Cano.
Projections for Cano's next contract have him becoming one of the highest paid players in the game, and deservedly so. He's been the best and most consistent second baseman in the game over the last few years, and there aren't many at the position who can match his power.
At his best, Cano is worth between five and eight WAR (FanGraphs version). At his best, Infante is worth between two and three WAR. Though he could be half as good as Cano in a good season, he's certainly not about to get a contract worth half of what's about to come Cano's way. Something more along the lines of Marco Scutaro's three-year, $20 million contract is more like it for Infante.
Something like that would be a tenth of what Cano might get, which wouldn't be bad for a guy who has the potential to be half as good.
Prediction: Three years, $21 million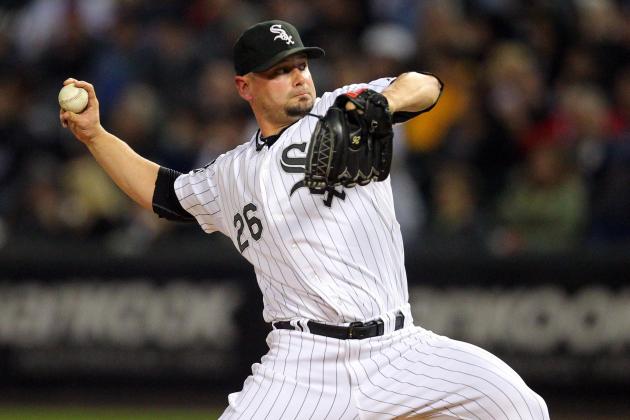 Dennis Wierzbicki-USA TODAY Sports

The Chicago White Sox have revived Jesse Crain over the last two seasons, as he's posted a 2.54 ERA and a 1.17 WHIP over a total of 118 appearances.
An increased strikeout rate has helped. Crain had a mere 6.2 K/9 in his seven seasons with the Minnesota Twins. Through two seasons in Chicago, his K/9 is 10.3.
That doesn't stand out as being elite among fellow right-handed relievers, but where Crain has a few notables beat is in his ERA+. His 171 ERA+ since 2011 is better than those of Joel Hanrahan, J.J. Putz and Jim Johnson.
The three of them are all making closer money, and Hanrahan will be in for a nice raise on the open market if he has a successful season closing games for the Boston Red Sox in 2013. While he and other "proven closers" like Ryan Madson, Carlos Marmol and Fernando Rodney are looking for big checks, Crain will be looking to take what he can get.
Ideally, he'll get something similar to the three-year contracts that Brandon League and Jonathan Broxton signed this offseason. But since he doesn't have closing experience, he'll more likely get something more like the three-year, $18 million contract signed by Jeremy Affeldt.
Not bad in and of itself, but he won't be making the same money as some "proven closers" out there even though he may be just as good.
Prediction: Three years, $18 million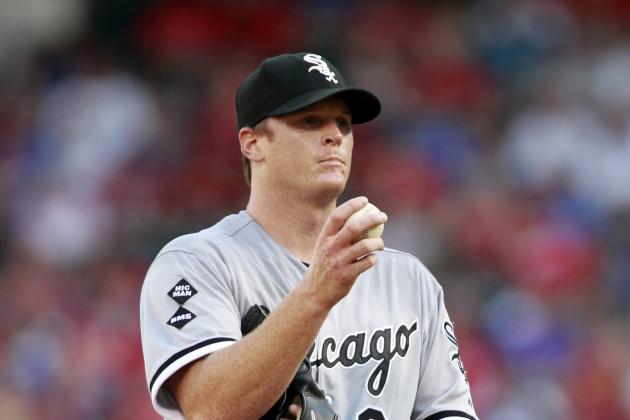 Tim Heitman-USA TODAY Sports

Gavin Floyd's recent track record screams mediocrity. Over the last four seasons, he's compiled a 45-48 record and a 4.20 ERA.
It's not all bad, though. Floyd does have a somewhat respectable 105 ERA+ since 2009. Among right-handers, that puts him right there with Edwin Jackson, who signed a four-year deal worth $52 million this winter.
Floyd won't be getting a deal like that on the open market. Partially because he's older than Jackson, and partially because he's going to fall victim to the same reality that's going to drive down Hammel's market: too many other good right-handers.
Given their similarities, Floyd and Jason Hammel are probably going to be drawing interest from the same suitors next winter. Floyd's advantage over Hammel will be his superior track record as an innings eater. His disadvantage will be his past struggles with home runs and mediocrity in general.
A decent comp for the kind of contract Floyd could get is the two-year, $15 million deal Joe Blanton signed with the Los Angeles Angels. The Angels got a minor steal because they have the right mix to curb Blanton's gopheritis. If the right team signs Floyd to a similar contract, it will also be getting a minor steal.
Prediction: Two years, $17 million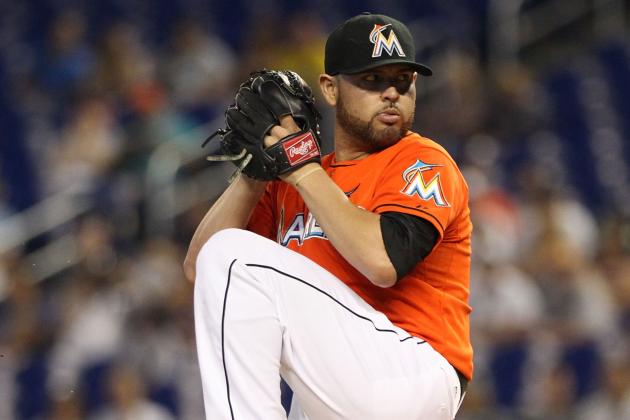 Marc Serota/Getty Images

Ricky Nolasco is not the pitcher he used to be, as he's become less and less of a strikeout artist over the last four seasons.
But he's still a decent enough hurler, particularly in regard to his ability to eat innings. He's logged 397 innings over the last two seasons, more than Tim Hudson, A.J. Burnett and Anibal Sanchez.
In addition, Nolasco's periphery numbers say he's not as bad his ERA would have everyone believe. He routinely posts a FIP (Fielding Independent Pitching) under 4.00, and his FIP over the last five seasons actually isn't that far off from the FIP that Jered Weaver has compiled (FanGraphs).
Nolasco is going to draw attention on the open market because of his ability to eat innings, but his other numbers are going to help drive his price down as teams look to commit money to pitchers like Lincecum, Johnson, Halladay and even Hammel and Floyd instead.
In the end, Nolasco is probably going to sign for next to nothing, meaning somebody is going to get a couple 190-200 inning seasons out of him for cheap.
Prediction: Two years, $14 million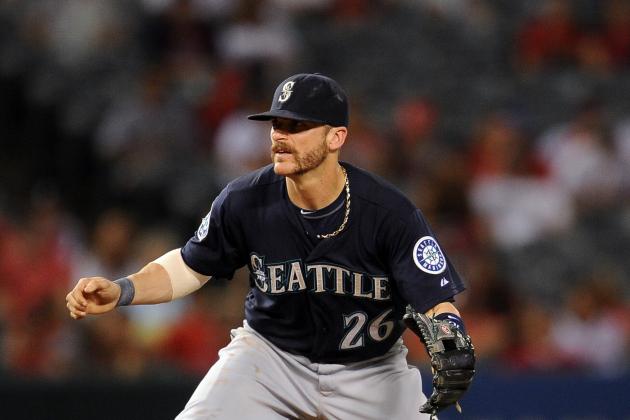 Jayne Kamin-Oncea-USA TODAY Sports

Brendan Ryan was the worst hitting shortstop in the majors last year, finishing with a .194 batting average. Since he weighs 195 pounds, he literally didn't hit his weight.
But what makes Ryan a legit major leaguer is the fact that his defensive skills are unparalleled. He led all major league shortstops in both UZR and DRS in 2012 (FanGraphs), and he tied with Darwin Barney atop the charts in Defensive WAR.
Ryan is so good on defense that he's worth a couple wins per season with his glove alone. That's significant because other shortstops are only worth a couple wins per season just with their bats.
None of this, however, is going to get Ryan a big, fat contract. The shortstops who can hit are the ones who get paid, and there will be a couple of those on the market alongside Ryan next year. Stephen Drew and Jhonny Peralta will be looking for work, and Derek Jeter could be looking for a new contract as well if he chooses not to exercise his 2014 option.
Ryan should be able to catch on as a starter somewhere, but the average annual value of his next deal won't be much better than the $3.25 million he'll make this season.
Prediction: Three years, $12 million
If you want to talk baseball, hit me up on Twitter.