How Chelsea Can Complete a Top-Four, FA Cup and Europa League 'Treble'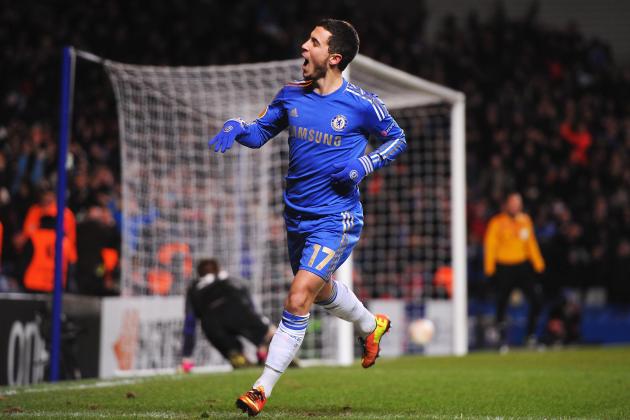 Michael Regan/Getty Images
Hazard helps the treble quest roll on
It's about time Chelsea fans stop dwelling on what could have been this season, and instead focus on what can still be done.
It's fair to say that things haven't gone totally to plan so far. Trailing Manchester United by 16 points is too much, the Champions League failure and the inability to win any of the silverware on offer has been disappointing, but over the next couple of months the Blues can make 2012/13 into a very successful campaign.
Regardless of how it came about, a top-four finish and an FA Cup and Europa League double would have to be classified as another very good year.
So from now onward, Chelsea need to focus on completing their very own "treble," much in the same way Manchester United are buckling down to attempt the proper version.
Achieving it would paper over many of the cracks; yet, the inevitable summer rebuilding job would be made a lot easier if Chelsea can neutralise some of the negatives around the club at the moment.
Here's how Chelsea can rescue their season by fighting on three fronts.
Begin Slideshow

»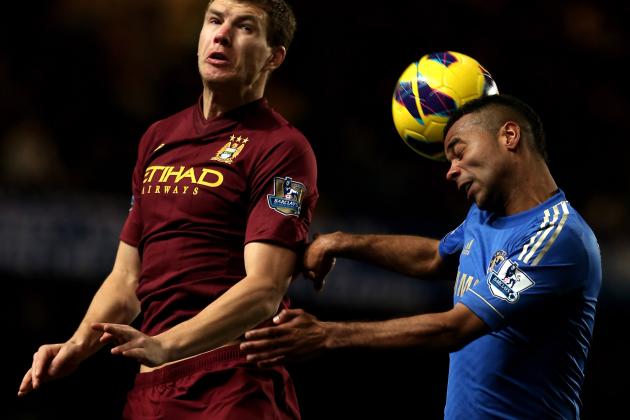 Julian Finney/Getty Images
Can Chelsea catch and pass the Champions?
Bill Shankly once said "second is nowhere," so if Chelsea aren't going to win the Premier League, does it really make much difference where else in the top four they finish?
There's an argument that fourth with silverware would be better than second without, but going into next season, surely usurping the current champions would provide a massive mental and morale boost?
At present Chelsea are five points clear of Arsenal in fifth, and only four behind Manchester City in second, with a visit to the Etihad to come on Sunday.
Any club with such grand designs should be looking ahead rather than back, so the Blues should reassess their aims to finish second instead of holding on to third or fourth.
As well as looking good on Chelsea's CV, catching and passing City would deepen the inquisitions for Roberto Mancini, and assisting their downfall can only be a good thing moving forward for the Blues.
That assault begins on Sunday, but with each of the top six having 12 games left to play, can Chelsea finish on top of a congealed mini-league over a dozen fixtures?
The gap between them and Manchester United has been gradually increasing over the past few moths, but a strong league finish will aid their aims of success elsewhere and put the club onto the front foot when the new campaign begins.
It was about this time three years ago when Guus Hiddink came in to steady the ship following Luiz Felipe Scolari's sacking, and over the final third of the season, the Dutchman laid the foundations for Carlo Ancelotti to eventually come in a complete a league and cup double.
Second, third or fourth may be academic this term, but the momentum gained could be crucial for the restart.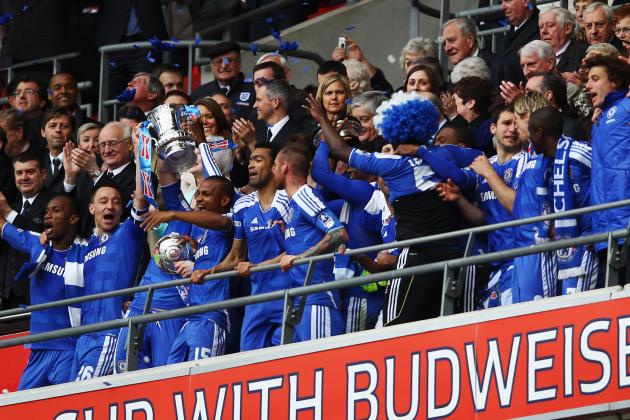 Clive Brunskill/Getty Images
Success breeds success
I've never thought that prioritising competitions is particularly helpful to clubs. Surely success brings success, and winning on one stage can only benefit you in others?
As Chelsea continue to compete on three fronts, they must have the mentality that they are going after a treble. The momentum gained from one game to the next needs to grow cumulatively over the remainder of the campaign to increase the Blues' chances of glory in each area.
Chasing three targets at this stage of the season is not a new concept for the club and certainly they have the quality and depth of personnel to keep up the chase.
Manchester United are in a similar position and you won't hear them complaining that there are too many games, so nor should Chelsea.
The European champions should also not need to hand pick one thing they want to achieve over others. Finishing in the top four is a necessity, but that shouldn't be attained at the cost of the cup competitions.
Likewise, progress in the cups provides no excuse to tail off in the league––even if a top-four spot looks likely.
The acid test will come when a trip to United in the FA cup sandwiches two Europa League ties against Steaua Bucharest. It will be an arduous week, but isn't that why strong squads are assembled at great expense?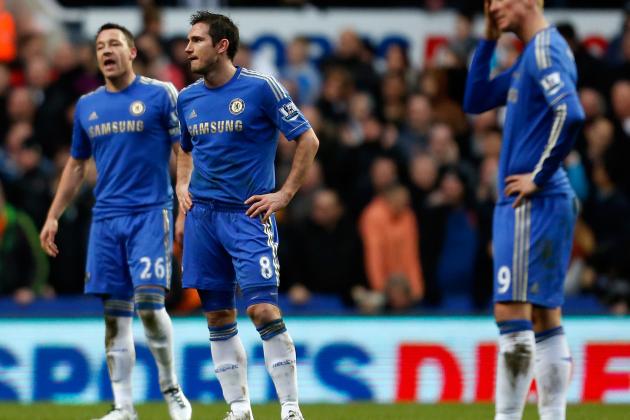 Paul Thomas/Getty Images
Would any of these three be in Chelsea's best XI?
For the entire season Chelsea have had ongoing tactical and personnel issues.
Roberto Di Matteo's switch to a 4-2-3-1 formation had its flaws––none of which have been rectified under Rafa Benitez.
Do Chelsea know their best central defensive partnership? Who are the best-suited duo to anchor the midfield? Is 4-2-3-1 even the best setup? Can they play all of Eden Hazard, Oscar and Juan Mata?
They are just some of the quandaries that have yet to be addressed, but need to be if Chelsea are to have any chance of bringing home their "treble."
Successful sides don't have that many lingering doubts about what's most conducive for them, but Chelsea do, and have meandered through them throughout the whole campaign.
If many of the wrongs are to be made right, Benitez needs to step up to the plate and run the side with some assertion, settling on a formula which works.
Too many of Chelsea's results and performances are dictated by individual brilliance––and whilst that's not a bad trait to contain––a better overall team structure would breed greater fluency and understanding.
Once a blueprint has been found, Chelsea have enough depth and options to change the personnel accordingly, and altering players into a shape is easier than sending out a collection of players capable of doing a job if they click.
The Blues are not a well-oiled machine, they are a rusty van with some sparkling accessories, and until the whole piece is greater than the sum of its parts, they'll continue to stumble.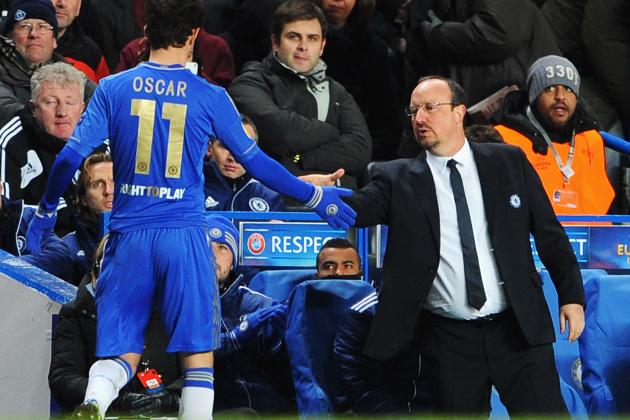 Michael Regan/Getty Images
Benitez has plenty of tough choices
Following on from the last slide, Benitez needs to know exactly what his best formation and starting lineup is for a couple of crucial games.
First up: He needs to make a statement against Manchester City on Sunday, and a fortnight down the line he should be back in town to take on Manchester United in the FA Cup quarterfinals.
Lose both of those games and it's top four and the Europa League, but if he can win them both––or avoid defeat in both––then the "treble" still has plenty of wind in its sails.
The Etihad and Old Trafford are the two most difficult grounds to go to in the country, so Chelsea need to field their best side in the best shape to get anything from the fixtures.
But does anybody know what the best side and shape is? Has Benitez any idea? With a full complement to choose from, we may have a better understanding of where he stands on Sunday afternoon.
At present, Chelsea have no fail-safe, fall-back plan. They seem to make things up as they go along, and those inadequacies will be exposed if Benitez cannot find a solution.
Scott Heavey/Getty Images
Can Marin make his mark?
Until the end of the season, Chelsea could end up playing anywhere between 15 and 25 games in 86 days, and that hectic schedule will test the full depth of their squad.
With John Terry back from injury and Victor Moses and John Obi Mikel back from injury, the Blues are suddenly flush with options. Against Sparta Prague on Thursday night, the bench included Eden Hazard, Marko Marin, David Luiz, Ashley Cole and Yossi Benayoun, whilst Frank Lampard, Demba Ba and Branislav Ivanovic played no part.
Fernando Torres continues to fail, so striking options are limited, but elsewhere there are plenty of alternatives to shuffle the pack as and when needed.
With injuries cleared up and no suspensions, Benitez has pretty much got two players per position to choose from, and he needs to use that pool wisely across all competitions.
Upcoming games against Middlesbrough, West Brom, Fulham, West Ham, Southampton, Sunderland and a couple against Sparta Prague are all winnable on paper, but wholesale changes will do no favours.
Being able to astutely pick players for games will be made easier if Benitez can solve the riddle of slides three and four by settling on a shape and style that works best with what he has at his disposal.
If he can do that, then he can safely choose between the healthy competition on offer. Aside from the strikers, Benitez has Luiz, Terry, Ivanovic and Gary Cahill for central defence, Luiz, Ramires, Mikel and Lampard for central midfield and Victor Moses, Marin, Mata, Hazard, Oscar and Benayoun to fill his midfield floaters.
The likes of Mata, Hazard, Cole and Ramires have played non-stop from start to finish, so allowing them adequate rest without compromising the side will be vital if Chelsea are to keep up their "treble" chase.
For more, follow me on Twitter @bainesyDiego10