Lyon vs. Tottenham Hotspur: 6 Things We Learned from Europa League Clash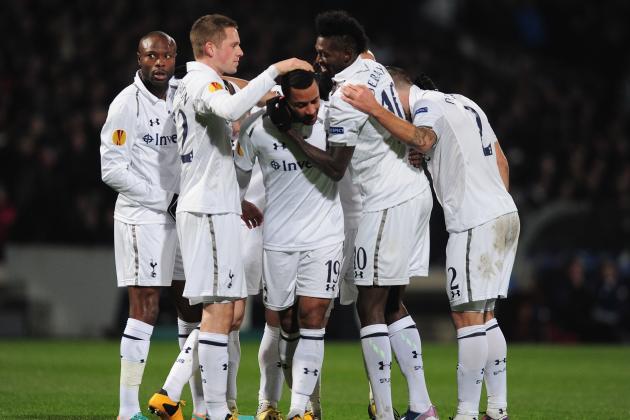 Jamie McDonald/Getty Images
Tottenham Hotspur's match-winner Mousa Dembele is mobbed by teammates after a close call out in Lyon.
Tottenham Hotspur are through to the last 16 of the Europa League after Mousa Dembele scored late in their match with Olympique Lyonnais.
Dembele's goal on 90 minutes came just in the nick of time, with Tottenham struggling to find a way through a stubborn Lyon defense leading 1-0 on the night and going through on away goals. As it was, the Belgian's precise, long-range shot equalized the match and gave his team a 3-2 aggregate advantage.
Spurs will face Inter Milan in the next round, reawakening memories of the two clubs' Champions League meetings just over two years ago. The Italians sealed their own progress with a comfortable 5-0 aggregate win over Romanian outfit CFR Cluj.
Despite the joy over their victory, Tottenham will be seeking an improvement on their performance Thursday night, and they will take good and bad from this game.
Begin Slideshow

»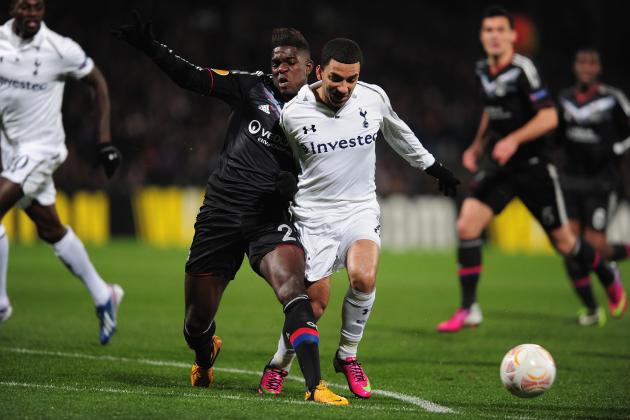 Jamie McDonald/Getty Images
Samuel Umtiti and Aaron Lennon battling for the ball.
The Stade de Gerland is a tough place to visit for away sides. Lyon's supporters are loud and play a part in engineering a grittiness of spirit in their team's players.
Intimidation is too strong a word for what Tottenham felt in this environment, but they did not look comfortable at all. If they want to progress in the Europa League this season, as well as do well in Europe in the years to come, they need to toughen up.
Playing in the Premier League is different—teams are never far from home, and opposing environments are not so alien. Abroad though, the wind-up tactics of opposition players and the whistling of fans can be harder to deal with without familiar comforts.
Other than for a couple of players, this is not new territory for the bulk of the Tottenham squad. But, perhaps having not competed in such a hostile atmosphere (with something on the line) for a couple of years caused a bit of rustiness.
A trip to the San Siro beckons, and Spurs need to prepare for similar methods again.
They did not have things so bad on Thursday. The last time Tottenham visited Lyon in 1967, Bill Nicholson's men had to deal with an even more cynical side and an on-pitch riot fighting both opposition players and fans!
Jamie McDonald/Getty Images
Match-winner Mousa Dembele.
As much as Tottenham could do with toughening up in Europe, the fixtures with Lyon having demonstrated something in their favor—the undeniable quality they possess among their ranks.
Spurs are not alone in having some top players. Their Round of 16 opponents Inter Milan are among those that can boast some stars capable of lighting up the Europa League (in their case, Antonio Cassano stands out).
However, what Dembele's winner showed, as did Bale's brace in the first leg, is that Tottenham have genuine match-winners. For all of the difficulty in getting there, Spurs have played their way into the next round and are capable of getting further.
The trick for the players (and Villas-Boas) now is finding a way to work themselves into the game more frequently than just those sporadic moments.
This is easier said than done. With testing opposition like Arsenal and Inter to come in the next couple of months, opportunities to have an impact will be limited. However, these are the kind of occasions for which they play football, and they have to do their utmost to grab them.
Jamie McDonald/Getty Images
Maxime Gonalons stops Gareth Bale in his tracks.
Despite the general inexperience of this current Lyon squad, they played with a nous and wiliness that suggested they were old-hands at this game.
It will stand them in good stead in their likely Champions League adventures to come. As ugly as it can be at times, Lyon's hassling and gamesmanship upset Tottenham's flow and pressured them into making mistakes. Others of Spurs' level will suffer a similar fate.
Crucially though, Lyon look like they have emerging talent capable of surviving on the European stage (if not quite strong enough to compete with the very best).
In the end, their negativity cost them—the gamble of holding on to their away goal advantage coming undone with Dembele's goal. Remi Garde has a disciplined side capable of running an effective game plan. But he would do well to remember that, in the likes of Alexandre Lacazette and Clement Grenier, he has players capable of taking the game to others too.
Garde is a young coach who is learning. Should he stay at Lyon, his development will make for an intriguing watch as the wider football world waits to see if he turns into one of the next big names of the management game.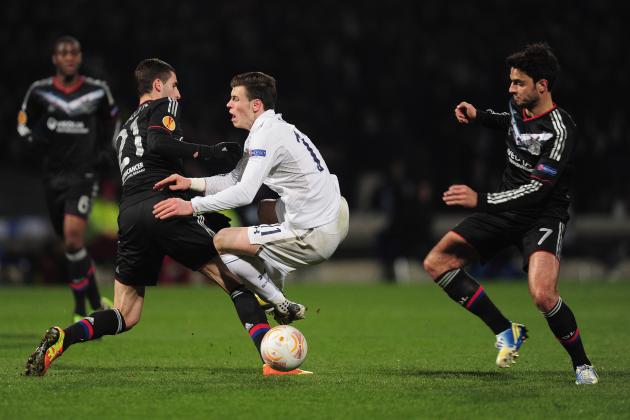 Jamie McDonald/Getty Images
Gonalons goes in rough on Bale.
In the end, Maxime Gonalons and his Lyon teammates' bid to keep Tottenham out came up short.
Dembele's goal—in which he skipped past Clement Grenier before firing in—was about as much space as Tottenham had gotten in that area, just outside the penalty box, all night.
That was in large part to Gonalons, who once again impressed in his team's midfield and had grabbed their opener.
At times, the Lyon skipper resorted to less than savory tactics (see the accompanying picture where he charged into Gareth Bale). Yet, in spite of this—or because of it—it was as stifling and effective of a defensive midfield display as you are likely to see.
Until Dembele stepped up, neither he nor Bale, Lewis Holtby or Clint Dempsey had any real joy at all in their attempts to open Lyon up from the central position. There was accompanying help, but Gonalons was the prime protector.
There are a few big clubs in Europe right now who could do with a presence like his. Lyon will not let him go easily (and he may wish to stay a while yet), but it would not be surprising to see a few teams with a soft core looking his way within the next year or two. (Looking at you, Arsenal!)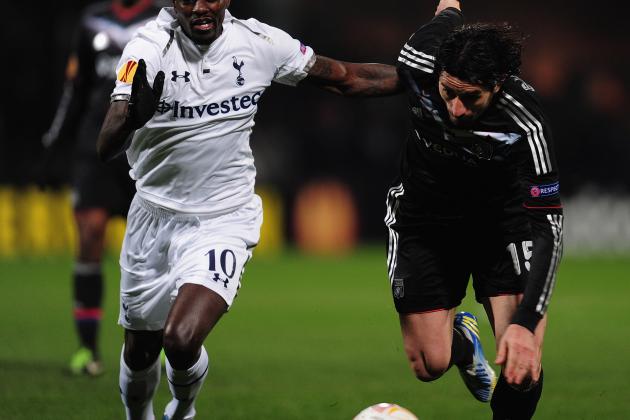 Jamie McDonald/Getty Images
Emmanuel Adebayor in action.
Emmanuel Adebayor's general first-half performance was not good. You would have sympathized with Tottenham fans if they had been ready to write off the striker ever doing anything worthwhile again for his club.
For a while in the second half though, it looked like he actually gave a damn. Adebayor is so hard to move off the ball in full flow, and at times he was giving Lyon problems with some threatening bursts into space. Ultimately, it was not a particularly telling contribution, but it served as a reminder of his usefulness when he applies himself.
There lies the great frustration over Adebayor right now. Spurs fans saw last season what an effective forward he can be, but that ability has only been demonstrated fleetingly since he joined the club permanently.
Andre Villas-Boas said it himself before the Lyon match (via the Express): "We're trying to unlock the best out of the player. Last year shows as an example for what we're trying to get out of him."
The paucity of first-class forward options at Tottenham means they can ill-afford to give up on Adebayor. Glimpses of his talent were on display against Lyon, but his team will suffer even more if he cannot find a way to summon that quality more consistently.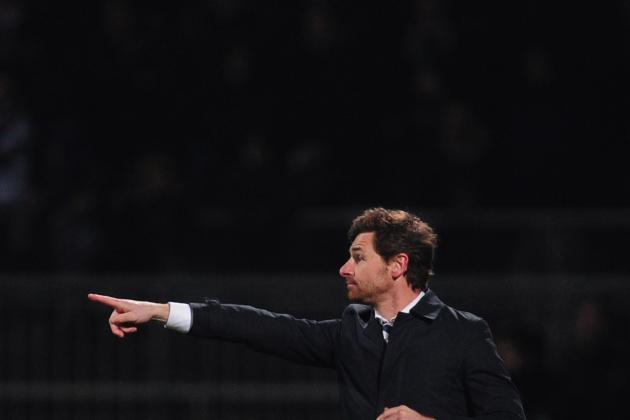 Jamie McDonald/Getty Images
Andre Villas-Boas.
Considering Adebayor's performance, it was interesting to note on Thursday that Harry Kane has been sent out on loan to Leicester City for the remainder of the season.
The young striker also signed a contract extension—the hope is that he will gain more useful experience following his fruitful spell in The Championship with Millwall last year.
The move has left Tottenham with one less striker, and one less option to call upon from the bench for the remainder of the year. It is a slightly puzzling decision considering he was recalled from Norwich City last month to boost sparse attacking options at Spurs.
Against Lyon, the North Londoners' impact off the bench in their attempt to rescue the game was minimal. Admittedly, it was a difficult situation for Gylfi Sigurdsson and Clint Dempsey to come on into. Lyon's stout refusal to let Spurs through made it hard going for attackers like them to make a difference.
But whether it is them, Holtby, Jake Livermore or younger guys like Jonathan Obika or Tom Carroll, from here on out, Villas-Boas could do with those he brings off the bench making a genuine contribution.
There have been examples of this already this season—Holtby against Norwich a few weeks back and Dempsey off the bench against Reading. But, whoever it is, they are going to need be able to help carry the load of those starting.
On those occasions, such as Thursday, when Bale and Aaron Lennon are struggling into a game, others have to bring some to the table. It could be the difference in Spurs' progress this season, both in domestic and European competition.