NBA Trade Deadline 2013: Winners and Losers in Thomas Robinson Deal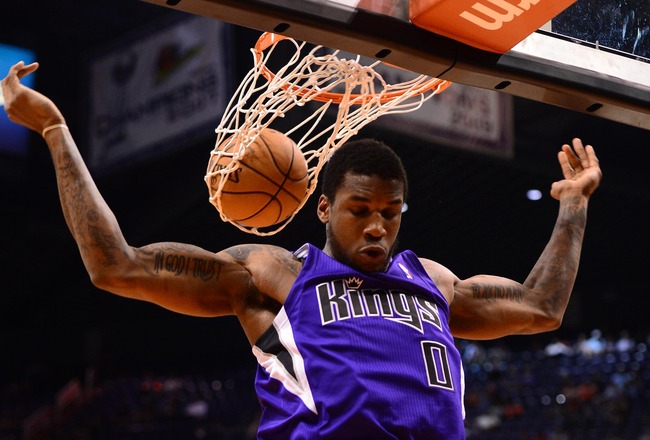 The Kings have traded Thomas Robinson to the Rockets in a multi-player deal.
Mark J. Rebilas-USA TODAY Sports
On Wednesday night, the Houston Rockets and Sacramento Kings agreed to a deal that will send Thomas Robinson, Francisco Garcia and Tyler Honeycutt to Houston in exchange for Patrick Patterson, Cole Aldridge, Toney Douglas and $1 million.
With two teams and six players involved, there are clear winners and losers to the trade. Let's look at who benefited most from this deadline deal.
Winner: Thomas Robinson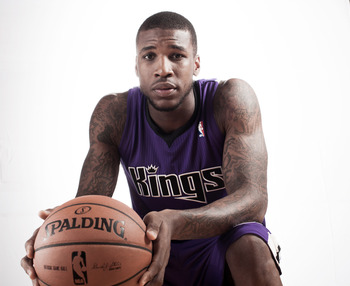 Thomas Robinson joins the Rockets, a team with 11 more wins than the Kings.
Nick Laham/Getty Images
Thomas Robinson was selected No. 5 in the 2012 NBA Draft by the Kings, but he struggled to find playing time behind DeMarcus Cousins and Jason Thompson, averaging just 15.9 minutes in 51 games this season.
Houston's top two power forwards in minutes played, Patrick Patterson and Marcus Morris, are no longer on the roster (Morris was traded to Phoenix).
The way should be clear for Robinson to play big minutes in Houston, and likely start right away. The additional playing time will boost his numbers and give him valuable experience playing against other starting NBA power forwards.
Robinson also finds himself on a team that is on pace to make the playoffs. Even though they are very young, the Rockets control the eighth seed in the West. Their front office is committed to building a championship-level team, as demonstrated by the money they spent on Jeremy Lin, Omer Asik and James Harden in the past year.
Patrick Beverley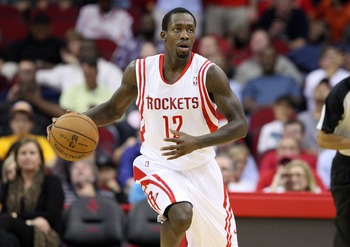 Patrick Beverley will be the primary backup point guard.
USA TODAY Sports
With Toney Douglas shipped to Sacramento, Patrick Beverley should become the backup point guard behind Jeremy Lin in Houston. The Rockets have no other points guards currently on their active roster.
Beverley has only played in 15 games this season, but he has started to see more playing time in February, playing at least 18 minutes in each of the last five games. His best game of the season was on Feb. 10 against Sacramento; he had six points, eight assists and five rebounds.
Winner: Houston Rockets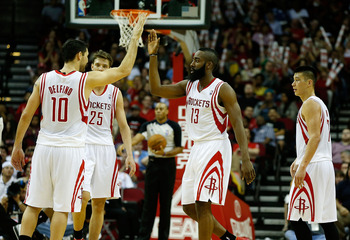 Thomas Robinson can be another young building block for Houston.
Scott Halleran/Getty Images
The Rockets had to add roughly $3 million in salary for this season and pay the Kings $1 million, but they were able to acquire a former top-five pick without sacrificing any future draft picks or cap space.
Houston could have over $20 million in cap space this summer if they decline player options on Francisco Garcia and Carlos Delfino, according to Hoopshype. That space would be more than enough to sign a superstar to a max contract. Dwight Howard and Josh Smith can both become free agents this summer.
The Rockets also get the chance to see if Robinson can be their power forward of the future while only giving up Patrick Patterson. If they don't see him as a good fit, they have acquired another prospect on a rookie contract that can be used in a future trade.
Loser: Patrick Patterson
Patterson started 38 games in Houston before being traded.
Kyle Terada-USA TODAY Sports
Patrick Patterson is a loser in this trade for many of the same reasons that Thomas Robinson is a winner. Patterson was starting for a playoff contender in Houston. Now he will have to compete with incumbent starter Jason Thompson for playing time in Sacramento.
The Kings have signed Thompson through the 2016-17 season for over $5 million per season, so they will have incentive to continue giving him playing time. Without Thompson being traded, Patterson will likely have a bench role in Sacramento.
Patterson also finds himself in the middle of a team sale in Sacramento. Because of the sale, the team's front office has been unable to make many big moves or commit salary long term. This is a big part of why Sacramento finds themselves with the second-worst record in the Western Conference.
Loser: Sacramento Kings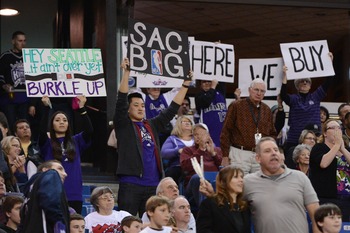 The Kings gave up early on a lottery pick and are headed to Seattle.
Kyle Terada-USA TODAY Sports
Eight months ago the Sacramento Kings used the No. 5 pick in the NBA draft to select Thomas Robinson. He and DeMarcus Cousins were supposed to form one of the best young frontcourts in the NBA.
Instead, Robinson never started a game for the Kings. In just 15.9 minutes per game Robinson averaged just 4.8 points and 4.7 rebounds per game.
While his play this season has been less than stellar, there was no reason from a talent standpoint for the Kings to give up on Robinson. He is just 21-years-old, and there is a reason that he was the fifth player taken in the draft, the guy was the second-best big man in last year's draft.
However, the Kings appear to have made the deal for short-term financial reasons. Although they shed no long-term contracts, the team saved $3 million in salary this season and received $1 million from the Rockets.
This move will save some money for the team while their pending sale to a Seattle-based ownership group is looked at by the league in April.
After trading Robinson, the team's long-term prospects are as bad as ever.
Keep Reading