6 Key Premier League Battles to Watch This Weekend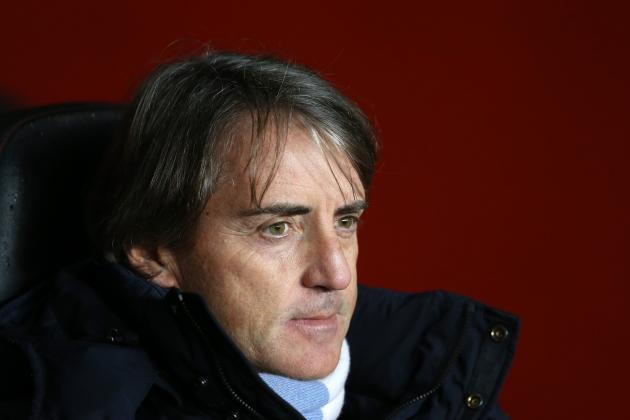 Scott Heavey/Getty Images
Roberto Mancini's side HAVE to beat Chelsea on Sunday to stay in title contention
After a busy week full of Champions League and Europa League matches, the Premier League takes center stage once again this weekend.
Regular readers will know that this column usually focuses on a wide range of league fixtures, but it's going to be slightly different this week.
We're going to look at five fixtures that could have huge implications at the bottom end of the Premier League, as well as Sunday's big clash between Manchester City and Chelsea at the Etihad.
Sunday afternoon's headline Premier League clash sees two teams going head-to-head in a match that neither side can afford to lose; both managers are under severe pressure to get things right.
Manchester City have to win on Sunday to have any chance of staying in the title race and Chelsea have to win to keep ahead of their rivals in the race for a Champions League place.
As usual, after running down key information about the current form of the sides involved in each clash, I'll make a prediction on the result at the end of the slide.
Let's get started!
Begin Slideshow

»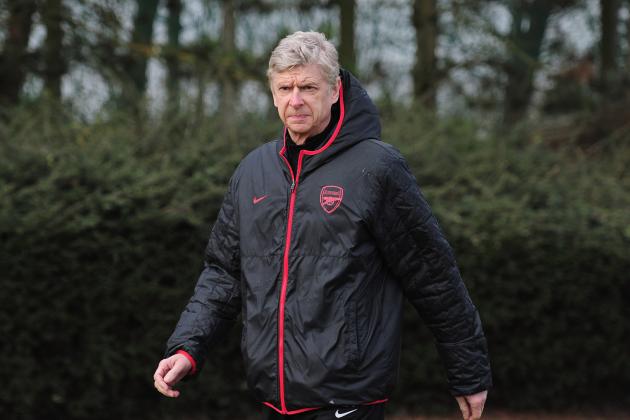 Shaun Botterill/Getty Images
Can Arsene Wenger turn things around at Arsenal?
On Saturday afternoon, two teams struggling for form go head-to-head as Arsenal take on Aston Villa.
Arsenal's season went from bad to worse on Tuesday night when they were beaten 3-1 by Bayern Munich in the Champions League.
Gunners' fans need to be a bit more realistic.
By all rights, Bayern should have won the Champions League last season.
They are a fantastic side with some amazing players and to be quite honest, it was men against boys for most of the match.
Arsenal are no longer the force they once were and perhaps a bit of realism wouldn't go amiss among Gunners supporters.
But their frustration is understandable and perhaps Arsene Wenger could help his own cause by admitting that some of the players he's bought just simply haven't been good enough for Arsenal.
Players like Andre Santos, Andrey Arshavin, Sebastien Squillaci and Marouane Chamakh haven't been consistent, but it's as if Wenger is too stubborn to admit he's wrong.
There's a lot of pressure on Wenger right now, but Arsenal fans should be careful what they wish for.
If Wenger leaves Arsenal, or gets sacked, who could bring the same stability and financial growth he has overseen during his time in London? In my opinion, there's no one.
Arsenal need a result on Saturday and they'll fancy their chances against Aston Villa.
If Villa are to have any chance of a result, then Christian Benteke will have to play like a man possessed.
The big Belgian has been one of the bright spots in another season of struggle for Villa.
Without his goals, they'd be marooned at the bottom of the Premier League.
Benteke is more than capable of causing problems for the struggling Arsenal defence, and the Gunners would be foolish to underestimate the talented striker.
The consequences of Saturday's game are huge for both clubs.
If Arsenal lose their third home game in a week, they could slip to sixth in the league.
If Aston Villa lose at the Emirates, they could slip into the bottom three.
It's gonna be tense, tight and nail-biting, but the home side should just, just win.
Prediction: Arsenal win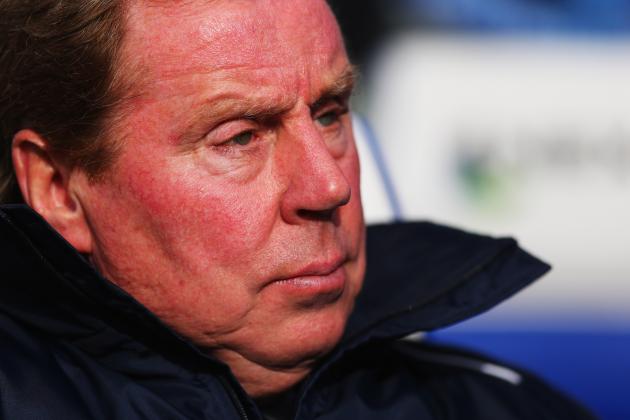 Paul Gilham/Getty Images
Is keeping QPR up just one step too far for Harry Houdini?
Another match with big implications between a relegation threatened side and a Champions League hopeful takes place at Loftus Road as QPR take on Manchester United.
Already seven points from safety, things are getting desperate for QPR and they're also in a must-win situation this weekend.
They've lumbered themselves with players on high wages and the club could be financially crippled if they are eventually relegated.
Although QPR have made great strides since Harry Redknapp took over, it looks like this job could be one step too far, even for him.
QPR will be buoyed be the fact that they've already taken points off Chelsea, Manchester City and Spurs so far in 2013, and they'll be hoping to add Manchester United's name to that list on Saturday.
The visitors come in to this match in decent form.
They secured a very creditable 1-1 draw at the Bernabeu against Real Madrid last Wednesday before beating Reading 2-1 on Monday to go through to the quarter finals of the FA Cup.
Sir Alex Ferguson knows how Redknapp's teams like to play and he'll have a game plan to make sure that United have all their bases covered.
Again, in terms of the result, it's simple.
If QPR lose, they'll be further isolated at the bottom of the league and be staring relegation in the face.
If United win, they could go 15 points ahead of their rivals Manchester City at the top of the league.
With respect to QPR, you'd be a fool to bet against United this weekend.
Prediction: Manchester United win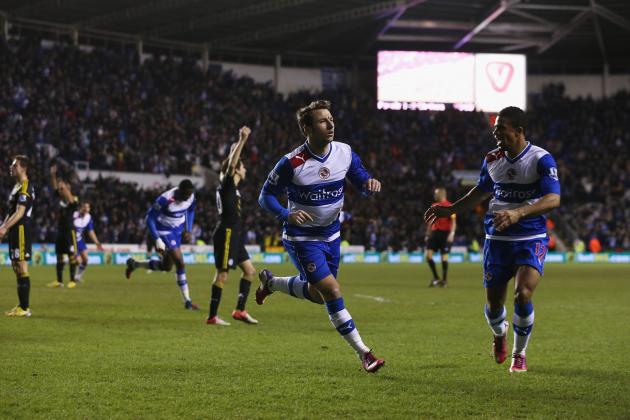 Scott Heavey/Getty Images
Goal machine Adam Le Fondre will want to add to his tally against Wigan
The third of the fixtures to keep an eye on this weekend is a good, old-fashioned six pointer at the Madejski as Reading go up against Wigan.
Reading have been impressive since the turn of the year and they're one of the form sides in the league.
Although they lost out to Stoke a couple of weeks ago, the Britannia Stadium is a hard place to go and Adam Le Fondre will have every right to feel aggrieved that he didn't earn a penalty when he was fouled in the box.
He doesn't start many games for Reading, but simply put, Le Fondre is a goalscorer.
Whenever he comes off the bench, he makes an impact and his goals have played a massive part in Reading's recent resurgence.
Saturday might just be the time where manager Brian McDermott has to bite the bullet and take a chance by playing two strikers.
If he does, you'd have to think that Le Fondre would be a nailed on certainty to start the match.
Wigan travel south with every confidence they'll be able to avoid relegation again.
Year after year, Wigan find themselves in this situation and year after year, they survive.
Manager Roberto Martinez has done a fantastic job at the DW Stadium, but his team seem to be devoid of ideas right now and they look vulnerable.
The only saving grace is that Wigan's next few league games are against the teams in and around the relegation area, so if they can pick up a point or two away from home and sneak a few wins at home, they might just save themselves yet again.
When it comes down to it, Reading's home form has been very good lately, so they should pick up a win.
Prediction: Reading win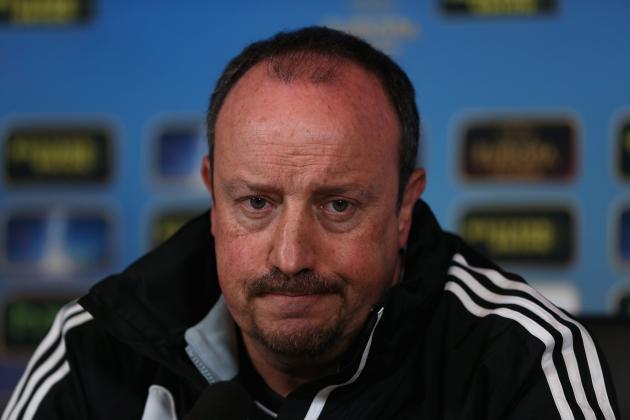 Warren Little/Getty Images
Rafa Benitez and Chelsea need to win on Sunday to stay ahead of the chasing pack
Sunday's headline clash is a mouth-watering, high-pressure affair between Manchester City and Chelsea.
I mentioned earlier that both sides have to win on Sunday for similar reasons.
It's conceivable that, by the time the game kicks off, City could be a massive 15 points behind Manchester United at the top of the table.
The defending champions looked inept when they lost 3-1 against Southampton in their last league encounter.
The defense wasn't good enough and the dependable players, like Gareth Barry and Joe Hart, just had one of those days.
If the City fans are honest, that defeat had been coming because they've relied on late goals to win matches they should've lost this season and it was inevitable that their luck would run out at some stage.
Roberto Mancini's team needs to make a statement this weekend and what better way to do it than against the reigning European champions?
Speaking of which, Chelsea need a win this Sunday to keep ahead of the chasing pack in the race for Champions League football next season.
Since returning from injury, Frank Lampard has been on a one-man crusade to lift the Blues out of the doldrums, but there's only so much he can do. He's been nothing short of outstanding for the last couple of months and the fact that Chelsea are even considering letting him leave for nothing this summer is baffling.
Lampard is closing in on becoming Chelsea's all-time leading goalscorer and if he's afforded room this Sunday, he might close that gap even further.
This might be stating the obvious, but a negative result for either manager could result in them losing their job.
You'd have to think that Roman Abramovich wouldn't be happy if Chelsea were to lose against City and similarly, Sheikh Mansour wouldn't look favourably on City being a massive 15 points behind United.
Both teams are playing to keep themselves in touch of achieving some modicum of success this season and each manager will be aware that another loss could see the axe fall on his head.
The consequences of this game are huge and it'll come down to which group of players can handle the pressure.
City's home form has been fantastic over the last few years, but Chelsea's experience of high-pressure domestic situations could see them through as well.
This match has draw written all over it and whether that's good enough for fans, managers or owners remains to be seen.
Prediction: Score draw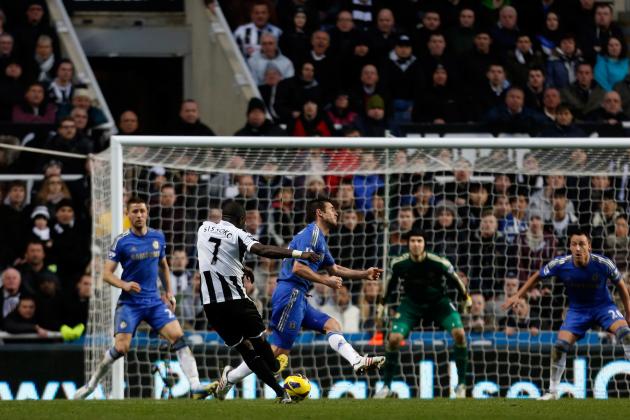 Paul Thomas/Getty Images
Moussa Sissoko (No 7) is becoming a cult-hero at Newcastle
A game that everyone seems to have forgotten about this weekend comes to St. James' Park where Newcastle play Southampton.
Neither side is free of relegation worries, although they've both had important wins over the top four sides in the last month.
Newcastle's French revolution is well underway and Moussa Sissoko, in particular, is already becoming a cult-hero up there.
The big Frenchman's displays have been full of pace, power and strength, and he just seems to be one of those players who inspires his teammates.
He's set up, and scored, some important goals since his move to Tyneside and Sunday gives him another opportunity to enhance his growing reputation.
Newcastle might have lost 2-1 to Tottenham in their last league outing, but in all honesty, Gareth Bale was the difference between the sides.
There's no disgrace in that!
Southampton visit Newcastle in a confident mood after putting the defending Premier League champions to the sword in their last league match.
Saints beat Manchester City 3-1 and while some of the media focused on City's poor performance, the fact remains that Saints made City look bad and fully deserved the three points on the day.
The circumstances surrounding his arrival might not have been perfect, but Mauricio Pochettino has settled in nicely to life in Southampton and his team is playing well.
The Saints have been more than a match for some of the biggest sides in the league this season, so, with the greatest of respect to Newcastle, a trip north won't scare Pochettino or his players.
Rickie Lambert continues to improve with every game in the Premier League, ably supported by players like Adam Lallana, Jason Puncheon and the very under-rated Morgan Schneiderlin.
This game also has huge consequences.
If either team loses, they could be dragged further in to the relegation mire, but a win for either side could see them skyrocket up the league.
There's no way to pick between these sides, so for me it'll be an entertaining draw with, hopefully, a few goals for the fans to enjoy.
Prediction: Score draw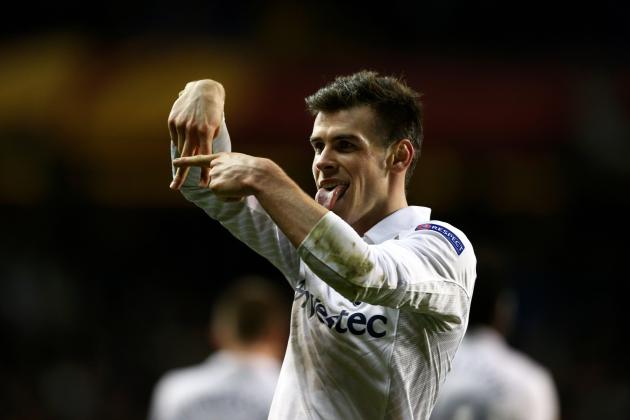 Paul Gilham/Getty Images
Can anyone stop Gareth Bale's rise to the top?
The final match to look at this weekend takes place Monday night where we're treated to our almost weekly London derby in the Premier League.
West Ham go in to the game with speculation surrounding the future of their manager Sam Allardyce.
Ten days ago, West Ham co-chairman David Gold released a statement (via BBC) which pretty much said that Big Sam's job depends on West Ham staying in the Premier League.
Although that's understandable, it's also crazy at the same time.
West Ham tumbled out of the Premier League in embarrassing fashion a couple of years ago with no fight or determination about them.
Under Big Sam, they've looked a lot more solid and there's more oomph about them.
He has players at his disposal that some Premier League managers would die for and he's done a terrific job at Upton Park.
Okay, so things might not have gone perfectly this season, but football's that sort of game.
It's never perfect.
For West Ham to even consider letting Big Sam leave is crazy to me.
His players will have a hell of a job on their hands Monday night when they try to keep tabs on a man who has become one of the best players in the world.
Of course, I'm talking about Spurs' Gareth Bale.
Bale is almost frightening to watch.
He's unbelievably quick, he's tricky, he's got power and this season and he's added even more goals to his game.
Bale was the difference in Spurs' last league game against Newcastle and then again in their 2-1 win against Lyon in the Europa League last Thursday.
The Welshman scored three fantastic free kicks in two of those games and he just looks unstoppable right now.
It would be wrong to just focus on Bale, but it wouldn't surprise me if West Ham tried to mark him out of the game on Monday.
There's nothing wrong with that and, to be honest, it's probably the way to stop Spurs from playing.
If West Ham allow Bale the freedom of Upton Park, he will rip them to shreds.
It's that simple.
Before I deal with my prediction for this match, there's something you should know.
This weekend marks the 20th anniversary of the sad passing of former England and West Ham captain Bobby Moore, who tragically died from colon cancer at 51 years old on Feb. 24, 1993.
To mark the occasion, West Ham have planned a series of tributes, including a minute's applause, before kick-off on Monday.
Their plans will be a fitting tribute to a man who was a genuine legend and taken from us too soon.
Rest in peace, Bobby.
With that being said, the sheer emotion that will be swirling around Upton Park on Monday should see West Ham come out on top.
For their fans, for their manager and for their fallen captain.
Prediction: West Ham win