The NBA trade deadline is just hours away and teams are working at a frantic pace in an attempt to find the missing pieces to their championship puzzle. Fans around the league will surely be glued to social media until 3 p.m. ET, waiting on word of any blockbusters.
Judging by the sheer quantity of rumors making the rounds already, there doesn't appear to be any shortage of players on the block. Things are likely going to get very hectic as the deadline approaches as buyers are forced to make final decisions.
With that in mind, let's examine some of the latest buzz involving players that have been bantered about recently. They would all make great additions to other teams, but it sounds like at least one of them is staying put.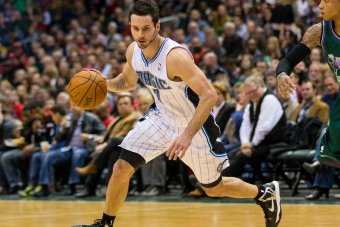 Jeff Hanisch-USA TODAY Sports
J.J. Redick to Spurs?
Contenders can never have enough shooters—somebody who can come off the bench and provide an instant spark by knocking down some outside jumpers. Redick fits that description perfectly, and teams have taken notice.
One championship hopeful working their way into the mix to land him are the San Antonio Spurs, according to Adrian Wojnarowski of Yahoo! Sports. There have been conflicting reports about their interest level, but he states they are a possibility.
San Antonio already has one of the league's deepest rotations thanks to players like Danny Green and Gary Neal. Redick would make the team's fourth-ranked offense even more dangerous, helping them better match up with the Oklahoma City Thunder.
What are you expecting on deadline day?
Kevin Garnett Talks Dormant
Garnett is exactly the type of veteran presence teams are always seeking around the deadline. He's capable of making a major impact on the floor, but also helps by bringing his championship pedigree to the locker room for the postseason.
Alas, it doesn't sound like he's going to be leaving the Boston Celtics. Chris Mannix of Sports Illustrated reports that talks surrounding the forward, who has a no-trade clause, have died down in recent days. The Los Angeles Clippers were the most interested team.
Nobody will be surprised by this report since Garnett staying in Boston seemed like the way the situation was trending in recent days. Barring some type of dramatic change in the final hours, that's exactly what will happen.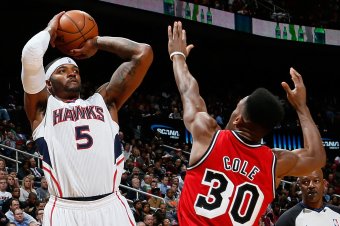 Kevin C. Cox/Getty Images
Latest on Josh Smith
Smith has been one of the most talked about players over the past few weeks, and that certainly hasn't changed on deadline day. The versatile forward is having another terrific season for the Atlanta Hawks, averaging 17 points, nine rebounds, four assists and two blocks per game.
That type of production doesn't go unnoticed. The aforementioned Wojnarowski reports the Milwaukee Bucks and Phoenix Suns are leading the pack of interested teams, with the Celtics serving as a potential sleeper destination.
If the Hawks do want to move Smith before the deadline passes, they will likely wait as long as possible and take the best available offer before the clock strikes 3 p.m. ET. That leaves the door open to countless possibilities, leaving plenty of fans on the edge of their seat. He's a game-changer.