UEFA Champions League: Most Important Player to Watch in Every 2nd-Leg Clash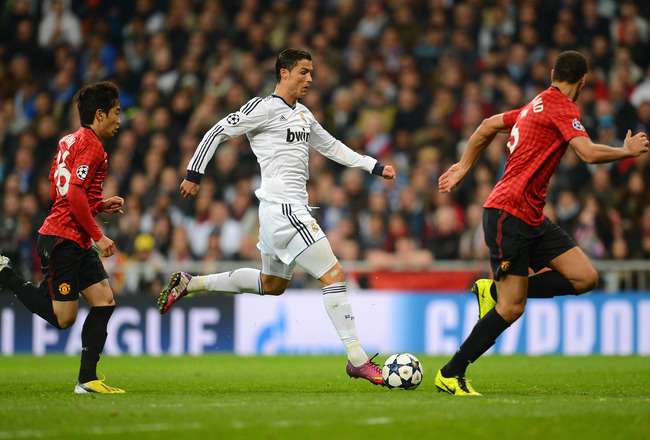 Mike Hewitt/Getty Images
The UEFA Champions League is halfway through the Round of 16 now, with all of the first legs having taken place over the past two weeks.
With most ties finely poised heading into the return fixture, each side will be drawing up their battle plans and tactical layouts of how to progress safely into the quarterfinals, and in each case, though a team effort will be important, there will be one or two players who are absolutely key to success.
Only one fixture has a first-leg scoreline with a difference of more than two goals between the teams, meaning that it's a case of everything to play for, for the vast majority of sides.
Here is a rundown of the key player to watch out for in every second-leg fixture.
Borussia Dortmund vs. Shakhtar Donetsk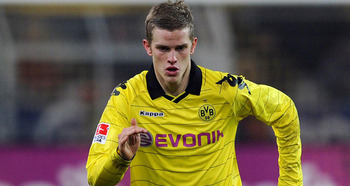 photo from skysports.com
First-leg scoreline: Shakhtar 2 Dortmund 2
Key player to watch: Sven Bender
Having avoided defeat and scored two away goals in the process, Dortmund have taken a giant step toward qualifying from this tough Round of 16 draw.
In the second leg back home in Germany, they will have two objectives: score a goal to ensure Shakhtar have to score at least two of their own to progress, and try to maintain possession as much as possible to negate the threat of the Ukrainian side's attacking midfielders.
Henrikh Mkhitaryan in particular, playing centrally, will have to be one of the away side's biggest threats, but they do not have a great away record in Europe this season, with one draw, one win and one defeat. Dortmund, on the other hand, won all three home Group Stage games.
In terms of both retaining possession effectively and also closing out the attacking midfield threat from Shakhtar, Dortmund's double-pivot in the deep midfield roles will be very important.
The first leg saw Sebastian Kehl partnered by Sven Bender; both played well in possession but Bender also gives the athleticism and power in the middle, which will be important to nullify the threat from Shakhtar's second line of attack.
If Dortmund control the middle of the park, with Bender at their hub, then they stand a good chance of progressing as comfortably as possible.
Manchester United vs. Real Madrid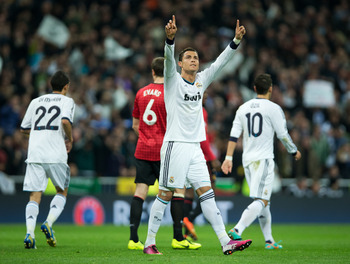 Jasper Juinen/Getty Images
First-leg scoreline: Real Madrid 1 Man United 1
Key player to watch: Cristiano Ronaldo
It might sound a little cliche, but when you have one of the best players in the world figuring in a game it can't be overly surprising when that man is key to the outcome.
For Ronaldo, though, this time around, it's about more than just his technical and physical prowess.
This tie is on a knife-edge; Real were the better and more adventurous side in the first leg but failed to secure a home victory.
Away at Old Trafford they are going to have to score a goal, and Cristiano Ronaldo remains their best chance of achieving that. Throw in the fact that he's returning to the club he used to be idolised at, and that this is Real Madrid's last chance of achieving significant glory this season, and it's clear the Portuguese attacker will be one of the most important figures in this game.
If he performs, Real have a chance of going through. You wouldn't even be surprised to see them draw this game and progress on away goals, with Ronaldo scoring a brace.
Juventus vs. Celtic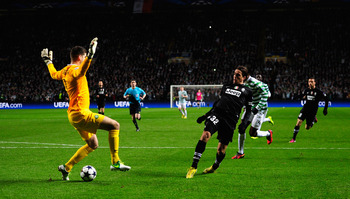 Stu Forster/Getty Images
First-leg scoreline: Celtic 0 Juventus 3
Key player to watch: Fraser Forster
Fair to say that this is the one tie that could be all over already, beyond any shadow of a doubt.
Juve racked up three away goals without reply in the first leg, and they have been strong at home this season in the Champions League, making it very unlikely Celtic will repeat the trick in Turin.
For the Scottish Premier League side it might simply be a case of playing for pride and keeping the scoreline down as much as possible. A 0-0 second-leg score will do that, even if it means Celtic exit without scoring themselves over the two legs.
To avoid outright humiliation they'll have to be at their best defensively, and goalkeeper Fraser Forster will be their last line of defence. He'll likely need to have a worldie to keep Alessandro Matri, Mirko Vucinic and co. at bay.
Paris St. Germain vs. Valencia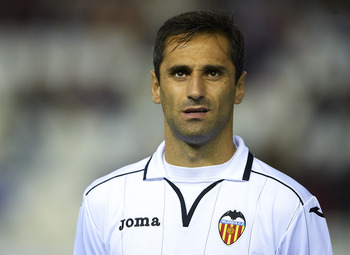 Manuel Queimadelos Alonso/Getty Images
First-leg scoreline: Valencia 1 PSG 2
Key player to watch: Jonas
Valencia have no option but to go out and attack in this game; they need a victory by at least one goal, and they need to score at least twice.
Fail to hit both of those targets and Los Che are exiting the Champions League at the last-16 stage.
It is also, to some extent, not even a question of balance—their plight isn't affected in the slightest by an away goal for PSG; they'd still need two goals, and still have to win.
With that in mind, forward Jonas Oliveira has to be the key man. He'll be expected to provide some cutting edge for Valencia in attack, support front man Roberto Soldado—woefully off form in the first leg—and pop up as a goal threat whenever possible.
Jonas already has four goals in Europe this season and if he plays well, Valencia have half a chance. It's going to be a hugely difficult task for them to overcome PSG after they were thoroughly outplayed at home in the first leg, but Jonas playing well will give them a greater chance.
Barcelona vs. AC Milan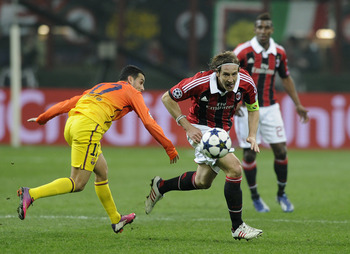 Claudio Villa/Getty Images
First-leg scoreline: Milan 2 Barca 0
Key player to watch: Massimo Ambrosini
The scoreline of the first-leg games surely had to be Milan beating Barcelona by two goals in the San Siro.
Despite enjoying barely a quarter of the possession, the Italian side created by far the better chances—and crucially took two of them while denying Barcelona the chance to score away goals.
A huge part of the marvellous Milan defensive work—detailed forensically here by Bleacher Report's Sam Tighe—was holding midfielder Massimo Ambrosini, who patrolled the zone in front of the centre-backs to close down, pressurise and hustle Barca's players into passing sideways or backwards continuously.
Ambrosini made more tackles (five) and interceptions (nine) than anybody else on the pitch, while also being hugely efficient for his team in possession (93 percent pass completion).
It will take another giant team effort from Milan in the second leg to keep Barcelona at bay once more, but Ambrosini's experience and ability will play a big role in their success, or otherwise.
Schalke 04 vs. Galatasaray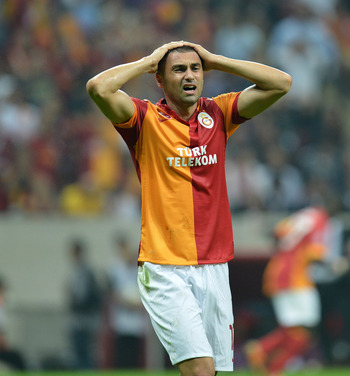 EuroFootball/Getty Images
First-leg scoreline: Galatasaray 1 Schalke 1
Key player to watch: Burak Yilmaz
It was something of a surprise when Gala failed to beat German side Schalke at home, given that the Bundesliga team have struggled somewhat this season.
Then again, the Champions League has proven something of a respite for them, qualifying top of a group containing Arsenal, Olympiacos and Montpellier.
If Gala are going to turn things around and do the business in the second leg, they're certainly going to need to score—and this season so far, that means one man: Burak Yilmaz.
The striker has hit seven of his team's eight goals in Europe this term, including the opening goal in the first leg of this tie, and he will be relied upon once more to see his side safely through to the quarterfinals.
Bayern Munich vs. Arsenal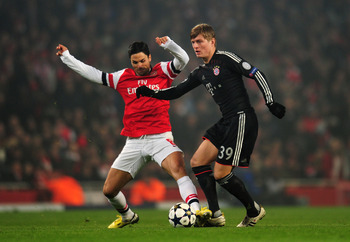 Shaun Botterill/Getty Images
First-leg scoreline: Arsenal 1 Bayern 3
Key player to watch: Toni Kroos
Three away goals and a two-goal lead; Bayern are already looking good for qualification to the quarterfinals.
It will take a gargantuan effort from Arsenal to recover this deficit, and technically speaking they are capable of doing so offensively, but at the back they have been a shambles at times this season and Bayern's attack is so full of talent that it's difficult not to see them adding to their tally.
If Arsenal press forward and try to take the game to the German side then they open themselves up to being hit on the counterattack; in that instance Toni Kroos, if playing in a similar central attacking midfield role, will kill them off.
His passing, vision and execution were exemplary in the first leg and he scored the opening goal to boot, but it is his final ball that makes him such a threat in this instance.
If Bayern are the dominant side, quite aside from the fact it lessens the chance of Arsenal scoring the three goals they need, Kroos also has the consistency and ability to open up the Gunners' defence with his constant, probing passes.
Malaga vs. Porto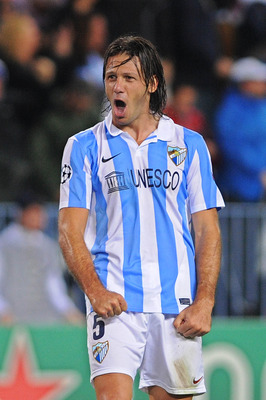 Gonzalo Arroyo Moreno/Getty Images
First-leg scoreline: Porto 1 Malaga 0
Key player to watch: Martin Demichelis
One of the tightest of the first-leg fixtures saw Porto triumph 1-0 at home over Malaga, with a disputed goal—marginally offside, though not called—separating the sides.
Back in Spain for the return leg, Malaga will be hopeful of overturning the result having won seven of their 13 league games at home, and having gone undefeated in the Champions League group stage with two wins and a draw at La Rosaleda.
They'll need to score, of course, and win the game to avoid going out—but they'll also need to keep things tight at the other end. Porto scored only three of their 10 goals in the group stage away from home, so Malaga will have hope of keeping them out during the 90 minutes.
Key to their plans will be experienced central defender Martin Demichelis. His partnership at the back with Weligton will need to be at its absolute strongest to repel Jackson Martinez et al, while Demichelis could also be a force at the other end, having scored three times this season too.
All statistical data from WhoScored.com
Keep Reading