NFL Draft Prospects Who Could Shoot Up Draft Boards After the Combine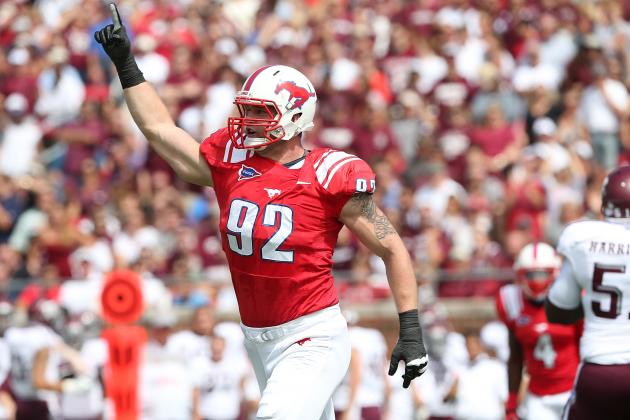 Ronald Martinez/Getty Images
SMU's Margus Hunt should be one of the most physically impressive players at the 2013 NFL scouting combine.
A total of 333 players received an invitation to the 2013 NFL scouting combine, and whether it be on the field, in the interview room or even by clearing up medical concerns, every player has a shot to improve his NFL draft stock with his results in Indianapolis.

There are some players, however, who really have a good shot to make a strong positive impression at the combine.
Whether it be rare physical ability, injuries to their competition or being a small-school prospect who scouts haven't paid enough attention to yet, the following 20 players could be generating a lot more buzz next week if they ace their combine tests.
Begin Slideshow

»
Yes, Geno Smith is already among the favorites to be the No. 1 overall pick. That said, he's far from a lock from even being the first quarterback drafted after struggles late in his senior season. The combine is Smith's opportunity to re-establish himself as the hot quarterback in the 2013 draft class.

While no one should be basing their evaluation off of a quarterback's ability to throw passes against air with no pass-rush, the setting should play well into Smith's favor. While Smith has issues with pocket presence and making reads under pressure, he is the most physically skilled passer in the draft class.

Smith will not have to compete against USC's Matt Barkley, who is not throwing at the combine, so his competition among quarterbacks fighting to be the first signal-caller will be Arkansas' Tyler Wilson and Syracuse's Ryan Nassib. Wilson and Nassib both have big arms, but Smith has the cleanest mechanics and most athleticism of the three.

Smith isn't going to be the No. 1 overall pick or the first quarterback drafted based off of his combine performance, but he has a chance to get the ball rolling in that direction by standing out among the quarterbacks on Sunday.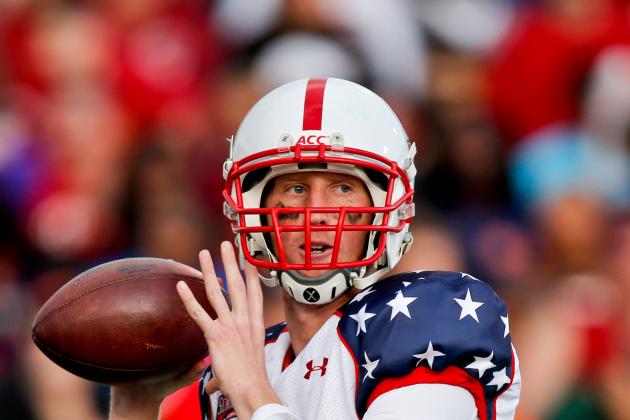 Derick E. Hingle-USA TODAY Sports

In a quarterback class that lacks stars, the door is wide open for a quarterback to start a big rise up the draft board by wowing the scouts in his pre-draft workouts. The signal-caller who is most likely to do that is North Carolina State's Mike Glennon.

Glennon may have the most impressive physical tools of any quarterback in the draft class. Glennon has a big arm, clean mechanics, good feet and great height. On the field in the combine setting, his physical tools are going to stand out.

The tape tells a different story: Glennon is very mistake-prone, and while he can make any throw on the field, his accuracy often fails him. Quarterbacks with Glennon's physical skills, however, often shine in individual workouts and entices an NFL team enough to draft him high and overlook potentially career-dooming flaws.
The highest-rated running back in the draft class, Alabama's Eddie Lacy, will miss the combine with a hamstring injury. That leaves the door open for North Carolina's Giovani Bernard, the other potential first-round pick among running backs in the draft class, to make his case as the best player at his position in the class.

The athletic testing environment of the combine sets up well for Bernard to excel. Bernard is a very good athlete who should run a fast time in the 40-yard dash, while his lateral athleticism should lead to strong performances in the short shuttle and three-cone drill.

Bernard is also a great receiver out of the backfield and a very smooth runner, which should lead to excellence in the on-field combine drills. While Bernard is arguably the best running back on tape alone, chances are good he will also be the most impressive during drills in shorts on Sunday.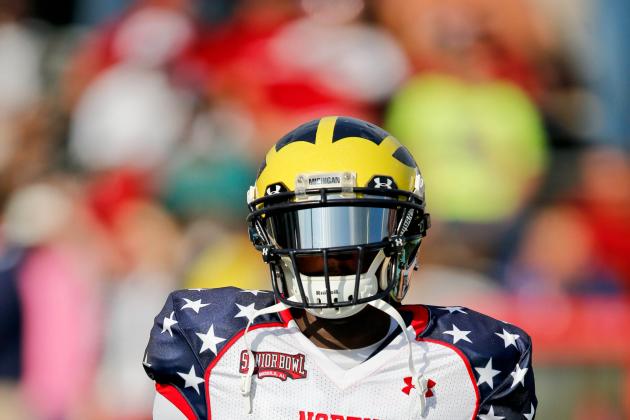 Derick E. Hingle-USA TODAY Sports

Denard Robinson only caught three passes in his career at Michigan, but the college quarterback will be working out with the wide receivers group on Sunday at the combine. What he lacks in experience, he makes up for in athleticism, which could lead to a great showing in Indianapolis on Sunday.

Robinson is already known to be a great athlete, so running fast and jumping high can only help him to some extent. If Robinson is going to boost his draft stock, his time to shine must be during the on-field receiver drills.

Given his lack of experience, scouts will not expect Robinson to look like a polished product at wide receiver. Those who were at the Senior Bowl, however, will be looking to see marked improvement in his hands, route-running and downfield ball tracking.

If Robinson can avoid drops, run his routes properly and make plays in the drills, while living up to expectations as one of the combine's best measurable athletes, he will have a great shot of ending up as a Day 2 draft pick.
USA TODAY Sports

Marquise Goodwin is the odds-on favorite to be the star of the athletic testing at the 2013 NFL scouting combine. The 2012 U.S. Olympic Track and Field Trials long jump champion, he will be expected to run the fastest in the 40-yard dash and jump the farthest in the broad jump.

Goodwin was never consistently productive at Texas, but while he is a very unpolished receiver, his upside is huge. He has obvious potential as a deep threat given his speed and athletic ability, but has shown the ability to make impressive plays on the ball — he just hasn't done it consistently.

That's why Goodwin's on-field drills will be just as important as the gaudy numbers he is expected to post in the measurable drills. Goodwin won't prove much that isn't already known by winning the athletic drills, but if he catches the ball with his hands and runs clean routes, he will really have the scouts buzzing on on Sunday in Indianapolis.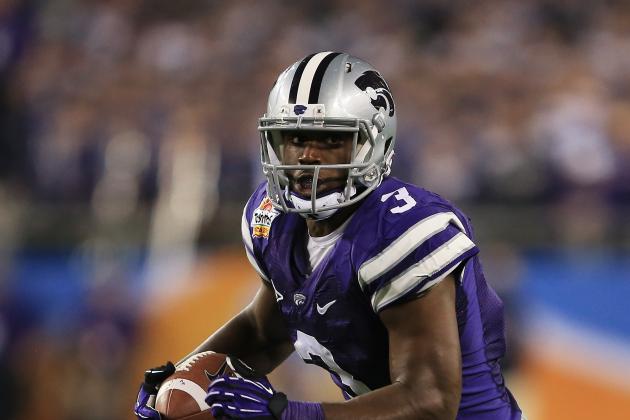 Doug Pensinger/Getty Images

Measuring at 228 pounds, Chris Harper's size certainly stands out for a wide receiver. What also stands out about Harper on tape, however, is that he has great acceleration and moves well for a receiver of his size.
If he can back up his game speed with impressive testing results at the combine, he could be one of the combine's biggest attention-getters.

Given his size, physicality and strong hands, Harper should draw interest nonetheless as a red-zone target. Harper has the potential, however, to be a very good No. 2 receiver at the next level, and if he tests well in Indianapolis, he will start being characterized as more than just a big receiver.

Harper currently stands as a likely fourth- or fifth-round pick, but he is a prospect who could easily rise into Day 2 if he keeps the upswing of his draft stock going Sunday.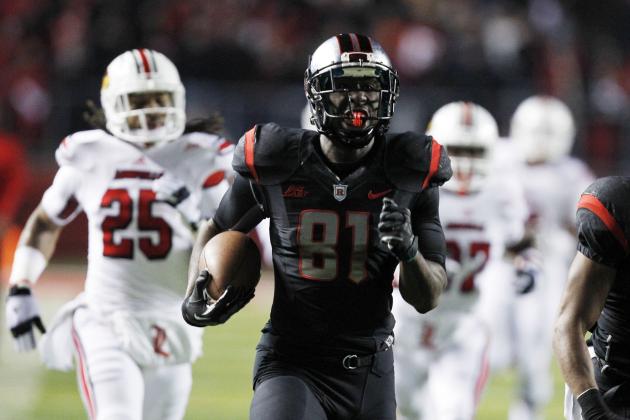 The Star-Ledger-USA TODAY Sports

Much of what was said in the previous slide can be repeated about Rutgers' Mark Harrison. Like Harper, Harrison is a very physically imposing receiver who should weigh in at approximately 230 pounds, but he is also an impressive athlete.

Like Harper, Harrison can make a big impression if he runs fast and jumps high, because he will certainly stand out among the receivers for his build. Where Harrison really needs to make his biggest impression, however, is in on-field drills.

Harrison has shown that he can be a big playmaker, but he has had major issues with drops and consistency and is not a great route-runner.
Scouts will be watching Harrison's routes closely and look to him to catch the ball consistently, and his progress in these areas could determine whether Harrison rises from a late-round pick to an early Day 3 selection.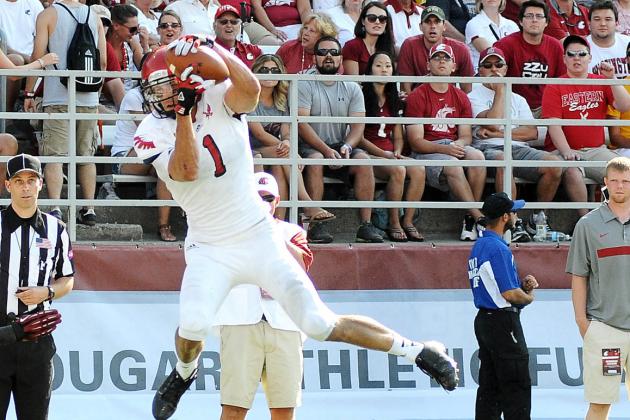 James Snook-USA TODAY Sports

Staying with the big-receiver theme, Brandon Kaufman is one of the tallest and biggest receivers in the draft class, but he is flying under the radar as a small-school prospect. But even in a deep class of wideouts, Kaufman has a chance to shoot up boards if he can make a big impression on Sunday.

While Kaufman is listed at 6'4" and 214, he is also an impressive athlete who can really make plays on the football. If Kaufman tests well and runs good routes in receiver drills, he will make scouts want to go back and watch more Eastern Washington tape.

If Kaufman has a good combine, he should start gaining hype as a potential Day 2 selection.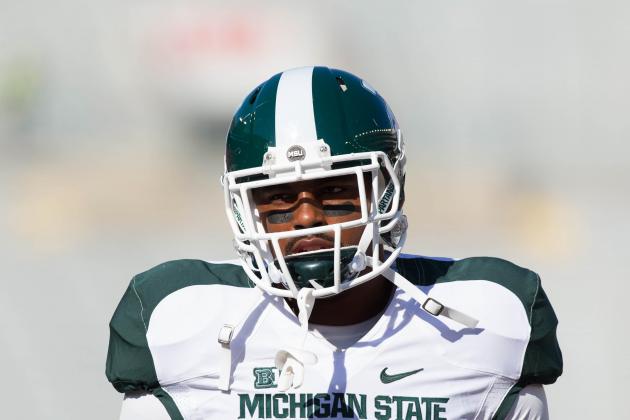 Jeff Hanisch-USA TODAY Sports

Dion Sims does not have the same production as a receiver that many of the other top tight ends in the draft class have, but his measurables and upside shouldn't be ignored. It's doubtful they will be in Indianapolis.

Sims has listed measurables of 6'5" and 285, and moves well on the field as both a receiver and blocker. If those measurables hold true in weigh-ins, and Sims' testing results are up to par with that of the other top tight ends of the class, his physical skill set should garner keen interest from scouts.

Additionally, Sims needs to make plays during the receiving drills for the tight ends on Saturday. While he is a powerful blocker and a good athlete for his size, he is not the established receiving playmaker that Notre Dame's Tyler Eifert, Stanford's Zach Ertz or Cincinnati's Travis Kelce is.

If Sims can keep up with those players at the combine, he shouldn't get drafted far behind them, either
Luke Joeckel and Eric Fisher deserve to be the top two offensive tackles selected in the 2013 NFL draft, but chances are good that after the offensive linemen participate in their on-field drills at the combine Saturday, Lane Johnson will be put into that conversation by many more people.

A converted tight end, Lane Johnson has outstanding feet for an offensive tackle. While Joeckel and Fisher have very good feet for a left tackle and are great pass-protectors, Johnson will likely outshine them athletically at the combine.

Johnson is no slouch when it comes to size, either: he measured in at 6'6" and 302 pounds at the Senior Bowl, and if he can come into the combine with some added muscle and shine in the bench press, he could also help his stock considerably off the field.

While Joeckel and Fisher are more experienced left tackles and more NFL-ready pass protectors, Johnson has as much upside as either of them. The combine setting should be favorable for him, as he could very well be the athletic standout among the offensive tackles in the draft class.
If Lane Johnson is not Saturday's combine stud among the offensive linemen, the player who will likely take that throne instead is Florida State's Menelik Watson. He is very raw and inexperienced, but he should show at the combine that he is a terrific athlete with great length and size.

A former basketball player, Watson is a great athlete, but he is also a tall, long offensive tackle listed at 320 pounds. Watson's lone playing season at Florida State is his only full season of football at any level, but he showed enough promise in one year to be an NFL draft pick.

After the combine, Watson could enter the discussion as a first- or second-round draft choice. While he shouldn't go quite this high, considering he still has a lot of work to do on his game and is not an immediate starting option, he has the potential to be an outstanding left or right tackle in time.

Watson could easily be the most impressive athlete among offensive linemen at the combine, and if that is the case, NFL teams will be very intrigued by his upside.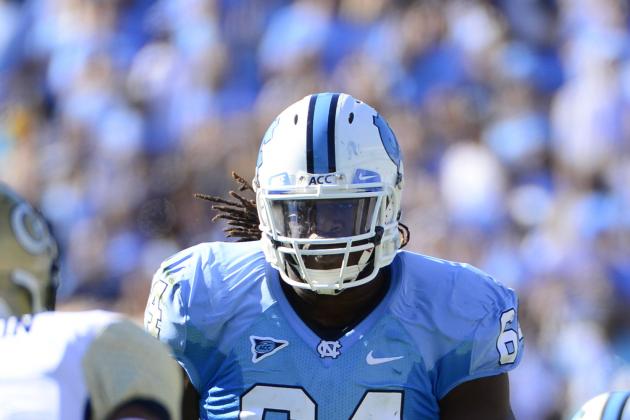 USA TODAY Sports

The credit that Alabama guard Chance Warmack gets by consensus as one of the draft class' top prospects is well-deserved, but in terms of the top guard prospect in the draft class, North Carolina's Jonathan Cooper is not far behind. Cooper could really start opening scouts' eyes to that with an impressive showing at the combine.

While Warmack himself has good feet for a guard, Cooper's movement skills for a guard can be categorized as elite.
He should shine as one of the best offensive linemen in the athletic testing, and if he can combine that with good technique in on-field drills, a strong showing in the weight room and a good weigh-in, he will lock up his status as a first-round draft choice.

Cooper already is a clear first-round talent, but with a strong combine showing, do not be surprised if he challenges Warmack for the top guard spot and ends up as a top-20 draft choice.
Derick E. Hingle-USA TODAY Sports

BYU defensive end Ezekiel Ansah has already shot up the board because of his combination of length, size and athleticism, but SMU's Margus Hunt is even more impressive in those categories.

Hunt's stock is hurt by the fact that he has disappeared in too many games of his college career, but he should stand out at the combine.

Hunt already did stand out in weigh-ins at the Senior Bowl, when he measured in at 6'8" and 277 pounds with 33 3/8" arms and a 82 1/4" wingspan.
He combines that size with very good athletic ability—so while he will certainly be one of the most physically imposing defensive linemen on the field Monday, he will likely also be one of the fastest and most explosive.

Hunt may not be worth a first-round pick, but if he performs as well as he is capable of at the combine, he could start to gain back some of the hype that Ansah has been stealing in recent weeks.
An under-the-radar talent who could make a name for himself at the combine is Armonty Bryant, a talented pass-rushing defensive end out of Division II school East Central Oklahoma.

Bryant began making a name for himself at the Texas vs. the Nation game, displaying outstanding length in the weigh-ins with a 35 1/2" arms and an 82 7/8" wingspan, while looking like the most athletic defensive end on game day.

If he can continue to build upon his impressive measurables with strong on-field drills on Monday, he will entice scouts to dig through more of his tape and could end up going surprisingly high on draft day.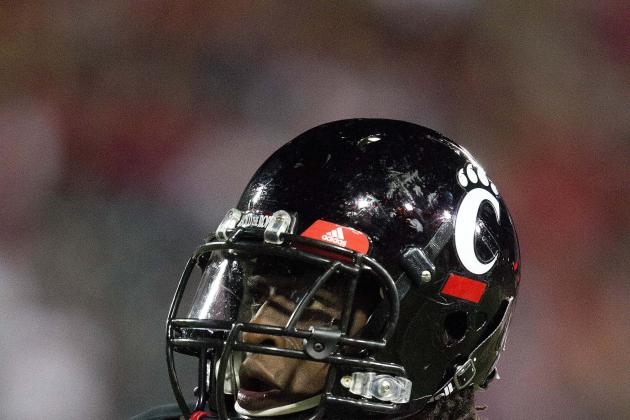 Rob Leifheit-USA TODAY Sports

There may be no player at this year's combine facing more significant questions than Cincinnati pass-rusher Walter Stewart. For Stewart, who nearly retired due to a spinal abnormality discovered during his senior season, those questions will be answered in the medical evaluation process.

If Stewart checks out medically, however, and looks fully healthy and like the player he was at Cincinnati, he could go from being off the draft radar to back in the mix as a mid-round prospect.
While Mike Mayock's assertion that Stewart is a top-10 pick if he checks out medically is almost certainly inaccurate, he has the talent to be a very good hybrid pass-rusher.

If healthy, Stewart should be impressive athletically. The biggest issue for Stewart is convincing NFL teams that his medical risks will not derail his career. If he can do that, he will rise up draft boards, but if he cannot, he will be taken off boards.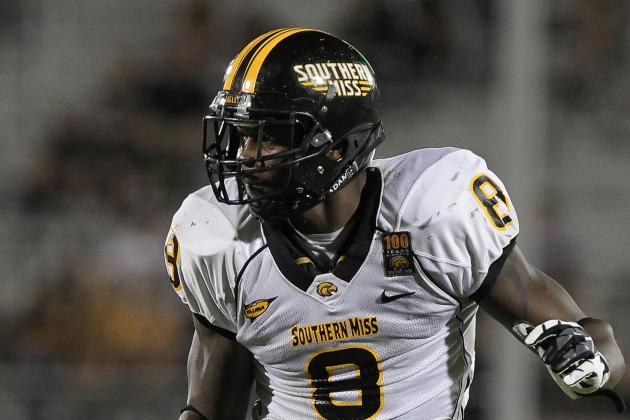 Kim Klement-USA TODAY Sports

The combine should be a favorable setting for Southern Miss outside linebacker Jamie Collins. He is a very good athlete whose measurables make him a candidate to play outside linebacker in any scheme, and he should be among the standouts in the linebackers group on the field Monday.

Collins was a consistently productive player in college, but playing on a team that failed to win a single game in 2013, he has not gotten much media attention.
But assuming he tests well as expected, the linebacker who measured in at 6'3" and 245 pounds at the Senior Bowl should get buzz among the scouts in attendance.

A mid-round prospect, Collins could work his way into being a Day 2 pick if he continues to build on his stock with a strong combine.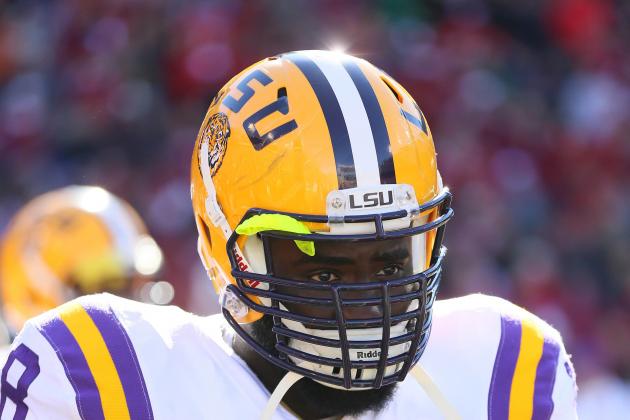 Nelson Chenault-USA TODAY Sports

Bennie Logan is not quite as polished and explosive, and he does not receive nearly the hype as Missouri's Sheldon Richardson or Florida's Sharrif Floyd, but he could test as well as his counterparts athletically at the combine.

Logan needs to become more physical against the run and make a more consistent impact, but he is quick and fast as an interior pass-rusher and defensive tackle.
If he stacks up well against Richardson and Floyd—both expected to be top-20 draft selections—at the combine, he could very well end up as an early Day 2 selection.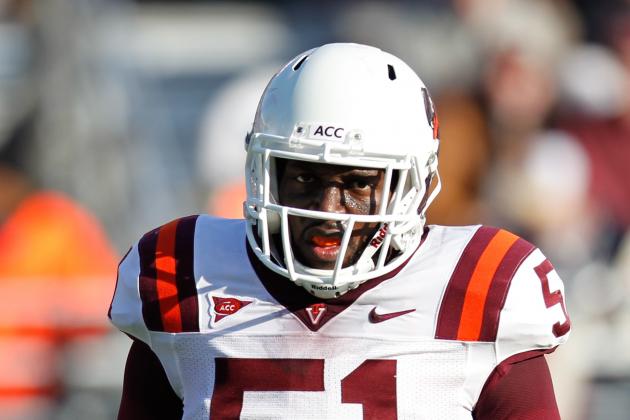 Greg M. Cooper-USA TODAY Sports

Although he was a standout playmaker on the defense of a major program, Virginia Tech's Bruce Taylor has not gotten the widespread attention he deserves as a versatile, hard-hitting linebacker. If he tests well at the combine, more people will take notice of him.

While Taylor is a big run-stopping middle linebacker, he is more than just a thumper in the middle of the field. He can make plays all over the field, can play outside linebacker and can even rush the passer.
In playing all over the field, Taylor showed his speed and athleticism that should be put on display in Indianapolis on Monday.

Taylor should end up as a Day 2 draft pick if his combine performance matches up with his impressive play on tape.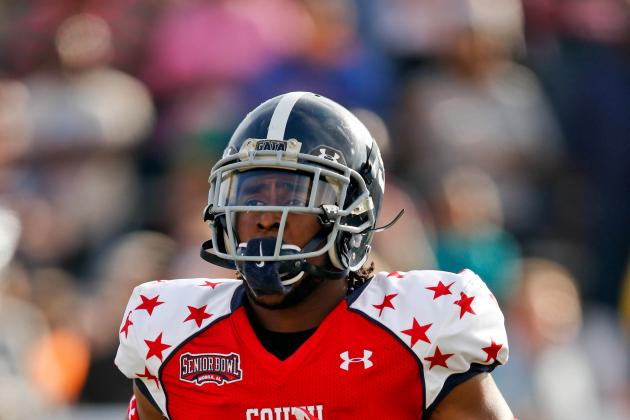 Derick E. Hingle-USA TODAY Sports

Another small-school standout who is in position to really make a name for himself at the combine is Georgia Southern strong safety J.J. Wilcox.

Weighing in at 214 pounds at the Senior Bowl, Wilcox has good size for a strong safety and tackles well, but he is also quite athletic.

Although he competed against lesser competition at the FCS level, he looks on tape to be among the class' more talented safeties.
If he stacks up against the top prospects from major schools athletically and in drills at the combine, he should start to garner attention as a possible mid-round selection.
J.J. Wilcox is not the only big, athletic, small-school safety prospect with the potential to emerge from under the radar to become a rising draft prospect at the combine during defensive-back drills Tuesday. Another player who falls into that category is California (Pa.)'s Rontez Miles.

Like fellow Division II product Armonty Bryant, Rontez Miles started building momentum as a draft prospect with a strong showing at the Texas vs. the Nation game.
Weighing in at 6' and 202 pounds, Miles has good size for the safety position, and his athleticism and playmaking ability stood out among all the safeties on game day.

If Miles can continue to show up well in both the athletic tests and on-field drills in Indianapolis, he has a good shot to being drafted in April.
This list is not intended to be comprehensive of all players who will improve their stock. Let us know in the comments section which other players you think will stand out in Indianapolis!

Dan Hope is an NFL draft Featured Columnist for Bleacher Report.