Michigan State Basketball: 5 Keys to Beating Ohio State in B1G Clash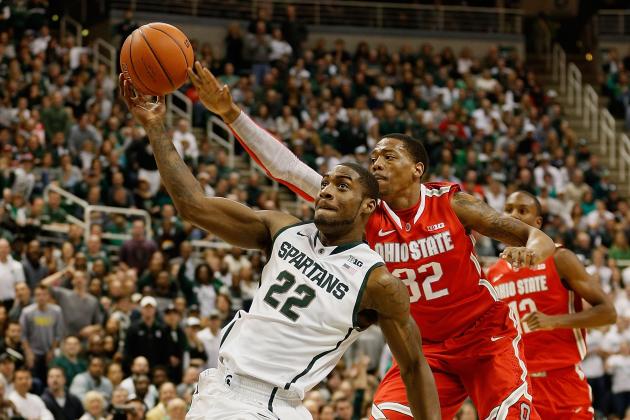 Gregory Shamus/Getty Images
Branden Dawson has to show up Sunday against Ohio State, it's as simple as that.
They're hurting, hobbling and in need of a win Sunday at Value City Arena in Columbus over the No. 18-ranked Ohio State Buckeyes in order to forget their 72-68 setback Tuesday night at the Breslin Center in East Lansing.
The No. 4-ranked Michigan State Spartans (22-5, 11-3) didn't take care of business on their home court against the top-ranked Hoosiers, leaving little doubt that Indiana is the cream of the crop in the Big Ten.
However, a road victory against a ranked foe would help Tom Izzo and Co. move past all of that.
Winning on the road in the Big Ten has been a tall task for just about everyone in the league, so the Spartans have to prove that they're over being Victor Oladipo'd and focus on finishing their Big Ten schedule on a high note.
Beating Ohio State again would obviously be a start.
Avoiding being victimized by the Buckeyes' talented roster is a key to Sunday's matchup, but let's take a look at other factors that Michigan State has to key in on in order to complete a sweep of Thad Matta's Buckeyes.
Begin Slideshow

»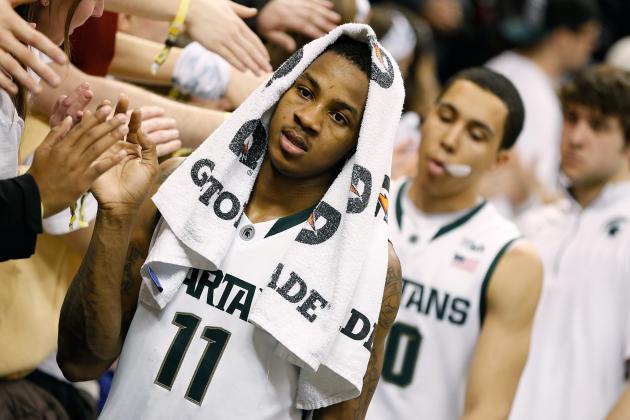 Gregory Shamus/Getty Images
Keith Appling can't get into gear against Indiana, but he has to against Ohio State.
Keith Appling is the force behind the Spartans' offensive firepower; he can take over a game in an instant, leaving defenders in his wake while scoring basket after basket.
But he just can't seem to do it against Indiana.
Appling has scored a combined nine points in two losses to the Hoosiers, but he'll have to rebound Sunday against Ohio State if Michigan State wants to regain its momentum after being toppled at home by the Hoosiers.
Appling scored 15 points Jan. 19 in the Spartans' 59-56 victory over the Buckeyes in East Lansing and has a combined 33 points in Michigan State's past two road tests (wins against Nebraska and Purdue).
Restoring some type of flow on offense has to be a key for Appling as the Spartans charge toward March. Forget winning a Big Ten regular-season title; the Spartans need Appling on full-tilt to make a run toward the Final Four.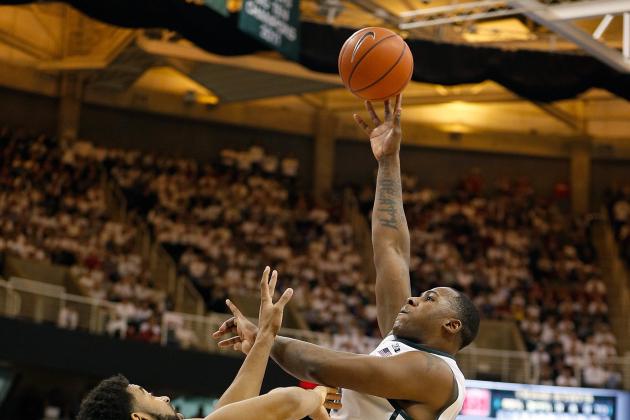 Gregory Shamus/Getty Images
Derrick Nix's heart and desire are keys for Michigan State.
Derrick Nix has done an admirable job of showing the college basketball world his heart, desire and passion for the game.
Although he scored just eight points Tuesday against Indiana, Nix proved that he's at another level mentally than he's been in the past.
Keith Appling may be the key to the offense, but Nix is the key everywhere else; his defense, gritty play and energy on the floor have to be present Sunday or the Spartans will suffer another blow.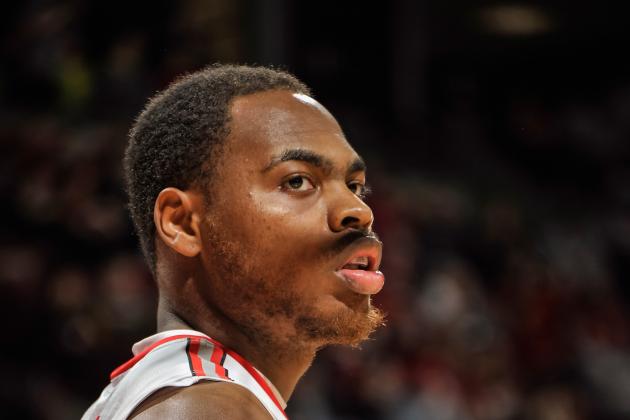 Jamie Sabau/Getty Images
Indiana's Victor Oladipo has the nation's attention, but don't forget about Deshaun Thomas.
Deshaun Thomas probably doesn't get the attention he deserves these days because players like Indiana's Victor Oladipo are commanding the eyes of everyone in the country.
Thomas is most definitely one of the league's elite, and he's also one of the best players in the country. The Buckeyes star leads the Big Ten in scoring with 20.1 points per outing and threw a game-high 28 on the board Jan. 19 against Michigan State—50 percent of Ohio State's point total (and he had seven rebounds).
Thomas' range is deadly, but he can make teams pay in the paint, too.
Michigan State won't be able to shut down Thomas, but it has to find a way to hold him at bay.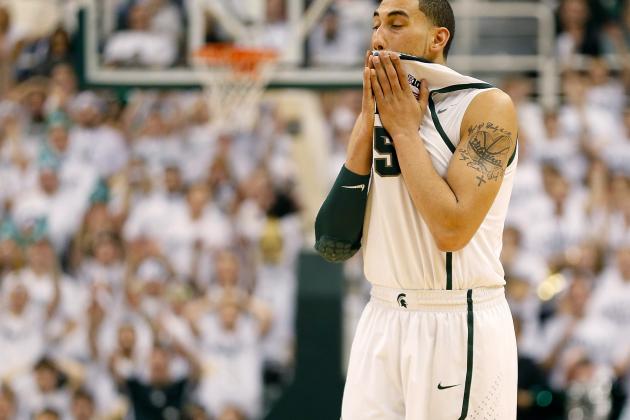 Gregory Shamus/Getty Images
Denzel Valentine has been a steady frosh for the Spartans in 2012-13.
The Spartans produced just five points off the bench in their previous meeting with Ohio State.
Denzel Valentine has been the catalyst among the reserves, and he scored six of the Spartans' 10 bench points Tuesday against the Hoosiers.
Getting solid production from Matt Costello and Alex Gauna will help, but Valentine has to lead the way for Michigan State on Sunday in terms of reserve contributions.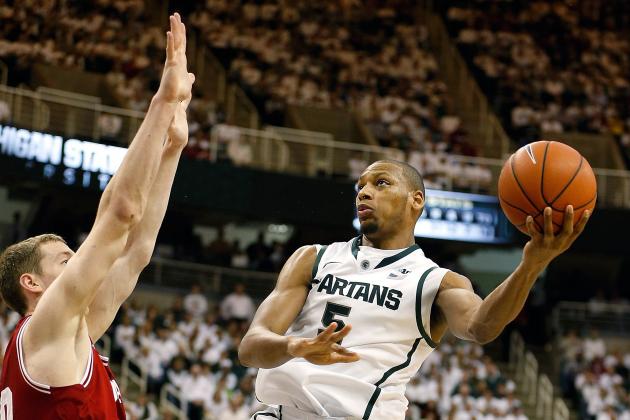 Gregory Shamus/Getty Images
Adreian Payne has developed a great skill set, and that's been evident this year as the season progresses.
Today's Adreian Payne is much more different and dynamic than the lanky kid that stepped into East Lansing three years ago.
Make no mistake, he's still lanky at 6'10", but he's transformed his game into that of a superstar's.
Payne hit 3-of-3 long-distance shots against the Hoosiers and threw in a monstrous left-handed dunk for good measure in Michigan State's 72-68 loss Tuesday.
Payne played what were arguably the finest eight minutes of his career in the first half of that game. If Michigan State wants to combat the likes of Ohio State's Amir Williams, he'll have to keep pace with recent trends by stretching the floor and making Williams step out to guard him.
Follow Bleacher Report's Michigan State Spartans basketball writer Adam Biggers on Twitter @AdamBiggers81