Stock Up, Stock Down for Top 20 NBA Prospects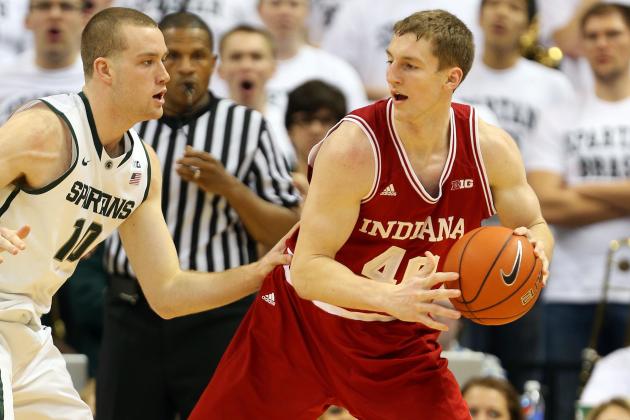 Mike Carter-USA TODAY Sports

As the days go by, the weaker the 2013 NBA draft class looks.
If you watched Kansas and Oklahoma State head into double-overtime, you were probably wondering why Ben McLemore and Marcus Smart have been the two most coveted guards in the country.
And if you were in Mason Plumlee's corner for National Player of the Year, there's a good chance you're backing out after his no-show against Maryland.
On the other hand, Shabazz Muhammad and Otto Porter have maintained their consistency, while Michigan's Glenn Robinson III makes a pleasant return back to the end of the board.
It's still anybody's game for first pick overall honors.
Begin Slideshow

»
Jeff Blake-USA TODAY Sports

Stock Report: ↔
Georgia only played one game this week, but it was a good one for Kentavious Caldwell-Pope.
He finished with 19 points and 12 boards, making five two-point field goals to just two three-point field goals. This is a ratio we'd like to see more of, as Caldwell-Pope has struggled in the past when he's overly reliant on the long-ball.
When he's getting to the rim and converting in the mid-range, that's when he looks like an NBA-caliber shooting guard.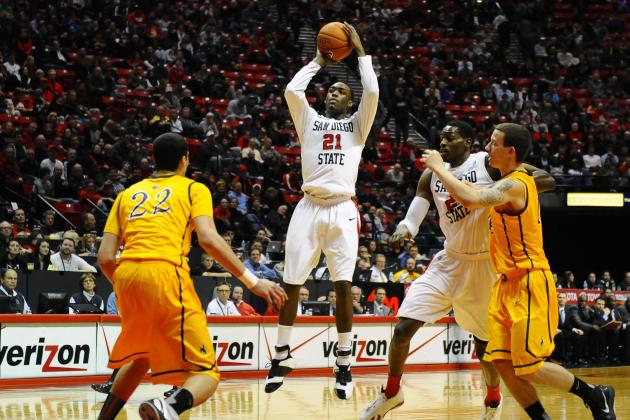 USA TODAY Sports

Stock Report: ↔
Jamaal Franklin scored 20 against Wyoming on 6-of-7 shooting, playing one of his more efficient games of the month.
His stock remains steady, with his three-ball as the only thing to keep an eye on moving forward. He's only shooting 26.3 percent from downtown, after shooting it at a 32.6 percent clip last season.
The long-ball will give him more purpose at the next level if he's able to spread the floor, catch and shoot.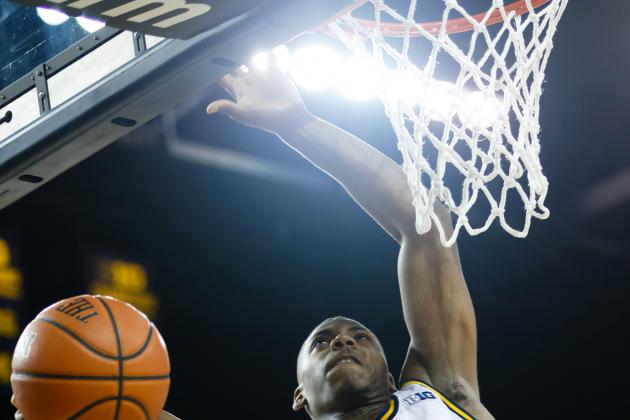 Rick Osentoski-USA TODAY Sports

Stock Report: ↑
Glenn Robinson doubled-doubled with 21 points and 10 boards in a game against Penn State that reminded us why he's so well-regarded as an NBA prospect.
He's one of the best finishing wings in all of college basketball, doing most of his damage on the move in the open floor.
Robinson embraces contact at the rim, and knows how to avoid in order to finish cleanly.
He's still got work to do on his in-between game, but the potential for greatness has been flashed.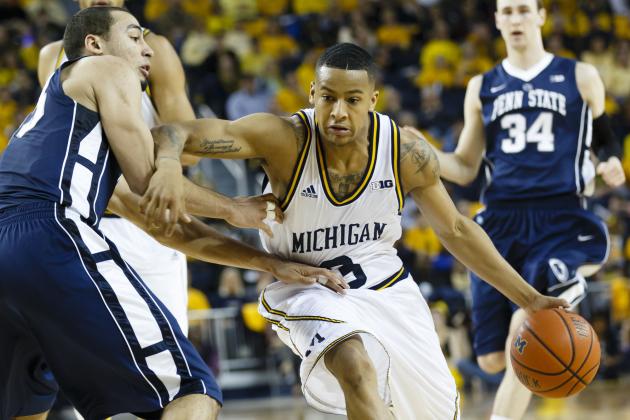 Rick Osentoski-USA TODAY Sports

Stock Report: ↔
Trey Burke went off against Penn State for 29 points, showing scouts why he's so dangerous if his three-ball is falling.
He made 3-of-4 from downtown, needing little room to pull up over a ball screen and knock down jumpers off the dribble.
This forces defenders to play tighter and fight through screens, which opens up driving lanes for one of quickest guards in the country.
If his jumper is falling, Burke is a potent offensive weapon with the ball in his hands. I could name a handful of NBA teams who would be upgrading their backup point guard position by selecting Burke.
Stock Report: ↔
This is a great year to be European.
You could see a number of teams willing to take a chance on a guy like Rudy Gobert, with so few likable long-term prospects in the 2013 field.
Just about everyone else in this class has a skill set that can be replicated or found elsewhere, but nowhere will you find anyone with measurements of 7'2'' height and 7'9'' wingspan.
Outside of the lottery, this is the year to take a chance.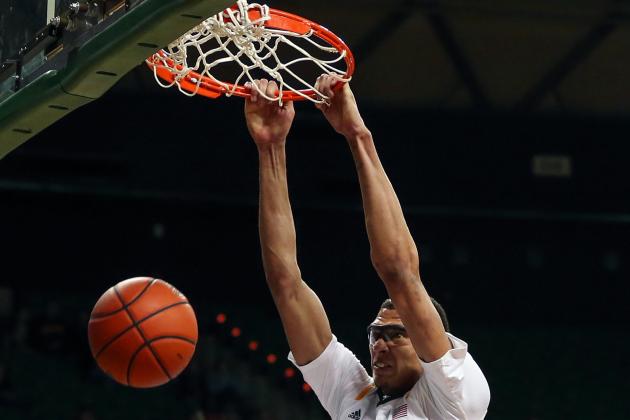 Kevin Jairaj-USA TODAY Sports

Stock Report: ↓
Though the intrigue surrounding Isaiah Austin isn't difficult to recognize, his position and role at the next level is.
He's just not very fluid when operating inside the paint, and negates his extreme size and length with a ridiculously slow delivery.
Austin has a nice touch from the outside, but what good is a 7'1'' body if it's stranded on the perimeter?
His rebounding numbers have fallen, and he's struggling to create scoring opportunities for himself. I just worry that he's way too thin for the interior, and not quick enough for the perimeter.
There's no doubt he's a first-rounder, but top 10 could be pushing it.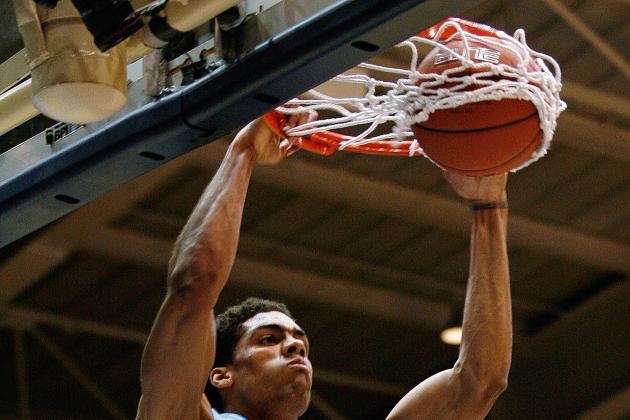 Mark Dolejs-USA TODAY Sports

Stock Report: ↔
James McAdoo double-doubled for 22 points and 11 boards in a win over Georgia Tech, which stopped the bleeding from the week before.
This is the final stretch for McAdoo to make a statement to scouts saying he's got the abilities to fulfill the promise he left as a freshman.
Entering the year, McAdoo was considered a potential top-five pick, but his stock took a hit because of his questionable shot selection and inability to efficiently exploit his strengths.
It just needs to click mentally for McAdoo, because the physical tools and talent are both there.
Mark Zerof-USA TODAY Sports

Stock Report: ↑
Willie Cauley-Stein got a season-high 32 minutes against Vanderbilt and made the most of it. He scored 20 points on 8-of-10 shooting to go with seven boards and three blocks.
Cauley-Stein is just bigger and stronger than everyone else on the floor. There isn't a simpler way of putting it.
The idea that he can control the paint without a refined offensive skill set just makes you wonder what he'll be able to do once he develops one.
Charles LeClaire-USA TODAY Sports

Stock Report: ↔
C.J. McCollum's stock won't change much until pre-draft workouts, when hopefully his broken foot will have healed and he'll be able to audition for NBA teams.
Last year it was Damian Lillard who wowed scouts during those individual workouts, another mid-major guard who shares a lot of the same qualities.
McCollum falls under the category of scoring point guard, and teams looking for backcourt firepower could target him anywhere at the back end of the lottery.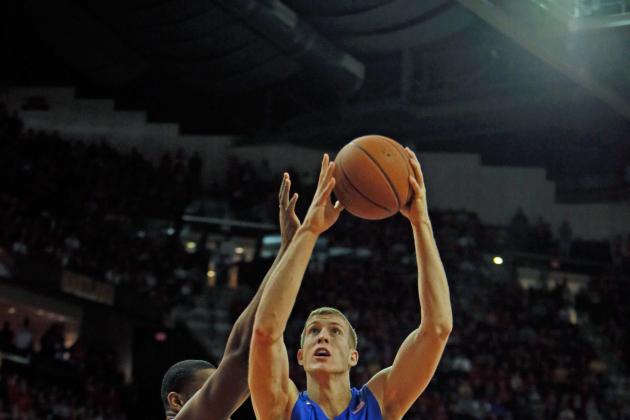 Mitch Stringer-USA TODAY Sports

Stock Report: ↓
There's going to be a team in the lottery looking to draft a center who will be deciding between Mason Plumlee and Alex Len.
So it probably wasn't a good idea for Plumlee to allow Len to walk all over him.
Plumlee finished with four points and three boards before fouling out in an upset loss. It's concerning because Len is a more realistic defender in terms of what he'll be seeing at the next level.
Plumlee has fallen to No. 4 in the center ranks behind Nerlens Noel, Cody Zeller and Alex Len, and not everyone is going to want a center in the lottery.
He'll need to have a bounce-back week to help scouts forget what they saw during the Maryland-Duke game.
Mark Konezny-USA TODAY Sports

Stock Report: ↔
Michael Carter-Williams had one of his better games of the year against Providence, going for 15 points, 12 dimes, five boards and only two turnovers.
When he's not being pressured, Carter-Williams can pick apart the defense like a quarterback with time in the pocket.
When he is, his handle is shaky and he's vulnerable to turnovers.
The best thing Carter-Williams can do in the short-term is continue to protect the ball, convert open looks and keep the offensive rhythm flowing.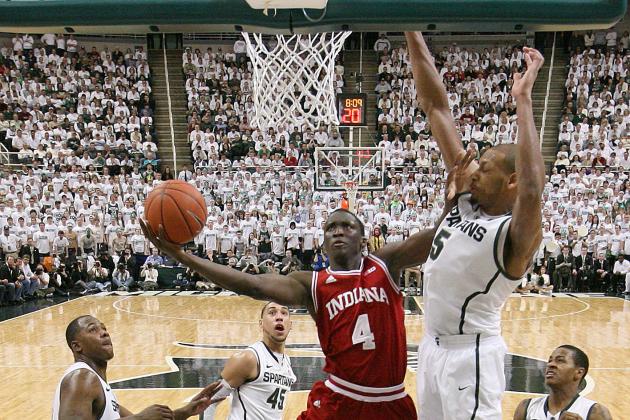 Mike Carter-USA TODAY Sports

Stock Report: ↑
Another game-changing performance from Victor Oladipo has seemingly solidified his status as a lottery prospect.
He took over against Michigan State without having to use the dribble, a valuable skill that Oladipo consistently brings to the table.
He's making catch-and-shoot threes at an extremely high rate, and is getting to the basket with this new slick handle. Oladipo makes up for not having much of an in-between game by constantly making plays off the ball.
No. 9 overall isn't even his ceiling. With so few sure things in the field, Oladipo's stock could rise even higher, while younger prospects play themselves out of position.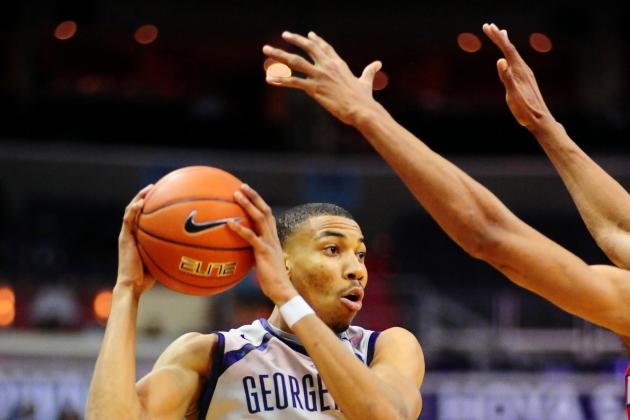 Evan Habeeb-USA TODAY Sports

Stock Report: ↔
Otto Porter's stock isn't likely to change much from now til pre-draft workouts.
We've seen what he can do, and because of his consistency we see it a lot.
He's averaging 15.1 points and 7.7 rebounds a game and contributing in every facet of the game, whether it's reflected on the box score or not.
He's a glue guy, and glue guys are always needed to fill gaps in NBA rotations.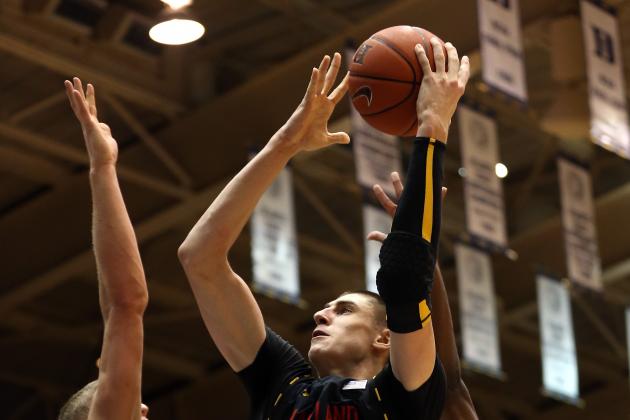 Streeter Lecka/Getty Images

Stock Report: ↑
Alex Len torched Mason Plumlee in their head-to-head showdown, going for 19 points, nine boards and three blocked shots. It was a good look for the sophomore project, who seemed more advanced than the senior who's fighting for National Player of the Year honors.
Len has a really soft touch in the post and possesses the agility to shake his defender and create separation before the release.
With 7'1'' size, athletic fluidity and an NBA skill set in the post, Len has the chance to rise even further up the board if he can put up a few big games in bunches, instead of sprinkling them in every few weeks.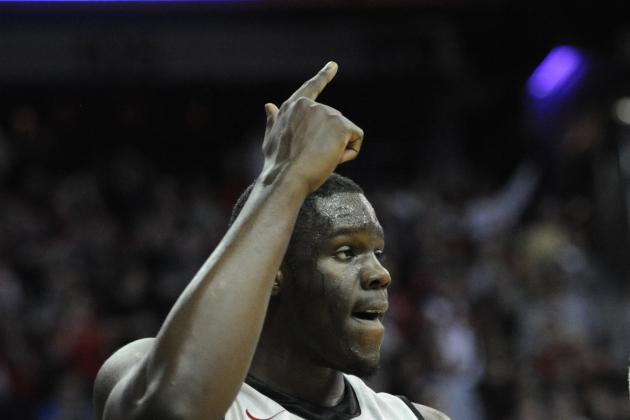 Josh H. Holmberg-USA TODAY Sports

Stock Report: ↓
Anthony Bennett has cooled off, scoring in single digits in two of his last three games.
Bennett was quiet in UNLV's win over Colorado State, where the best rebounding team in the country held him to just seven boards and eight points and not one free-throw attempt.
However his biggest issue of late has been foul trouble. He's now recorded at least four fouls in four of his last five games, and it's restricting him on the floor.
It's somewhat of a concern knowing he'll likely have to spend some time guarding power forwards at the next level.
Regardless, he's still an offensive mismatch and is worth a look anywhere outside the top few picks based on his upside down the road.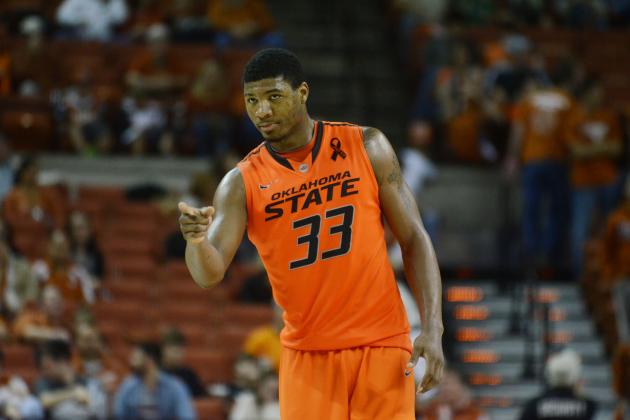 Brendan Maloney-USA TODAY Sports

Stock Report: ↑
Wednesday night's showdown with Kansas was hardly Marcus Smart's finest. However, he still managed to impact the game despite being nagged with injuries and shooting 2-of-14 from the floor.
With not much working, Smart remained aggressive, getting to the line 14 times and converting 11 points with the clock stopped.
The shots might not be falling now, but they will eventually. Having the ability to turn a disastrous shooting night into 16 points while keeping your team in the game is just the skill that separates him from other prospects.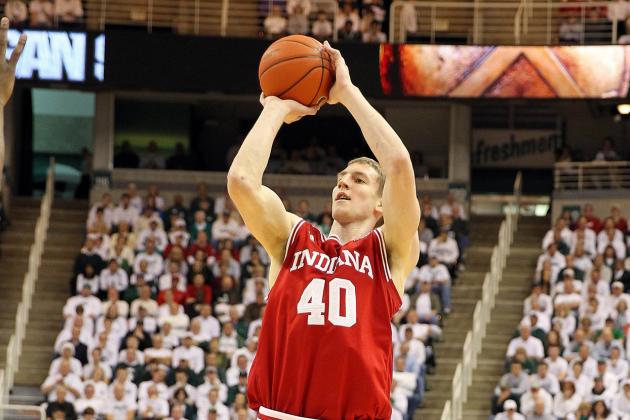 Mike Carter-USA TODAY Sports

Stock Report: ↑
Cody Zeller looks good, and Indiana keeps rolling.
He's practically a lock for at least 15 points a night, as he's just too good one-on-one when given space to operate.
With a confident mid-range jumper that he's sticking with regularity, Zeller is starting to cover all the offensive ground of a scoring big man.
He clearly has the game of an NBA center. The only question that remains is whether he's got the build and strength.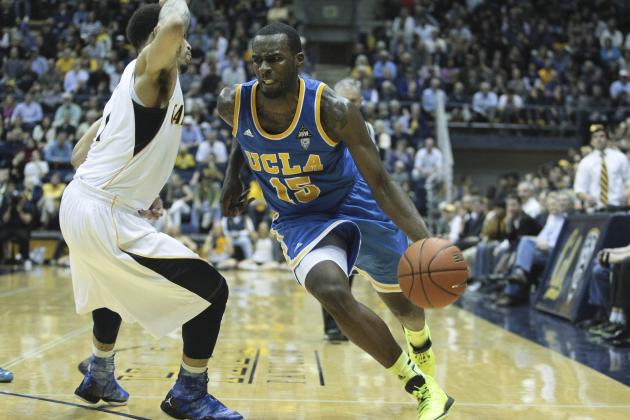 USA TODAY Sports

Stock Report: ↔
Shabazz Muhammad dropped 25 on Stanford, touching every end of the offensive spectrum.
He's incredibly versatile, even if he's scoring in unfamiliar fashion. Muhammad has such a good feel for the rim that he's taking one-handed push shots from 18 feet out and rattling them through the hole.
In a system that makes it difficult to produce consistent individual results, Muhammad has done just that.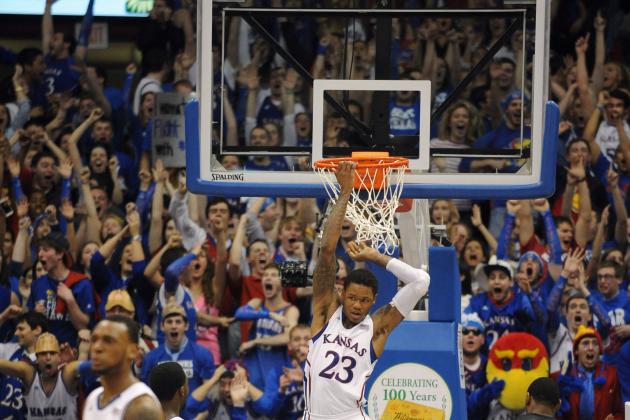 USA TODAY Sports

Stock Report: ↓
Ben McLemore was disappointing in every way possible against Oklahoma State.
It wasn't even the fact that he shot 3-of-12 from the floor. It's the fact that he looked like he wanted nothing to do with being the reason the team won or lost.
McLemore was passing up shots all night long. And when he finally had his opportunity for a game-winning bucket, he threw up a puzzling air ball that never had a chance.
His weak left hand and loose handle were also tough to ignore.
There's nobody doubting his strengths—the kid is a stud athlete and elite long-range shooter. But it's possible he turned some people off last night who could have been contemplating taking McLemore No. 1 or No. 2 overall.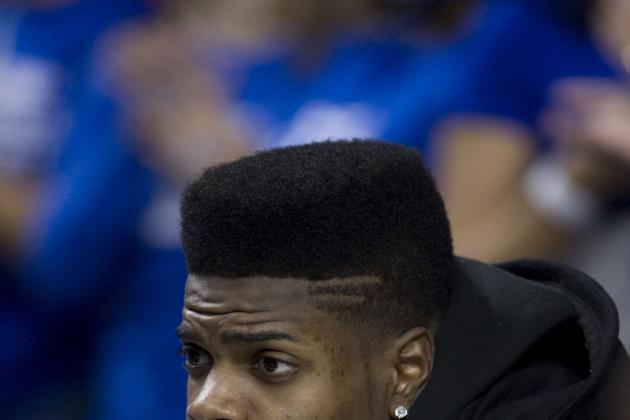 Mark Zerof-USA TODAY Sports

Stock Report: ↑
Yes, it's possible for your stock to rise by not playing any ball at all. Just ask Dion Waiters, who practically sat out the entire pre-draft process last year while watching his stock soar up to No. 4 overall value.
While Noel sits, others are being exposed.
This week it was Ben McLemore, who looked like he had no interest in playing in the spotlight against Oklahoma State.
Considering there isn't anyone else in the field capable of helping a team win now, it shouldn't be a big deal that Noel will be out til March.
He's the top prospect in the field whether he plays his first NBA game in 2013 or 2014. Depending on who wins the lottery, Noel still has a good shot at being selected No. 1 overall.