Spring Training Predictions for the 2013 AL/NL All-Star Teams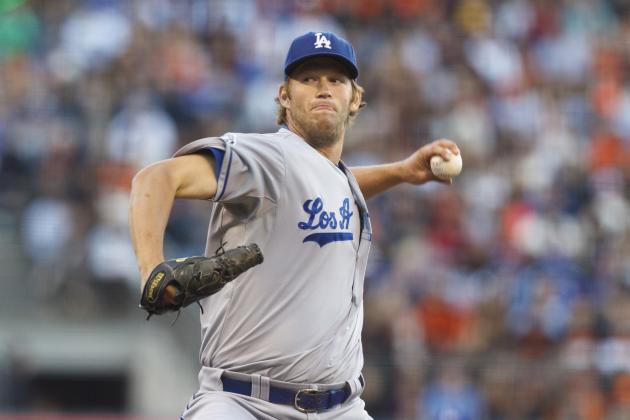 Jason O. Watson/Getty Images

Spring training has just begun, but it's never too early to look ahead to where things may stand at the midpoint of the season.
Every season, the All-Star game gives fans something to argue about. Even with 34 spots on both teams up for grabs, there are always at least a handful of snubs.
Take this for what it is, a blind prediction, but here are my 2013 AL and NL All-Star rosters.
Let the debate begin...
Begin Slideshow

»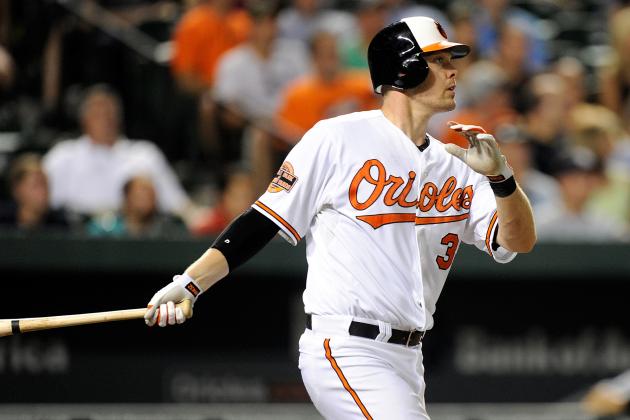 Greg Fiume/Getty Images
C Matt Wieters
C Matt Wieters (2011, 2012)
An All-Star each of the past two seasons, Wieters has finally begun to live up to the hype that made him the top prospect in baseball entering the 2009 season, according to Baseball America.
Aside from his budding power at the plate, he has won consecutive Gold Glove awards and has quickly become one of the top backstops in all of baseball.
CF Adam Jones (2009, 2012)
Jones has steadily improved in each of his five seasons with the Orioles, and the team locked him up with a six-year, $85.5 million extension last season.
He finished sixth in AL MVP voting last year and should become a perennial All-Star.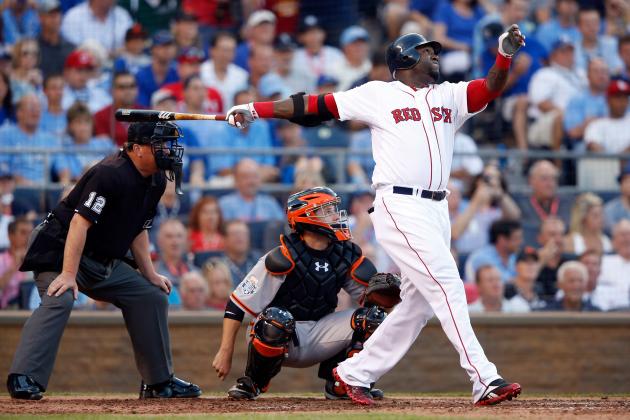 Jamie Squire/Getty Images
DH David Ortiz
2B Dustin Pedroia (2008-2010)
The face of the Red Sox franchise, Pedroia has long been one of the best all-around second basemen in the league. He's also capable of being an offensive force.
Robinson Cano still is regarded as the top second baseman in the American League, but Pedroia is not far behind. He should once again be a 20/20 threat and play stellar defense.
DH David Ortiz (2004-2008, 2010-2012)
At this point, Billy Butler may be the best DH in the league, but Ortiz should continue to garner the fan vote as one of the most popular players in the game.
That's not to say he can't still produce. In just 324 at-bats last season, he hit .318 with 23 home runs and 60 RBI.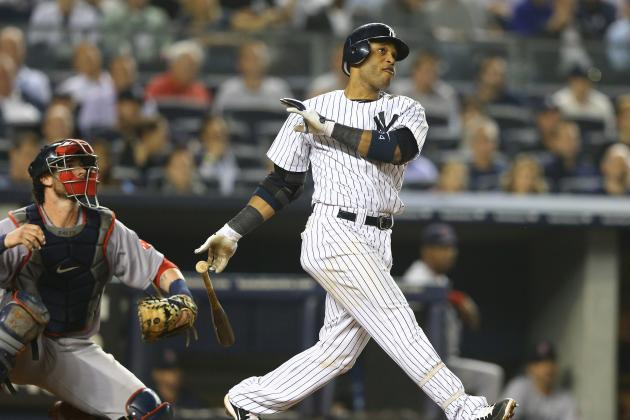 Al Bello/Getty Images
2B Robinson Cano
2B Robinson Cano (2006, 2010-2012)
Cano has emerged as not just the top offensive threat at second base, but one of the premier power threats in all of baseball after a career-high 33 home runs last season.
The 30-year-old is playing for a huge contract extension at the end of the season, so he should be as motivated as ever to carry the Yankees' offense and turn in a big year.
LF Brett Gardner (No All-Star Appearances)
Perhaps the boldest of any of my selections here, Gardner may be as important to the Yankees' success this coming season as anyone after missing the bulk of 2012.
Gardner gives an aging team a speed threat and table-setter atop the lineup, as I think he'll wind up hitting leadoff early on. A breakout year seems very possible.
RP Mariano Rivera (1997, 1999-2002, 2004-2006, 2008-2011)
On history alone and the fact that this may well be his last season, Rivera will likely find himself in the All-Star game, barring a first-half injury or complete breakdown.
The greatest closer in the history of the game with 608 saves, Rivera should have no trouble ranking among the top closers in the league in his return from a torn ACL.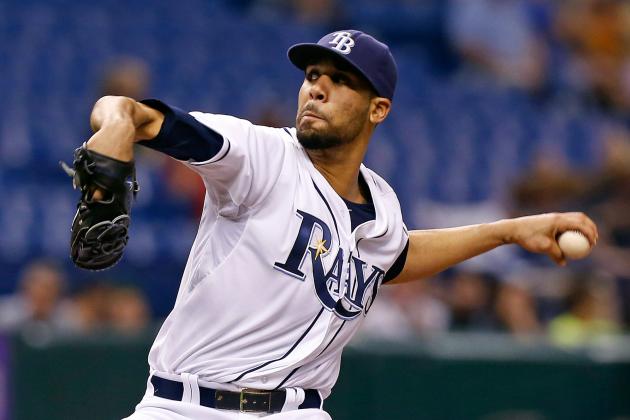 J. Meric/Getty Images
SP David Price
3B Evan Longoria (2008-2010)
Limited to just 74 games last season due to injury, the Rays were a much better team with Longoria in the lineup, going 47-27 with him and 43-45 without him.
He remains one of the stars of the game, and as long as he stays healthy, there is no reason he shouldn't rank among the league leaders in most run-production categories.
SP David Price (2010-2012)
The reigning AL Cy Young winner and one of the game's top pitchers, Price has gone 51-24 with a 2.93 ERA over the past three seasons.
With James Shields gone, Price is the unquestioned ace and leader of the Rays' pitching staff. While his time in Tampa may be short, he'll lead the team through the first half if nothing else.
RP Fernando Rodney (2012)
After posting an ERA north of 4.00 for five straight seasons, few teams were interested in Rodney last offseason, so he wound up signing a two-year, $4.5 million deal with the Rays.
He was one of the steals of the offseason, saving 48 games with a 0.60 ERA and 0.777 WHIP. He may not duplicate those phenomenal numbers, but he should once again rank among the top relievers in the AL.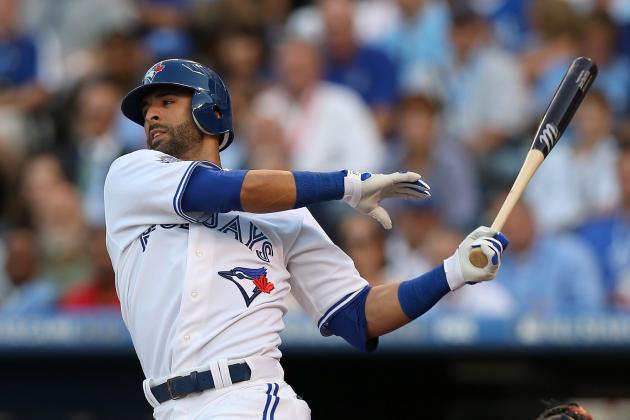 Jonathan Daniel/Getty Images
RF Jose Bautista
SS Jose Reyes (2006-2007, 2010-2011)
After winning the NL batting title in 2011, Reyes signed a six-year, $108 million deal with the Marlins as one of their marquee offseason additions.
When Miami decided to blow it up this offseason, he was shipped to the Blue Jays and will serve as table-setter for what should be a stacked offense.
RF Jose Bautista (2010-2012)
Even when injuries limited him to just 332 at-bats last season, Bautista still managed to launch 27 home runs and post an .886 OPS.
In a full season with breakout slugger Edwin Encarnacion protecting him in the lineup, Bautisa, who hit a total of 97 home runs in the 2010 and 2011 seasons, could be in line for the best numbers of his career.
DH Edwin Encarnacion (No All-Star Appearances)
Encarnacion was among the biggest All-Star snubs of 2012. He was hitting .295 with 23 home runs and 58 RBI at the break, but was passed over.
I expect his power to be for real, and with him and Jose Bautista, the Blue Jays may well boast the best one-two punch in the league. With another big year, he won't be passed over again.
SP Josh Johnson (2009-2010)
The Blue Jays added a trio of solid veteran arms this offseason, acquiring Johnson and Mark Buehrle from the Marlins and reigning NL Cy Young winner R.A. Dickey from the Mets.
After winning the ERA title in 2010 and posting even better numbers before going down with an injury in 2011, Johnson has shown he has the stuff to be one of the best pitchers in the game. He could well emerge as the ace of this staff.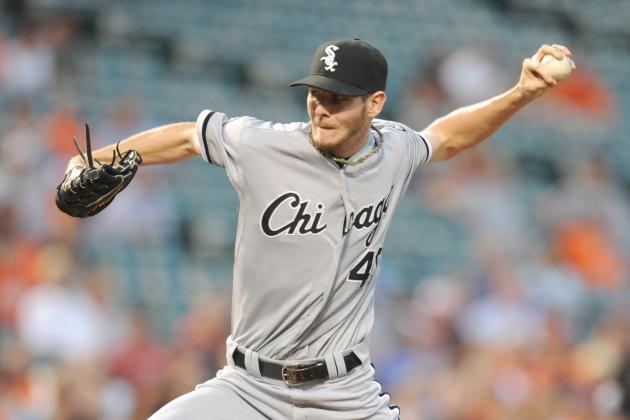 Mitchell Layton/Getty Images
SP Chris Sale
SP Chris Sale (2012)
After two seasons serving as one of the league's best setup men, Sale transitioned to the rotation last season with tremendous success.
He won 17 games and finished sixth in AL Cy Young voting. But he could be in line for an even better season, as he showed signs of tiring down the stretch last year.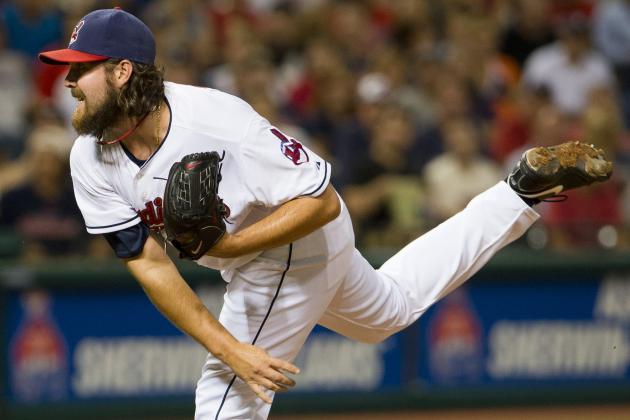 Jason Miller/Getty Images
RP Chris Perez
RP Chris Perez (2011-2012)
Perez has been one of the best closers in baseball over the past three seasons, converting 98-of-110 save chances with a 2.84 ERA.
The Indians had a busy offseason and added a pair of star outfielders in Nick Swisher and Michael Bourn, among others, but it will again be Perez who is their lone representative in the Midsummer Classic.
Hannah Foslien/Getty Images
3B Miguel Cabrera
1B Prince Fielder (2007, 2009, 2011-2012)
The Tigers shocked the baseball world last offseason when they signed Fielder to a nine-year, $214 million deal following the season-ending injury to Victor Martinez.
Lost behind Miguel Cabrera's Triple Crown season was a terrific year from Fielder. He hit a career-best .313 with 30 home runs and 108 RBI. He should continue to be one of the league's best run-producers and a worthy All-Star.
3B Miguel Cabrera (2004-2007, 2010-2012)
The 2012 AL MVP and Triple Crown winner, Cabrera was actually beaten out for the All-Star start last season by Adrian Beltre.
After all of the media attention his Triple Crown push got last season, expect Cabrera to come out on top in the voting this season and for a number of seasons to come.
CF Austin Jackson (No All-Star Appearances)
Despite missing nearly a month from mid-May to early June, Jackson still turned in a breakout season. In raising his on-base percentage from .317 to .377, he become a true leadoff hitter and great table-setter.
Entering his fourth season in the majors, Jackson will be 26 years old and is just entering the prime of his career, so he may even take another step forward in 2013.
SP Justin Verlander (2007, 2009-2012)
Arguably the top pitcher in the game today, Verlander won the Cy Young and MVP awards in 2011 and finished a close second to David Price for the Cy Young this past season.
A workhorse and true staff ace, Verlander is still in the prime of his career. He gives the Tigers a serious chance to win every time he takes the mound.
SP Max Scherzer (No All-Star Appearances)
Since coming over from the Diamondbacks in a three-team trade prior to the 2010 season, Scherzer has gone 43-27 with a 3.89 ERA.
He took a step forward last season and pitched like a front-line starter, going 16-7 with a 3.74 ERA and a league-leading 11.1 K/9. The 28-year-old should continue his ascent to the ranks of the game's best this coming year as a second ace alongside Verlander.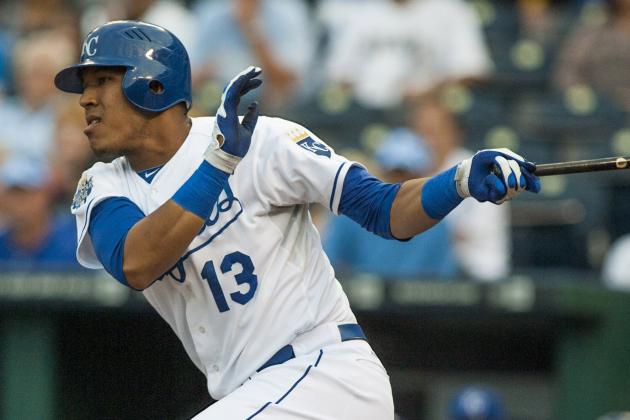 Tim Umphrey/Getty Images
C Salvador Perez
C Salvador Perez (No All-Star Appearances)
Had it not been for a knee injury that kept him from making his season debut until late June, Perez would have been one of the breakout stars of 2012.
As it stands, he still managed to hit .301 with 11 home runs and 39 RBI in 76 games as a 22-year-old. This should be the season he joins the ranks of the game's catching elite and makes the first of what should be many All-Star trips.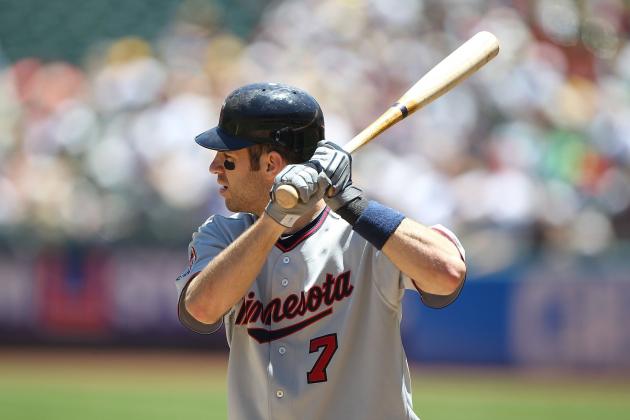 Jed Jacobsohn/Getty Images
C Joe Mauer
C Joe Mauer (2006, 2008-2010, 2012)
A three-time batting title winner and a career .327 hitter after the 2010 season, Mauer was limited to just 82 games in 2011 and there were questions about whether he would ever be the same.
He proved the doubters wrong last year with a .316/.416/.446 slash line, leading the AL in on-base percentage, and he has once again climbed to the top of the AL catcher rankings.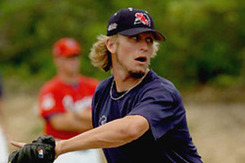 RP Josh Fields (Photo Credit: Cape Cod Baseball)
RP Josh Fields (No All-Star Appearances)
The Astros don't have many All-Star-caliber players on their roster, and a relief pitcher seems like the most likely selection, unless Jose Altuve can match his surprise numbers from last year.
Fields was the first pick in the Rule V draft after posting a 2.01 ERA and 78 strikeouts in 58.1 innings of work between Double-A and Triple-A in the Red Sox organization last season. He'll open the season in a middle relief role, but I expect him to quickly emerge as the team's top bullpen arm.
Think a Rule V draft pick making the All-Star team is ridiculous? Dan Uggla was a Rule V pick when he was named an All-Star as a rookie in 2006.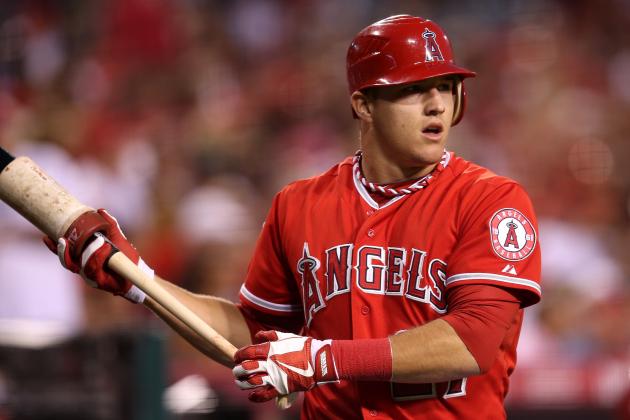 Stephen Dunn/Getty Images
CF Mike Trout
1B Albert Pujols (2001, 2003-2010)
The best hitter of our generation, Pujols had a terrible first month with the Angels last year.
But after hitting his first home run on May 6, he went on to hit .305, with 30 HR and 100 RBI the rest of the way. As long as he can avoid the slow start this year, he should be back in the All-Star game.
LF Josh Hamilton (2008-2012)
A year after signing Pujols to a mega-deal, the Angels pulled off a shocker once again and signed Hamilton to a five-year, $125 million deal.
The 31-year-old hit a career-high 43 home runs last season. Slotted between Pujols and Mark Trumbo in the Angels' lineup, he should once again rank among the top power hitters in the game if he can avoid an extended stay on the DL.
CF Mike Trout (2012)
After turning in perhaps the best rookie season in MLB history and given his advanced skill set, Trout seems to have as good a chance as anyone to avoid the sophomore slump.
He is one of the future faces of the MLB, and his popularity should continue to grow as his career progresses toward superstardom.
SP Jered Weaver (2010-2012)
Weaver led the American League with 20 wins, a 1.018 WHIP and 7.0 H/9 last season. He is the unquestioned ace of a new-look Angels pitching staff.
Entering his age-30 season, Weaver is 102-52 in his seven-year big league career and should add to this terrific career numbers with another Cy Young-caliber season in 2013.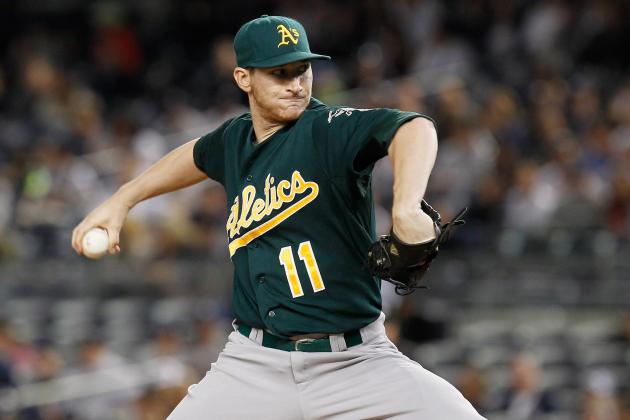 Mike Stobe/Getty Images
SP Jarrod Parker
LF Yoenis Cespedes (No All-Star Appearances)
When the A's signed Cespedes to a four-year, $36 million deal last offseason following his defection from Cuba, there were questions as to how quickly he would adjust to the big league game.
With three home runs and seven RBI through his first four games, he quickly silenced the critics and went on to hit .292 with 23 home runs and 82 RBI. He'll once again be the team's primary run-producer, as his power looks to be real.
SP Jarrod Parker (No All-Star Appearances)
The key return piece in the deal that sent Trevor Cahill to the Diamondbacks last offseason, Parker joined the A's rotation after just four minor league starts and went 13-8 with a 3.47 ERA.
With Brandon McCarthy gone and Bartolo Colon another year older, someone will need to step forward as the ace of the staff. Parker has the tools to be that guy.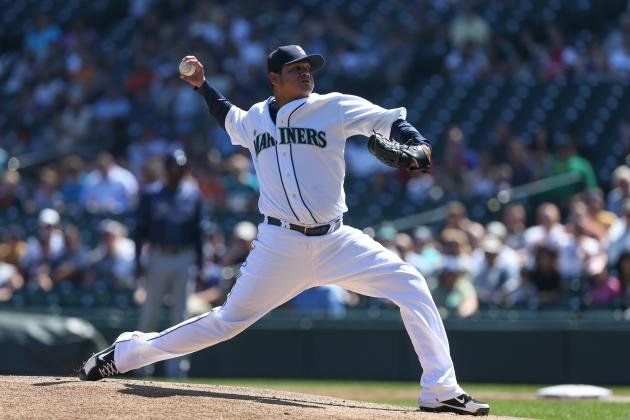 Otto Greule Jr/Getty Images
SP Felix Hernandez
SP Felix Hernandez (2009, 2011-2012)
Over the past four seasons, Hernandez has been among the game's best with a 2.81 ERA and more than 230 innings pitched each season.
He's failed to reach 15 wins the past three years, and it could be another long year in Seattle, even with the offense improved and a number of prospects on the way. But he should continue to be recognized for his dominance.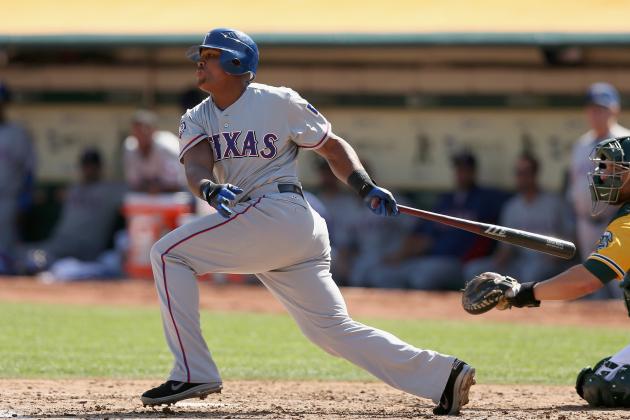 Ezra Shaw/Getty Images
3B Adrian Beltre
3B Adrian Beltre (2010-2012)
Beltre went the first 12 seasons of his career without making an All-Star team, but has now made it each of the past three years.
He earned the start at third base over Miguel Cabrera last year, turning in an MVP-caliber season, hitting .321 with 36 home runs and 102 RBI. With Josh Hamilton gone, he'll be the main run-producer in the Rangers' lineup.
SS Elvis Andrus (2010, 2012)
When Andrus broke into the majors as a 20-year-old in 2009, he was a defensive-minded shortstop whose biggest asset was his speed.
Last year, he became an asset out of the No. 2 spot in the lineup, posting a career-best .727 OPS with 21 stolen bases, 62 RBI and 85 runs scored. He still has plenty of room to improve offensively.
RP Joe Nathan (2004-2005, 2008-2009, 2012)
After missing all of the 2010 season with Tommy John surgery, Nathan was far from his dominant self when he returned in 2011 and posted a 4.84 ERA.
The Rangers took a chance, signing him to a two-year, $14.5 million deal, and he rewarded their gamble by saving 37 games on his way to making the All-Star team.
His career is winding down at the age of 38. But unless he drops off substantially, he should still be one of the AL's top closers.
Stephen Dunn/Getty Images

Starting Lineup
1. CF Mike Trout
2. 2B Robinson Cano
3. 1B Albert Pujols
4. LF Josh Hamilton
5. 3B Miguel Cabrera
6. DH David Ortiz
7. RF Jose Bautista
8. C Joe Mauer
9. SS Jose Reyes
SP Felix Hernandez
Reserves (Hitters)
C Matt Wieters
C Salvador Perez
1B Edwin Encarnacion
1B Prince Fielder
2B Dustin Pedroia
SS Elvis Andrus
3B Adrian Beltre
3B Evan Longoria
OF Yoenis Cespedes
OF Brett Gardner
OF Austin Jackson
OF Adam Jones
Reserves (Pitchers)
SP Josh Johnson
SP Jarrod Parker
SP David Price
SP Chris Sale
SP Max Scherzer
SP Justin Verlander
SP Jered Weaver
RP Josh Fields
RP Joe Nathan
RP Chris Perez
RP Mariano Rivera
RP Fernando Rodney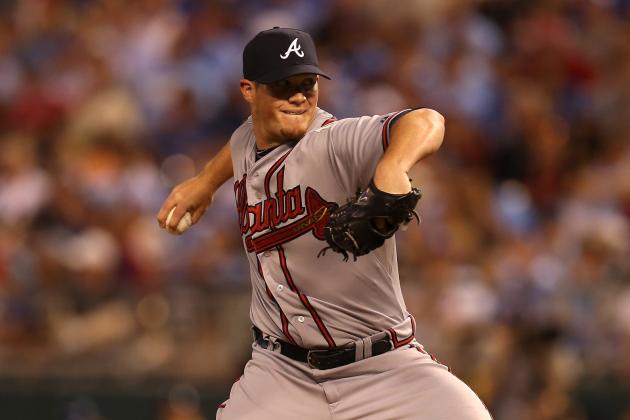 Jonathan Daniel/Getty Images
RP Craig Kimbrel
LF Justin Upton (2009, 2011)
The Braves acquired Justin and his brother B.J. this offseason, and they're hoping that a change of scenery can allow both players to realize their tremendous potential.
After hitting 31 home runs and stealing 21 bases in 2011, Justin took a step back last season, but he is still only 25 years old and that breakout season remains within reach.
RF Jason Heyward (2010)
Though he was voted to the All-Star game as a starter in 2010, Heyward was injured and unable to play, so he has yet to actually make his All-Star game debut.
With 27 home runs and 21 steals, the 23-year-old may only be scratching the surface of his potential. He has the tools to be a superstar and could take a big step forward this coming season.
RP Craig Kimbrel (2011-2012)
Kimbrel has led the NL in saves each of the past two seasons, nailing down 88 games and posting dominant peripheral numbers with a 1.61 ERA and 15.7 K/9.
He's the most dominant reliever in baseball, and he'll once again anchor a terrific Braves bullpen that should afford him plenty of save opportunities.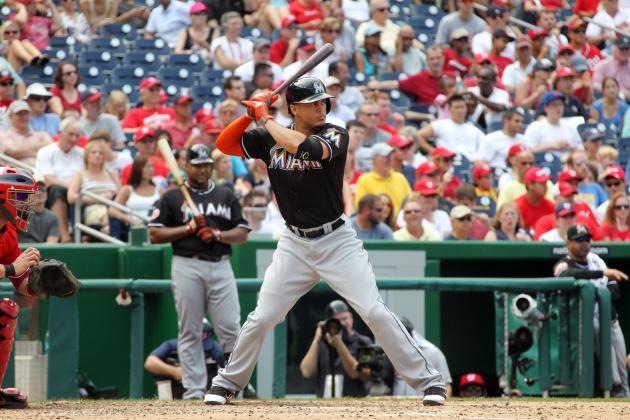 Ned Dishman/Getty Images
RF Giancarlo Stanton
RF Giancarlo Stanton (2012)
Only 23 years old, Stanton already has 92 home runs and has seen his overall offensive skills improve in each of his three seasons in the league.
The sky is the limit as far as his power potential is concerned. His biggest hurdle may be staying motivated in what could be a rough situation in Miami this season. Still, a healthy year should mean 40 or more home runs.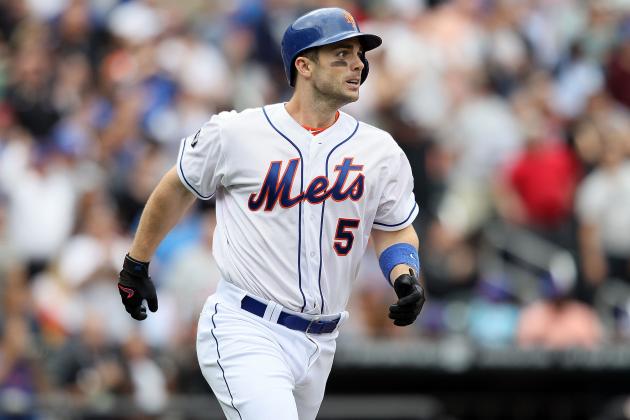 Alex Trautwig/Getty Images
3B David Wright
3B David Wright (2006-2010, 2012)
The Mets locked up Wright with a seven-year, $122 million deal that will likely keep him in a Mets uniform for the remainder of his career.
After a disappointing 2011 season, he bounced back big last season, and he'll be counted on to be the leader of a young, improving Mets roster that could be in a position to contend within a couple years.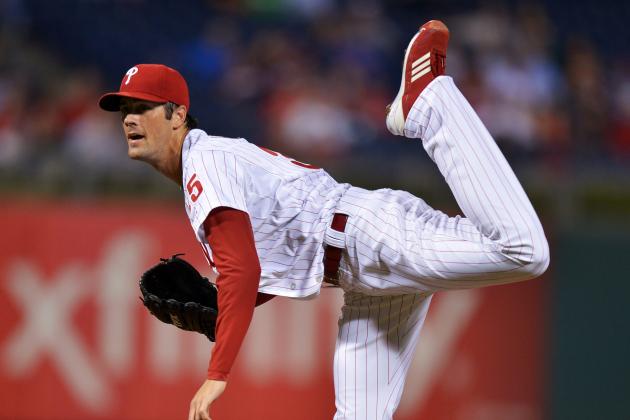 Drew Hallowell/Getty Images
SP Cole Hamels
SP Cole Hamels (2007, 2011-2012)
While Roy Halladay and Cliff Lee may get more headlines, it was Hamels who was the Phillies' best pitcher last season. He went 17-6 with a 3.05 ERA and 216 strikeouts.
The Phillies recognized his importance and locked him up with a six-year, $144 million deal. With Halladay and Lee another year older, he should step forward as the staff ace.
RP Jonathan Papelbon (2006-2009, 2012)
The four-year, $50 million contract that the Phillies gave Papelbon last offseason remains a questionable move given the current state of the organization, but he turned in a solid 2012.
After saving 38 games with a 2.44 ERA and 11.8 K/9 last season, he should once again be one of the top closers in baseball.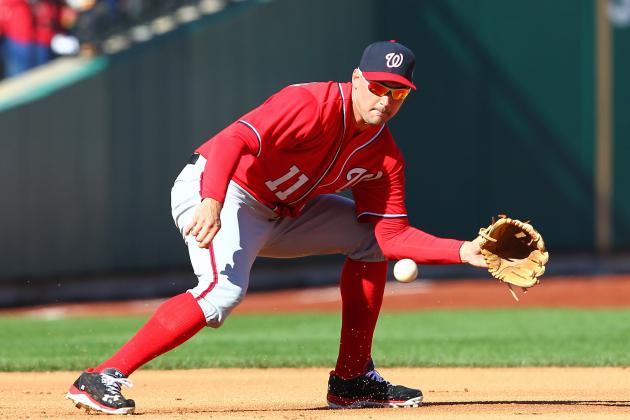 Dilip Vishwanat/Getty Images
3B Ryan Zimmerman
3B Ryan Zimmerman (2009)
Though he is the face of the Nationals' franchise and a franchise cornerstone following the six-year, $100 million extension he was given, Zimmerman has struggled to stay on the field the past few years.
He's a 30-HR, 100-RBI lock and Gold Glove defender when healthy, and in a deep field of NL third baseman that features David Wright, Chase Headley and Aramis Ramirez, among others, I think he earns the start in 2013.
LF Bryce Harper (2012)
The fact that Harper had 22 home runs and 18 steals as a rookie is impressive. The fact that he did it as a 19-year-old is nothing short of spectacular.
He has as much raw power potential as anyone in baseball, and while there is always the threat of a sophomore slump, he should continue to impress on his way to stardom.
SP Stephen Strasburg (2012)
The Nationals were incredibly careful with their ace last season in his first full year back from Tommy John surgery, limiting him to 159.1 innings and shutting him down in September.
He still managed to go 15-6 with a 3.16 ERA and 197 strikeouts. Now that he is off the leash, he should be a Cy Young front-runner for the next decade.
SP Jordan Zimmermann (No All-Star Appearances)
Overlooked a bit behind Strasburg and Gio Gonzalez, Zimmermann pitched like an ace in his own right last season, compiling a 2.94 ERA and 12-8 record through 32 starts.
At 27, he is just entering his prime. If he can take another step forward, there is no reason he can't be on the same level as Strasburg and Gonzalez.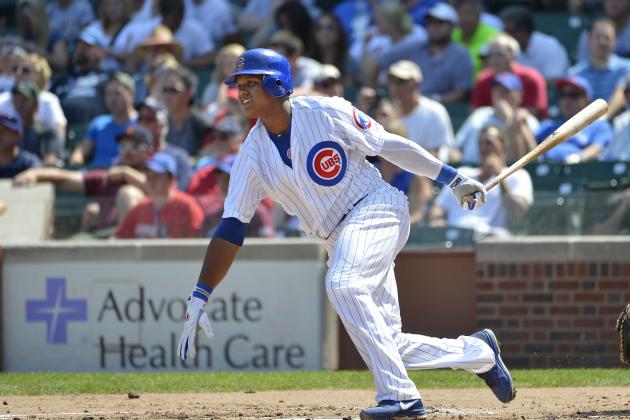 Brian Kersey/Getty Images
SS Starlin Castro
SS Starlin Castro (2011-2012)
Entering his age-23 season, Castro, who the Cubs have locked up through 2019 on a team-friendly deal, already has 529 hits.
As his power develops and he continues to emerge as the leader of the Cubs' rebuilding efforts, a season with a .300 average, 20 home runs and 20 steals seems well within reach.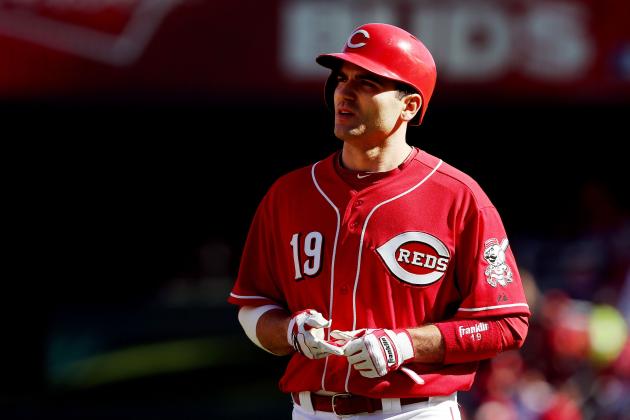 Jonathan Daniel/Getty Images
1B Joey Votto
1B Joey Votto (2010-2012)
The 2010 NL MVP, Votto would have had a real shot at winning the award again last season had it not been for a knee injury that sidelined him for a month and a half.
As it was, he still led the NL with a .474 on-base percentage, the third straight year he's topped the league in that category. On paper, the Reds are as complete a team as any, and Votto is at the heart of it all.
2B Brandon Phillips (2010-2011)
Phillips has been as steady as anyone in baseball since coming to the Reds in 2006, playing in at least 140 games each season and averaging 20 home runs and 21 steals while playing Gold Glove defense.
At 31, there is no reason to expect anything but what we've become accustomed to out of Phillips. That is numbers that rank him among the most productive second basemen in baseball.
SP Mat Latos (No All-Star Appearances)
The Reds paid a steep price to acquire Latos last offseason, shipping a four-player package to the Padres to add the right-hander to the front end of their staff.
After getting hit hard the first month of the season, he went 13-2 with a 3.09 ERA the rest of the way. The 25-year-old should give Johnny Cueto a run for the title of staff ace.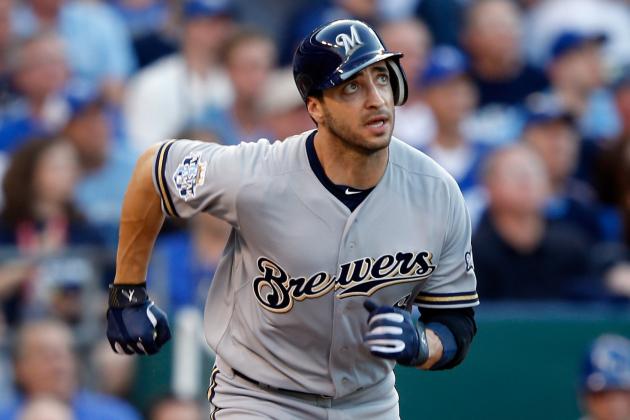 Jamie Squire/Getty Images
LF Ryan Braun
LF Ryan Braun (2008-2012)
After an offseason of controversy last winter, Braun had no trouble turning his focus back to baseball, turning in his second straight 30/30 season with a career-high and NL-best 41 home runs.
The 29-year-old is the most dynamic all-around offensive player in the game. That he didn't miss a beat with the departure of Prince Fielder shows just how dangerous he is.
SP Yovani Gallardo (2010)
With Zack Greinke, Shaun Marcum and Randy Wolff gone, Gallardo is the unquestioned leader of what will be a very young Brewers staff in 2013.
Still just 26 years old, Gallardo has won 60 games with a 3.68 ERA and 9.4 K/9 since becoming a regular in the Brewers' rotation in 2009. He should continue to rank among the league's best for the foreseeable future.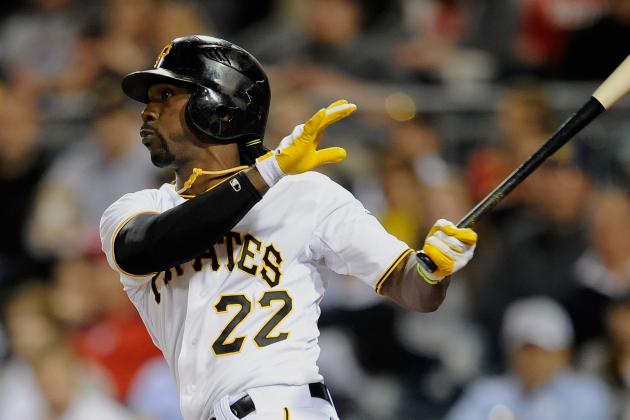 Joe Sargent/Getty Images
CF Andrew McCutchen
CF Andrew McCutchen (2011-2012)
McCutchen single-handedly carried the Pirates' offense in the first half last season and was the NL MVP at the break with a .362 average, 18 home runs and 60 RBI.
He fell off a bit in the second half, but still turned in a terrific all-around season. With a little more help from his supporting cast, he could turn in even better numbers in 2013.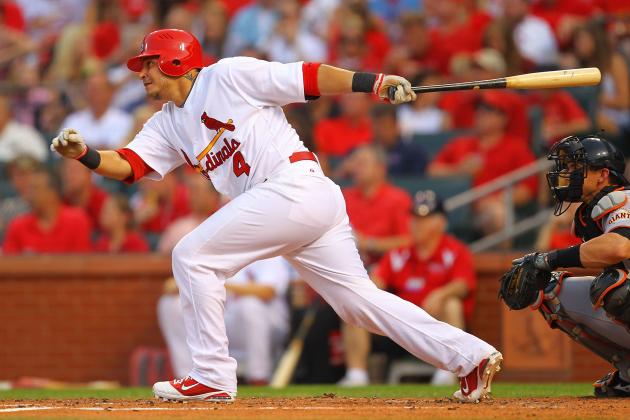 Dilip Vishwanat/Getty Images
C Yadier Molina
C Yadier Molina (2009-2012)
A fantastic defender and a passable offensive player entering last season, Molina turned in a career year at the plate with a .315 average, 22 home runs and 76 RBI.
That makes him the best all-around catcher in the game by a landslide. With the Cardinals' rotation expected to get younger this season, his veteran presence behind the plate will be as important as ever.
1B Allen Craig (No All-Star Appearances)
Craig played just 119 games last season, but still managed to hit 22 home runs and drive in 92 runs over 469 at-bats.
A late-bloomer of sorts, Craig could be a force in the middle of the Cardinals' lineup this season with an established position and a clean bill of health. A 30-HR, 100-RBI season is well within reach for the 28-year-old.
LF Matt Holliday (2006-2008, 2010-2012)
Very few $100 million contracts seem to work out well for teams, but there have been few if any instances when the seven-year, $120 million deal the Cardinals gave Holliday has been questioned.
He hasn't put up prolific power numbers away from Coors Field, but he is a near lock for an average close to .300, 25 home runs and 100 RBI as long as he can stay healthy. One thing is for sure, he gets the most out of every vicious swing he takes.
SP Adam Wainwright (2010)
After missing all of 2011 with Tommy John surgery, Wainwright was slow out of the gates last season, but over the final three months of the year he went 8-5 with a 3.18 ERA and looked like the Wainwright of old.
With Chris Carpenter shelved indefinitely and Kyle Lohse gone in free agency, he'll be relied on more than ever to lead the staff. I expect him to answer the call with a Cy Young-caliber season.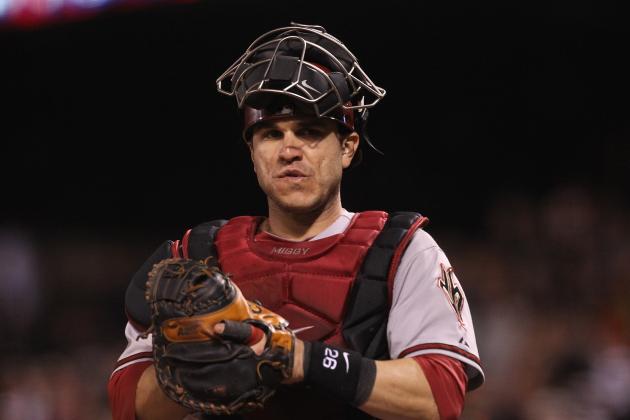 Tony Medina/Getty Images
C Miguel Montero
C Miguel Montero (2011)
Franchise catchers are hard to come by. The Diamondbacks recognized that when they gave Montero a five-year, $60 million extension last May.
He's hit better than 280 with at least 80 RBI in each of the past two seasons, and his .391 on-base percentage was by far a career high last season. He's still improving offensively, so he could still have a career year up his sleeve.
2B Aaron Hill (2009)
After a career year in 2009 when he hit 36 home runs and drove in 108 runs, Hill saw his numbers nosedive the following two seasons.
The Diamondbacks signed him to a two-year, $11 million deal for lack of better options last offseason and he rewarded their faith with a .302 BA, 26-HR, 85-RBI season. That earned him a three-year, $35 million extension.
The Diamondbacks are banking on him not regressing once again. Even if he takes a step back, he'll still be one of the most productive second basemen in the NL.
RP J.J. Putz (2007)
Putz saved 76 games combined for the Mariners in 2006 and 2007, but his days as a closer seemed to be over when he posted a 5.22 ERA for the Mets in 2009 in a setup role.
The Diamondbacks gave him what ended up being a three-year, $17 million deal and he's responded with 77 saves, a 2.48 ERA and 10.1 K/9 in his first two seasons in Arizona. I expect at least one more good year out of the 36-year-old.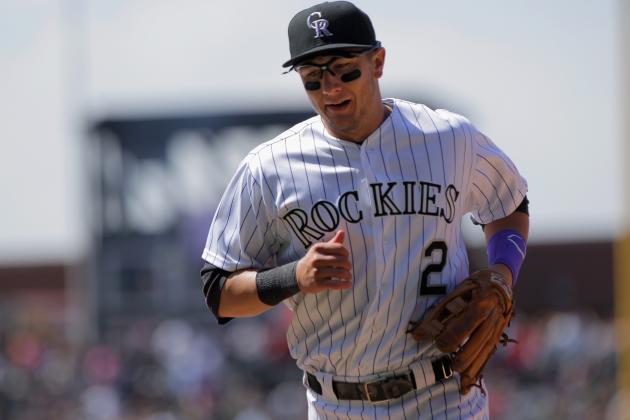 Doug Pensinger/Getty Images
SS Troy Tulowitzki
SS Troy Tulowitzki (2010-2011)
After an MVP-caliber season in 2011 in which he hit .302 with 30 home runs and 105 RBI, Tulowitzki entered the 2012 season as the consensus top shortstop in baseball.
However, a nagging groin injury limited him to just 47 games, making 2012 essentially a lost season for him. As long as he's healthy, there's no reason he shouldn't go right back to being one of the most dynamic players in the game.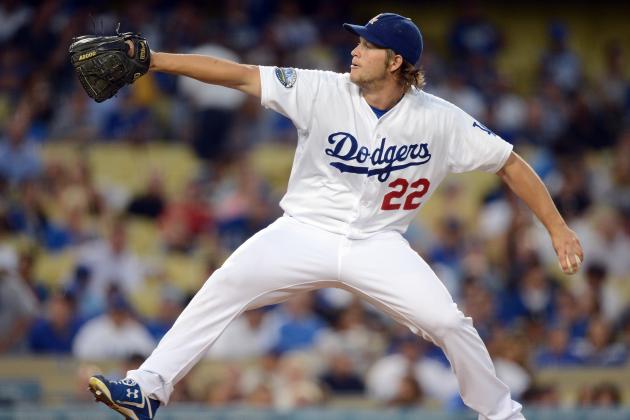 Harry How/Getty Images
SP Clayton Kershaw
1B Adrian Gonzalez (2008-2011)
Much has been made about the fact that Gonzalez saw his home run total dip to 18 last season after averaging 31 over the previous six seasons.
I think the bigger concern is that his OBP fell from .410 to .344. But I'm a believer in Gonzalez turning things around in his first full season with the Dodgers and again producing like a top-tier first baseman.
CF Matt Kemp (2011-2012)
Injuries put a damper on Kemp's run at a 40/40 season last year, but one can't help but be impressed with his month of April. He kicked off the season with a .417 BA, 12-HR, 25-RBI line over 23 games.
Provided he doesn't again spend serious time on the DL, Kemp should once again be a dynamic offensive force. With more protection in the lineup, he could make a real run at MVP honors.
SP Clayton Kershaw (2011-2012)
With back-to-back ERA titles, a strong case can be made that Kershaw is the best pitcher in the National League and perhaps all of baseball, though my vote still goes to Justin Verlander.
The ridiculous thing about Kershaw is that he is still just 24 years old. It must be absolutely terrifying for the rest of the league to think he may actually get better in the years ahead.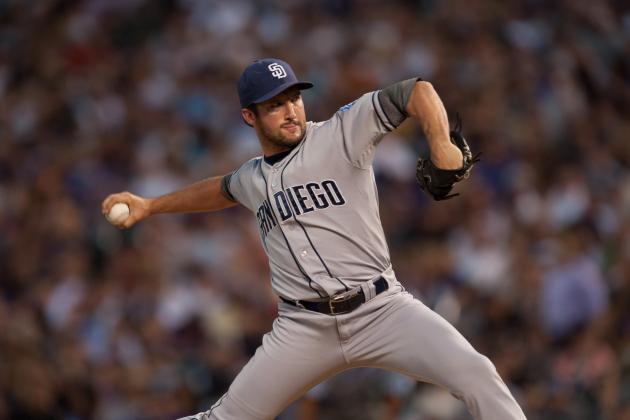 Dustin Bradford/Getty Images
RP Huston Street
3B Chase Headley (No All-Star Appearances)
Headley looked like trade bait after a .267 BA, 8-HR, 42-RBI line in the first half of the season, but he turned into an MVP candidate with a .308 BA, 23-HR, 73-RBI second half as he claimed the NL RBI title.
Whether the Padres are able to lock him up on a long-term deal remains to be seen, but he is under team control through 2014. If he can match his 2012 numbers, he'll set himself up for a $100 million contract once he hits the open market.
RP Huston Street (2012)
Acquired from the Rockies in a cost-cutting move last offseason, Street was dominant out of the Padres' bullpen with 23 saves, a 1.85 ERA and 10.8 K/9.
The Padres decided not to move him at the deadline, instead signing him to a two-year, $14 million extension. With what should be an improved offense, he could see plenty more save chances in 2013.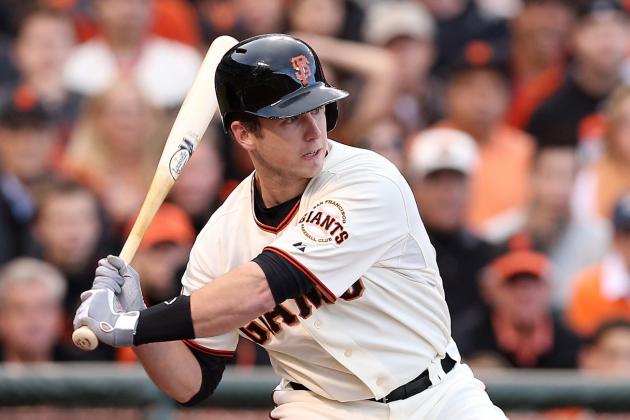 Christian Petersen/Getty Images
C Buster Posey
C Buster Posey (2012)
The reigning NL MVP, Posey bounced back surprisingly well from the broken leg he suffered in 2011. There may be no player who means more to his team's success than Posey.
The Giants are a team built on pitching, and Posey does most of the heavy lifting offensively. After winning the batting title with a .336 average last season, Posey ranks as the top offensive catcher in baseball.
SP Matt Cain (2009, 2011-2012)
With Tim Lincecum struggling to find his form in 2012, Cain assumed the role of staff ace and for the sixth straight season topped the 200-inning mark while winning a career-high 16 games.
His efforts were rewarded with a five-year, $112.5 million extension, and he'll once again be counted on to lead the Giants' staff in 2013.
RP Sergio Romo (No All-Star Appearances)
When Brian Wilson was lost for the season early last year, the Giants opted to employ a closer-by-committee approach with Romo, Jeremy Affeldt and Santiago Casilla all seeing the ball in the ninth inning.
It was Romo who emerged as the closer, though, converting 14-of-15 saves chances with a 1.79 ERA and 10.2 K/9. He then went a perfect 4-for-4 and allowed just one earned run in 10.1 innings of work in the postseason. His best quality may be that he doesn't get himself into trouble with walks, issuing just 48 free passes in 233.1 career innings.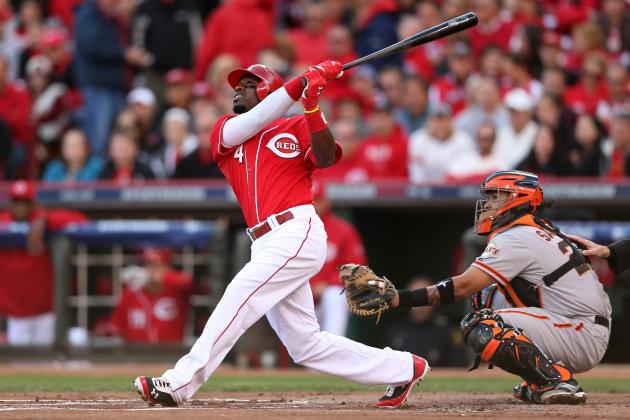 Andy Lyons/Getty Images

Starting Lineup
1. CF Andrew McCutchen
2. SS Troy Tulowitzki
3. LF Ryan Braun
4. 1B Joey Votto
5. RF Giancarlo Stanton
6. 3B Ryan Zimmerman
7. DH Buster Posey
8. 2B Brandon Phillips
9. C Yadier Molina
SP Clayton Kershaw
Reserves (Hitters)
C Miguel Montero
1B Allen Craig
1B Adrian Gonzalez
2B Aaron Hill
SS Starlin Castro
3B Chase Headley
3B David Wright
OF Bryce Harper
OF Jason Heyward
OF Matt Holliday
OF Matt Kemp
OF Justin Upton
Reserves (Pitchers)
SP Matt Cain
SP Yovani Gallardo
SP Cole Hamels
SP Mat Latos
SP Stephen Strasburg
SP Adam Wainwright
SP Jordan Zimmermann
RP Craig Kimbrel
RP Jonathan Papelbon
RP J.J. Putz
RP Sergio Romo
RP Huston Street