Boston Celtics vs. L.A. Lakers: Postgame Grades and Analysis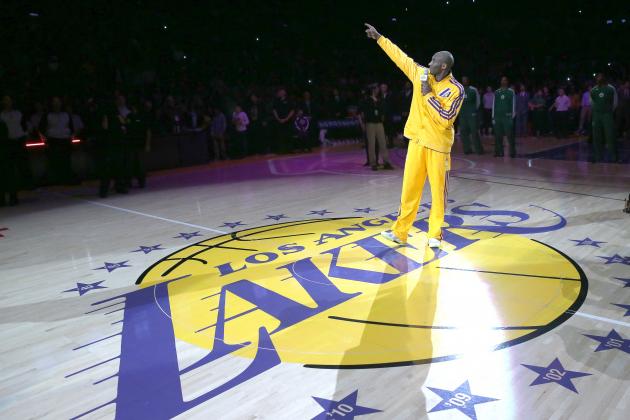 Stephen Dunn/Getty Images

The Los Angeles Lakers started their post-All-Star-break lives just the way they wanted, in blowing out the Boston Celtics at home 113-99.
The Lakers led for much of the game, using a dominant third quarter to expand their lead deep into the double digits. After trailing by nine at halftime, the Celtics really never put up much of a fight in the second half.
Dwight Howard arrived in a big way to start the second part of his first Lakers season. Boston simply had no match for his strength, allowing him to rack up 24 points and 12 rebounds when all was said and done.
Howard wasn't alone though, as Los Angeles put seven players in double figures. They also tallied 54 points in the paint.
Paul Pierce had a sublime first half, scoring 23 points with relative ease. After the intermission, he found it a lot tougher to get going. Pierce finished with a game-high 26 points, but got little help elsewhere.
The win pushed the Lakers to the verge of a playoff picture, now at 26-29. They are in the No. 9 spot in the Western Conference. For the Celtics, this was their second loss since the break, dropping them to 28-26 overall.
Let's hit the Bleacher Report classroom and see how everyone graded out.
Begin Slideshow

»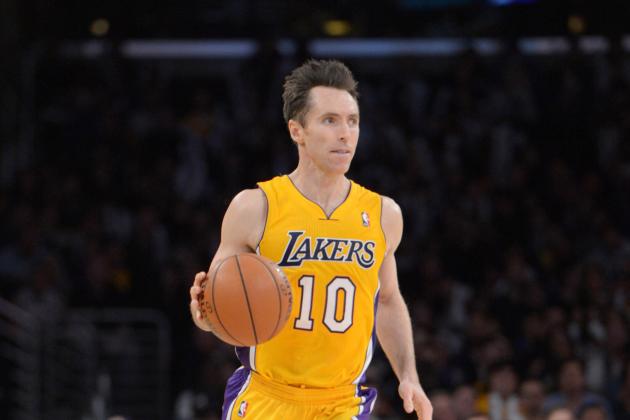 USA TODAY Sports

Steve Nash, LAL PG: A-
This was a beautiful performance from Steve Nash.
The Lakers' veteran point guard couldn't miss, hitting 6-of-7 from the field, including 2-of-2 from beyond the arc. He finished with 14 points and seven assists.
It seemed that every time the Celtics made a move to close the gap, Nash was the one responding at the other end. He used Avery Bradley's aggression to his advantage, while baiting him out of position a couple times.
The threes were enormous for Los Angeles, as they came right after the Celtics hit a trey at the other end. Nash was truly an equalizer in this game.
Avery Bradley, BOS PG: D-
This was a very quiet outing from Avery Bradley.
He finished 2-of-7 for just six points. He managed four assists to go with that, but largely stayed out of the way against the Lakers. Even his defense, a calling card, was suspect during certain plays.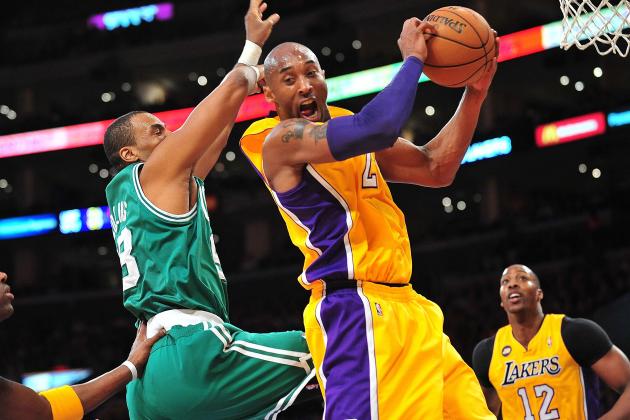 Gary A. Vasquez-USA TODAY Sports

Courtney Lee, BOS SG: A-
Courtney Lee posted 20 points, including eight in the fourth quarter. He did this on 9-of-16 shooting.
Even though a lot of his productivity came in garbage time, Lee deserves credit for sticking it out. As a starter playing late in a blowout, Lee had time to prove he could do some things.
His biggest strength is an athletic ability to score the ball quickly. That is something Boston is missing with Leandro Barbosa out, so hopefully Doc Rivers was paying attention throughout this game.
Kobe Bryant, LAL SG: B-
Kobe Bryant made some tough shots on Wednesday night. Unfortunately, those were the only ones he could get against the Celtics.
Boston did a great job agitating Bryant into a 5-of-15 shooting performance. Bryant miss all four of his threes en route to a 16-point performance. He did manage seven assists as well.
The Lakers star was caught and whistled for five fouls, which really screwed with his mind. That in turn really affected his efficiency and consistency.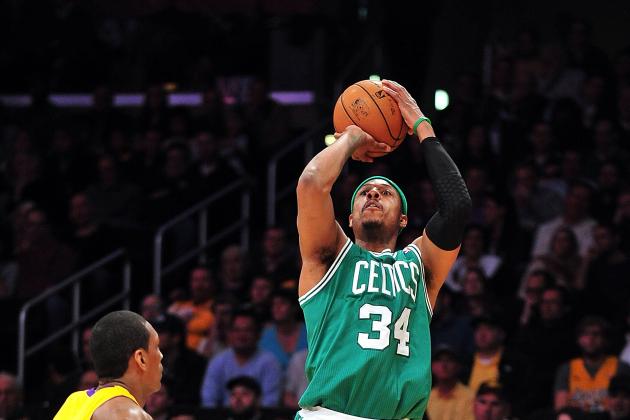 Gary A. Vasquez-USA TODAY Sports

Paul Pierce, BOS SF: B+
Paul Pierce had about as smooth a first half as you can in the NBA. He found mismatches and exploited them with a certain simplicity that is all his. He had 23 points before the break, including four threes.
Unfortunately, Pierce would score only three more points in the game, giving him 26 total. The Lakers really pulled away with him on the floor in the third quarter. The Celtics captain shot 9-of-17 from the field and picked up five assists on the way.
Metta World Peace, LAL SF: B-
World Peace can't get sole blame for the Paul Pierce bonanza that went on in the first half.
Though some criticism is warranted, he was playing very good team defense. World Peace came away with a pair of steals and was forced to guard numerous styles and positions on the Celtics offense. He also helped stymie Pierce in the second half.
Offensively, he came away with 12 points, but shot a weak 5-of-14 from the field.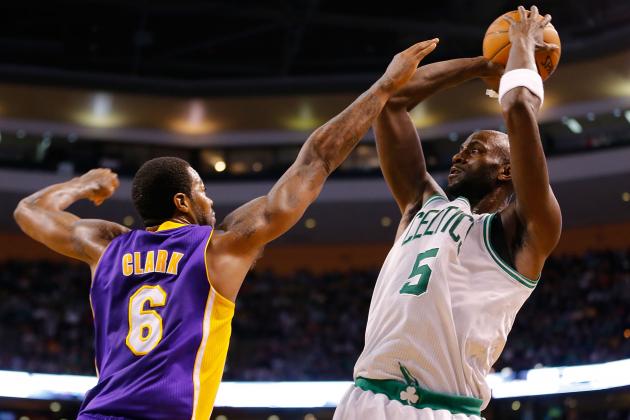 Jared Wickerham/Getty Images

Earl Clark, LAL PF: A
Earl Clark again showed why he is so valuable to the Los Angeles Lakers. Clark did a whole mess-load of dirty work throughout the game.
He reaped the benefits in garbage time, picking up 14 points and 16 rebounds total.
Clark did a whole lot to make sure his team out-rebounded the Celtics by 15 and tallied 54 points in the paint.
Brandon Bass, BOS PF: D
Brandon Bass played a typically weak game. He was unable to match up defensively with the bigger Lakers and couldn't take advantage of any mismatches he saw offensively.
Bass was almost clumsy at times, being whistled for an offensive foul twice while not knowing what do do with the ball. Indecision really dampened his effectiveness, leading to just six points and two rebounds.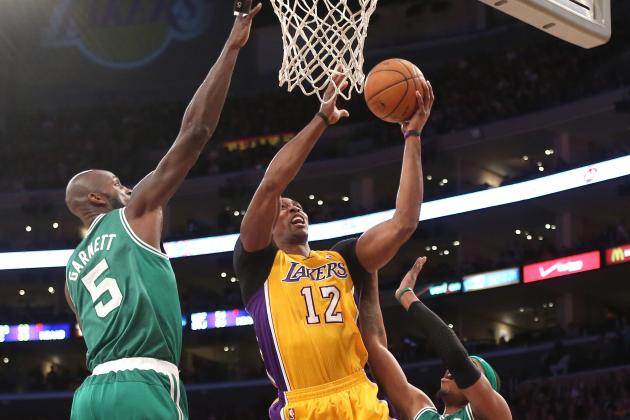 Stephen Dunn/Getty Images

Dwight Howard, LAL C: A
Dwight Howard exerted his will upon the Celtics early and often.
Howard posted 12 points in the first quarter, quickly using intimidation to establish space inside. The Lakers' much-talked-about big played on a different level Wednesday night. He had 22 points and 11 boards before the final quarter. In that fourth quarter, he totaled up 24 points and 12 rebounds for the night.
For a while, it seemed like anything Howard got up on the rim would fall. He finished 10-of-13 from the field, a major result of seven offensive boards.
He was also a presence defensively, forcing the Celtics into a handful of turnovers and other bad decisions. On the other hand, those 54 points in the paint are solely related to the influence Howard had on this game.
Kevin Garnett, BOS C: C
The sheer power being wielded by Dwight Howard early on was too much for Kevin Garnett.
As he settled in and got some help from his backups, he was better equipped to handle and redirect Howard in the paint. Still, it wasn't enough, as little can stop Howard when he is at the top of his game.
Offensively, Garnett was effective but inconsistent. He started the third quarter by missing three out of four shots, all jumpers. Since he had trouble establishing anything at all inside, his perimeter game became spotty.
Garnett finished with 12 points and just four rebounds. That lack of presence helped cause the Lakers to rack up 54 points in the paint.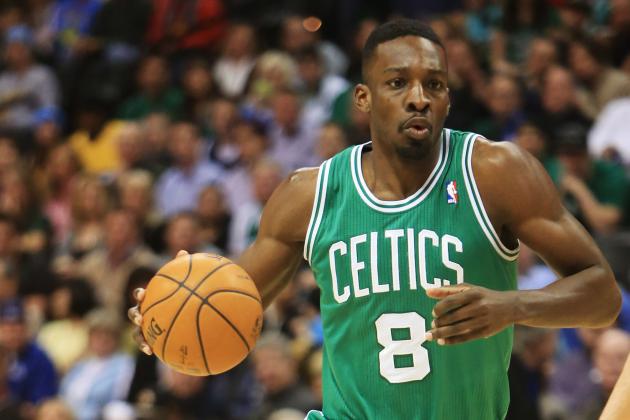 Chris Humphreys-USA TODAY Sports

Antawn Jamison, LAL PF: A-
Sometimes it is tough to tell which Lakers big man is doing what down in the paint.
As it turned out Wednesday night, the one who was hitting everything he tossed up was Antawn Jamison.
Jamison made some crafty veteran plays, gathering loose balls in the paint for easy buckets. He also showed some rare athleticism and body control down low.
Jamison's skilled footwork allowed him to remain in control of hectic moments. It earned him five trips to the free-throw line. He finished the night seeing 22 minutes and scoring 15 points.
Jeff Green, BOS SF: C+
Jeff Green did not have a flashy game, but I won't call it a total bust.
Green seemed to play well when on the floor, but was slightly underutilized in the third quarter. He made a couple of his staple athletic offensive plays, and also grabbed seven rebounds and doled out four assists. A large chunk of his 15 points came in garbage time.
Green was forces out of position a lot defensively, covering Kobe Bryant a bit in the first half. He actually seemed to bottle him a bit, sticking with Bryant and using his size to make up for mistakes.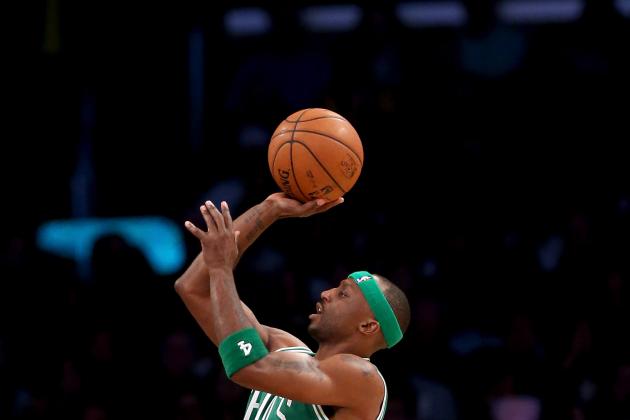 Stephen Dunn/Getty Images

Los Angeles Lakers Bench: B
Steve Blake was truly a valuable reserve in this game.
The Lakers took nothing off the table when replacing Steve Nash with him against Boston. Blake wound up with 10 points and five assists.
Jodie Meeks was the other Laker coming off the bench. Unfortunately, his night was less impressive than Blake's, scoring only five points.
Boston Celtics Bench: C+
Jason Terry managed 10 points, but most of them came with the game rapidly becoming out of reach. He was just 1-of-5 from beyond the arc in 22 minutes of action.
There was very little substance coming from elsewhere, as both Jason Collins and Chris Wilcox were used just to bang on Dwight Howard.
Celtics newcomer Terrence Williams saw 13 minutes and had two points and a couple assists and rebounds in his Boston debut.