Texas Rangers: Full Overview of Rangers' Farm System and Prospects for 2013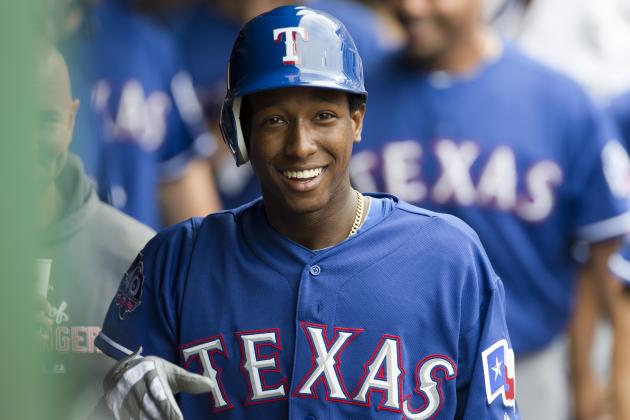 Jason Miller/Getty Images
Jurickson Profar is ready to be a big league shortstop already at the age of 20.
After winning the American League in 2010 and 2011, the Texas Rangers seemed poised to make another deep playoff run after being the best team in the AL West for the first 5.5 months of the season.
However, a late-season swoon cost the Rangers their third straight division championship and relegated them to the one-game Wild Card playoff against the Baltimore Orioles.
Despite being the better team on paper, the Rangers had no answer for Joe Saunders and were one-and-done. Things seemed to get worse as the offseason moved along, as Josh Hamilton signed with the Los Angeles Angels.
But if there is one thing that the Rangers have done over the years, it is build depth throughout the farm system to withstand a significant loss without suffering a significant drop-off from where they were in 2012.
It also helps when you have the best prospect in baseball ready to step in and play at just 20 years old. And it is a good sign when you may not have a spot for that player because his position is currently occupied by a really good player.
Even though people want to write the epitaph for the Rangers before the season even begins, they should wait for the games to start and see where this franchise is.
Here is a complete breakdown of the Rangers' system heading into 2013, including a look at the top prospects, an impact prospect and breakout prospect to watch.
Note: All stats and ages courtesy of of MiLB.com unless otherwise noted.
Begin Slideshow

»
No. 1 Jurickson Profar, Shortstop
Age: 20
2012 Stats
126 G, .281/.368/.452, 135 H, 26 2B, 7 3B, 14 HR, 62 RBI, 66 BB, 79 K, 16 SB (Double-A)
9 G, .176/.176/.471, 3 H, 2 2B, 1 HR, 2 RBI, 4 K (majors)
Profar's all-around game has made him the top prospect in baseball entering the 2013 season. He plays the game much smarter than someone so young should be able to. His mature approach has helped his natural skills play up as he's climbed the ladder, allowing him to make his big league debut last season as a 19-year-old.
In his writeup on Profar, Matt Eddy of Baseball America (subscribers only) paraphrased a Rangers instructor as saying, "Profar may not have the most power, the most speed or the strongest arm on the field, but typically he's the best player out there."
Profar is a player who can do it all. He has such a great feel for the strike zone and pitch recognition that he will draw walks. His bat speed and plate coverage are outstanding, so he will hit for average. And he has a lot more power than you would expect from a 165-pound player.
Defensively, Profar has a plus arm at shortstop. His footwork and instincts are terrific. He has tremendous range to make even the most difficult plays look routine.
Even though he stole 16 bases, he is not a burner down the line. He makes up for what speed he doesn't have by being an incredibly smart baserunner. Profar is the total package, and he will be a consistent MVP candidate at his peak.
No. 2 Mike Olt, Third Base
Age: 24
2012 Stats
95 G, .288/.398/.579, 102 H, 17 2B, 1 3B, 28 HR, 82 RBI, 61 BB, 101 K, 4 SB (Double-A)
16 G, .152/.250/.182, 5 H, 1 2B, 5 RBI, 5 BB, 13 K, 1 SB (Majors)
Even though the Rangers brought Olt up late in the season, they didn't appear to have a plan for him. At least Ron Washington didn't, because he spent a lot more time on the bench than on the field.
Granted, he was battling a heel injury that hurt his production. But don't bring a major prospect up just to sit him.
When he is playing, Olt is one of the top third base prospects in the game. His best tool is plus power, but he is also a terrific defender at third base thanks to a plus arm and being very nimble at the hot corner.
He does have a long swing and will strikeout a lot, preventing him from hitting for a high average. His patience at the plate does allow him to take walks, though he needs to get better at reading breaking pitches.
No. 3 Martin Perez, Starting Pitcher
Age: 21 (will turn 22 on April 4)
2012 Stats
22 G (21 starts), 7-6, 4.25 ERA, 127.0 IP, 122 H, 70 R (60 ER), 10 HR, 56 BB, 69 K (Triple-A)
12 G (6 starts), 1-4, 5.45 ERA, 38.0 IP, 47 H, 26 R (23 ER), 3 HR, 15 BB, 25 K (Majors)
Perez looked like he would be one of the best left-handed pitchers in baseball not that long ago, when he posted a 2.90 ERA and 119 strikeouts in 114 innings as an 18-year-old who finished the season in Double-A.
Unfortunately, as often happens with prospects, Perez's development not only stalled at that moment, but he regressed in certain areas. His command within the zone has never been the same since that breakout season, leading to a lot of inflated ERAs and poor strikeout-to-walk ratios.
The stuff is still there, though, as Perez can throw a fastball in the mid 90s and has a potentially plus changeup that gives him a knockout weapon when he can command it. Also, his delivery is very smooth and fluid, as he uses his lower half very well.
His curveball is still a work-in progress, though it does still project to be an average pitch. He needs that weapon to come along if he wants to pitch near the top of a rotation.
While his stock is down, it is important to remember that Perez will play this season at 22 years old. There is still time for everything to click, even if he doesn't become the ace it looked like he was destined to be heading into 2010.
No. 4 Cody Buckel, Starting Pitcher
Age: 20
2012 Stats
13 G (13 starts), 5-3, 1.31 ERA, 75.2 IP, 49 H, 12 R (11 ER), 2 HR, 25 BB, 91 K (High-A)
13 G (10 starts), 5-5, 3.78 ERA, 69.0 IP, 56 H, 31 R (29 ER), 7 HR, 23 BB, 68 K (Double-A)
Unlike Perez, who has the raw package that you can dream of, Buckel is the kind of pitcher whose ceiling and stuff won't make you take notice. But he mixes a good arsenal of pitches well and has the command to perform better than the stuff would suggest.
Even though he is 6'1", Buckel doesn't always stay on top of his fastball and pound it into the zone, leading to a lot of fly balls. However, he backs the fastball up with an above-average curveball and cutter combination, as well as a changeup that can be an average pitch.
Buckel's ceiling is that of a No. 3 starter, though his ability to command all of his pitches could make him a little better than that at his peak.
No. 5 Luke Jackson, Starting Pitcher
Age: 21
2012 Stats
13 G (13 starts), 5-5, 4.92 ERA, 64 IP, 63 H, 37 R (35 ER), 4 HR, 33 BB, 72 K (High-A)
13 G (13 starts), 5-2, 4.39 ERA, 65.2 IP, 67 H, 35 R (32 ER), 2 HR, 32 BB, 74 K (Double-A)
Jackson is developing slowly. The stuff looks good, but the results and inconsistent command hold his ceiling down right now.
On the mound, he has a plus fastball that he knows how to get on top of and keep down in the zone. He also throws a hard curveball that is still a work in progress, though it projects to be at least an average offering.
Command and developing his changeup are the two biggest things that Jackson has to work on this season. If he can find even average command, he should turn into a No. 3 starter with a strong chance to become more if the changeup comes along.
A lot of ifs, but the ceiling is there for Jackson to be a very good starter.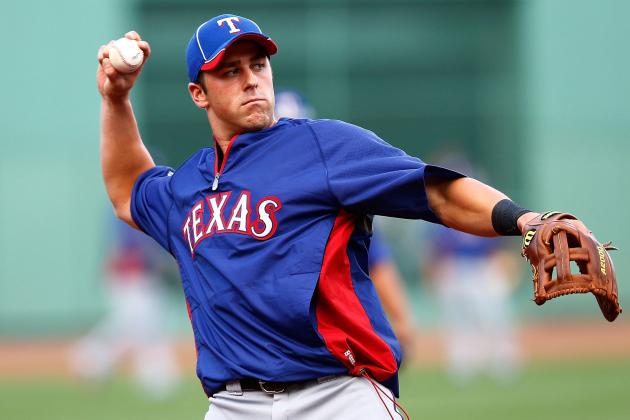 Jared Wickerham/Getty Images
Mike Olt may get a shot at first base, but his future lies at third base.
Even though there is impact at the top of the system with players like Profar, Olt and Perez, a lot of the greatness in the system lies in the lower levels and high-ceiling talent that really has a long way to go.
Everyone knows that Profar is ready to play right now, but is blocked by Elvis Andrus. Regardless of what the Rangers say, they will do everything they can to make sure he gets playing time this season.
It wouldn't be a shock to see Profar start the season in Triple-A because he is so young, but he will be ready to play at the next level around June at the latest.
Olt is in a similar position. He is blocked at third base by Adrian Beltre. Although, given Beltre's injury history, Olt could be called on sooner than later. The Rangers could also use him at first base, though a big part of his value rests in his defense at third base.
The Rangers have built a system around a lot of high-profile international signings. Players like Leonys Martin, Luis Sardinas and Jorge Alfaro are players that you can easily see becoming above-average everyday players.
But they are all so young, and at least Sardinas and Alfaro, and have a long way to go before fully realizing that potential. It is still one of the best systems in baseball, but the risk factor is very high with everyone outside the top three players.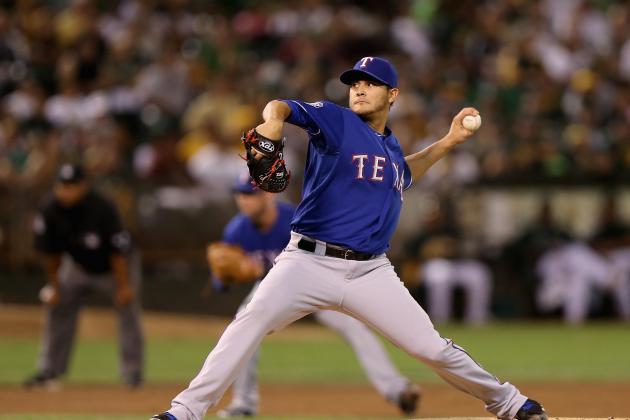 Ezra Shaw/Getty Images
Martin Perez's stock has been up and down, but the quality of his stuff is still there.
Everything is telling me to put Profar or Olt in this spot, but for reasons already discussed, it is hard to do so with a strong conviction that they will not play enough to have an impact.
Even when Olt was called up last season, Ron Washington let him sit on the bench because...well, there really was no good reason.
Instead of the two obvious candidates, Martin Perez will get the call as having the most impact for the Rangers in 2013. There was a time when he was regarded as the best left-handed pitching prospect in baseball, but poor results due to inconsistent command have lowered his stock.
That said, Perez's arsenal is still very good. His fastball is a plus pitch that sits in the low- to mid-90s. His changeup has great fade and should miss bats—or at least induce a lot of weak contact when he is throwing it for strikes.
If Perez can find an average curveball and some command, he could turn into a No. 3 starter. Plus, at just 22 years old, he would still be very young for Triple-A.
The Rangers have rotation depth, but could use more impact. Yu Darvish is easily the best starter in the bunch. Matt Harrison will likely regress from his 2012 performance, though I would have said he would regress after 2011 and that didn't happen.
Meanwhile, Derek Holland has the stuff to be a No. 2 or, at worst, a No. 3 starter, yet he has always been inconsistent. And Colby Lewis gets by with a slightly below-average fastball in one of the best hitters park in baseball.
Perez has just as many questions as any of the other starters outside of Darvish, but he could also have more upside than anyone else.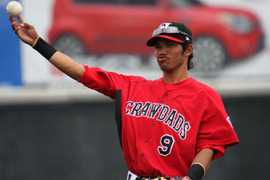 On July 2, 2009, Texas signed both Jurickson Profar and Luis Sardinas. That's a pretty good day. Courtesy of Roger Peterson (h/t MiLB.com)
I'm speaking strictly from a position of bias, because I had the luxury of getting my first extended look at Luis Sardinas during Arizona Fall League play and fell in love.
Still, there is no franchise in baseball that can match what the Rangers have at the shortstop position up and down their system. Elvis Andrus is the best defensive shortstop in baseball, as well as a strong hitter capable of hitting .300.
Jurickson Profar is the talk of the prospect world right now because of his incredible collection of tools and maturity that have led to him being ready to play in the big leagues at the age of 20.
Meanwhile, Sardinas would easily be the top shortstop, prospect or not, for most teams. Yet, with the Rangers, he is easily the No. 3 player at that position. But that doesn't mean he lacks the tools to become a good big leaguer.
As a defender, Sardinas is one of the best in the minors. He has great range, incredible instincts already and a plus throwing arm.
The bat has to come along for Sardinas to really take the next step. He is never going to hit for a lot of power, as his swing is geared towards contact and spraying line drives all over the field. But he has such a strong command of the strike zone and enough bat speed to hit for average.
Health is another factor holding him back, as Sardinas has only played in 136 games in three minor league seasons, and he also underwent shoulder surgery after playing just 14 games in 2011.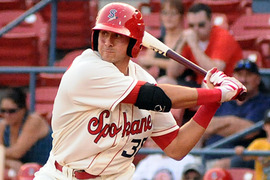 Joey Gallo has incredible power, but will he make enough contact to show it in games against advanced pitching? Courtesy of James Snook (h/t MiLB.com)
Since most of the Rangers' top prospects are on the verge of graduating to the big leagues, they will need to see a number of those young high-ceiling players at the lower levels of the minors to take a step forward if they want to retain their lofty farm-system standing.
Profar, Olt, Buckel and Perez should all see time in Texas at some point this season, either due to forcing their way onto the team or an injury to someone in the big leagues.
After that, a lot of the focus will shift towards players like 2012 draftees Lewis Brinson and Joey Gallo, Luis Sardinas and so many of the other, highly-touted youngsters this team has found over the last few years.
Even though the big league roster may not look as formidable as it did when the team was winning back-to-back American League pennants, it is still better equipped than a vast majority of teams in baseball to make a deep postseason run.
The Rangers have done such a great job of developing their own talent since this run of playoff teams began three years ago that it would be foolish to bet against them finding at least one or two new star prospects by the end of the season.