UFC 157 Predictions: Preliminary Card Staff Predictions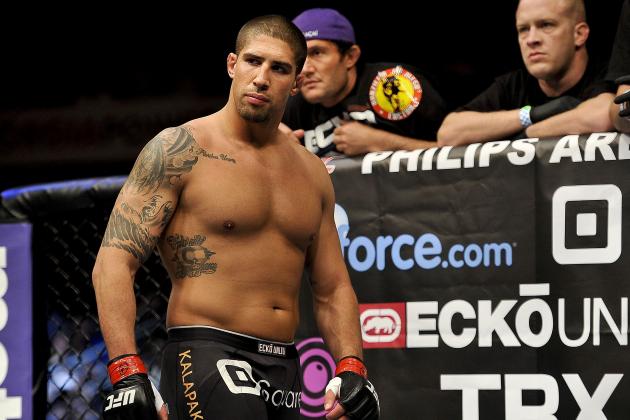 Paul Abell-USA TODAY Sports

The UFC 157 prelims are like Bigfoot or the Audi Quattro. Every now and then you'll catch a whiff, the faintest notion on the wind, a ragged rumor that, yes, such a thing might actually exist. But there never seems to be any evidence.
I suppose that will happen when Ronda Rousey, the biggest star in the sport whether you like it or not, is headlining her very first card. So for those who thought UFC 157 consisted solely of Rousey sitting on a stool telling her life story over and over, no, there are actually fights. And there is a prelim card.
Are you thirsting for more information about the UFC 157 prelim fights? Are you hoping for some staff predictions?
Well, that's good. Because I and a ragtag but prideful gaggle of Bleacher Report's finest, including Riley "Cobra" Kontek, Scotsman James MacDonald, Andrew Saunders and "The Friendly Canadian" Dwight Wakabayashi, are here to help you out with some info capsules and some highly bold predictions. We are the monster hunters. Read on.
Begin Slideshow

»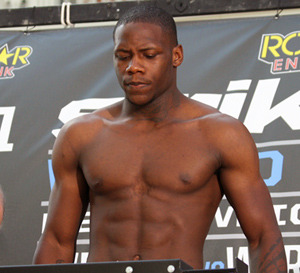 Photo credit: MMAjunkie.com
Kontek: Strikeforce fighters have been on a tear lately, but this time it will be Strikeforce versus Strikeforce. Villefort's split decision loss to Quinn Mulhern showed how competitive he can be, but he has to get Burrell to the ground. I don't see that happening, as Burrell uses a sprawl-and-brawl style for a late stoppage or decision.
Burrell, Unanimous Decision
MacDonald: Tough fight between the two Strikeforce imports. Villefort just has that little bit more quality, though. He should be able to grapple his way to a decision.
Villefort, Unanimous Decision
Saunders: Burrell should take this contest so long as it remains upright; however, on the ground, I don't like his chances. Villefort has a great grappling game off of his back and is absolutely frightening from top position.
Burrell, Decision
Wakabayashi: A Strikeforce versus Strikeforce tilt. Villefort is just a little bit better and more experienced than Burrell on the ground, and I see that being the big difference, as he mauls Burrell for a decision.
Villefort, Unanimous Decision
Harris: This fight was added late to compensate for the loss of Chad Mendes-Manny Gamburyan, so if it feels like an afterthought, well, it is. Burrell, fighting out of Philadelphia, is a classick knockout artist. Villefort trains with the Blackzilians. I am familiar with the works of the Blackzilians.
Burrell, TKO, Rd. 2
Staff picking Burrell: Kontek, Saunders, Harris
Staff picking Villefort: MacDonald Wakabayashi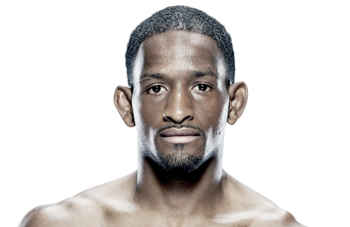 Neil Magny (Photo credit: UFC.com)

Kontek: The battle of The Ultimate Fighter veterans from the season that was possibly the worst in series history. Manley is a good submission fighter, but Magny's grinding, hard-nosed style will prevail in the end.

Magny, Unanimous Decision




MacDonald: This is a bit of a filler bout between the two TUF vets. The fighters are fairly evenly matched, but I'm going to put my money on Manley, in what should be a fairly tight affair.

Manley, Unanimous Decision



Saunders:
Magny is a lengthy fighter who should prove troublesome for his opponent. Expect to see him pick Manley apart with combos from a distance as well as with clinch knees.

Magny, TKO, Round 3




Wakabayashi: This is a tough fight to call and not the most relevant to the landscape of things, but in the end, Magny has more tricks to use for victory.

Magny, Unanimous Decision




Harris: I'm afraid this isn't going to be a very exciting fight. I'm envisioning some wall and stall stuff. I'll take the slightly stouter Manley by way of smother.

Manley, Unanimous Decision




Staff picking Magny: Kontek, Saunders, Wakabayashi

Staff picking Manley: MacDonald, Harris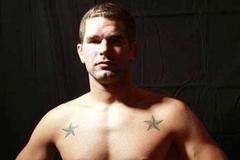 Brock Jardine (Photo credit: MixedMartialArts.com)

Kontek: Kenny Robertson might be one of the most underrated, overlooked welterweights in the UFC. He actually has a very impressive regional resume, but so does opponent Brock Jardine. In a thriller, Robertson scores a referee stoppage that has fans on their feet.
Robertson, TKO, Round 3



MacDonald: Both fighters are essentially fighting to guarantee that they will still be employed by the UFC come Monday morning. Unfortunately for Jardine, he's facing a more experienced fighter. Having already been cut from the UFC once, I see Robertson pulling out all the stops to secure the win.
Robertson, Unanimous Decision


Saunders: This one is essentially a coin flip for me, as both men can finish with strikes or submissions on a moment's notice. However, I like Robertson here just a pinch more.
Robertson, TKO, Round 2


Wakabayashi: This is a fight between two very hungry fighters and could end up being one of the best of the night. Robertson has just a little more big-game experience and should edge out the win.
Robertson, Unanimous Decision


Harris: Brock Jardine is the new The Dean of Mean. Except he's not, though. But he's a pretty good and rounded fighter, as is Robertson. I think Jardine will be slightly more inclined than Robertson to keep it standing and will stave off just enough takedown attempts to land a few big shots and win over the judges.

Jardine, Unanimous Decision




Staff picking Jardine: Harris

Staff picking Robertson: Kontek, MacDonald, Saunders, Wakabayashi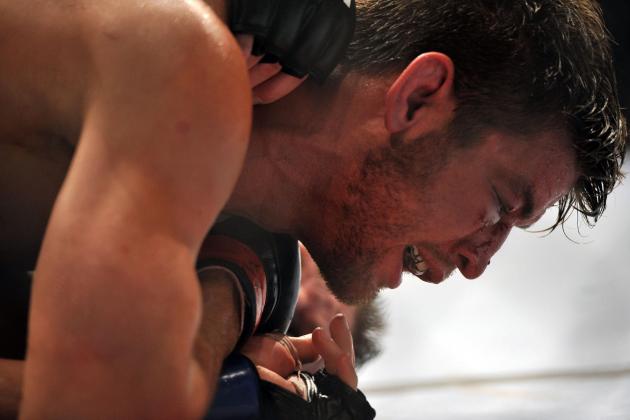 Joe Camporeale-USA TODAY Sports
Sam Stout

Kontek: I am very high on Caros Fodor as a prospect, but he is taking on a very experienced fighter in Sam Stout. Fodor will have his moments, as Stout will strike with him, but expect the UFC veteran to snag a decision in a fun bout.
Stout, Unanimous Decision


MacDonald: Stout needs a win badly. Moreover, he needs to get back to doing what he does best: putting on exciting fights. Fodor offers Stout that opportunity, and I expect him to take it.
Stout, TKO, Round 2


Saunders: Once a serious contender at 155 pounds, Stout hasn't seemed to have the fire he once possessed ever since the death of trainer Shawn Tompkins. That alone makes it difficult to predict in what sort of state he will arrive. Fodor is a solid prospect, and I like his chances here.
Fodor, Decision
Wakabayashi:
Fodor is making his debut and gets a very tough first fight in Sam Stout. Stout is desperate for a win and will look to make it entertaining in the process
.
Stout, Unanimous Decision

Harris: I'm a Sam Stout fan, and as such, part of me really wants to pick him to derail the hotness du jour of Caros Fodor. But I can't do it. Fodor's striking is at least in the same neighborhood as Stout's, and on the ground it's not close. Plus, when you've got Mighty Mouse and Phoenix Jones on your side, how can you lose?

Fodor, Unanimous Decision




Staff picking Fodor: Saunders, Harris

Staff picking Stout: Kontek, MacDonald, Wakabayashi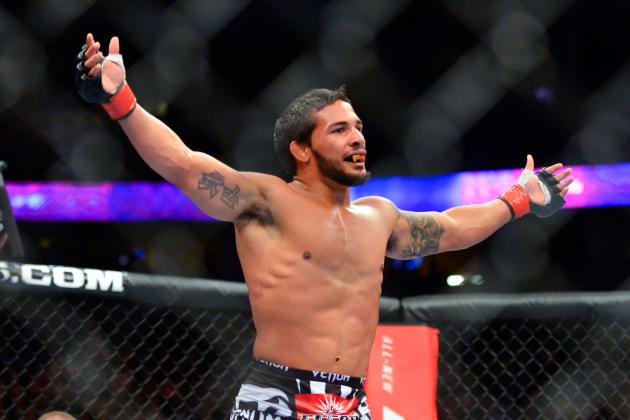 Ron Chenoy-USA TODAY Sports
Dennis Bermudez

Kontek: Dennis Bermudez's biggest bugaboo is submission defense, something he likely will not need to worry about when facing Matt Grice. Both have good wrestling, which will likely cancel out, so expect Bermudez's chin and superior striking to earn him a decision nod.
Bermudez, Unanimous Decision


MacDonald: Bermudez has a ton of potential. Indeed, he could very well have won his season of TUF but for a momentary lapse in concentration. He is too athletic and has too many tools for Grice.
Bermudez, TKO, Round 1


Saunders: Grice has stellar wrestling and will look to put Bermudez on his back in this fight.Although Bermudez, aka "The Menace," also has a background rooted in wrestling, his pedigree is not on the same level as Grice. Considering that the TUF winner has no victories while fighting from bottom position, it's hard to see him stopping the grinding that comes in his direction.
Grice, Decision


Wakabayashi: Both these fighters base their game on wrestling, so they may play directly to those strengths right away. Bermudez's athleticism and striking should earn him a decision win.
Bermudez, Unanimous Decision


Harris: As noted by others, these guys are both wrestlers, so this one should go horizontal early and stay that way. I think Bermudez's heavy ground strikes will overcome his well-documented submission-defense deficiency.

Bermudez, TKO, Round 2




Staff picking Bermudez: Kontek, MacDonald, Wakabayashi, Harris


Staff picking Grice: Saunders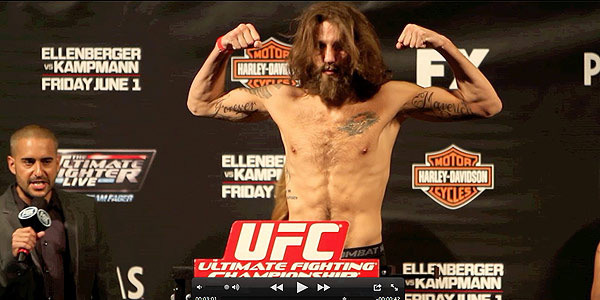 Michael Chiesa (Photo credit: MMA Weekly)

Kontek: Anton Kuivanen struggled in his UFC debut against wrestler Justin Salas. Unfortunately for him, Michael Chiesa's purely a submission wrestler who will drag him down early, punish him and finish him via submission, likely a rear-naked choke.
Chiesa, Submission, Round 1


MacDonald: Michael Chiesa has his limitations, but he should have enough in his tool kit to deal with the experienced Anton Kuivanen. Expect the TUF: Live winner to wrestle his way to a decision.
Chiesa, Unanimous Decision


Saunders: It looks as if the UFC is looking to set up Chiesa with an easy win here, as Kuivanen is about as low on the divisional ladder as they come. Chiesa will use superior grappling to score a quick submission.
Chiesa, Submission, Round 1


Wakabayashi: Chiesa is going to be too much for Kuivanen on the ground with his technical grappling, so look for him to take him down and finish him via submission as early as possible.
Chiesa, Submission, Round 2


Harris: Kuivanen is a fun fighter, but Chiesa's going to drown that fun in those deep waters we're always hearing so much about. Plus, Chiesa looks like the vocalist for a sludge metal band. I like sludge metal.

Chiesa, Submission, Round 2




Staff picking Chiesa: Kontek, MacDonald, Saunders, Wakabayashi, Harris


Staff picking Kuivanen: None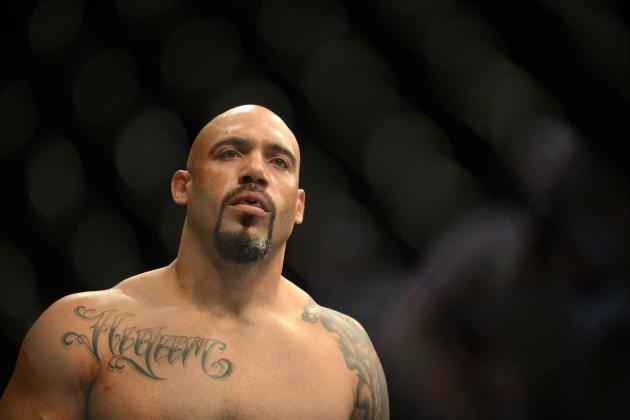 Ron Chenoy-USA TODAY Sports
Lavar Johnson
Kontek: Questionable chin meets unquestionable power. I am a big Brendan Schaub fan, but I have a feeling he is going to sleep again.
Johnson, TKO, Round 1


MacDonald: This isn't a great matchup for Schaub, unless he can consistently take the fight to the ground. Lavar Johnson has murderous power, and Schaub has a chin like candy glass. Although "The Hybrid" is more well-rounded, I expect Johnson to connect at some point and end the fight.
Johnson, TKO, Round 1


Saunders: Both fighters are known for their knockout power, and of their six combined wins inside the Octagon, five have come by way of KO or TKO. Similar to the UFC 132 matchup between Chris Leben and Wanderlei Silva, this fight will come down to which powerhouse brawler has the better chin, and unfortunately for Schaub, that simply isn't him.
Johnson, KO, Round 1


Wakabayashi: I think Brendan Schaub has learned from past mistakes and has the game to make things difficult for Johnson. if Schaub sticks to the game plan, he should get the win.
Schaub, Unanimous Decision


Harris: Can Schaub win this fight? Sure. Is it possible he can stand up to Johnson's power, tie Johnson up and take advantage of the fact that Johnson borrowed his ground game from a stranded earthworm? Yes. But given his recent run, Schaub's on notice until further notice. If he can prove me wrong, more power to him.
Johnson, TKO, Round 1


Staff picking Johnson: Kontek, MacDonald, Saunders, Harris

Staff picking Schaub: Wakabayashi