Predicting Barcelona's Starting XI Against Sevilla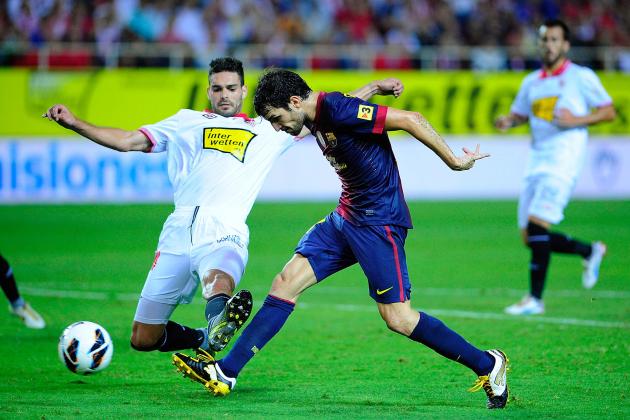 Gonzalo Arroyo Moreno/Getty Images

Barcelona will have to shake off their disappointing loss to AC Milan as they have business elsewhere. Sevilla will travel to the Camp Nou and La Blaugrana will need to be at their very best.
The last time these two clubs met Barcelona survived with a comeback win. Sevilla will certainly be looking to take down the Catalan giant, but things will be much tougher than last time.
With the Copa del Rey match against Real Madrid coming up midweek, Barcelona will have to rest some stars against Sevilla. But with the La Liga clash being very important, Barcelona cannot risk resting too many players.
In this article we will take a look at Barcelona's predicted lineup against Sevilla with emphasis on which players will be rested.
Begin Slideshow

»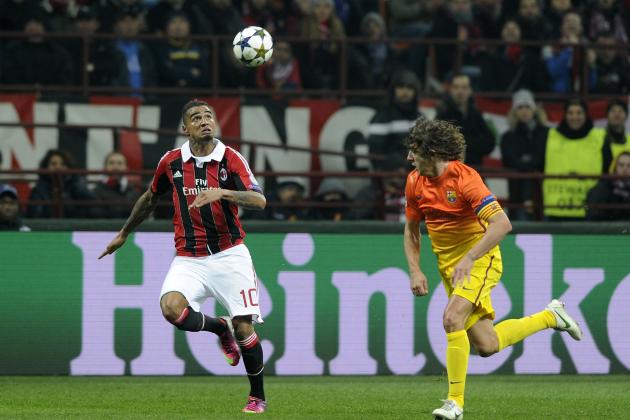 Claudio Villa/Getty Images

After a very trying game against AC Milan, Carles Puyol deserves a match off. The Blaugrana captain suffered a head-on collision and will need to be rested ahead of El Clasico.
With the captain on the bench, fans should expect Javier Mascherano to make the start in defense. The Argentine will likely pair up with Gerard Pique as Barcelona cannot afford to rest both starting center-backs.
Along with Carles Puyol, Jordi Roura will likely rest one of his fullbacks.
Either Dani Alves or Jordi Alba will get the night off, but the biggest concern is which star will sit. Many would expect Adriano to feature in place of Alba. But the Brazilian is still recovering from injury and will miss the encounter (via fcbarcelona).
With Adriano not able to play, expect Alves to be dropped for the young Martin Montoya. Alves will be missedm but Montoya is a more than capable defender.
Either way Barcelona should sit two players of their backline against the heavily defensive Sevilla side. The defenders will have a lot of pressure on them, but should prove more than capable.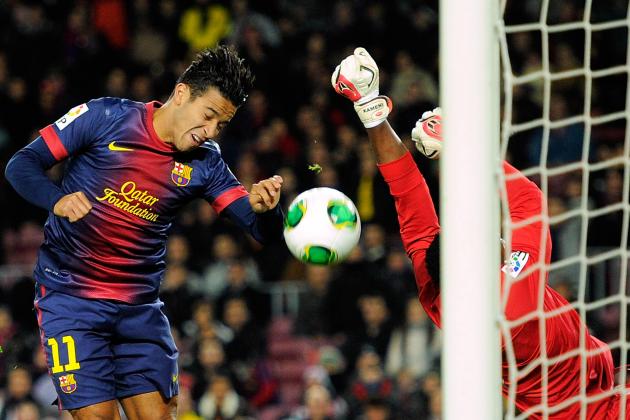 Gonzalo Arroyo Moreno/Getty Images

Barcelona is known worldwide for their incredible midfield. But against Sevilla, someone will have to start the game on the bench.
Xavi is the most obvious choice to be rested Saturday. The Catalan maestro just recently returned from injury and should be given time to recuperate ahead of the Copa del Rey clash.
Expect Thiago to start in Xavi's place and do a fine job. The young Spaniard is almost ready to fight for a starting position in the squad and will take his chance against Sevilla.
The rest of the midfield should look normal with Cesc Fábregas and Sergio Busquets lining up with Thiago.
However, do not be surprised if Iniesta features in the midfield. The 28-year-old could be rested while still playing just by moving from the wing. If Iniesta does feature, he could do so in place of Xavi.
But with Iniesta likely the only option on the left-wing, it should not be expected for him to leave that position. Thiago will get the nod in place of Xavi.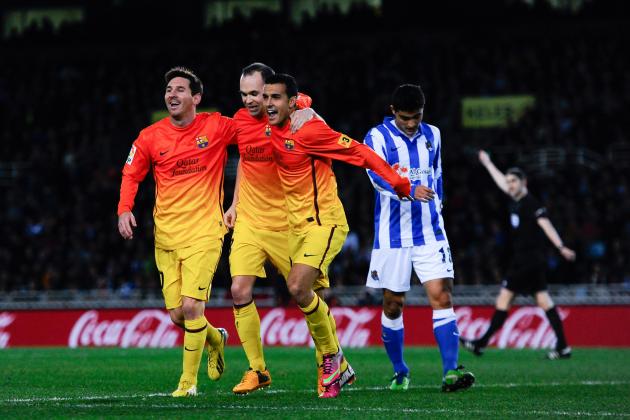 David Ramos/Getty Images

No matter what the schedule looks like, no one ever expects Lionel Messi to be rested. Not only will Messi start against Sevilla, he will be very dangerous.
After being shut down by AC Milan, Messi will be looking to make up for his dismal performance. The Argentine will be deadly in the next few weeks and Sevilla may just be a victim along the way.
The real question is who will feature beside Lionel Messi.
Andres Iniesta deserves to be rested with Real Madrid coming up. But with Xavi on the bench it is unlikely that Jordi Roura will gamble by sitting Iniesta as well. David Villa is the next option on the left, but it is not certain if he will be available.
Pedro may be the attacker that will be given time on the bench. The Spaniard has been in top form recently and that will need to continue in the midweek Clasico.
Either Alexis Sanchez or Cristian Tello will feature on the right-wing. Tello may be more deserving of the start and his speed could be very useful for Barcelona. But it will most likely be Alexis who stars to the displeasure of Cules everywhere.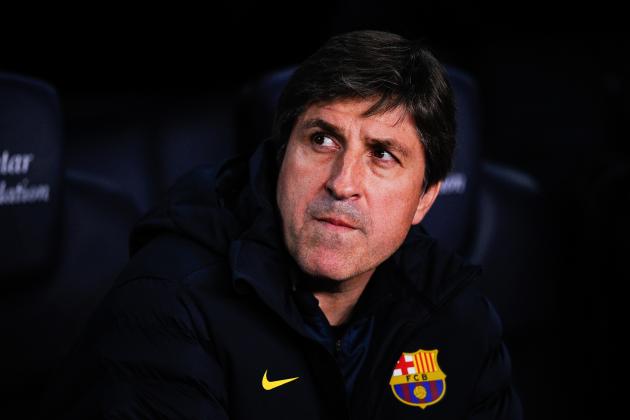 David Ramos/Getty Images

Barcelona will have a very tough test ahead of them. Sevilla always performs well against the Catalans and their defense will be very hard to break.
Playing at the Camp Nou will give Barcelona a very strong advantage and they should win despite playing without their first-choice XI. But the starting lineup will definitely be one selected with one eye looking down the road.
Here is a look at Barcelona's probable starting XI.
Victor Valdes
Martin Montoya, Gerard Pique, Javier Mascherano, Jordi Alba
Thiago, Sergio Busquets, Cesc Fábregas
Alexis Sanchez, Lionel Messi, Andres Iniesta
This lineup will be a strong one put out by Jordi Roura with Real Madrid around the corner. Rotating players is always key in football and it may be more important than ever for Barcelona at this point.
Who would you start against Sevilla? Which players should be rested ahead of El Clasico? Don't forget to leave your thoughts and comments below.
Tre' Atkinson. Follow me on twitter for more discussions on Barcelona, Sevilla, and La Liga.