Miami Heat vs. Atlanta Hawks: Live Score, Results and Game Highlights
Mike Ehrmann/Getty Images
The Miami Heat defeated the Atlanta Hawks by a score of 103-90 on Wednesday night, extending their win streak to eight games and their streak of victories at Philips Arena to seven.
While Al Horford put forth a scintillating performance, hitting his first nine shots en route to a 27-point outing, it wasn't enough. LeBron James led the Heat with 24 points and 11 assists, and Dwyane Wade put in 20. Miami also got some much-needed bench production, with Shane Battier and Ray Allen tallying 17 and 15 points, respectively.
Amid rampant trade speculation, Josh Smith finished just shy of a triple-double for Atlanta, recording 10 points, nine rebounds and nine assists.
Let's examine how Miami was able to win this one.
1. Flipping the switch
The Heat certainly flipped the switch on Wednesday night. Trailing by 10 to open the fourth quarter, Miami outscored the Hawks 40-17, getting 13 points from Allen in the period. James did an incredible job of setting his teammates up with great passes, and the Heat defense simply made life miserable for Atlanta. This is what great teams do. They turn it on when they absolutely have to.
2. Bench production
Allen had been struggling mightily, and those struggles continued through the first three quarters in Atlanta. It was in the fourth quarter that he exploded, scoring 13 points and hitting a dagger three-pointer with just over three minutes remaining. He also flashed back to his Boston days by making a couple of great cuts toward the rim and ended up receiving passes for easy layups.
Battier was also huge, hitting five threes, including two big ones during Miami's fourth-quarter eruption.
Joel Anthony should also be mentioned for helping turn the defense around at the beginning of the final period.
3. Forced turnovers
The Heat flustered the Hawks into 21 turnovers on Wednesday night, and that was no doubt the biggest reason why Miami was able to come out on top in this one. After allowing Atlanta's offense to really get whatever it wanted in the middle quarters, the Heat defense swarmed all over the place in the final 12 minutes, taking the life out of the Hawks offense and making it incredibly difficult for them to do anything cleanly. The forced turnovers resulted in numerous transition buckets for Miami late in the game.
Once again, the Heat defeated the Hawks tonight. Stay tuned for postgame coverage.
HEAT 103, HAWKS 90 - FINAL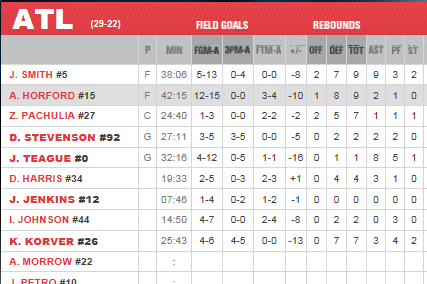 Hawks final box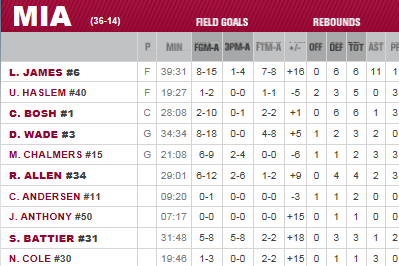 Heat final box
And that'll do it. The Heat beat the Hawks once again.
HEAT 103, HAWKS 90 - FINAL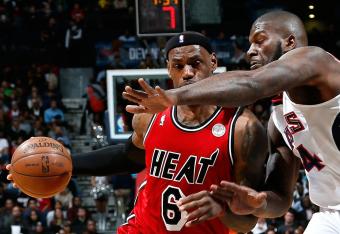 This looked like it was going to be a great finish. Really hasn't been. Just a dazzling display from Miami.
HEAT 100, HAWKS 89 - 1:32 REMAINING IN 4TH QUARTER
Heat have 12 assists in the fourth quarter. Wow.
LeBron picks up his 10th dime on a great feed inside to Wade for his 6th points of the quarter. Hawks just look overmatched in this final period.
HEAT 97, HAWKS 84 - 2:16 REMAINING IN 4TH QUARTER
Miami has outscored Atlanta 32-11 so far in this period.
Allen buries a corner three, and that may have been the dagger through the heart for Atlanta. Miami is now up 11 with just over 3 minutes to go. Allen with a monster fourth quarter. 11 points for the vet.
HEAT 95, HAWKS 84 - 3:14 REMAINING IN 4TH QUARTER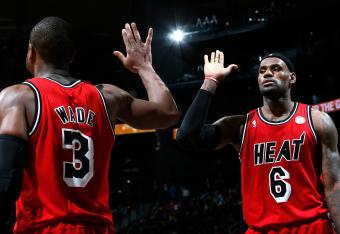 Then a THUNDEROUS alley-oop finish from James off a pass from Wade (who else?).
HEAT 92, HAWKS 84 - 3:18 REMAINING IN 4TH QUARTER
Two teams trading buckets now. Allen with a layup and Stevenson with a 3. Bosh then hits his first bucket. Great time for that.
HEAT 90, HAWKS 84 - 3:47 REMAINING IN 4TH QUARTER
Bosh is back on the floor for Miami.
Smith now has 10 points, 9 assists, 8 rebounds.
HEAT 86, HAWKS 81 - 5:01 REMAINING IN 4TH QUARTER
Miami raining threes now as Ray Allen hits his first of the night.
HEAT 86, HAWKS 79 - 5:20 REMAINING IN 4TH QUARTER
Hawks go right to Horford out of the timeout, and surprise surprise: he converts. Now 12-for-15 and has 27 points.
HEAT 83, HAWKS 79 - 5:39 REMAINING IN 4TH QUARTER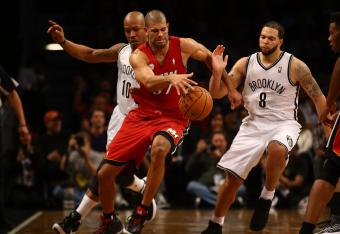 Battier now cans his fifth three of the night with Stevenson's hand right in his face. The tables have completely turned here as Miami appears to have "flipped the switch."
HEAT 83, HAWKS 77 - 6:12 REMAINING IN 4TH QUARTER
Wade now getting more involved in the offense. Has scored Miami's last two buckets and it's a 17-4 Heat run.
HEAT 80, HAWKS 77 - 6:19 REMAINING IN 4TH QUARTER
Looks like we're set up for a great finish here as Horford continues to hit. Drains a shot clock beating jumper to bring ATL within one.
HEAT 78, HAWKS 77 - 6:55 REMAINING IN 4TH QUARTER
Gotta think the recent news about Lil Wayne and Bosh's wife could be playing a role here.
Chris Bosh is 0-for-8 from the floor. Last time he played 20+ minutes and failed to make a shot? Never.

— Tom Haberstroh (@tomhaberstroh) February 21, 2013
Heat defense is absolutely incredible right now. Closing out on shooters, flying all over the place to prevent cuts, preventing dribble penetration...just a thing of beauty at the moment.
HEAT 76, HAWKS 73 - 8:50 REMAINING IN 4TH QUARTER
Heat now have the lead. Atlanta throwing the ball all over the place.
HEAT 74, HAWKS 73 - 9:28 REMAINING IN 4TH QUARTER
Here come the Heat. Start the fourth with 9 unanswered, two threes from Battier and a 3-point play by Ray Allen.
HAWKS 73, HEAT 72 - 10:34 REMAINING IN 4TH QUARTER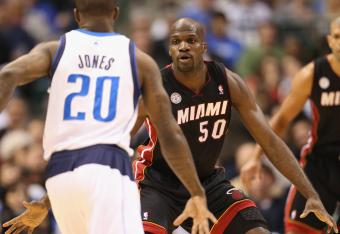 And there it is: Joel Anthony is on the floor.
Horford with 23 points (10-of-11 shooting) and eight boards heading into the fourth. Might not matter what James does in the final 12 minutes if the Heat can't stop Horford.
LeBron may have to take matters into his own hands in the fourth. Other than Chalmers, no one on Miami has anything going tonight.
This article is
What is the duplicate article?
Why is this article offensive?
Where is this article plagiarized from?
Why is this article poorly edited?

Miami Heat: Like this team?