As the NBA trade deadline reaches its final hours, the talks surrounding Eric Gordon have reached an all-time high.
The Golden State Warriors have shown interest in the New Orleans Hornet, and shooting guard Klay Thompson's name has been thrown around in trade talks.
According to Sam Amico of Fox Sports Ohio, the talks between the two teams have really heated up to get the deal done.
FYI: Source says trade talks involving Hornets G Eric Gordon and Warriors G Klay Thompson are at "more than exploratory" stage.

— Sam Amico (@SamAmicoFSO) February 20, 2013
Although Gordon would make the Warriors a better team, Golden State's front office has to ask itself if it's really worth it to pick up his heavy contract.
Gordon is only in the first year of his four-year/$58 million deal, and he's still trying to recover from his offseason injuries.
He's already missed more than two-thirds of this season, and only played in nine out of 66 games last season.
Do you think the Warriors should trade for Eric Gordon?
Considering the fact that Gordon is set to make an average of $15 million a year over the next four years while being plagued with injuries his entire career, the Warriors should back away from this deal.
As it stands, they have the No. 6 seed in the Western Conference and are 5.5 games ahead of the No. 9 and No. 10 seeds.
Golden State has a solid future to look forward to with young players like Stephen Curry, David Lee and Harrison Barnes.
The Warriors don't need Gordon, especially since he's owed so much money.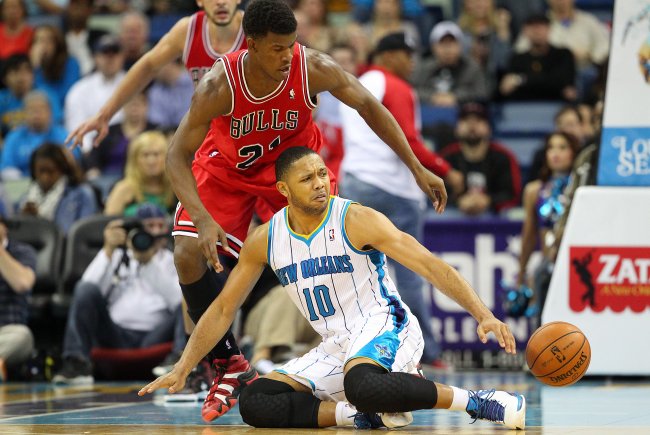 Crystal LoGiudice-USA TODAY Spor
According to Amico, Richard Jefferson and Andris Biedrins have also been linked to the deal.
It still isn't worth it.
Thompson is a young player who the Warriors feel very confident about, and trading him for an expensive, injury-prone guard doesn't make sense.
But this is a business after all, and crazier things have happened.
I just don't see this one happening.