SEC Basketball: Mizzou Looks to Finish Strong in Final Five Games
Use your ← → (arrow) keys to browse more stories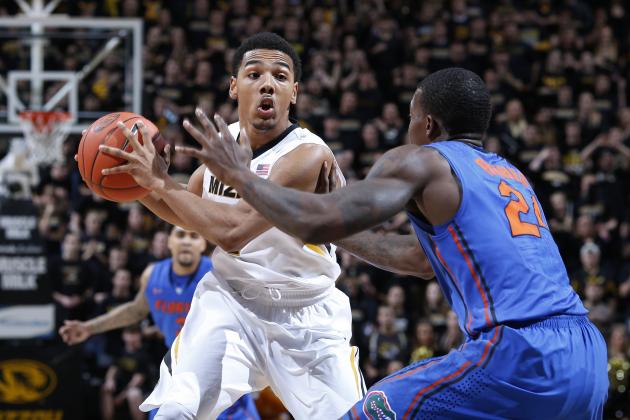 Joe Robbins/Getty Images
Missouri's Phil Pressey has become an assist machine for Missouri in his junior season.
It's all up in the air now at this point for the Missouri Tigers basketball season.
The year started with high expectation and roller-coastered around with the loss of the outstanding guard Michael Dixon Jr. but has leveled off recently with the solid form the team has found with senior Lawrence Bowers back in the lineup.
Currently sitting at 19-7 (8-5 SEC) on the season, Missouri sits in an interesting spot in which they could play themselves into—or out of—a variety of postseason situations.
Looming large on the Tigers' agenda is the game in Lexington against the Kentucky Wildcats, which will host ESPN College Gameday, marking the second consecutive season that Missouri will be playing in a Gameday showcase.
Following that the Tigers travel to South Carolina to play a team that isn't highly accredited, but any Missouri fan knows that a team coached by Frank Martin is going to be tenacious, so this game is by no means a "gimmie."
Missouri will then return home to play the LSU Tigers in a winnable contest before welcoming the Arkansas Razorbacks and Mike Anderson to town.
The environment for this game will be massive, and there's no doubt that Anderson will be reminded that Missouri fans didn't appreciate how he left the program.
Mizzou then finishes the season with an away game at Tennessee, which will be a tough road contest against a team likely fighting for some kind of postseason.
We can assume that there is likely a win in either South Carolina or Tennessee, and that winning at home against LSU shouldn't be too much to ask for.
What will be Missouri's postseason fate?
The question now is will the two emotionally charged games—at Kentucky and home to Arkansas—be winnable games for Mizzou? With the form Kentucky has shown of late, they are certainly vulnerable. Although the Tigers may be in awe of playing in Rupp Arena, they can take advantage of the fact that the pressure will be on the Wildcats.
Which leads us to the big one on every Missouri fans' calendar, the Arkansas game.
With the kind of performance Missouri put together in Fayetteville (against a team who may have gotten some favorable calls near the end of the game), there's no reason Missouri shouldn't blow the Razorbacks out of the water.
I'd just hate to see what Mike Anderson has waiting for him in the visitor's locker room.
The key for Missouri will be to not get too emotionally charged up for this game. When they keep everything level-headed and just play the Phil Pressey distribution game, the Tigers are better than Arkansas this year.
If Missouri can finish this final stretch at 3-2, then it'll leave them with nine losses, which looks a lot sexier to the NCAA tournament committee than ten. Missouri will not get to enjoy the higher conference ratings they've traditionally enjoyed in the Big 12, so the standards for the amounts of wins and losses to make the tournament may be slightly different this season.
In any event, I still think they're in because someone with the power to make it happen wants to see a Missouri-Kansas game in this year's tournament.
Let's make it happen.
Follow Dan Irwin on Twitter @ danirwin_br or on Facebook at "facebook.com/danirwin.sports".