6 Things We Learned from AC Milan vs Barcelona in the UCL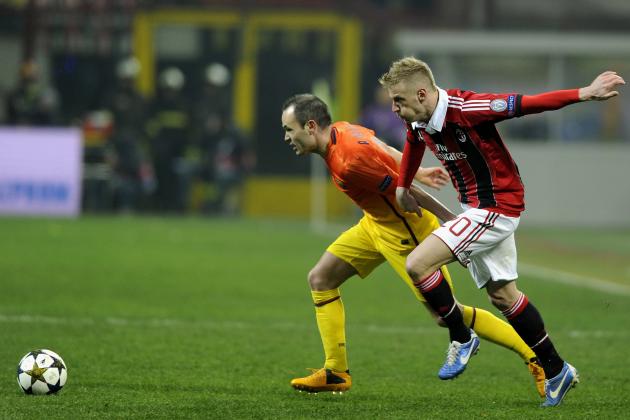 Claudio Villa/Getty Images

Well, who saw that coming? Even the most optimistic Milanisti couldn't have genuinely thought the Rossoneri would not only win by two great goals, but would also look so comfortable doing it.
This imperious performance at the San Siro has made all of world football take notice, and Massimiliano Allegri's men have sent out a clear message: AC Milan are back.
With strikes from Kevin-Prince Boateng and Sulley Muntari, Serie A's giant of the European stage showed that it has the composure and the class to challenge for top honours and possibly even add to their seven Champions League titles.
So what did we learn from the first leg of this tie?
Begin Slideshow

»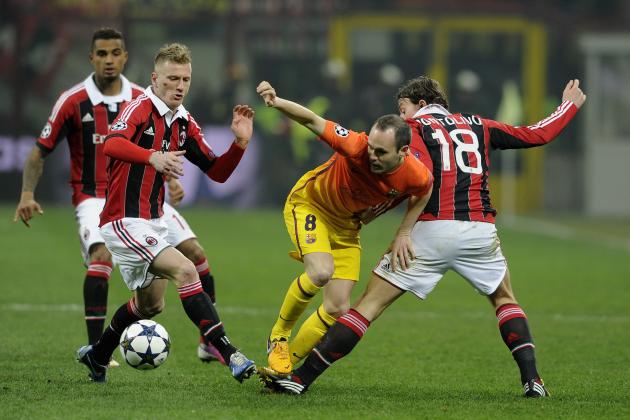 Claudio Villa/Getty Images

Barcelona's dominance both at home and abroad has unsurprisingly lead to their attractive passing game becoming the de rigueur style of our time.
But against the Blaugrana, Milan showed that what makes football so special is the many ways to play the game.
Barca fans will say that the Rossoneri parked the bus—but that's untrue and unfair. Nowhere in the rule book does it say that teams must play to suit the Catalans just because people might enjoy watching them.
Milan's defending was more than simply physical and courageous. It was calm, collected and clinical. They didn't panic or give away needless free kicks and Barcelona weren't able to compete with that.
A+ to Allegri for calling it right and for getting his side in such good shape.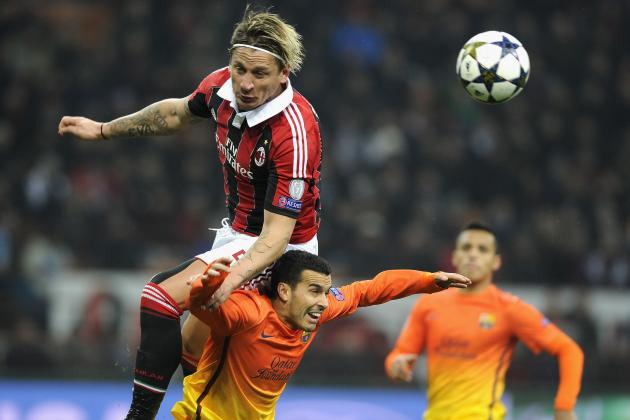 Claudio Villa/Getty Images

With Mario Balotelli cup-tied and stars like Robinho, Mathieu Flamini, Antonio Nocerino, Daniele Bonera, Luca Antonini and Nigel DeJong all out with injuries, you'd be forgiven for thinking that Allegri would have selection headaches.
But with an outfield that still contained quality, Milan showed that Adriano Galliani's transfer work over the past couple of seasons has been time well spent.
Whereas the Scudetto-winning side of 2011 relied much too heavily on the immense talent of Zlatan Ibrahimovic, this version of the Rossoneri is greater than the sum of its parts, and plays much the better for it.
Ignazio Abate, Philippe Mexes, Cristian Zapata and Kevin Constant at the back. Massimo Ambrosini, Riccardo Montolivo and Sulley Muntari in the centre. Kevin-Prince Boateng, Giampaolo Pazzini and Stephan El Shaarawy up front—and M'Baye Niang and Bakaye Traore as subs to finish it off.
Not a bad side by any stretch of the imagination.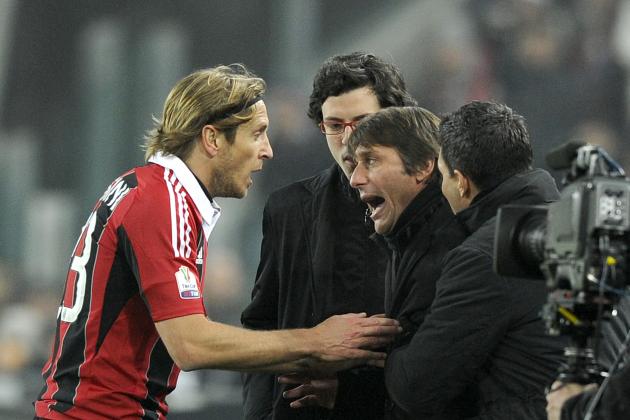 Claudio Villa/Getty Images

Even with them racing up the table behind his Juventus, Antonio Conte was in the stands at the San Siro to show support for AC Milan against the visiting Catalans.
Serie A was once the dominant force in European football, but after several scandals and tough economic times, the league has seen its power wane in recent years.
Conte's Bianconeri and Allegri's Milan are showing strong signs that the peninsula's top flight is on the mend, however, and for the time being at least they're united in the cause of returning Italian football to the top.
"I hope that Milan go through," Conte said in the build up. "I support all Italian clubs in Europe, especially since we need to start picking up coefficient points."
Then, speaking to Italian TV before the game, the Juve boss said:
"I am here to watch a wonderful game of football between two great teams. It will certainly be an exciting challenge and we'll see what happens. I always cheer on the Italians in Europe, so I am supporting Milan.
As for the Scudetto, he added:
"I am convinced that Milan can cause us problems, as they have technique and important mental strength. They are a team we must show a lot of respect to."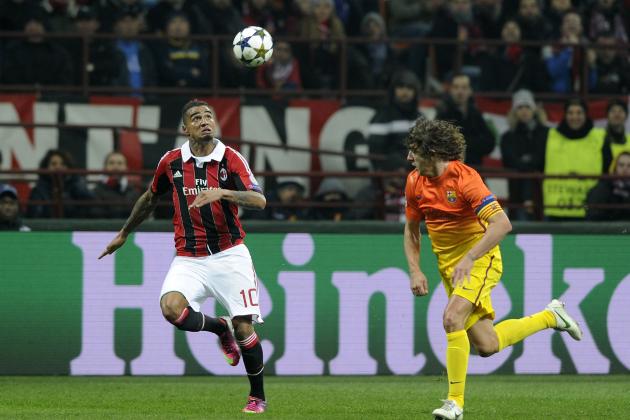 Claudio Villa/Getty Images

They dominate possession, make opponents look silly with their silky passing and score goals for fun. Unless you don't let them.
This season, Barcelona have averaged 30 penalty area touches per game—against Milan they got nine. Lionel Messi only got one.
Milan were imperious throughout the game, taking it by the throat and never letting go. Not since the 3-1 defeat to Inter at this very stadium in the 2009-10 semi-finals had Barca lost by more than a goal.
That time too, the giants of La Liga were made to look impotent by a well-organised, physical and tactically nuanced Italian side.
Managers of the world, take note.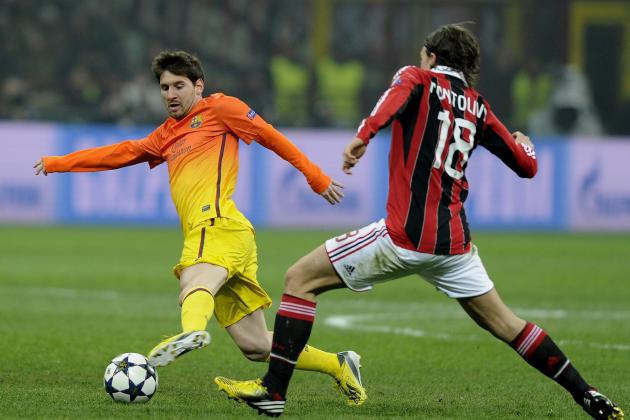 Claudio Villa/Getty Images

He's often compared to Diego Maradona, but if you want to point to one key difference between the former Napoli man and Messi, it's that El Diego obviously had no problem putting the ball past Serie A keepers.
Obviously, he had a lot more practise at it, but Messi has now gone 13 games against Serie A opposition without scoring a goal from open play.
There is no doubting his genius, but this lack of potency against what are generally well-drilled, intelligent and physically strong defences perhaps points to a deficiency in the Spanish league that at times can make Messi's brilliance look a little brighter than it unquestionably is.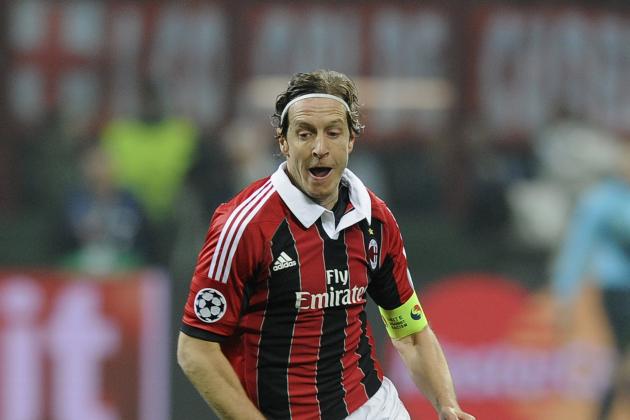 Claudio Villa/Getty Images

No Italian side has been knocked out of a European two-legged tie following a 2-0 home win since Bordeaux dumped Milan out back in the 1995-96 quarter finals.
So unsurprisingly, the Rossoneri will now fancy their chances of progression, even if captain Massimo Ambrosini was among the first to urge caution ahead of his side's trip to the Camp Nou.
Speaking at the San Siro, the veteran Italian said:
"It was a game we had to play like this. We were very careful and allowed Barça very little. It is only the first half of the tie, as going there thinking we've done something definitive would be a terrible mistake.

It was a great achievement, but we have to consider the 180 minutes. Of course if we had lost 3-0 then we'd have less chance of qualifying, so naturally we have a chance."
Barca are one of the world's greatest sides and the atmosphere in Catalonia will surely be electric. But if Allegri's side can maintain their composure, they'll be difficult for the Blaugrana to break down.
They will, you'd think, need a miracle. Back in 1996, Zinedine Zidane's Bordeaux had one. Can Messi inspire another?