2013 MLB Preview: Fantasy Baseball Closer Rankings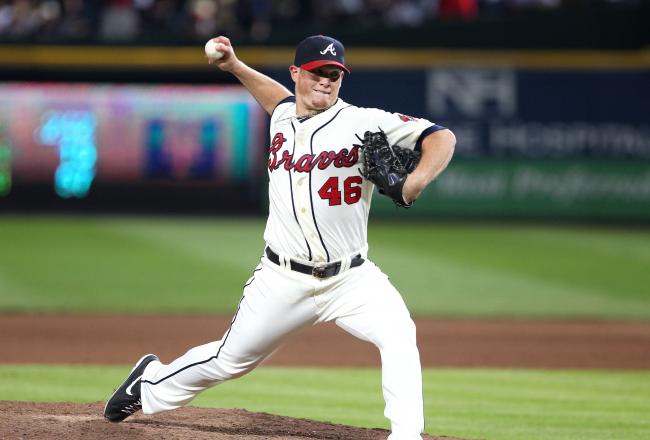 Mike Zarrilli/Getty Images
Here are the 2013 Lester's Legends fantasy baseball closer rankings.



1. Craig Kimbrel, Atlanta Braves

Kimbrel is ridiculous. In 2011 he recorded 46 saves with a 2.10 ERA, a 1.04 WHIP and 127 strikeouts. His saves (42) and strikeouts (116) dipped, but his ERA (1.01) and WHIP (0.65) were off-the-charts good. He's the best closer in baseball. Period.



2. Aroldis Chapman, Cincinnati Reds

Chapman could be the filthiest pitcher in baseball. He's certainly in the discussion. He picked up 38 saves and 122 strikeouts while posting a 1.51 ERA and a 0.81 WHIP. He could end up in the rotation, but no matter his role, he will be a force.



3. Jason Motte, St. Louis Cardinals

Motte nailed down 42 saves as well while striking out 86 batters. His 2.75 ERA and 0.92 WHIP put him right up with Kimbrel and Chapman. He's the best of tier two in my book.



4. Jonathan Papelbon, Philadelphia Phillies

Papelbon got back on track last year with 38 saves, 92 strikeouts, a 2.44 ERA and a 1.06 WHIP.



5. Sergio Romo, San Francisco Giants

Romo recorded 14 saves with 63 strikeouts, a 1.79 ERA and a 0.85 WHIP. He was nearly untouchable during the postseason with a 0.84 ERA and a 0.47 WHIP.



6. Rafael Soriano, Washington Nationals

The Nationals have great young pitching so the save opportunities should be there for Soriano. He had 42 saves, 69 strikeouts, a 2.26 ERA and a 1.17 WHIP.



7. Joe Nathan, Texas Rangers

Nathan returned to form with 37 saves, 78 strikeouts, a 2.80 ERA and a 1.06 WHIP. Other than his 2011 hiccup, he's been one of the steadiest closers over the past decade.



8. Mariano Rivera, New York Yankees

Mo is a risk coming off a knee injury, but he should be able to bounce back. His cutter will still be troublesome for opposing batters. This could be his final season and I expect Mo to go out in style.



9. Jim Johnson, Baltimore Orioles

Johnson actually had more saves (51) than strikeouts (41) last year. His peripherals (2.49 ERA, 1.02 WHIP) were good so he should remain a top 10 closer.



10. Fernando Rodney, Tampa Bay Rays

Rodney saved 48 games last year with 76 strikeouts. His 0.78 ERA and 0.60 WHIP were ridiculous, but his career marks are 3.75 and 1.36 respectively. His peripherals will go up, but he should be in line for a bunch of saves.



As you prepare for your fantasy baseball drafts, check out:
This article is
What is the duplicate article?
Why is this article offensive?
Where is this article plagiarized from?
Why is this article poorly edited?