MLB Players with the Most to Gain/Lose During Spring Training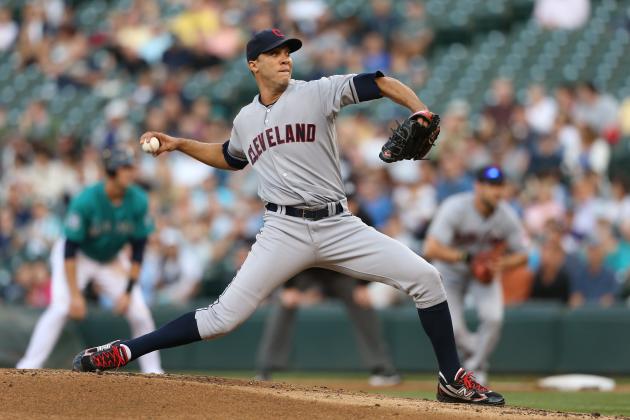 Otto Greule Jr/Getty Images

Spring training is generally a time when many MLB veteran players work on getting in game shape and preparing for the rigors of a long 162-game schedule.
This spring, however, quite a few veterans have something to prove.
In some cases, veteran stars are working to come back from significant injuries, ready and willing to show their teams they're back to their old selves.
In other cases, younger stars who have yet to live up to their potential could be facing situations where spring training and the early part of the regular season could make or break their careers.
And in a few cases, veteran stars are out to prove to management that they are not in regression and still have what it takes to contribute on a daily basis.
For these players, they have everything to gain and a lot to lose.
Here are 12 MLB players who fit that criteria. Early season performance will also be included.
Begin Slideshow

»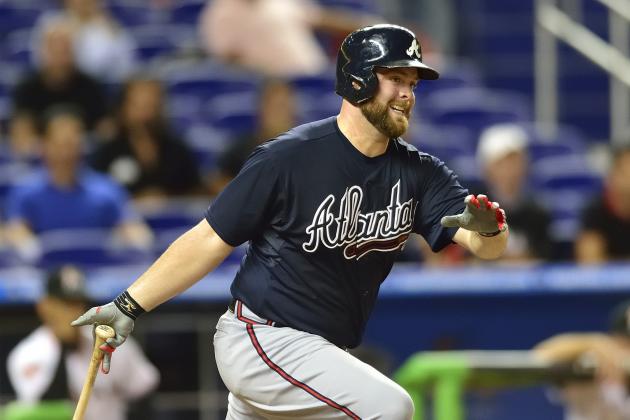 Steve Mitchell-USA TODAY Sports

The 2012 season could clearly be defined as disappointing for Atlanta Braves catcher Brian McCann.
For the first time since his rookie season, McCann was not selected to the All-Star team. He also failed to win the Silver Slugger Award for the first time since 2007.
Much of McCann's struggles can be attributed to pain in his right shoulder. McCann suffered through slight dislocations and played with a partially torn labrum.
McCann underwent surgery in October to repair the labrum and won't be ready for game action until at least mid-to-late April.
Add to that the fact that McCann is eligible for free agency next season. The Braves picked up the $12 million on his contract for the 2013 season.
For McCann to have any future in Atlanta, he is absolutely going to have to prove he's fully healthy and ready to return to the form that earned him six All-Star selections and five Silver Slugger awards.
Even then, the Braves may deem McCann too expensive. But he'll have at least restored his value for an open market that will likely be devoid of quality-hitting catchers.
McCann stands a chance to lose, and lose big. He could lose his place with the Braves and lose out on a major chunk of money.
He could also win big. If McCann posts his normal numbers, he'll get paid—either by the Braves or by another team willing to pony up for his offense.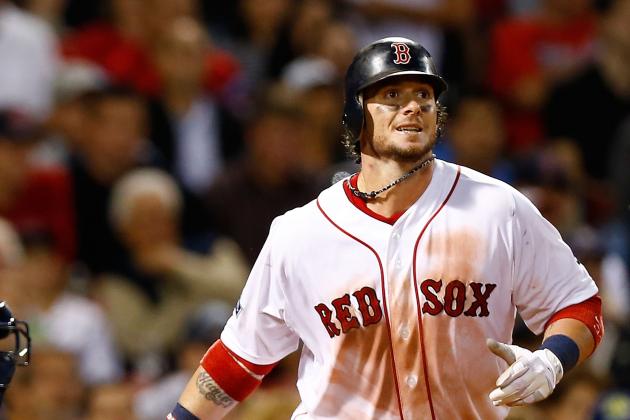 Jared Wickerham/Getty Images

Catcher Jarrod Saltalamacchia is penciled in as the starter for the Boston Red Sox. However, that could be very short-lived with a slow start.
Saltalamacchia slugged 22 home runs with 59 RBI last season for the Red Sox, but he hit just .222 and posted a whopping 31 percent strikeout rate.
With David Ross signed as a backup and Ryan Lavarnway laying in wait, Saltalamacchia is facing sink-or-swim time in Boston.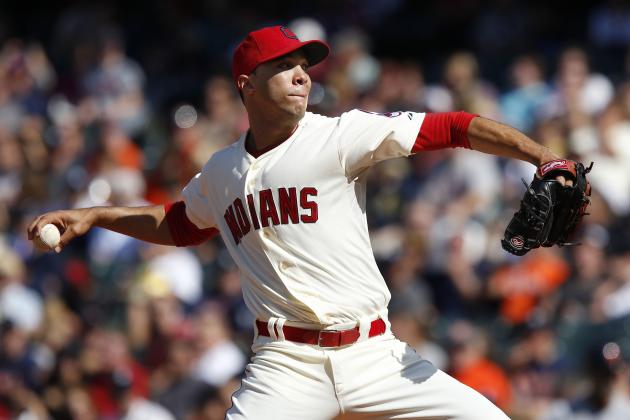 David Maxwell/Getty Images

Much like Brian McCann with the Atlanta Braves, the Cleveland Indians took a chance and picked up the 2013 option on the contract of starting pitcher Ubaldo Jimenez.
Considering the performance that Jimenez registered last season, the Indians would have been excused had they decided to decline.
Jimenez was 9-17 last season with a 5.40 ERA in 31 starts. He admitted last week that his mechanics were so far out of whack that he had no idea what to do with the baseball last season.
He will absolutely have to figure that out this spring if he hopes to have his 2014 option picked up by the Indians at the end of the season.
The Indians will have some patience, but it will be a short leash.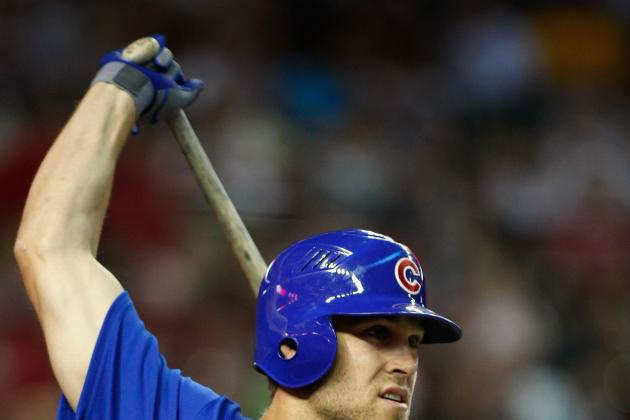 Ralph Freso/Getty Images

The Chicago Cubs have been patiently waiting for prospect outfielder Brett Jackson to blossom into the player they envisioned when they selected him with their first-round pick in the 2009 MLB draft.
At some point, that patience will do more than just wear thin.
Jackson struggled in 108 games at Triple-A Iowa last season. While he hit .256 with 15 home runs and 47 RBI, he also posted a sky-high 33.8 percent strikeout.
Following his call-up to the Cubs in early August, Jackson struggled even worse, whiffing 59 times in 142 plate appearances for a 41.5 percent strikeout rate.
Jackson worked hard this offseason to make adjustments to his swing, but the Cubs brought in two veteran outfielders over the winter. That essentially means that Jackson is going to have to show his adjustments worked if he has a shot at heading north with the Cubs in April.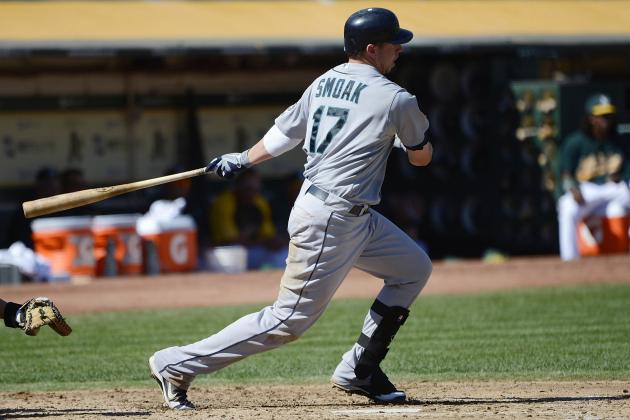 Thearon W. Henderson/Getty Images

When the Seattle Mariners traded starting pitcher Cliff Lee to the Texas Rangers in 2010, they insisted that the Rangers include first baseman Justin Smoak in the return package.
Smoak was the 13th highest rated prospect in the majors according to Baseball America at the time, and the Mariners thought they were getting back their first baseman of the future.
The Mariners are still waiting for that future to arrive.
After two-plus seasons, Smoak has hit just .227 with a .686 OPS and a 21.9 percent strikeout rate. Last year, Smoak hit 19 home runs but also posted a .217/.290/.364 slash line. That simply won't cut it for an everyday player.
If Smoak continues to struggle, newly-acquired Michael Morse could see considerable time at first base, and Smoak could see considerable time on the bench or back at Triple-A.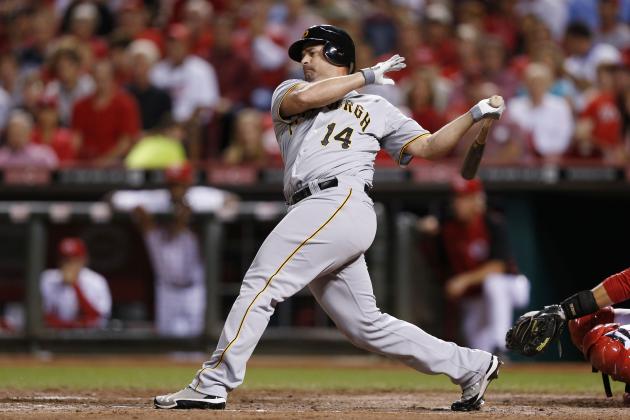 Joe Robbins/Getty Images

When Gaby Sanchez first debuted with the Florida Marlins, he certainly seemed like a player capable of inflicting damage at the major league level.
Sanchez finished his first full season in 2010 hitting .273 with 19 home runs and 85 RBI, finishing fourth in National League Rookie of the Year balloting.
Sanchez followed up with a comparable year in 2011, hitting .266 with 19 homers and 78 RBI.
The 2012 season was an entirely different story.
Sanchez struggled out of the gate, hitting just .202 after a Fourth of July game. The Marlins had just completed a deal to acquire Carlos Lee, and Sanchez was the odd man out. He was demoted to Triple-A New Orleans to make room for Lee, and was traded later in the month to the Pittsburgh Pirates.
This season, as the Pirates prepare to break a long-standing streak of 20 years without a winning record, they have a legitimate chance to finally accomplish that goal.
But they'll absolutely need Sanchez to regain his form in order to do so.
The Pirates are a better team with Sanchez at first and Garrett Jones in right field.
But only if Sanchez plays like the Sanchez of three years ago. Otherwise, he'll once again find himself trying to figure things out at the Triple-A level.
David Banks/Getty Images

Much like his teammate Gaby Sanchez, Pittsburgh Pirates outfielder Jose Tabata also broke out strong in his rookie season.
Tabata hit .299 with 19 stolen bases in 2010, prompting the Pirates to sign him to a six-year, $15 million contract with three option years.
Last season, Tabata hit just .243 and was demoted to Triple-A Indianapolis, just one day before Sanchez was demoted by the Miami Marlins.
Two promising rising stars, two demotions.
Tabata now finds himself as the fourth outfielder, behind prospect Starling Marte on the depth chart in left field. At this point, Tabata needs to earn back the trust of the team who had tremendous faith in his future.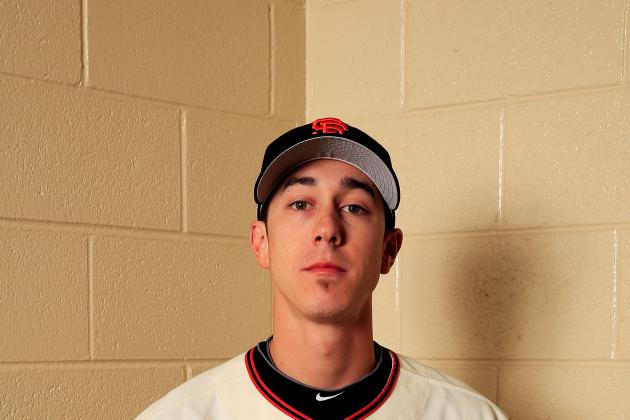 Jamie Squire/Getty Images

When you win back-to-back Cy Young awards and totally dominate opposing hitters, you're generally forgiven when you have a bad game.
In the case of Tim Lincecum, that bad game turned into an awful regular season.
Lincecum suffered through a 10-15 season and 5.18 ERA through 33 starts last season. While he was a key component out of the bullpen during the postseason for the San Francisco Giants, questions still remained about his fall from the top.
Lincecum is entering the final year of a $40.5 million contact and will be a free agent for the first time at the end of the season.
Henry Schulman of the San Francisco Chronicle indicated that the Giants would still entertain the thought of keeping Lincecum long-term.
However, that thought will disappear quickly if Lincecum is unable to fix what ails him.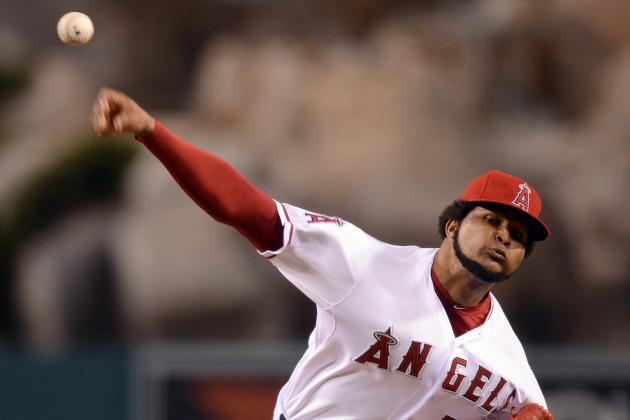 Harry How/Getty Images

The Kansas City Royals made a big-time push to get themselves back into contention this offseason.
One of the first moves they made was to acquire starting pitcher Ervin Santana from the Los Angeles Angels for relief pitcher Brandon Sisk.
The Royals took a big chance—Santana was coming off the second worst season of his career with a 9-13 record and 5.16 ERA in 30 starts.
In taking that chance, the Royals committed $12 million on payroll for this coming season as well.
For Santana, it's absolutely make-or-break time. If he's successful in turning things around and helping the Royals reach the postseason, Santana can earn a nice paycheck in his future.
If not, he'll be hoping just to be able to land a contract with any team for a fraction of that $12 million.
Jeff Zelevansky/Getty Images

In 2009, young Toronto Blue Jays first baseman Adam Lind broke out with a stellar season, hitting .305 with 35 HR and 114 RBI. He captured the Silver Slugger Award in the American League for his performance.
Three years later, Lind was in the minors.
Lind found himself at Triple-A Las Vegas last May after hitting just .186 with three homers and 11 RBI through 38 games.
Lind eventually made his way back but was still a shadow of his former self, hitting .255 with 11 HR and 46 RBI on the season.
This past weekend, Lind criticized former manager John Farrell for his micro-managing and sending mixed messages.
Lind's words earned him a strong rebuke from general manager Alex Anthopoulos. (h/t NationalPost.com)
"He has been in the league long enough now and it's up to him to say I'm a little confused, I need a little help and what not," Anthopoulos said.
"Adam's always honest. You always respect that. He speaks from the heart all of the time, but for me I always try to stress, if you're confused, if you're not sure, it's on you to say something. We can't do anything to help you if you don't express how you're feeling."
Former manager Farrell wasn't to blame for Lind posting three straight subpar years after breaking out in 2009.
That's on Lind, and from now on he needs to let his bat do his talking. Another poor spring and slow start won't just land Lind back in Triple-A, he'll likely be run out of town.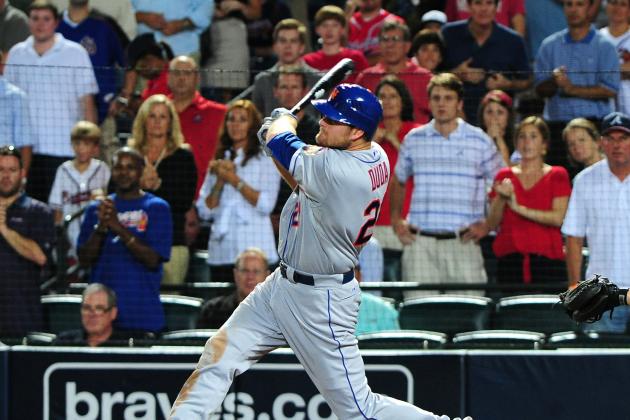 Scott Cunningham/Getty Images

At 6'4" and 255 pounds, New York Mets outfielder Lucas Duda was largely expected to develop into a consistent slugger in the majors.
He showed flashes in his first full season, hitting .292 with 10 home runs and 50 RBI in 100 games in 2011.
However, Duda, like other promising young players on this list, found himself demoted to the minors last season for 25 games. While Duda ended up hitting 15 home runs, he hit just .239 with a 26.1 percent strikeout rate.
Duda has been working with Mets hitting coach Dave Hudgens since late January on developing a repeatable and consistent swing with each at-bat.
Much of the talk concerning the Mets this offseason has centered on questions regarding the production of their outfield. Clearly that unit is not considered one of the team's strong suits.
Duda has much to lose by not developing into the slugger the Mets envisioned when they drafted him in 2007. By extension, the Mets will suffer as well if Duda fails to find that consistency.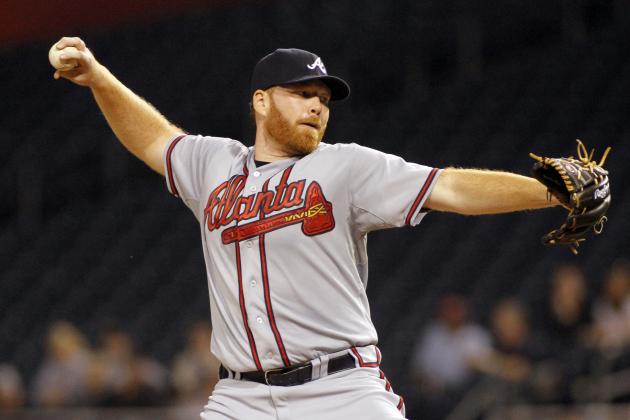 Justin K. Aller/Getty Images

Tommy Hanson was one of the brightest young pitching stars when he first broke in with the Atlanta Braves in 2009. Hanson posted an 11-4 record that year with a 2.89 ERA in 21 starts, certainly giving rise to his potential in the future.
Three years later, the Braves gave up on him.
In dealing Hanson to the Los Angeles Angels over the offseason, the Braves sent a clear message that they had run out of patience.
Hanson is now expected to help the Angels in their quest to win the American League West Division title and make it back to the postseason for the first time in four seasons.
However, Hanson has seen diminished velocity over the past two seasons, and another season of disappointment could lead to a short tenure in Anaheim.
General manager Jerry Dipoto likely won't hesitate to make a move to bolster his rotation if Hanson continues his descent. A strong spring and fast start will quiet any concerns and give Hanson a much better chance to stick around in southern California for a while.