Ohio State Basketball: 5 Keys to Beating Michigan State in B1G Showdown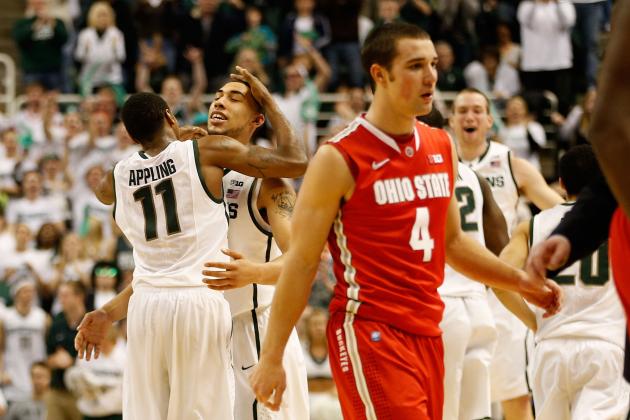 Gregory Shamus/Getty Images

It is officially put up or shut up time for the Ohio State basketball team.
Thad Matta's squad has lost three of its last four, and instead of talking about a potential Big Ten championship fans are fretting over what seems like an inevitable disappointing NCAA tournament seed.
The Buckeyes are a mere 1-7 against ranked opponents (at the time of the game) this season, but this being the Big Ten there are still plenty of opportunities. The next one comes on Sunday against the Spartans of Michigan State, who are coming off a heartbreaking loss of their own against No. 1 Indiana.
Read on to see five keys for Ohio State if it hopes to pull off the upset.
Begin Slideshow

»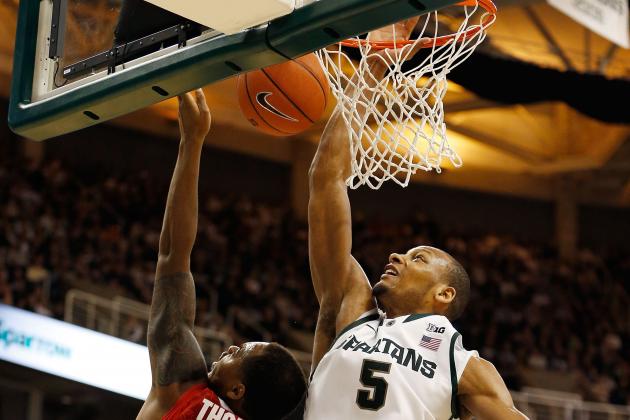 Gregory Shamus/Getty Images

Ohio State is vulnerable in the middle. Michigan State just so happens to excel in the lane. That is a troubling formula from Thad Matta's perspective.
The towering pillars that anchor the Spartans are Derrick Nix and Adreian Payne. That is nearly 14' of strong and powerful man that the rotation of Amir Williams, Evan Ravenel and Trey McDonald are going to have to deal with for 40 minutes.
Tom Izzo's squad includes three players that average better than six rebounds a game (Nix, Payne and Branden Dawson), while Thad Matta's has only Deshaun Thomas. In fact, Ohio State has fewer players (two) that average five rebounds a game than Michigan State has averaging six.
It is imperative against a loaded squad like the Spartans to control the glass and limit their opportunities. Those bigs aren't likely to waste second and third tries against the Buckeyes' middle, so the 101st-ranked rebounding game of Ohio State is going to have to improve quickly.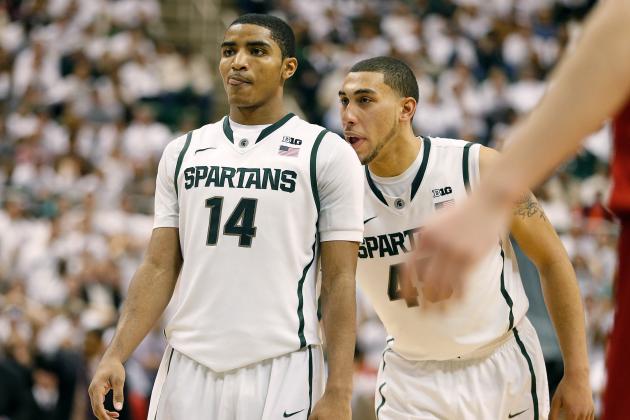 Gregory Shamus/Getty Images

Let's work under the relatively safe assumption that the defensive bulldog that is Aaron Craft will at least contain point guard Keith Appling even if Craft doesn't completely shut him down.
That means that someone else will have the responsibility of guarding Gary Harris, who is the leading scorer among Big Ten freshmen.
Harris is averaging better than 13 points a game and is shooting an impressive 43 percent from behind the three-point line. If there is some type of freshman wall that he was supposed to run into by this point of the schedule it has not happened yet.
The difficulty in defending Harris is that Michigan State is so strong in the interior, which often forces double-teams. When Harris' man begins to drift into the lane he becomes lethal from long range.
Thad Matta will probably throw a rotation of Lenzelle Smith Jr., Shannon Scott and Sam Thompson at Harris throughout the game. It is a tall order, but Ohio State needs them to prevent Harris from lighting it up from downtown.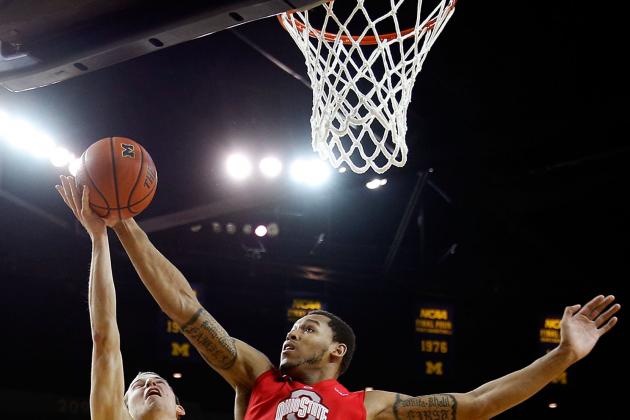 Gregory Shamus/Getty Images

As mentioned in the rebounding slide, Derrick Nix and Adreian Payne are a dominant tandem down low who control the glass and the paint. Much of Michigan State's offense runs through these two (Payne even leads the team in three-point percentage).
Ohio State is going to need its vulnerable middle to step up. First and foremost that means "good" Amir Williams needs to make an appearance.
For those who are unfamiliar, "good" Williams is a rarely seen creature that has been known to appear from time to time when an opponent from Michigan lines up across from him on a basketball court. The last time he was seen was in Ann Arbor where he scored nine points and swatted four shots away.
No player has drawn more ire from a frustrated fanbase than Williams this season, so it would serve his confidence well if he could play effectively in one of the biggest games of the season. The Buckeyes need him to counterbalance some of the Spartans' strength in the middle.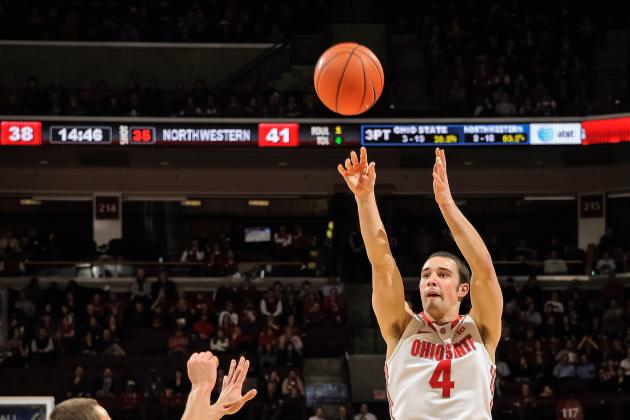 Jamie Sabau/Getty Images

On paper there aren't a lot of advantages Ohio State has over Michigan State considering that the Spartans are one of the best teams in the nation and excel where the Buckeyes struggle.
However, one thing working in the Buckeyes' favor for this one is the fact that the game is in Columbus. If the Scarlet and Gray can get off to a fast start they can get the crowd involved early and try to ride that wave of momentum to the finish line in a fashion similar to what they did at home against Michigan.
Perhaps more importantly though is the realization that there will be some carry-over frustration in both teams. The Buckeyes have faltered as of late and were simply embarrassed by Wisconsin last Sunday, while Michigan State blew a golden opportunity to knock off No. 1 Indiana thanks to missed free throws Tuesday night.
A quick start for the Buckeyes could ensure that their own frustration dissipates quickly and at the same time place some seeds of doubt in the Spartans' minds.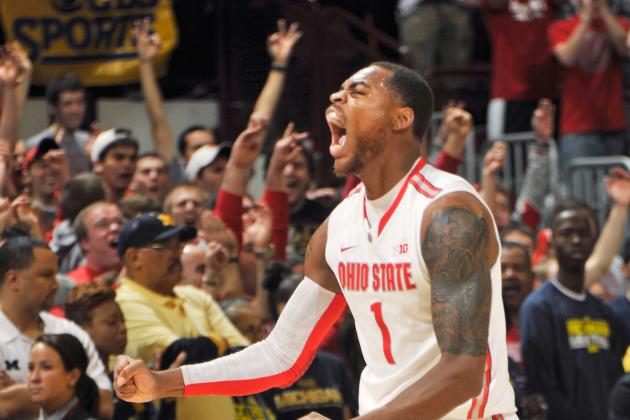 Jamie Sabau/Getty Images

This goes along with the need for a fast start, but Ohio State has looked like it is sleep-walking through games recently in the past few weeks. Ever since the Buckeyes blew an overtime game in Ann Arbor, the energy level and overall level of play has been severely lacking.
Thad Matta would be wise to encourage his team to get out in transition, show some enthusiasm and appear to actually take some pride in what it is doing on the floor. Not only will it get the crowd into the game early, it should work to the Buckeyes' advantage.
Michigan State's guards are more than capable of playing an up-and-down game, but Derrick Nix isn't. The Buckeyes have an opportunity to neutralize the Spartans' strong interior presence if Nix is having trouble running the floor.
The talent is in place in Columbus, but Ohio State needs to play with the proper energy level and desire as well. This may sound as cliché as it gets, but the Buckeyes have to play like they want this one, which is something they haven't done recently.