The Undertaker Not At WrestleMania 29; Storyline Explanation Must Be Given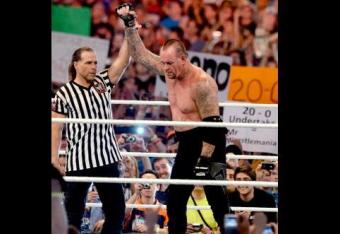 Photo courtesy of WWE.com

There must be a storyline explanation given if Undertaker isn't going to perform at WrestleMania 29.

I'm a big believer that every decision made in the scripted world of professional wrestling should benefit somebody. Every segment should further some character. Every situation that on the surface seems to be a negative last-minute headache should be spun into a positive benefiting someone else.

The buildup to WrestleMania always has rumors surrounding The Undertaker. His legacy and WrestleMania undefeated streak is as big as WrestleMania itself. There are a lot of behind-the-scenes questions on if the veteran will have a WrestleMania 29 match.

I believe his health is a serious concern. He will turn 48 at the end of March, and he's had several medical operations over the last few years. I think these operations, one on his upper body for shoulder and one on his lower body for his hip, has made it difficult to properly rehab and stay in better shape for an almost 48-year-old.

I could imagine The Undertaker telling WWE that he's got one more classic WrestleMania match left in his body and wants to save it for WrestleMania 30.

The Undertaker needs the proper sendoff when his career is over. WrestleMania 30 is the perfect stage. WrestleMania 30 can be the weekend of The Undertaker, and in his final match he battles John Cena. It's the best matchup left and the matchup that would have many people questioning if the streak is going to end.

Names like The Rock, Brock Lesnar or even Sting also get inserted into fan conversations of fantasy booking for The Undertaker.

The Rock's best asset is selling a fight on the mic. A feud with The Undertaker wouldn't be centered around a "Rock concert." Lesnar is too physical―The Undertaker needs someone who can go the distance with him, make it look good and be safe. Sting isn't even signed by WWE. If he got signed by WWE, I worry the novelty of Sting's first WWE match would take away from the focus being on The Undertaker for his final dance.

If The Undertaker can't perform at the level he wants for WrestleMania, you have to respect him for passing up the payday in the name of protecting the bar he's set for his WrestleMania matches. It shows how much he values his legacy.

If his legacy means so much to him that he won't perform until he's in better health, then he needs to ensure his character is given some type of storyline explanation for why he won't be at WrestleMania. Ever since the streak became a novelty part of WrestleMania, The Undertaker hasn't missed the big event. I'd say as of WrestleMania 20, it became an automatic attraction built into the WrestleMania spectacle.

He can't miss WrestleMania with no explanation—especially after Triple H basically teased The Undertaker having a match a few months ago on Raw. It goes back to my theory that every situation needs to get somebody else over. Have The Shield or someone take out The Undertaker.

Imagine if The Undertaker makes an appearance on Raw and we think this is the beginning of the build for his WrestleMania 29 match. If he got taken out by The Shield, it would put even more credibility and heat on the group.

The entire gimmick of The Shield is to surprise attack and strength in numbers. If they've been able to beat down John Cena and Ryback, it would be believable that they are capable of taking out The Undertaker. Eventually we get a report from WWE.com that The Undertaker won't be able to compete anytime soon.

People are going to be angry and confused if The Undertaker isn't at WrestleMania and no mention is ever made of him. Not everyone reads behind-the-scenes reports. Even for those who do read the reports, an explanation still needs to be officially given in the storyline. The character is truly a larger-than-life character. Nobody wants to hear about old age slowing The Deadman down.

Fans are going to be angry that there is no Undertaker at WrestleMania―so WWE should use that anger to help solidify The Shield.
This article is
What is the duplicate article?
Why is this article offensive?
Where is this article plagiarized from?
Why is this article poorly edited?