Ranking the Must-See NCAA Basketball Games This Weekend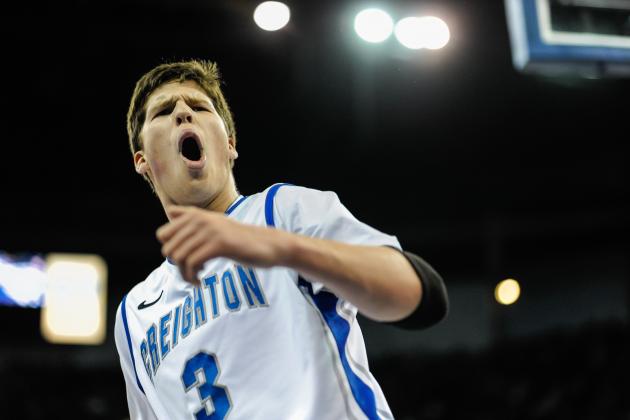 Eric Francis/Getty Images

We are just a month away from the start of the NCAA Men's Basketball Tournament and the action on the court is getting better by the week.
With the stakes getting higher, the games are becoming more competitive and the final month of college basketball should provide us with some lasting memories.
This week, the final edition of ESPN's BracketBusters will showcase some of the top mid-major programs as they square off against each other.
In addition to all of the hype around the BracketBusters games, there are many crucial conference games taking place between either two ranked opponents or two teams looking to improve their status as March approaches.
Here are the 10 games that you should watch during this weekend in college basketball.
Begin Slideshow

»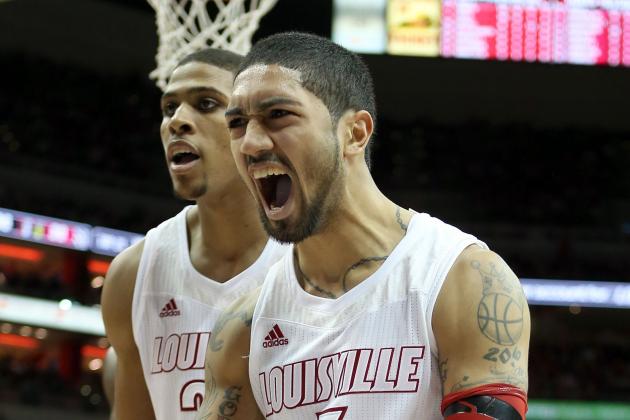 Andy Lyons/Getty Images

The first and easiest of the factors that play in to the determination of the weekly rankings is a game between two teams in the AP Top 25.
As always, this list includes the brutal road trips into hostile environments that are made by the best teams in the nation.
Also included in this week's list are three mid-major battles that are included in ESPN's BracketBusters showcase which puts some of the best mid-major programs against each other.
With the final month of the season upon us, teams on the bubble for the NCAA Men's Basketball Tournament also face difficult tests this weekend against teams that are almost locks to make the final 68.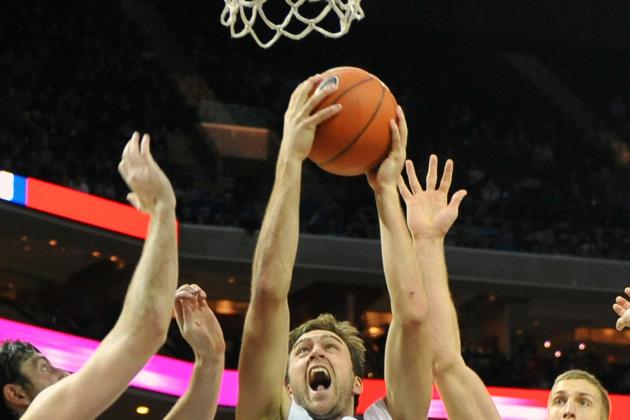 Lance King/Getty Images

When: Saturday, 3 p.m. ET
Where to Watch: ESPNU
The first BracketBusters matchup to appear on this list comes to us from Davidson, North Carolina as the Montana Grizzlies (19-5, 15-1) of the Big Sky visit Southern Conference powerhouse Davidson (20-7, 15-1).
The Grizzlies are in the midst of a brutal five-game road trip that was started off of on the wrong note by losing to Weber State, who sit just a game behind Montana in the Big Sky standings.
In all of their big tests this season, the Grizzlies have failed to come out with a win.
In non-conference play, they lost to Colorado State, BYU and South Dakota State, all three of whom are expected to be in contention for the NCAA Men's Basketball Tournament.
By going across the country and taking away a win from Davidson, the Grizzlies would be proving that they can play with the big boys this season.
Davidson have also dominated their competition in conference but out of the Southern Conference, they have failed to impress.
The best win that the Wildcats have this season is over West Virginia on a neutral court, which is not an impressive victory considering how bad the Mountaineers have been this season.
Both teams are in search of a key victory and whichever team comes out of the Belk Arena victorious, they will have a better chance of springing an upset when March Madness rolls around.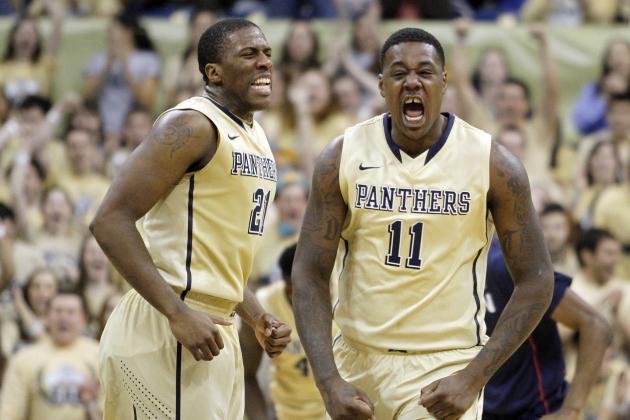 Justin K. Aller/Getty Images

When: Sunday, 12 p.m. ET
Where to Watch: ESPN3
Two struggling Big East teams will square off at Madison Square Garden on Sunday as the Pittsburgh Panthers (20-7, 8-6) will try to stay off of the bubble by beating St. John's (16-10, 8-6) who are fighting for their tournament life at the moment.
Pittsburgh comes into New York City on a two-game losing streak and with four games left on their schedule, the Panthers are looking to solidify their spot in the NCAA Men's Basketball Tournament.
The final four games on their schedule come against two bubble teams and two of the worst teams in the Big East.
With their weak schedule to finish the season, Jamie Dixon and company could easily end the season with 12 conference wins and an at-large bid at least in one month's time.
The Red Storm desperately need a conference victory and a win over a ranked opponent to bolster their resume.
Steve Lavin's team rebounded from losses to Syracuse and Louisville last week with a win over South Florida on Wednesday.
Starting with Sunday's home game, the Red Storm will face three ranked opponents and the recently-hot Providence Friars in their final four games.
This difficult stretch of games will make or break the season of the Red Storm but if they can somehow pull off an upset against Pitt, they can carry that momentum into the final weeks of the season.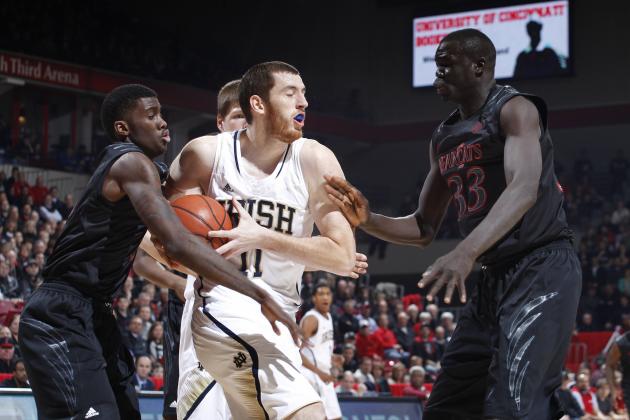 Joe Robbins/Getty Images

When: Sunday, 2 p.m. ET
Where to Watch: CBS
Another Big East clash takes place in South Bend as the Cincinnati Bearcats (19-7, 7-6) visit the Notre Dame Fighting Irish (21-6, 9-5).
The Bearcats have fallen flat recently by losing three of their last four games.
During that rough patch of games, Mick Cronin's team has dropped closer to the bubble.
A win on the road in South Bend would be the perfect cure for the blues that the Bearcats are suffering from at the moment.
For the Bearcats to snatch a win away from the Irish, Sean Kilpatrick and Cashmere Wright will have to step up and have the best game of their respective seasons.
Since their thrilling win in five overtimes over Louisville, Mike Brey's Fighting Irish have stumbled to two wins and have lost on the road to Providence.
The Irish will look to get back on track in front of their home crowd at the Joyce Center, who they have not played in front of in 11 days.
With an outside chance of winning the Big East regular season title still out there, the Irish will have plenty of motivation to defeat Cincinnati for the second time this season.
This game will be won in the paint by the performance of Jack Cooley, who averages a double-double this season.
If Cooley can not be contained by the Bearcats' defense, the Irish will have no problem winning on Sunday.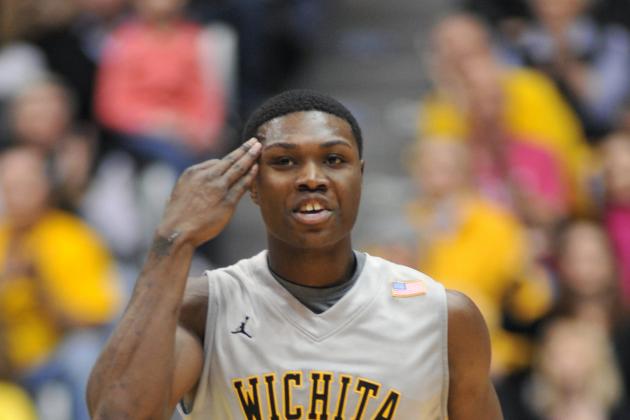 USA TODAY Sports

When: Saturday, 4 p.m. ET
Where to Watch: ESPN2
One of the most intriguing BracketBusters matchups that is not getting the attention that it deserves is the one being played at the Koch Arena.
Detroit (18-9, 10-4) kept alive their Horizon League regular season title hopes with a comeback victory over Valparaiso last Saturday.
Now, they make the rare two-game foray into nonconference play at the end of February starting with their trip to play Wichita State (23-5, 12-4).
After suffering three straight losses at the beginning of February, the Shockers have recovered with a four-game winning streak.
This game features three of the best mid-major players in the nation as Detroit's star guard Ray McCallum squares off against the dynamic duo of Cleanthony Early and Carl Hall of Wichita State.
McCallum is averaging 18.7 points per game and he has found a partner in crime in the Titans' offense with Nick Minnerath, who is now averaging 14.8 points per game, a total which has been bolstered by 55 points in the past two games by the senior forward.
Early and Hall have developed into one of the premier inside-outside duos in college basketball and they continue to get better by the game.
Hall is averaging 12.2 points and 7.2 rebounds per game inside while Early is also a key contributor to the Shockers by leading the team in scoring with 14.6 points per game.
While this game may not get much hype, the individual matchups between these two teams will be some of the best you will see all weekend.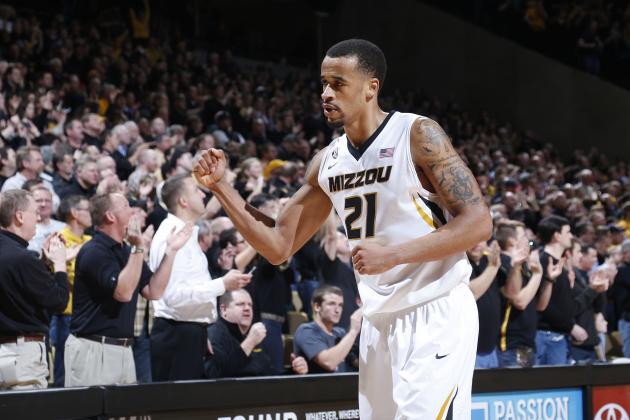 Joe Robbins/Getty Images

When: Saturday, 9 p.m. ET
Where to Watch: ESPN
Fresh off of their upset of Florida on Tuesday night, the Missouri Tigers (19-7, 8-5) head on the road to face the Kentucky Wildcats (18-8, 9-4) at Rupp Arena.
The Tigers fought until the end against Florida and extended their impressive unbeaten run at home to 15 games.
As good as Frank Haith's team has been at home, they have been that bad on the road this season.
The Tigers are 1-5 on the road in SEC play and they will have to buck that trend against Kentucky to solidify their spot in the final 68.
Kentucky have been a completely different team since Nerlens Noel went down with a season-ending ACL injury last week.
In their first game without Noel, the Wildcats were handed a beating by Tennessee and they will look to avoid the same from happening on Saturday night in front of national audience.
If Kentucky are to be victorious at home, they will need the duo of Alex Poythress and Willie Cauley-Stein to step up their games against the dynamic Missouri duo of Alex Oriakhi and Laurence Bowers in the paint.
Whoever dominates the paint in Lexington will come out of Rupp Arena with a much-needed win.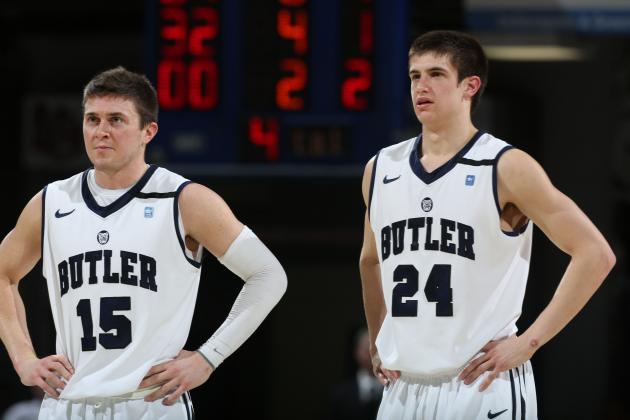 Brian Spurlock-USA TODAY Sports

When: Friday, 7 p.m. ET
Where to Watch: ESPNU
If you are not paying any attention to the Saint Louis Billikens (20-5, 9-2) at the moment, you might want to start.
The Billikens are one of the hottest teams in the country as they are riding a seven-game winning streak into their Atlantic 10 clash at Hinkle Fieldhouse with Butler (22-5, 9-3).
Last time these two teams met, it was Saint Louis who came out on top with a 17-point victory at home.
Now, they will have to go to one of the best venues in all of college basketball to defend their A-10 lead.
After losing by four at home to Charlotte last week, Butler has responded well with two consecutive victories.
If the Bulldogs want to win the A-10 regular season title in their first year in the conference they will need to win a string of three crucial games to end the season, starting with Friday night's game with Saint Louis.
While both teams possess plenty of depth, the game at Hinkle Fieldhouse could be decided by one individual player and his shooting prowess.
Butler's Rotnei Clarke has the ability to change the fate of a game with his stellar three-point shooting and if he is able to do just that, the Billikens' winning streak could easily be ended.
USA TODAY Sports

When: Saturday, 4 p.m. ET
Where to Watch: NBC Sports Network
The Mountain West regular season title could be decided on Saturday afternoon at the Moby Arena in Fort Collins.
Steve Alford's New Mexico Lobos (22-4, 9-2) have risen to the top of the conference standings this season, but they have had two slip-ups on the road to UNLV and San Diego State.
Kendall Williams and Tony Snell have emerged as a strong guard combination that could wreak havoc in the final month of the season.
While the guard play has been stellar for the Lobos, the emergence of center Alex Kirk has been the key to the success of the team.
Colorado State (21-5, 8-3) had its six-game winning streak broken by UNLV on Wednesday night and the Rams now need a win over New Mexico to have any chance at claiming the Mountain West regular season crown.
For the Rams to succeed on Saturday, they will need Colton Iverson to neutralize Kirk in the paint, just like he did in the first meeting between the two teams.
Iverson is averaging close to a double-double for the nation's top rebounding team and he dominated Kirk in the first meeting as he scored 15 points and pulled down 14 rebounds while the Lobos' center recorded just three points and three rebounds.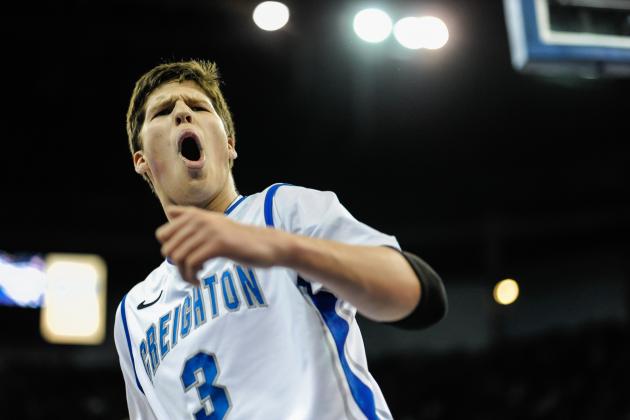 Eric Francis/Getty Images

When: Saturday, 6 p.m. ET
Where to Watch: ESPN
The marquee matchup of the BracketBusters showcase this weekend takes place at the McKeon Pavilion in Moraga, California.
Creighton (22-6, 11-5) have had a topsy turvy past few months that included a two-game and a three-game losing streak.
Since recovering from their three-game losing streak, the Bluejays have won two consecutive Missouri Valley Conference games before making the venture West to take on West Coast Conference powerhouse Saint Mary's (22-5, 11-2).
Despite their rocky play, the Bluejays are expected to make the NCAA Men's Basketball Tournament as an at-large team.
That can not be said for the Gaels, who are looking for a signature win to define their season.
Currently, the best win on the resume of the Gaels is their in-conference victory over BYU, which is a bubble team at best right now.
Defeating Creighton would do wonders for Randy Bennett's team and their NCAA Men's Basketball Tournament hopes.
It would be a crime if the star player for each team was not mentioned in this preview as Creighton boasts a National Player of the Year candidate in Doug McDermott while the Gaels possess one of the best shooters in the nation in Matthew Dellavedova.
This game should live up to all of the hype it has received, but Creighton should come out victorious when the final whistle is blown.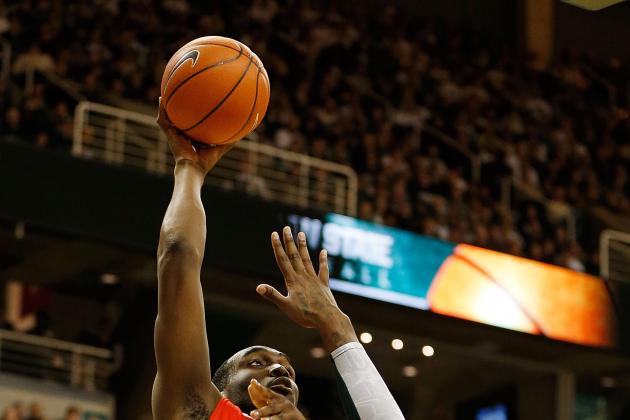 Gregory Shamus/Getty Images

When: Sunday, 4 p.m. ET
Where to Watch: CBS
After a heartbreaking loss at home to top-ranked Indiana on Tuesday, the Michigan State Spartans (22-5, 11-3) will have to rebound quickly as they visit Columbus on Sunday to take on the Ohio State Buckeyes (19-7, 9-5).
The Spartans still have an outside chance of winning the Big 10 regular season title, but that is being ruled out by many because of their brutal gauntlet of a schedule to end the season.
The trip to Columbus will mark the third time in four games that Tom Izzo's team will face ranked opposition.
The schedule does not get any easier with Michigan and Wisconsin up next on the schedule after Sunday's clash at the Value City Arena.
Thad Matta's Buckeyes fell to the Spartans by three points in East Lansing on January 19, and they will be looking to not only avenge that loss but break their four-game losing streak against ranked opposition.
The Buckeyes have won just one game against a ranked team this season, against Michigan at home on January 13.
Once again, guard Aaron Craft will be relied on to provide quality defense on an opposing guard; Keith Appling should be his foe on Sunday.
The play in the paint will also be critical as the Spartans duo of Adreian Payne and Derrick Nix have come alive as of late and they will provide quite the challenge for the Buckeyes' pair of Amir Williams and Evan Ravenel.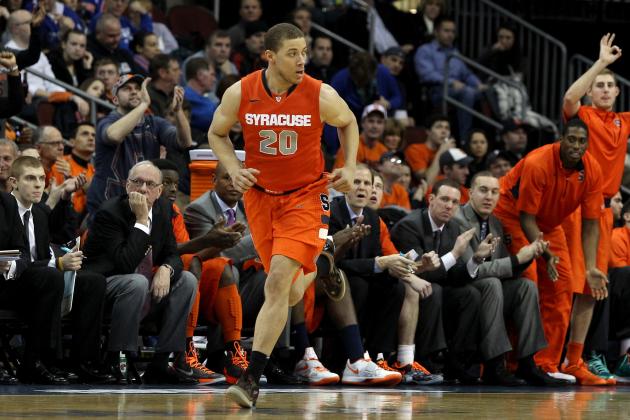 Chris Chambers/Getty Images

When: Saturday 4 p.m. ET
Where to Watch: CBS
The second-to-last regular season meeting in Big East play between Georgetown (20-4, 10-3) and Syracuse (22-4, 10-3) will take place at the Carrier Dome on Saturday afternoon.
There is plenty on the line in this game for both teams as both the Hoyas and Orange are fighting with Marquette for the Big East regular season title.
The Hoyas have put together an eight-game winning streak to pull themselves back into the title race.
Behind the strong play of Otto Porter and Markel Starks, John Thompson III's team are beginning to emerge as a darkhorse to do some damage in March.
Jim Boeheim's Orange are entering the stretch run of their final Big East season and the game against Georgetown begins a run of games against four ranked opponents.
The good news for Syracuse is that James Southerland is now back in the lineup and the weaknesses that they showed in the paint during his absence are now fixed.
For the Orange to come out victorious in a game that they need to win, senior guard Brandon Triche will have to step up and deliver yet another strong performance. He has scored over 20 points in six games this season.
What do you think is best game this weekend?
Comment below or leave me a comment on Twitter, @JTansey90.