WWE Managers: Are They with the Right Superstars? Second Edition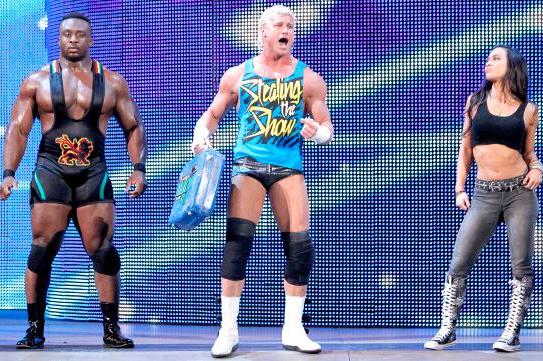 photo courtesy of wwe.com
The managers in WWE are utilized to help Superstars get over with the audience, add to the gimmick and character or just to give that person something to do.
However, one must ask: Is the manager with the right Superstar?
That is, do the manager and the Superstar fit in terms of characters, gimmicks and overall situation?
When I first began writing, I published an article asking the same question. Six months later, some managers have remained with the same Superstars, while others are not even with the company anymore.
Therefore, it is time to take another look at the current WWE managers and how well or poorly he or she fits with their current client. A better-fit Superstar is also suggested for each manager.
Begin Slideshow

»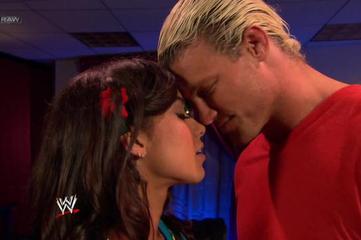 photo courtesy of wwe.com
In August of 2012, A.J. was the Raw general manager, but most recently she became the new manager for Dolph Ziggler.
A.J.'s crazy-chick gimmick is much more interesting as a heel. When she was flirting with then-babyface CM Punk or John Cena, she came off very corny and schoolgirl-like. Her character is much more evident as a heel.
How does her character fit with Dolph Ziggler?
Prior to getting together, Ziggler wore a shirt that stated he stole girlfriends. It was only a matter of time until he stole someone's girlfriend.
A.J. has helped Ziggler, as she is a much better fit than Vickie as Ziggler's manager. Ziggler also helped A.J., as now she can stay with one character and continue to build her heel persona.
Verdict: Ziggler and A.J. are a perfect fit to steal shows together!
Who would she fit as well or better with? The Miz or Cody Rhodes.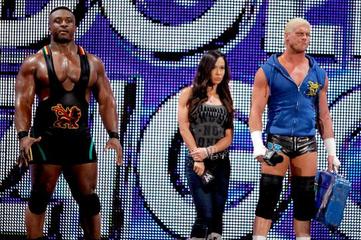 photo courtesy of wwe.com
Although he is not a manager technically, he is Ziggler and A.J.'s bodyguard and has yet to have an official match on the main roster, so he fits the category.
Langston has shown very little personality while on the main roster of WWE. He has pretended to be a journalist or interviewer at one point, but other than that he has mainly used actions to speak.
Because his character is mainly a monster heel who doesn't speak or have any matches, it is difficult to say who he fits with.
Langston has a tremendous amount of potential, but he needs to speak more and develop his character. Then again, he does do what bodyguards do, and that is protecting Ziggler and A.J.
Verdict: Not enough information…or character.
Who would he fit as well or better with? Alicia Fox.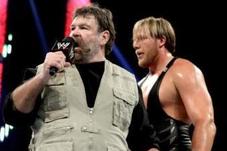 photo courtesy of wwe.com
Uncle Zeb has returned to WWE after a long hiatus to manage the "Real American" Jack Swagger. Colter has been an amazing fit for Swagger, as they act as Republicans who are getting real heat by hating on America.
Swagger's new character has changed only slightly, but the addition of Colter is exactly what Swagger needed to reach the next level of his career.
From his look to his mic work, Colter is a big part of why Swagger was able to win the Elimination Chamber match.
Swagger had a disappointing run as World Heavyweight Champion in 2010, but Uncle Zeb is helping Swagger make a good case for defeating Alberto Del Rio at WrestleMania 29.
Verdict: A perfect fit despite an imperfect America.
Who would he fit as well or better with? Antonio Cesaro.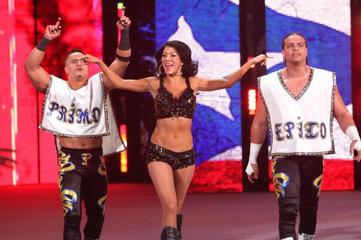 photo courtesy of wwe.com
At the time of the first edition of this series, Rosa Mendes was also managing Epico and Primo. Here we are six months later, and Rosa is still with the Colon cousins.
It was discussed then that Rosa had bounced around WWE before settling with Epico and Primo. She is still a good fit for the tag team, but I was somewhat intrigued by the notion of her managing Alberto Del Rio.
When Del Rio was still a heel, we witnessed a number of teases that Rosa and the Mexican Aristocrat would be getting together. It would have left Ricardo Rodriguez in an awkward place, but it also could have led to a Ted Dibiase and Virgil situation. Ricardo could have used the opportunity to break away from Del Rio if he was with Rosa Mendes.
Verdict: Epico and Primo? Sure. Alberto Del Rio? Would have helped her a lot.
Who would she fit as well or better with? Alberto Del Rio or Rey Mysterio and Sin Cara.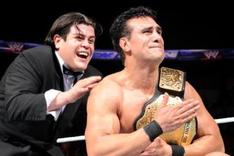 photo courtesy of wwe.com
Another manager who is still with the same Superstar as he was six months ago, Ricardo Rodriguez hasn't changed much. He now manages a top babyface in Alberto Del Rio.
This turned out to be a great move for Ricardo and Del Rio.
Originally, Del Rio was a rich Mexican Aristocrat and Ricardo was his personal ring announcer, manager and even butler. Now, Ricardo is more viewed as Del Rio's best friend in addition to personal ring announcer and manager.
When Del Rio turned face at WWE TLC 2012 and began to push the idea that he and Ricardo were best friends, I was thinking they would be a tag team in the up-and-coming division in WWE. Instead, Del Rio was pushed even further, becoming the new World Heavyweight Champion.
Verdict: Si! Si! Si!
Who would he fit as well or better with? Rey Mysterio and Sin Cara.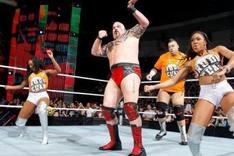 photo courtesy of wwe.com
The final managers or valets on this list that were with the same Superstar are Naomi and Cameron, Brodus Clay's Funkadactyls.
The one big difference between six months ago and now is that Tensai, or Sweet T, has joined the group. This addition could lead to a tag-team title reign for the dancing disasters.
Either way, Naomi and Cameron have begun wrestling on WWE TV and even on pay-per-view when Naomi earned a Divas title match.
It is great to see the Funkadactyls utilized more as wrestlers in addition to just dancers for Clay and Tensai. It opens the door for mixed tag-team matches and perhaps an eventual Divas title run.
They continue to provide more entertainment and eye candy for all WWE fans.
Verdict: Somebody call their mamas! Yes!
Who would they fit as well or better with? Fandango or 3MB.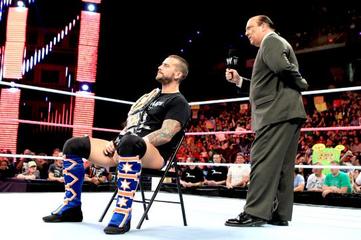 photo courtesy of wwe.com
Ladies and gentlemen, his name is Paul Heyman, and he is arguably the best talker in the WWE. After his client Brock Lesnar temporarily quit the company, Heyman joined forces with an old friend in CM Punk.
Although they are both amazing talkers and talents, Punk never really needed Paul Heyman. That doesn't necessarily make him a poor fit, though. They are both great heels who speak their mind and garner heat from berating the company.
Paul Heyman is much better served with Brock Lesnar or another Superstar who struggles on the mic and has difficulty speaking.
Verdict: Unnecessary, but does fit well.
Who else would he fit as well or better with? Brock Lesnar, Great Khali or Mason Ryan.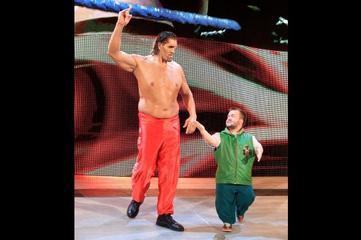 photo courtesy of wwe.com
Hornswoggle is best known for being the "manager" and eventually recognized as the son of Fit Finlay. However, now one can find Hornswoggle in the corner of the Great Khali.
Could these two Superstars be any different?
One is a giant from India, while the other is an Irish midget.
The only way Hornswoggle and the Great Khali fit together is that they are both comedic Superstars that WWE uses to entertain the children.
While listening to Colt Cabana's Art of Wrestling recently, Cabana spoke with Hornswoggle about this. One discussion they had involved how Hornswoggle is loved by the children, but not so much the adult audience.
All of Great Khali's previous managers and associates made more sense than Hornswoggle and his lady.
Verdict: No! No! No!
Who would he fit as well or better with? Sheamus or Santino Marella.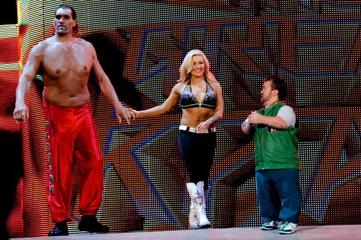 photo courtesy of wwe.com
Speaking of Great Khali's lady, the final manager on this list that may or may not be with the right Superstar is Natalya. The daughter of Jim "The Anvil" Neidhart has seen her career go from the Hart Dynasty to Divas champion to farting to Great Khali's manager.
That is pretty sad.
The sadder thing here is that Natalya's character does not fit well at all with the Punjabi giant. Natalya should be wrestling more, but that is an argument that goes beyond just Natalya. She suffers from being in WWE where the Divas Division gets as much focus as the onions the waiter gives you with your hamburger.
It's unfortunate that the Hart Dynasty didn't work out, but one of those Superstars is still employed by WWE.
Verdict: She is the best there is, the best there was and the best there ever will be…and he's not.
Who would she fit as well or better with? Tyson Kidd.
What do you think of the current WWE managers? Are they with the right Superstars? Who would he or she fit better with? Please leave your suggestions, ideas and thoughts in the comment section below.
Follow me on Twitter (@sethgutt) and check out my site guttwrenchpowerblog.com.
You can like GWP on Facebook here.