Predicting the MVP of Each MLB Team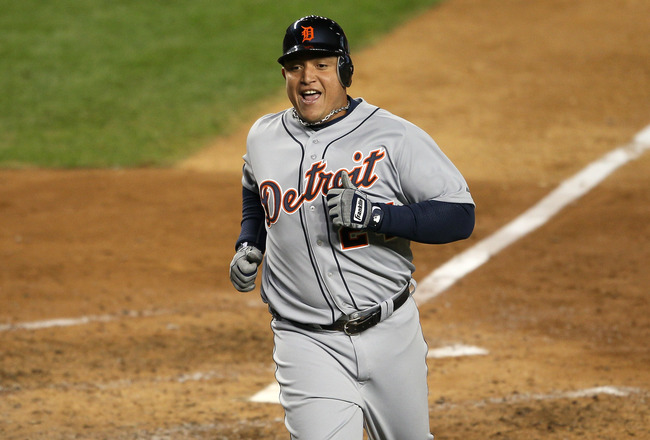 Alex Trautwig/Getty Images
With the return of spring training, many teams will be vying to win the World Series. In order to achieve that goal, every team needs at least one player that sets himself above the rest for the course of an entire season.
This player is sometimes easy to spot. He is either well-known, well-paid or statistically just the best on his team.
But some teams have a slew of the best talent in the majors, and it is unclear at first who will step up the most.
Nevertheless, here are my predictions for the MVP of all 30 teams, in alphabetical order:
Arizona Diamondbacks: Jason Kubel, OF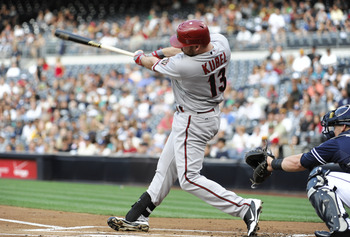 Kubel has top-level power and should easily hit 30 home runs this season.
Denis Poroy/Getty Images
Jason Kubel had a monstrous 2012 season. He will improve on the .253 average, which is unusually low for him.
But Kubel has raw power. He hit 30 home runs to go along with 30 doubles and 90 RBI. The Diamondbacks do not have much other raw talent. After a 20-win season in 2011, Ian Kennedy descended to mediocrity in 2012.
The Diamondbacks have other decent pitching, but no one comes close to the level of play Kubel can achieve.
Thus, Kubel will be the best player on this young Diamondbacks squad.
Atlanta Braves: Craig Kimbrel, CL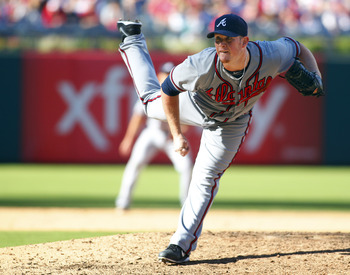 Kimbrel is one of the best closers in the game and allowed only seven earned runs in all of 2012.
Rich Schultz/Getty Images
The Braves added serious firepower this offseason, primarily with the talented Upton brothers in the outfield. The Uptons are good players, but Craig Kimbrel is the best closer in the game.
In 62.2 innings, Kimbrel posted an absurd 1.01 ERA with 42 saves, 27 hits and only three home runs allowed. Kimbrel had an amazing 116 strikeouts compared to 14 walks, which is also roughly two strikeouts per inning. With a .126 BAA and 0.65 WHIP, it is no surprise he finished fifth in NL Cy Young voting in 2012.
This Braves lineup may have a number of talented players entering their prime, but Kimbrel allowed seven earned runs over the entire season, and he will be the MVP of this team.
Baltimore Orioles: Adam Jones, OF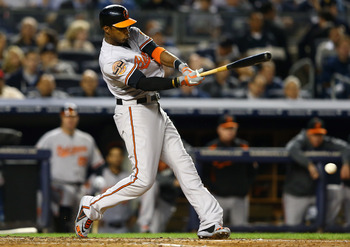 Jones is a five-tool player and is playing in the prime of his career.
Al Bello/Getty Images
Manny Machado surprised everyone with his emergence last postseason, but Adam Jones is a five-tool player.
Playing in every single game, Jones had a career year. He finished hitting .287 with 39 doubles, 32 home runs, 82 RBI, 102 runs and 16 stolen bases. All of this while playing solid defense in center field. He had a bit of slump last season and should finish with even better numbers in 2013.
It will be interesting to see if the Orioles can repeat the magical run of last season, but regardless of what happens, the 27-year-old Jones is in his prime and will be the best player on this team.
Boston Red Sox: Dustin Pedroia, 2B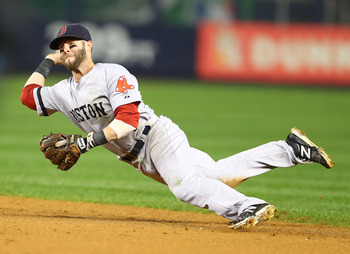 Pedroia is scrappy and indispensable to the Red Sox's success.
Al Bello/Getty Images
The 2008 AL MVP, Pedroia is the best remaining player after the Red Sox cleared house during an abysmal 93-loss season.
The rest of the team still has serious talent, and if Jacoby Ellsbury can return to his 2011 form before a shoulder injury in 2012, he is in fact the best player on this team. But Ellsbury struggled after coming back from the injury, and it is possible he will never be the same.
Pedroia doesn't strike out much, has decent speed, hits for average and has respectable power. He is still young at only 29, and will have a superb all-around season.
Chicago Cubs: Alfonso Soriano, OF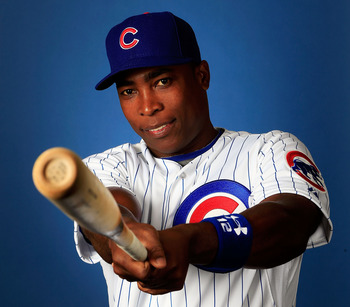 Soriano may be 37, but he is still the best player on this Cubs team by far.
Jamie Squire/Getty Images
Assuming Alfonso Soriano does not get traded for young prospects, he is far and away the best player on this team.
And what many people don't realize is that Soriano had statistically one of his best seasons in 2012.
Soriano had 108 RBI in 2012 playing on a horrible Cubs team. He managed to do this despite having 304 of his 561 at-bats with no one on base. And even though Soriano had a .262 average, when people were on base, he delivered; Soriano hit .300 with runners on, and .283 with runners in scoring position. He also played the best defense of his career in left field.
He just turned 37 and is not getting any younger, but Soriano managed to hit 32 home runs and should show off equal power this season on an inexperienced Cubs team.
Chicago White Sox: Paul Konerko, 1B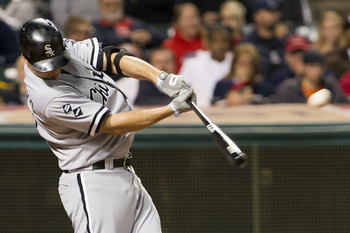 A concussion severely affected Konerko's 2012 numbers, which should return to form in 2013.
Jason Miller/Getty Images
Paul Konerko just doesn't know how to get old.
Even though he turns 37 in March, he has seen his batting average skyrocket the last four seasons, all while maintaining his health and power numbers. Konerko did take a slight dip, though, in 2012. He hit .298, but also had only 22 doubles, 26 home runs and 75 RBI after suffering an ugly concussion mid-season.
Another candidate, however, is Chris Sale.
Sale is a bona fide ace. In 2012, he went 17-6 with a 3.05 ERA and 192 strikeouts in 192.0 innings. Nearing 24 years old, he should even improve on those numbers.
But I envision a healthy and hungry Konerko having a resurgent 2013 season. In both the 2010 and 2011 season, Konerko hit at least .300 with 30 home runs and 100 RBI.
Now that he is concussion-free, expect Konerko to approach those numbers again in 2013.
Cincinnati Reds: Joey Votto, 1B
Votto is one of the best first basemen in baseball, and he will show why with a healthy, productive 2013 season.
Rich Pilling/Getty Images
The Reds are stacked with hitting and pitching talent, including the most dominating pitcher in the league, Aroldis Chapman. But Joey Votto will be the MVP of this team, and an MVP candidate for the National League.
Despite missing over 50 games last season, Votto hit .337 with a ridiculous 44 doubles, tied for second in the league. He also had 14 home runs and 56 RBI. But most impressively, he had a .474 on-base percentage and 1.041 OPS. At only 29, he could play this well for years to come.
Votto will be back with a vengeance this season, and expect that kind of production over a 162-game season.
Cleveland Indians: Asdrubal Cabrera, SS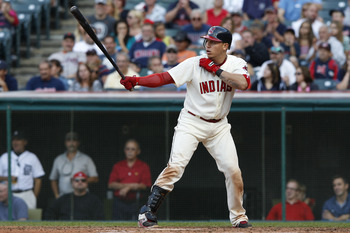 Cabrera has a lot of power for a shortstop, and he will establish himself right away on a revamped Indians team.
David Maxwell/Getty Images
Asdrubal Cabrera is one of the best offensive shortstops in baseball. Defensively, he makes incredible plays but can frustratingly mess up on the routine plays.
Nonetheless, Cabrera will bounce back in 2013 after a slight dip in 2012.
In 2012, Cabrera hit .270 with 35 doubles, 16 home runs and 68 RBI. By comparison, the 2011 Cabrera hit .273 with 32 doubles, 25 home runs, 92 RBI and even 17 stolen bases. Cabrera is only 27 years old and will be entering the prime of his career.
With the Indians spending big this offseason for a more competitive team, expect a motivated and healthy Cabrera to put up the numbers he did in 2011.
Colorado Rockies: Troy Tulowitzki, SS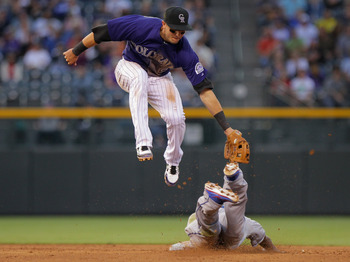 Before 2012, Tulowitzki averaged almost 30 home runs and 100 RBI the previous three seasons, numbers he should achieve with a healthy 2013.
Doug Pensinger/Getty Images
After missing almost four months last season with a groin injury, Tulowitzki will have a superb 2013 season.
The Rockies are not short of talent, most notably Carlos Gonzalez.
But Gonzalez is a terrible hitter outside of the altitude of Colorado, and Tulowitzki is a much better player all-around. In 2011, Tulowitzki made the All-Star team and hit .302 with 36 doubles, 30 home runs and 105 RBI. After that year's All-Star break, he hit .356 with 18 doubles and 13 home runs.
Now that he is healthy, Tulo will produce those kinds of numbers again and carry the load on this team.
Detroit Tigers: Miguel Cabrera, 3B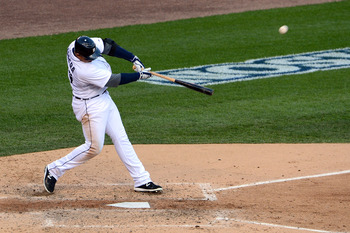 Cabrera has been a dominant hitter for almost a decade, and there's no telling when he will stop.
Jason Miller/Getty Images
Hard to choose against Miguel Cabrera, last year's Triple Crown winner and AL MVP.
Cabrera has some serious competition on his team in the form of slugger Prince Fielder and ace Justin Verlander. Verlander is arguably the best starter in baseball. Another name to consider is the returning Victor Martinez, who missed all of 2012 with injury.
But Cabrera's stats are eye-opening in 2012, as he hit .330 with a .606 slugging percentage, 205 hits, 40 doubles, 44 home runs, 139 RBI and 109 runs.
Cabrera is still the best player on this team, and he will likely be the MVP of this team, as well as a repeat candidate for MVP.
Houston Astros: Jose Altuve, 2B
Altuve does not even need to match last year's production to be the MVP of this team.
Bob Levey/Getty Images
Jose Altuve was the only All-Star on this Astros team last season.
On the season, Altuve hit .290 with 34 doubles, four triples, seven home runs and 33 stolen bases. Altuve also only struck out 74 times in 576 at-bats, and he should be just as productive this season. But the bite-sized second baseman doesn't even need to match that production to be the best on his team.
This young Astros team could approach 100 losses in 2013, and Altuve is far and away the MVP of this team.
Kansas City Royals: Billy Butler, DH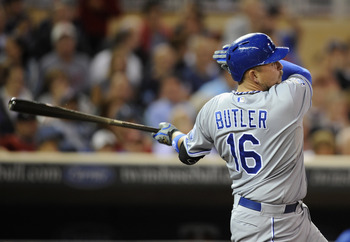 Butler is only 26, but he is already one of the most consistent all-around hitters in baseball.
Hannah Foslien/Getty Images
The Royals have a young and underrated team, but Billy Butler is the star.
They acquired an ace this offseason in James Shields, but the 26-year-old Butler is still the best weapon this team has. In 2012, he batted .313 with 32 doubles, 29 home runs and 107 RBI.
He reached 100 RBI despite a poor Royals offense. The 32 doubles is also about 15 doubles fewer than his average.
Butler is about to play the best baseball of his career in the next few years, and there is no doubt that he will be the MVP of this team in 2013.
Los Angeles Angels of Anaheim: Albert Pujols, 1B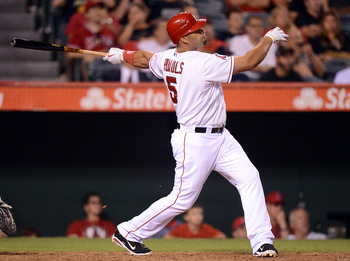 Pujols found his groove mid-2012, and he will continue that form all the way through an MVP-caliber 2013.
Harry How/Getty Images
The Angels have a downright silly amount of top-level talent, but Albert Pujols will set himself apart.
Pujols struggled to adapt to a huge market, huge contract, and huge expectations last season. Despite the horrific start, he still finished last season hitting .285 with 30 home runs and 105 RBI. Pujols also finished second in the league with 50 doubles.
The Angels signed Josh Hamilton this offseason to add to their firepower, and he is a viable MVP candidate as well.
But Pujols is one of the best ever to play the game. He will catch fire early this season and never look back.
Los Angeles Dodgers: Clayton Kershaw, SP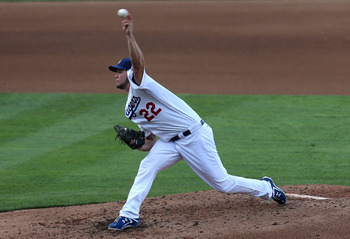 Kershaw's funky delivery has worked magically, as he sports a career 2.79 ERA.
Stephen Dunn/Getty Images
The Dodgers have a bevy of talent, but Clayton Kershaw will be the MVP of the team this season.
The 2011 Cy Young winner and 2012 runner-up, Kershaw is an elite pitcher and will only produce similar numbers this season.
His record was only 14-9 for an underachieving Dodgers team, but Kershaw also had a 2.53 ERA, 1.02 WHIP, and 229 strikeouts in 227.2 innings.
If Matt Kemp can stay healthy, he is one of the best hitters in the league. He can hit for both average and power and even steal bases. Another wild card to consider is Hanley Ramirez. He thrives under personable managers, and Don Mattingly fits that bill perfectly.
Other intriguing names include the consistent Adrian Gonzalez and the newly signed ace Zack Greinke.
But Kershaw is an early Cy Young candidate for 2013, and he will be the MVP of this deep, talented team.
Miami Marlins: Giancarlo Stanton, OF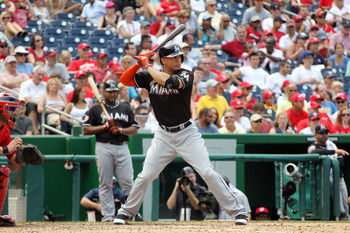 Stanton has incredible raw power, and he is the only reputable player left on this Marlins squad.
Ned Dishman/Getty Images
After imploding in the 2012 season, the Marlins sold nearly everyone this offseason.
That is, everyone except star slugger Giancarlo Stanton.
The Marlins have a number of promising prospects in the farm system after the trades, but none of them are ready to make serious impacts right away in the majors.
Stanton is a major asset, though. At 23, he already has had three full seasons and close to 100 career home runs. In 2012, he hit .290 with 37 home runs.
He has as much raw power as any slugger in baseball, as evidenced by his .608 slugging percentage in 2012. His young age makes him the most desirable trade bait in the league.
Assuming the Marlins don't trade Stanton sometime during the season, he is the only player on this team who will produce significant numbers.
Milwaukee Brewers: Ryan Braun, OF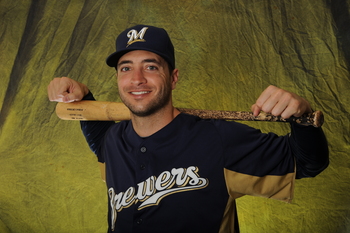 Braun is the best all-around player in the league, and he is still only 29.
Rich Pilling/Getty Images
The 2011 MVP and 2012 runner-up, Ryan Braun is the best player on this Brewers team.
He has won five straight Silver Slugger awards, as well as making five straight All-Star teams.
Last season, the do-it-all Braun hit .319 with a league-leading 108 runs, 36 doubles, league-leading 41 home runs, 112 RBI and 30 stolen bases. Braun led the league in OPS for a second straight season at .987.
He will be an NL MVP candidate, as well as the easy choice for MVP of the Brewers this season.
Minnesota Twins: Joe Mauer, C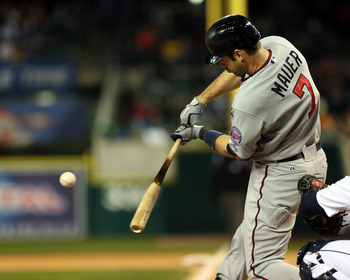 Mauer has been the best Twins player for years, and this trend won't stop in 2013.
Dave Reginek/Getty Images
Joe Mauer is one of the most consistent all-around catchers in baseball.
The 2009 AL MVP, Mauer hit .319 last season with 31 doubles, 10 home runs and 85 RBI. Mauer did have a career-high 88 strikeouts, though. But Mauer is the best player on this team, as longtime teammate Justin Morneau is on the decline.
Although catchers do not age well, Mauer is 29 and still playing superb baseball. Josh Willingham may have gotten over 30 home runs last season, but Mauer will prove indispensable over this season.
New York Mets: David Wright, 3B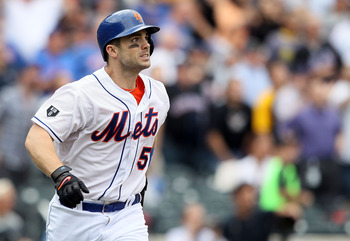 The Mets live and die by Wright, and it's no coincidence the team had a second-half collapse when Wright struggled.
Alex Trautwig/Getty Images
David Wright is the face of the Mets franchise.
This culminated in the eight-year, $138 million extension he received this offseason.
The Mets had a fairly busy offseason. Aside from the extension, they also traded Cy Young winner R.A. Dickey for a package that included prized catching prospect Travis d'Arnaud.
Two candidates to watch on this team are Matt Harvey and Ike Davis.
Harvey was electric in his brief call-up last season and should become one of the top power pitchers in baseball.
Davis is fully recovered from Valley Fever he suffered before last season. Despite the draining sickness, Davis managed to hit 32 home runs and 90 RBI, and could eclipse those numbers this year.
But Wright will eclipse these names. Despite a poor second half, he finished 2012 hitting .306 with 41 doubles, 21 home runs, 93 RBI and 15 stolen bases. In the first half, Wright hit .351 with 106 hits, 27 doubles, 11 home runs and 59 RBI.
Wright is the most consistent player on this team, and he will be the MVP of the Mets for years to come.
New York Yankees: Robinson Cano, 2B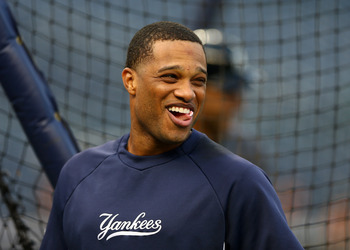 Cano is the best player on this aging Yankees squad, and he will shine during a contract year.
Elsa/Getty Images
Robinson Cano is the best offensive second baseman in baseball.
In 2012, Cano hit .313 with 48 doubles, 33 home runs, 94 RBI and 105 runs while garnering almost 200 hits. He also had a career-high 61 walks, and has yet to strike out more than 96 times in a season.
Were it not for the unfathomable seasons Mike Trout and Miguel Cabrera had, Cano's middle-infield partner Derek Jeter would have gotten serious MVP interest. But Jeter is still recovering from a serious ankle injury, and his age has to catch up to him at some point.
Cano will play his heart out in a contract year. He will be the MVP of this Yankees team and play himself into a potentially nine-figure contract next offseason.
Oakland Athletics: Yoenis Cespedes, OF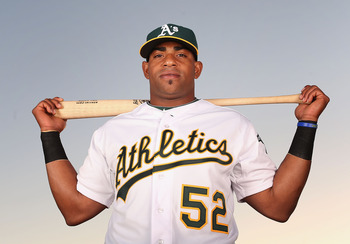 Cespedes has the ability to hit for average and power, as well as the speed to be a threat offensively and defensively.
Christian Petersen/Getty Images
Billy Beane and the Oakland Athletics have been hugely successful with Beane's Moneyball strategy. The strategy is essentially to get players on-base and throw strikes, giving the team a better chance to win (for a very cheap price).
Although the strategy does not usually produce the flashiest players, Yoenis Cespedes is an all-around star in the making.
In his first season in America, the 27-year-old hit .292 with 25 doubles, five triples, 23 home runs, 82 RBI and 16 stolen bases. Cespedes also fits in well with Beane's strategy, as he had a .356 on-base percentage.
Cespedes solidifies the middle of the lineup for the Athletics, who surprised everyone last season. He will be the best player on this team and produce similar numbers in 2013.
Philadelphia Phillies: Cole Hamels, SP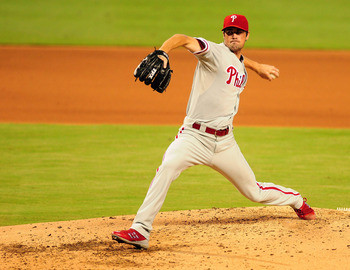 Despite the many big names on this aging staff, the 29-year-old Hamels is the rightful ace of the Phillies.
Jason Arnold/Getty Images
Age is quickly becoming a severe problem for the Phillies. But the 29-year-old Hamels is pitching the best baseball of his career.
In 2012, Hamels finished 10th in the NL Cy Young voting. He was 17-6 with a 3.05 ERA, 1.12 WHIP and 216 strikeouts in 215.1 innings. He also only allowed 52 walks and a .237 BAA.
Hamels is still pitching in the prime of his career, which is a scary thing to consider for opposing batters this season.
Many of the aging stars on the Phillies played through very serious injuries in 2012, and their production will fade this year even more.
Hamels will be the best player on this team in 2013.
Pittsburgh Pirates: Andrew McCutchen, OF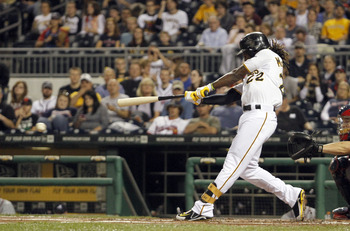 McCutchen's quick bat led to a breakout 2012 year, and he will prove in 2013 that was no fluke.
Justin K. Aller/Getty Images
The Pirates are also a rather young team, but the 26-year-old McCutchen is another five-tool player.
McCutchen's production dipped drastically in the second half of 2011. In 2012, his production dropped slightly but only because his first-half stats were that good. In the end, McCutchen hit .327 with 194 hits, 29 doubles, six triples, 31 home runs, 96 RBI and 20 stolen bases.
His power numbers faded over the course of the season, but his value is second to none. He is without a doubt the best player on this team, and the scary part is he still has better days ahead.
San Diego Padres: Chase Headley, 3B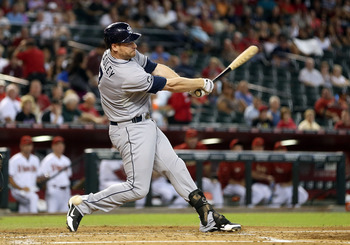 The switch-hitting Headley struggled to a .257 average and 11 home runs as a righty, but he will still put up huge numbers for a poor Padres team.
Christian Petersen/Getty Images
Although the Padres are looking at a possible 100-loss season, Headley is quietly one of the best third basemen in baseball.
After a pedestrian first half of the season, Headley was a new man. For the second half, he hit .308 with a ludicrous 23 home runs and 73 RBI.
His end-of-year stats were a .286 average with 31 home runs and 115 RBI. After Aug. 1, Headley hit .318 with 19 home runs and 63 RBI.
Not only has Headley established himself as the clear best player on the Padres, but he may even be an MVP threat with that type of offensive production over an entire season.
Headley is one of the only credible players on this team and an easy choice for the MVP of the Padres.
San Francisco Giants: Buster Posey, C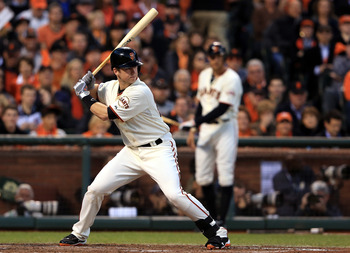 The 25-year-old Posey will continue his resurgent 2012 form into 2013 and beyond.
Doug Pensinger/Getty Images
Last year's NL MVP is a pretty good choice for the team's MVP this year.
Buster Posey returned admirably from an ugly leg injury two years ago. But his offensive production was unimaginable; Posey finished 2012 hitting .336 with 39 doubles, 24 home runs and 103 RBI. He also hit an unreal .385 after the All-Star break with 23 doubles, 14 home runs and 60 RBI.
Those offensive numbers are unheard of for a catcher.
The World Series champions still have the core of last year's team intact, including Pablo Sandoval and Matt Cain.
But Posey reigns above all of them and will again be the MVP of this Giants team in 2013.
Seattle Mariners: Felix Hernandez, SP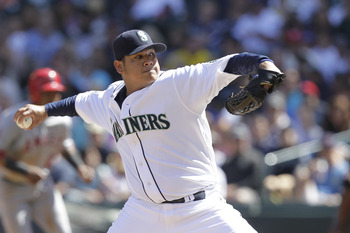 King Felix signed a monstrous extension this offseason, and he will be the best player on this team for a long time.
Stephen Brashear/Getty Images
The Seattle Mariners were buyers this offseason, with the most significant expenditure being a seven-year, $175 million extension to ace pitcher Felix Hernandez.
Hernandez has pitched a lot for only a 26-year-old, but if he can keep up his production, he is well worth that huge contract.
Hernandez went 13-9 with a 3.06 ERA and 1.14 WHIP last season. This includes 223 strikeouts in 232 innings, as well as five shutouts. One of those shutouts was a perfect game. He also allowed only 14 home runs and 56 walks in those innings.
Although the Mariners acquired decent talent this offseason, Hernandez is the most dominant player on this team. If the Mariners can produce better offensively, Hernandez will get more run support and a better record, in turn becoming a Cy Young candidate this year.
Hernandez is another easy choice for his team's MVP.
St. Louis Cardinals: Matt Holliday, OF
Holliday has put up consistent numbers for nearly a decade, and that run will continue through 2013.
Ezra Shaw/Getty Images
Despite his advancing age, Matt Holliday will be the MVP of the Cardinals this year.
Holliday has maintained consistent production throughout his career, and last season was no different. In 2012, he hit .295 with 36 doubles, 27 home runs, 102 RBI and 95 runs scored. Considering his season averages are roughly 25 home runs and 97 RBI, Holliday is still producing at a high rate.
The Cardinals have talent, though, as evidenced by their deep postseason run.
The most likely other candidates for MVP of this team are ace Adam Wainwright, or sluggers Allen Craig, Yadier Molina, Carlos Beltran and David Freese.
But all five have holes in their games, and in the end, Holliday will show why he has been such a great player for almost a decade.
Tampa Bay Rays: David Price, SP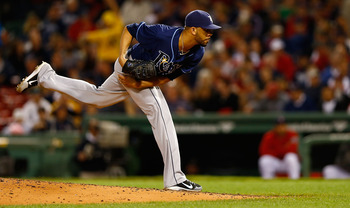 The hard-throwing Price is the best remaining player on the Rays, and he will be MVP of any team he is on.
Jared Wickerham/Getty Images
The Rays lost a lot of key players this offseason, but most importantly retained star pitcher David Price.
The 27-year-old just edged Justin Verlander for AL Cy Young last season. Price went 20-5 with a 2.56 ERA, 1.10 WHIP, 205 strikeouts and 59 walks in 211.0 innings. Price was even better after the All-Star break, going 9-1 with a 2.27 ERA and 100 strikeouts in 99.1 innings.
The Rays do still have a good core of talent, most notably in Evan Longoria. He has gone through injuries and declining production recently, but at 27 he is more than capable of a great year.
But Price is simply too good, and he will quickly establish himself as the MVP of this team.
Texas Rangers: Adrian Beltre, 3B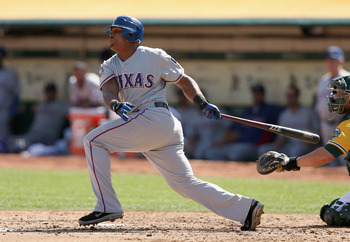 Beltre is finally honing the offensive potential he has shown on-and-off for years.
Ezra Shaw/Getty Images
Adrian Beltre has had an up-and-down career, but at almost 34, he has finally strung together a few impact seasons.
The Rangers will be hurt with the departure of Josh Hamilton, who likely would have been the most productive player on the Rangers this season.
But Beltre has solidified himself as an offensive menace. Last season, he hit .321 with 194 hits, 33 doubles, 36 home runs and 102 RBI. Beltre's 36 home runs are the most since his other-worldly 48-home-run season in 2004. His .920 OPS is also second-highest in his career to the 2004 season.
The Rangers preserved a number of key stars, as well as a deep pitching staff, but Beltre will keep up his offensive production and be the MVP of this team.
Toronto Blue Jays: Jose Bautista, OF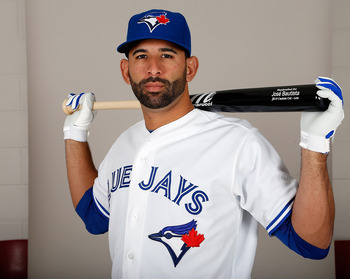 Bautista is healthy again and ready to hit his customary 40 tape-measure home runs in 2013.
J. Meric/Getty Images
The Blue Jays pulled off two blockbuster trades for a handful of excellent star players, but no one will benefit more than a player who was already on the team, Jose Bautista.
A batter's power comes primarily from his hips and quick wrists. Despite playing through a crippling wrist injury, Bautista finished 2012 with 27 home runs in 332 at-bats. With a healthy wrist, Bautista should approach his normal numbers of 40-50 home runs with well over 500 at-bats.
In addition, Bautista benefits greatly from the acquisition of top-of-the-lineup players such as Jose Reyes and Melky Cabrera. Their addition to the lineup will only serve to increase Bautista's RBI total even more.
R.A. Dickey, another prize acquisition, won the Cy Young last season, but he must adjust his knuckleball to the indoor confines of Rogers Indoor Centre.
In the end, the battle for Blue Jays' MVP comes down to their two biggest sluggers, Bautista and Edwin Encarnacion.
A healthy Bautista should win that battle. Expect his name at the top of many offensive categories by the end of 2013.
Washington Nationals: Stephen Strasburg, SP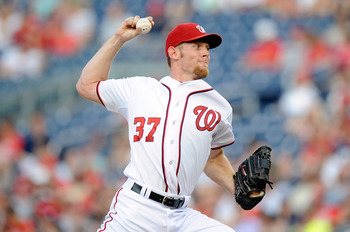 Strasburg will have a chip on his shoulder in 2013, after openly griping about being shut down in 2012.
Greg Fiume/Getty Images
The Nationals are another team with an unfair amount of star talent, but Stephen Strasburg's name rises above the rest.
But some of the players who could feasibly be MVP of the Nationals include Gio Gonzalez, Ryan Zimmerman, Adam LaRoche, Dan Haren, Rafael Soriano, or even Bryce Harper.
Harper had a statistically good rookie year, but he showed off his über-talent in the last month of the season, hitting .330 with 35 hits, 17 extra-base hits, seven home runs, 14 RBI and four stolen bases. Harper is a good dark-horse candidate.
But Strasburg, now without an innings limit, will thrive in 2013.
In only 159.1 innings, Strasburg still managed to a post a 15-6 record with a 3.16 ERA, 1.15 WHIP and 197 strikeouts. Strasburg also made the All-Star team, finishing the first half at 9-4 with a 2.28 ERA and 128 strikeouts in 99.0 innings.
The Nationals are World Series contenders with the power pitching and deep lineup they boast. But Strasburg may be the only 24-year-old in baseball where Hall of Fame talk is not too early and out of the question.
Quite simply, he is that good. He will come back hungry after being openly upset over last year's innings limit.
Keep Reading