The Most Head-Scratching 40-Yard Dashes in NFL Scouting Combine History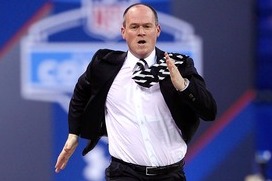 nfl.com
The 40-yard dash is always one of the most anticipated events of the NFL draft process. It allows prospects to showcase their speed and potentially raise their draft stock.
However, sometimes we're left a bit bewildered in the aftermath.
This article shows the most head-scratching 40-yard dashes in recent history, some of which were actually impressive.
Begin Slideshow

»
Rich Eisen running the 40-yard dash has become somewhat of a tradition at the NFL Scouting Combine. While it's a running joke, Eisen has put effort into improving his technique and performance. He deserves a lot of credit for even allowing the world to see his running attempt.
The best part about this is when the NFL Network shows a graphic comparing Eisen's run with the top performers of the weekend. This really gives a great example of the type of speed these athletes possess.
Those in the media and fans easily throw out numbers like a 4.5 40-time and relate that to a disappointing performance. However, most people in the world would have an extremely tough time breaking the five-second mark.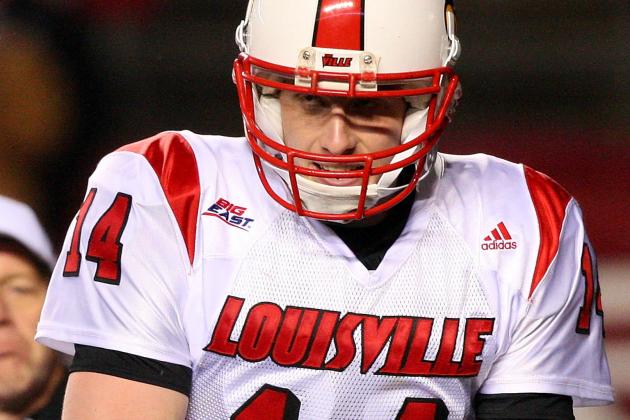 Jim McIsaac/Getty Images

Until the past few years, quarterbacks haven't been seen or evaluated based on their quickness. Teams typically looked for someone with just enough speed to move in the pocket and avoid a few sacks. However, Hunter Cantwell's performance in the 40-yard dash was a real disappointment.
His 40 time of 5.22 seconds was the worst by any player outside of a lineman during the 2009 combine. Other factors absolutely played a role, but there's little doubt his poor performance in this event helped lead to Cantwell going undrafted.
With the increasing focus on more athletic quarterbacks, this year's quarterback class needs to ensure each player runs a respectable 40-yard dash.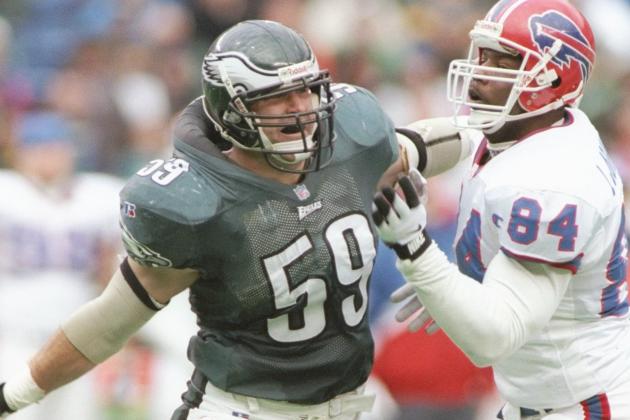 Rick Stewart/Getty Images

Mike Mamula is patient zero for why NFL teams shouldn't put too much stock into a player's performance at the combine. The Philadelphia Eagles made the mistake of falling in love with his workout numbers rather than what he showed on the field.
Mamula's 4.62 40-time was one of the main reasons the Eagles made him the No. 7 pick in the 1995 draft.
The reason this is notabe is because Mamula never lived up to expectations.
It's even uglier when you think that plenty of teams have repeated the Eagles' mistake over the years. Players like Troy Williamson and Darrius Heyward-Bey were both over-drafted based on their fast 40-yard dash.
For most prospects, the 40-yard dash is one of the most important aspects of the draft process. A poor time could result in a drop in draft position, and a great time could spark a rise. Vick Ballard felt the pressure like all prospects, and it probably played a role in this embarrassing moment.
He's lucky he didn't hurt himself and was able to continue his workouts.Taking a nose dive like this could lead to all types of injuries.
Ballard rebounded from his fall by posting a 4.65 second 40-time. This isn't an overly impressive number, and I'm sure his fall had a part in that time.
Dontari Poe's impressive 40-yard dash sparked a ton of media attention. It's a rare sight to see someone of his size showing that type of quickness. This performance helped Poe quickly move up draft boards to the point where he landed with the Kansas City Chiefs at pick No. 11.
It's hard to wrap my head around Poe's combination of size and speed.
However, this appears to be a growing trend. NFL players continue to get bigger, faster and stronger each year.