Arsenal: What Positives Can Supporters Take from This Season?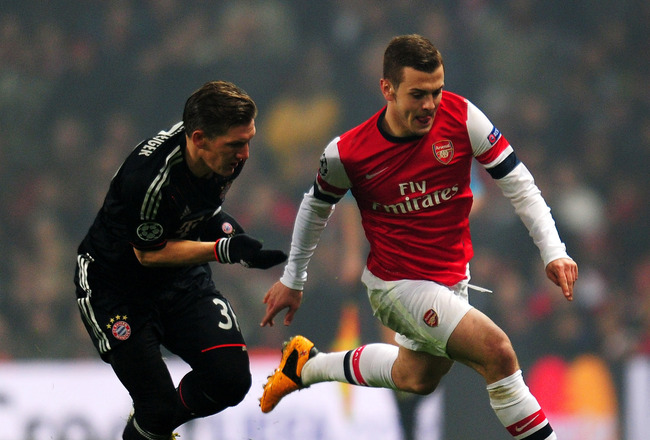 Shaun Botterill/Getty Images
Another season, another round of disappointment served promptly to the Arsenal table.
By now the fans are used to it and can only hope for better fortunes the following season. With clamours for Arsene Wenger to resign at an all-time high and a remarkable amount of questions over the calibre of the playing squad, what positives can we source from the 2012-13 season?
Read on for a little bit of optimism.
Arsene Wenger Knows It's a Problem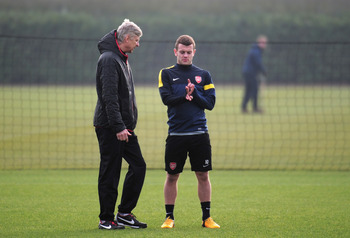 Shaun Botterill/Getty Images
Despite obvious problems and issues, it never seemed like Arsene Wenger was aware everything at Arsenal was far from ship-shape.
He coasted along, professing his methods, assuring he was doing all he could and asserting his belief that he had a very strong squad.
The meltdown in the press conference before the Bayern Munich game could well be a turning point. Here's the full transcript of events (via the Daily Mail), and it's clear to see the Frenchman is feeling the pressure.
But that's a good thing.
Wenger knows he needs to restore some glory and is finally showing humanistic signs of realism. After being comprehensively beaten by German giants Bayern Munich, it's fair to say Wenger's information gun will be loaded during the next meeting with the board.
Acknowledging the problem is the first step.
Jack Wilshere
Shaun Botterill/Getty Images
One undeniable positive from this season has been the return of Jack Wilshere.
Not only did he return to fitness and join the squad, he also took a starring role within weeks of setting foot on the pitch and started his first game for England against the illustrious Brazil.
The 21-year-old has picked up right where he left off in developing with each and every game, putting his club on his back and carrying them forward during tough times.
He gives the fans hope, and it's a bonus that he's unlikely to leave.
A Summer of Change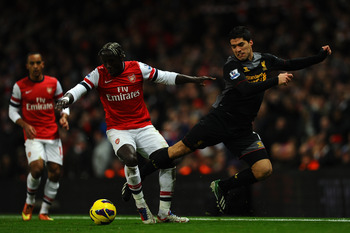 Laurence Griffiths/Getty Images
Every summer is a big summer for Arsenal, but the Gunners stand at least five players away from being a world-class force, and certain events this season will force Arsene Wenger to act.
The meltdown (slide one) shows he's aware of his side's shortcomings, and some contractual issues this year may see Arsenal hit the transfer headlines more often than not.
Bacary Sagna will enter his final 12 months at the start of next season. He's 30, he's had two leg breaks and he is, quite frankly, a shadow of the shutdown right-back he once was.
Arsenal won't run the Theo Walcott risk again, so they either sell him or tie him up in June.
Thomas Vermaelen has had an unbelievably disappointing season and no longer represents the defensive rock he did during his first season.
Abou Diaby can't stay fit, Aaron Ramsey continues to slide in his production and Gervinho...well.
There Are Several Keys in Place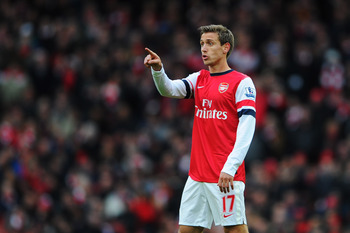 Michael Regan/Getty Images
It's not all doom and gloom, of course.
Arsenal are at least five players away from being contenders, but that does mean they've got some important peripherals in place already.
Jack Wilshere is a man to build your team around, and you'd expect him to take the captain's armband in the near future. Nacho Monreal is a left-back to depend on and a very wise recruit.
Mikel Arteta goes from strength to strength in his newfound No. 6 role, while Santi Cazorla will get better and better as he adapts.
There's no hiding from the mountain of problems Arsenal face—particularly if they fail to qualify for the UEFA Champions League this year—but with all the negativity, it's important to look on the bright side once in a while.
As an Aston Villa fan, I do that on a daily basis, folks!
Keep Reading