6 2013 NFL Draft Prospects Who Could Fix Steelers' RB Woes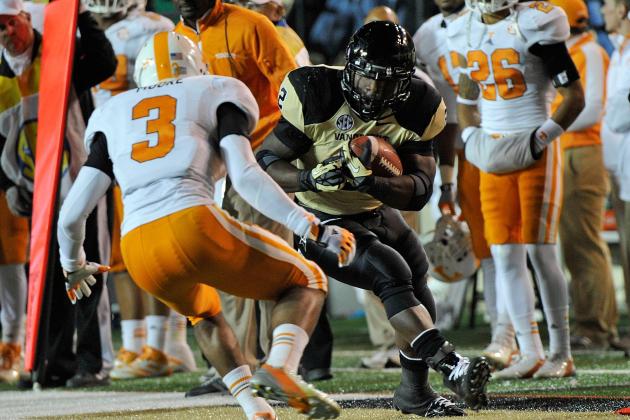 Frederick Breedon/Getty Images

The Pittsburgh Steelers' rushing attack was a major disappointment in 2012 and contributed little to the team's overall offensive output last season. The team went from averaging 4.4 yards per rush in 2011 (good enough for 10th place in the league) to putting up just 3.7 yards per carry last year (tied for the third fewest in the NFL). As a result of its struggles running the ball, Pittsburgh dropped from sixth to 31st in Football Outsiders' rankings of rushing efficiency.
Injuries to the offensive line, along with ineffective play, certainly contributed to this steep decline in output. Steelers linemen missed more than 30 games due to various ailments in 2012. Without any consistency in the lineup, Pittsburgh's front five struggled to open holes for the team's running backs. In fact, the offensive line generated the sixth-fewest adjusted line yards (rushing yards resulting from line play) in the NFL.
However, Pittsburgh's running backs should also bear considerable responsibility for the Steelers' lackluster ground game.The Steelers' backfield finished with the third-fewest yards gained between five to 10 yards past the line of scrimmage, and they also had the ninth-fewest yards gained on runs longer than 10 yards.
Former 1000-yard rusher Rashard Mendenhall was injured and unproductive all season. In his absence, Isaac Redman and Jonathan Dwyer failed to produce consistently and proved incapable of seizing the starting spot.
With free-agent-to-be Mendenhall unlikely to remain with the team, and with neither Redman nor Dwyer emerging as the long-term answer, the Steelers will need an upgrade at the running back position in the offseason if the organization hopes to make the rushing attack a more viable weapon in 2013.
Picking up a running back via free agency is probably not a realistic option for the Steelers, even if the team were to overcome its traditional aversion to testing those waters. The front office would have to restructure contracts and possibly cut some popular veterans just to have a chance at re-signing one or two key players who will be free agents this year. Paying for a running back who is capable of stepping in as a starter would probably be impossible, even if the team wanted to pursue that option.
Fortunately, the 2013 NFL Draft will offer numerous opportunities to pick up a back with the potential to be a productive starter early in his career. Though this year's draft class has no "can't miss" prospects at the position, it does boast more than a dozen college stars projected to be drafted between the second and sixth rounds.
Because nearly all of the potential selections have similarly eye-popping conventional stat lines, the backs that the Steelers target should depend more on areas likely to correlate with success in the NFL, such as physical attributes (size and speed), the ability to pick up yards when it matters most (such as when the team needs to run out the clock) and the durability necessary to withstand a 16-game regular season.
With that in mind, here are six college draft picks who would be the best options to step in as a feature running back for the Steelers in 2013, ranked in order from lowest to highest potential.
Side Note: The first two slides cover a pair big-name future draftees whom Pittsburgh should avoid.
Begin Slideshow

»
After toiling in relative obscurity as Trent Richardson's backup in 2011, Eddie Lacy burst onto the scene last year and rocketed to the top of the 2013 crop of college running backs. The junior back rushed for 1,300 yards and 17 touchdowns in 2012 while pacing Alabama to a national championship. His impressive performances in the SEC championship and the national title game left NFL teams salivating over what he might do at the next level.
Lacy's size (5'10" and 220 lbs.) and speed (4.53 in the 40-yard dash) certainly would seem to predict success in the pros. He picked up first downs on more than 70 percent of his third-down runs in 2012, a skill that would help a Steelers team that struggled in such situations last year. However, as talented as the Alabama running back is, Pittsburgh should pass on him for several reasons.
First, Lacy has struggled with injuries during the course of his collegiate career. In addition to the hamstring tear that will keep him out of the upcoming NFL Combine, he also had surgery to repair a turf toe before the start of last season.
Obviously, any running back coming out of college will have a few dings, and nothing indicates that Lacy has not recovered from his previous ailments. However, spending a late first-round/early second-round pick on anyone without a perfectly clean bill of health is a risk.
Second, Lacy's stats may have been inflated by running behind one of college football's best offensive lines. Three of Alabama's starting offensive linemen from last year are projected to be drafted in the first three rounds this year. If Pittsburgh's line continues to struggle next year, the team will need a back who has shown that he can manufacture his own yards.
Third, the Steelers already have a back who is similar in profile to Lacy. Jonathan Dwyer stands at 5'11", weighs 235 lbs. and ran the 40 in 4.52 seconds at the 2010 NFL Combine. He is also a restricted free agent this offseason, meaning Pittsburgh can bring him back for a relatively low price. If the Steelers were to pick Lacy in the first or second round, they would need to be fairly certain that he could displace the 23-year-old Dwyer on the depth chart.
Fourth—and probably most problematic—Lacy was less effective later in games last year. This may indicate that, despite his size, he tires with increased usage, which would be a bad sign given the longer and more demanding NFL season. In the 14 first halves in which he played in 2012, Lacy averaged 7.19 yards per carry. In the 12 second halves in which he appeared, the Alabama star managed only 5.08 yards per carry. Almost 23 percent of his first-half runs went for more than 10 yards, but only 16.4 percent of his second half/overtime carries exceeded that mark.
Given that Alabama rolled to a national championship, it would be tempting to argue that much of this drop-off in production was due to the team taking its foot off the gas in blowout games. Lacy's usage would certainly appear to support that theory. His total second-half carries amounted to about half of his total first-half rushes.
However, about 35.8 percent of his carries came when Alabama was leading by 15 or more points. This means that he was in the game and carrying the ball a lot during blowouts. Coupled with the fact that Lacy averaged almost two yards less per carry in the fourth quarter, this would suggest that he was wearing down late in games.
By themselves, none of these issues would be enough to prevent the Steelers from drafting Lacy. And even with all of them put together, he still might be a better total package than other backs in this class. However, before picking a running back in the first round, Pittsburgh needs to know that it is getting more of a sure thing than Lacy.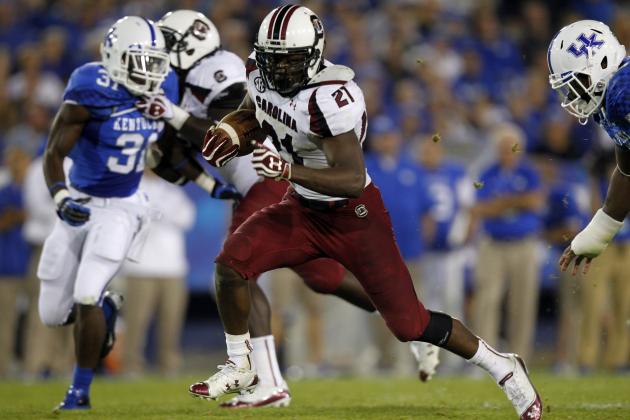 John Sommers II/Getty Images

When healthy, Marcus Lattimore has been an absolute beast and is as close to a "sure thing" as a draft prospect can get. At 6'0"' and 218 lbs. and also being capable of running the 40-yard dash in 4.5 seconds, he has the prototypical mix of size and speed that teams look for in an NFL feature back.
Those skills have certainly translated to excellent production on the field at South Carolina. As a freshman in 2010, Lattimore ran for nearly 1,200 yards and 17 touchdowns, and this past year, more than half of his third-down carries resulted in a fresh set of downs for the Gamecocks.
Incredibly, Lattimore managed to get stronger as each game progressed, averaging nearly 1.5 yards more per carry during the second halves of games in 2012. Unlike Lacy, Lattimore was also more productive when defenses knew he was coming. While the former's yards per carry dropped precipitously when his team was leading by more than 15 points and trying to run out the clock, Lattimore actually gained more yards per attempt in those situations.
Throw in that Lattimore projects to be a good fit for a team that employs a zone-blocking scheme (like the one new Steelers offensive line coach Jack Bicknell Jr. is likely to install), and the former Gamecock looks like a perfect fit for Pittsburgh.
The problem, of course, is that Lattimore has serious injury issues. His sophomore season was shaping up to be as good, or better, than his first season before he tore ligaments in his knee and missed the remainder of the campaign. His junior year followed a similarly depressing path. After a fantastic start to 2012, Lattimore dislocated his knee in a game against Tennessee and again damaged ligaments, forcing him to miss the remainder of the season for a second straight year.
Though Lattimore and his doctors are confident that he will be able to recover quickly from the injury and return to his original form, there is no guarantee that he will ever be the same player. For every Willis McGahee that has a productive career after a devastating knee injury, there are dozens more who are forgotten after they fail to recover fully from injuries that they sustained in college.
More troubling for the Steelers is the timetable for Lattimore's return to the game. Some analysts have suggested that the South Carolina running back should spend a year rehabbing before coming back. At the recent Senior Bowl, however, the running back told the media that he plans to get back on the field in 2013.
These conflicting statements suggest that Lattimore may be returning to action before he is ready and may be putting himself at further risk. Given that the Steelers need immediate help at running back, gambling on the hopes that Lattimore can be the same player that he was and that he won't reinjure himself is probably not a great idea, even in the later rounds.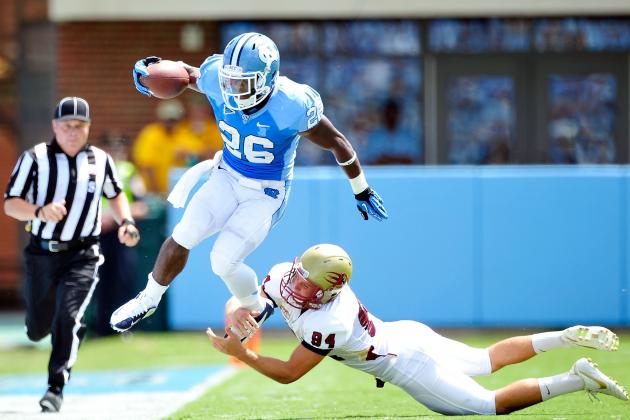 Grant Halverson/Getty Images

Aside from Lacy, the only other potential first-round draft pick in the 2013 crop of running backs is Giovani Bernard from the University of North Carolina. His elusiveness and exceptional peripheral vision has put him among the top two backs on many draft boards. Though probably not worth a first-round pick for several reasons mentioned below, the Steelers should pick him up if he drops to them in the second round of the draft.
Bernard put together two straight excellent years for the Tar Heels, running for more than 2,500 yards and 23 touchdowns combined in 2011 and 2012. Thanks in part to his 4.52 speed in the 40-yard dash, he was a multifaceted weapon, catching more than 45 passes in each of the past two seasons and averaging 16 yards per return fielding punts last year.
The former Tar Heel was also a reliable threat on third downs, picking up a first down a little more than 52 percent of the time. This compares favorably with Dwyer and Redman, each of whom secured first downs on half of their third-down runs last season. Bernard was an even safer bet on third-and-short, though, gaining the necessary yards on 58.3 percent of those carries.
More importantly, Bernard got stronger as his carries piled up. He averaged 6.49 yards per carry during the first three quarters of each game in which he played in 2012. Yet, in the fourth quarter, the back bumped his average up to 7.25 yards per attempt.
The main concerns about Bernard, and the ones that make him a risky first-round selection, are size and durability. At 5'10" and 205 lbs., he is on the smaller side of average for NFL running backs and, according to some analysts, he does not have a frame that can easily support more weight.
Bernard has also missed some games due to injury, most notably in 2010 when he tore his ACL. Though he appears to have fully recovered from that, he also sat out several games in 2012 with other knee ailments.
Nonetheless, Bernard is a talented back who appears to be the type of every-down player that Pittsburgh needs. Though he will most likely be gone in the first round, the Steelers should pounce on him if he lasts until they pick in the second.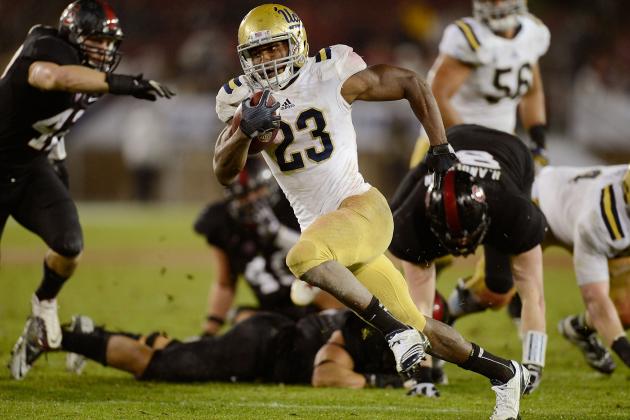 Thearon W. Henderson/Getty Images

Though Stanford's Stepfan Taylor got more attention in 2012, a Pac-12 rival might prove to be the better running back at the professional level. Johnathan Franklin of UCLA might be smaller than Taylor, but he possesses the speed (4.58 in the 40) and elusiveness that should make him an effective NFL back and a potential target for a team like the Steelers.
Franklin burst onto the scene in 2010, running for more than 1,100 yards and eight touchdowns as a sophomore. After a somewhat disappointing junior year, the Bruins running back exploded for 1,734 yards, 13 touchdowns and 6.2 yards per carry in his final year in Los Angeles.
The highlights of his final year included a 171-yard, two-touchdown performance against crosstown rival USC and a 194-yard, two-touchdown night against a tough Stanford defense in the Pac-12 championship game. Though his team won that game, the previously mentioned Taylor managed only 78 yards on the ground.
Despite his lack of size, Franklin was an effective runner in third-and-short scenarios, picking up a first down 63.1 percent of the time. He was also a punishing back in the fourth quarter, averaging 7.41 yards per carry during the last 15 minutes of the game.
Though Franklin would be a good pick for the Steelers in the third round of the upcoming draft, there are a couple of issues that might make Pittsburgh's front office think twice before taking him.
First, the UCLA star has not been a particularly effective receiver coming out of the backfield. He had only caught 25 passes in college before a senior season in which he hauled in 33. If Steelers offensive coordinator Todd Haley plans to continue emphasizing short passes, a running back who is not much of a threat catching the ball would not be of much use.
Second, Franklin struggled to get yards when opponents were expecting him to run the ball. On the 17.7 percent of his carries that came when UCLA led by 15 or more points, its star running back gained 0.41 yards less per rush than his overall average. That doesn't bode well for a future in which Franklin will be facing bigger, faster and more sophisticated NFL defenses.
Third, the Bruins running back struggled to produce when his team wasn't good. UCLA limped to a 6-8 finish in 2011, and without much talent around him, Franklin failed to reach the 1,000-yard mark. When drafting a running back, NFL teams need to be sure they are getting a bona fide star who can carry a team on his shoulders, and there is some evidence that Franklin is not that kind of player.
Those weaknesses notwithstanding, Franklin should blossom into a productive professional running back and the kind of player the Steelers could use, provided he is available to them in the third round or later.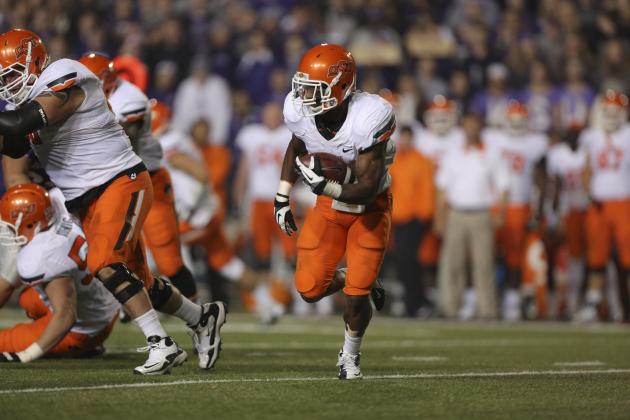 Ed Zurga/Getty Images

Joining Bernard at the top of the 2013 running back rankings is Joseph Randle of Oklahoma State. Playing alongside future pros Brandon Weeden and Justin Blackmon in 2011, Randle rushed for 1,200 yards and 24 touchdowns.
Then, with his two former teammates playing on Sundays in 2012, the junior running back became the focal point of the Cowboys' offense this past season. He responded beautifully by rushing for 1,400 yards, 14 touchdowns and 5.2 yards per carry.
Though somewhat unusually proportioned for an NFL running back, Randle continues to add muscle weight to his 6'0", 200-lb. frame. Combined with his excellent speed (4.5 in the 40), his work ethic, both on and off the field, should make him a good second- or third-round option for the Steelers.
That willingness to put in work also makes Randle a tireless runner. Though he didn't carry the ball in the fourth quarter in four of Oklahoma State's 12 games last year due to the high proportion of Cowboy contests that were blowouts, he still averaged almost a full yard more per attempt at the end of games.
Randle had similar success when defenses were stacked against the run. When his team was winning by more than 15 points and needed him to close out the game, the Cowboys star upped his game, running for slightly more yards per carry than his normal average and securing first downs on 28.5 percent of his carries.
There are some issues, however, that may give Pittsburgh pause. After a year that saw the team basically lose a game to the lowly Browns thanks to multiple fumbles from its running backs, the Steelers may be concerned about Randle's propensity to put the ball on the ground.
Nonetheless, Randle's obvious ability to move the ball down the field would make him an attractive choice for the Steelers should he become available in the middle of the draft.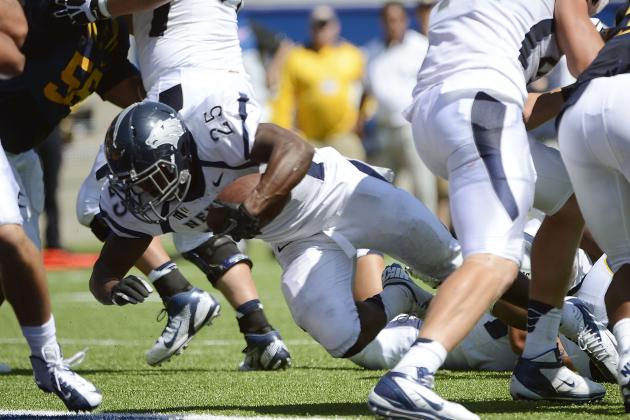 Thearon W. Henderson/Getty Images

If the Steelers decide to eschew the bigger-name running backs from the football-factory universities in search of the next Doug Martin, they would do well to consider Stefphon Jefferson from Nevada. The junior back is coming off a breakout year in which he finished second in the Football Bowl Subdivision (FBS) with 1,883 yards while also adding 24 touchdowns.
As a result, some draft prognosticators are comparing Jefferson to Alfred Morris, who came to the Redskins last year from the lightly regarded Florida Atlantic University. Morris finished second in the NFL in rushing last season with more than 1,600 rushing yards.
At 5'11" and 210 lbs. with a 4.53 40-yard dash time, Jefferson has the physical tools to be a successful NFL running back. His size and speed allowed him to pick up first downs on 53.1 of his third-down carries. Thanks to his power, he was even more effective on third-and-short. With less than three yards to go, Jefferson gained the required yards on 16-of-27 attempts (59.3 percent).
His stats also indicate that he has what it takes to be a workhorse in the NFL. Jefferson gained six percent more yards in the second half of 2012 games than he did in the first halves. Even more striking was the Nevada star's production in the fourth quarter. After averaging 4.91 yards per carry in the first three quarters of each game, Jefferson ran for 5.68 yards per rush in the final frame.
In the few situations in which the Wolfpack were winning by 15 or more points and opposing teams were expecting Jefferson to get the ball, Jefferson proved even more effective. The junior rushed for 6.67 yards per carry and scored two touchdowns on only 12 carries. Even discounting a 22-yard run that accounted for more than a quarter of his total yards in those situations, Jefferson still ran for more yards per carry than his overall average when his team needed him to close out games.
Throw in Jefferson's good health and reputation as a high-character person, and he makes an intriguing pick for a team willing to roll the dice on a relative unknown. And given that the Steelers pride themselves in uncovering late-round talents, he might be the right player for them.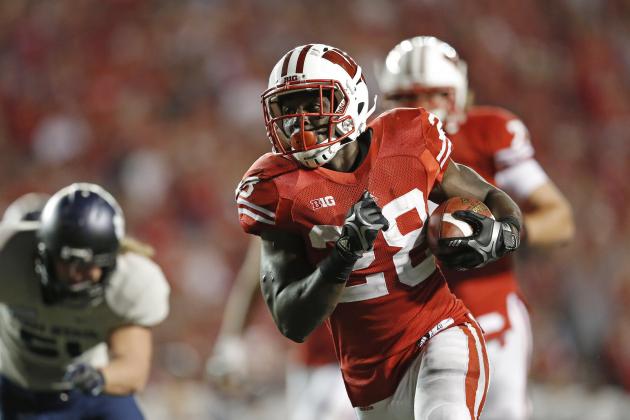 Tom Lynn/Getty Images

In the rush to dissect every piece of prospective NFL draftees in the lead-up to the big day, analysts, scouts and general managers sometimes overlook the most important part. Huge hand size, impossibly quick shuttle-runs and dozens of bench press reps mean nothing if a player can't employ those gifts effectively on the field.
Similarly, the NFL draft machinery sometimes overlooks prospects with a proven track record of success between the white lines in its efforts to uncover athletes with jaw-dropping measurables. And several years later, fans and analysts inevitably look back and wonder why Team X selected a bust who had a great combine over an established college player who turned out to be much much of a star in the pros.
Arguably no other quality running back in the 2013 draft class has done as much to prove himself on the field as Montee Ball of Wisconsin. The holder of the record for the most career touchdowns in FBS history, Ball churned out more than 3,700 yards and visited the end zone 61 times in the past two seasons. Even after losing high-profile teammates Russell Wilson and Nick Toon after the 2011 season, the Badger running back still averaged 5.2 yards per carry against teams gearing up to stop him.
Even as the primary focus of Wisconsin's offense in 2012, Ball was a remarkably consistent runner. His average carries and yards per carry were almost identical in every quarter, with the latter increasing slightly as each game progressed. He was also a model of health, suffering only a couple of concussions in his four-year college career.
Like many great backs, Ball excelled at putting winnable games away. On the 12.6 percent of his carries that came with the Badgers holding more than a two-touchdown lead, the Wisconsin star averaged an unfathomable 8.64 yards per carry and scored seven times.
The main knock on Ball is that, like Lacy, he has played behind a dominant offensive line for much of his time at Wisconsin. Though that was certainly true in 2011, his line returned only two starters in 2012 and took time to gel. The fact that his output during his senior year nearly matched that of his previous season should put to rest the idea that Ball would struggle without All-American linemen clearing a path for him.
However, one area of concern has been Ball's failure to pick up first downs when the Badgers ran the ball on third downs in 2012. The back succeeded in moving the chains only 36 percent of the time, an oddly low rate for a runner of his caliber. It was low enough, in fact, that it appears to have been a fluke. During the previous two seasons, Ball got first downs on more than 60 percent of his third-down runs.
Though the Steelers have a reputation for being a team that looks for unknown, low-risk/high-reward players in the draft, there is something to be said for getting a proven commodity who has produced consistently and historically in college. If Ball is available in the second or third round, Pittsburgh should not hesitate to take him.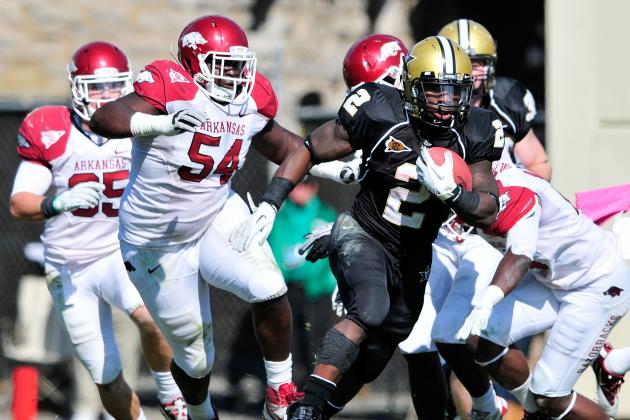 Grant Halverson/Getty Images

Zac Stacy managed to accomplish the impossible over the past two years. Playing in the toughest conference in the country, the Vanderbilt running back managed to run for more than 2,200 yards and 24 total touchdowns in 2011 and 2012 combined without getting noticed.
That might have something to do with the fact that he did those things wearing a Vanderbilt jersey at the time. The Commodores haven't had a running back picked in the first seven rounds of the NFL Draft in more than three decades and haven't exactly been a historical powerhouse in the Southeastern Conference (SEC).
Stacy made his presence felt among his tough SEC rivals, though, which bodes well for his NFL future. At 5'8" and 215 lbs., the Commodore star has the size to be an effective back at the next level. His speed (4.49 in the 40) is also professional-caliber.
More important, however, was his Montee-Ball-like consistency on the field and ability to get stronger with more carries. Like his counterpart from Wisconsin, Stacy gained slightly more yards in the second half of games in 2012 than he did in the opening two quarters. He was even more of a force in the fourth quarter, racking up about nine percent more yards per rush than in the first three periods.
Stacy was similarly effective at punishing teams when his team was trying to run out the clock. Even discounting a 90-yard run that came in such a situation, the Vanderbilt back still averaged almost seven yards per rush when his team led by 15 points or more and defenses were stacking the box to stop him.
Unlike Ball, however, Stacy did not struggle on third downs in 2012. He converted more than half of his attempts last year. Befitting a back of his size, Stacy did even better on third-and-short. With less than three yards to go, the senior picked up a first down 68.8 percent of the time.
With all this in mind, the Vanderbilt running back might be the best fit for the Steelers, especially if he is available in the middle rounds of the draft.