5 Questions We Have About Ronda Rousey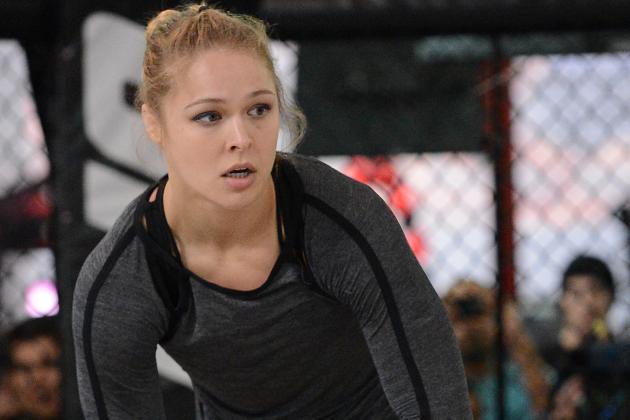 Jayne Kamin-Oncea-USA TODAY Sports

Ronda Rousey's ready for UFC 157. How about everyone else? I guess we'll see when the pay-per-view numbers come back next week.
But between now and then, there is the small matter of this fight she has to win. On paper, Liz Carmouche does not appear to present a major threat to the first woman to ever hold a UFC belt. But they don't fight those fights on paper now, do they? No, they do not. They actually fight the fights on a custom-painted mat made of canvas, which is a kind of textile used to make tents and shoes, among other things. The more you know, right?
I don't think Carmouche is going to beat Rousey. I've got the same first-round armbarring pick that just about everybody else does. But that doesn't mean there aren't challenges, and questions, especially coming into a historic fight and an exhaustive week of hype. Here are five questions Rousey will answer, one way or the other, Saturday night.
Begin Slideshow

»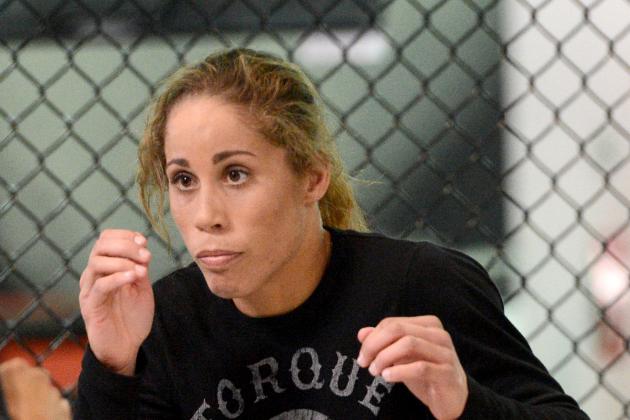 Jayne Kamin-Oncea-USA TODAY Sports

Miesha Tate couldn't do it. Sarah Kaufman couldn't do it. No one in the six times she's fought in front of a camera has been able to land a meaningful strike on Ronda Rousey.
We haven't really seen her chin tested in a cage before. And Carmouche happens to be a certified chin tester. In her 8-2 fight career, she's scored five T/KO victories. She has legitimate power and can inflict pain with punches or kicks. Maybe she doesn't stand the best chance in women's MMA of rocking Rowdy Ronda, but the chance is still there.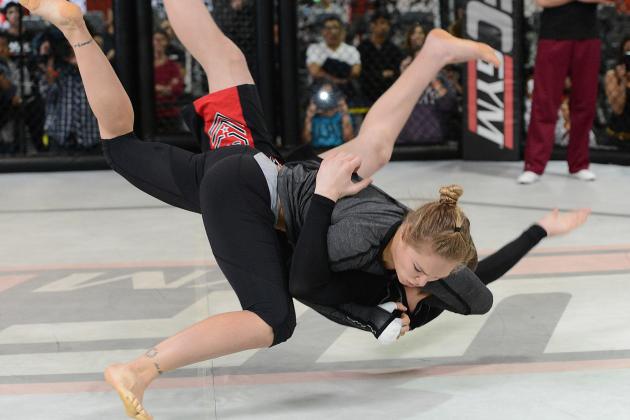 Jayne Kamin-Oncea-USA TODAY Sports

I don't see why she'd want to go fixing something that's so decidedly unbroken. But eventually, I imagine, she'll have to do some other sort of something in the cage. It's the law of averages. What if she initiates that clinch and deviates from the playbook? What if she decides she wants to try something different under these bright UFC lights? Stranger things have happened.
Photo credit: Squabbles
There's no delicate way to put this, so I'm just going to put it: Liz Carmouche is a brick stickhouse.
Look at the way she womanhandled Marloes Coenen not too long ago she was ultimately submitted, but still. Carmouche can score takedowns and can work strong ground-and-pound from there. Now. Coenen is not Ronda Rousey. No one is. But how would Rousey react if Carmouche fully commits and launches in for a takedown? As with the punch thing, a takedown attempt would be intriguing simply because Rousey has never, ever been put in a defensive position of any kind.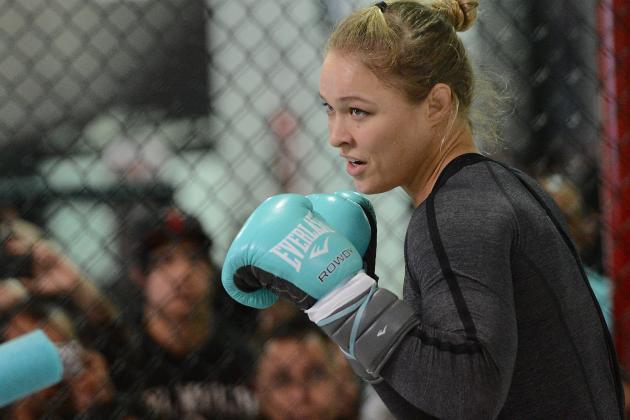 Jayne Kamin-Oncea-USA TODAY Sports

I don't see how this week could have been more physically, mentally or emotionally draining for Rousey. That's not even a question, in my mind. The question is the extent to which she will be recovered and focused come fight night.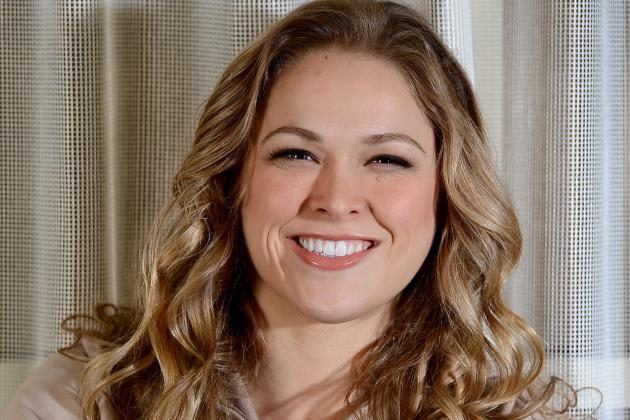 Jayne Kamin-Oncea-USA TODAY Sports

Expectations for the business outcomes of this event are all over the map, and are actually settling on extreme ends of the pole. Those who don't believe in Rousey are sexist. Those who do are UFC sycophants.
Not being a media analyst, I'll refrain from offering my own prediction. But people who know more than I do about this stuff say the UFC has averaged 450,000-475,000 over the past three years. UFC president Dana White said Friday that the pay-per-view numbers are trending "very well" so far for UFC 157.
Obviously, an event's success is based on more than pay-per-view buys. But it's certainly a prime indicator. And given the main event and the nature of the promotion and discourse, whatever happens on this critical front will be more or less entirely attributable to Ronda Rousey.
Got more questions? If so, you can question Scott Harris on Twitter.