5 Takeaways from Tuesday Night's Post-All-Star Game NBA Action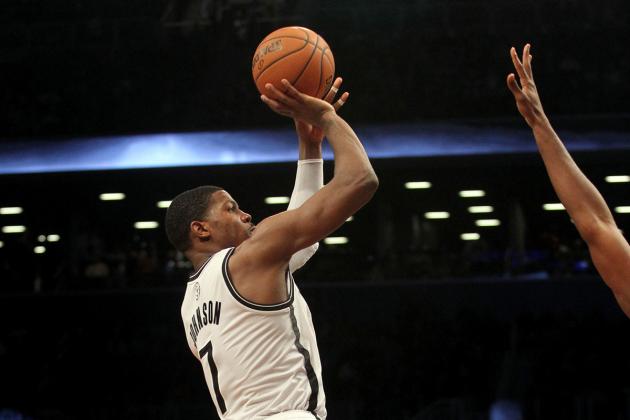 Brad Penner-USA TODAY Sports

The first night of NBA action after the 2013 All-Star Game was about as enticing as...well, the All-Star Game.
Not that it wasn't great to see the Association get back to the business of playing real, meaningful basketball. I enjoy watching Gerald Green reenact his forfeited collegiate fantasies as much as the next guy, but there's only so much to be gleaned from afar from a weekend of partying, promoting and product pushing that's occasionally punctuated by dribbling, long-range shooting, dunking and about 2.2 seconds of actual defense.
But enough about All-Star Weekend—let's turn our attention, instead, to more pressing matters. Like, say, which team, between the Charlotte Bobcats and the Orlando Magic, bettered its pitch for more ping pong balls in the NBA draft lottery. Or, whether the Brooklyn Nets could end one of the league's sneakiest losing streaks while extending another winning one. Or, whether there would be any overtimes left to play between the Denver Nuggets and Boston Celtics after they went to triple-OT in their last meeting.
The NBA: Where Tuesday Happens.
Begin Slideshow

»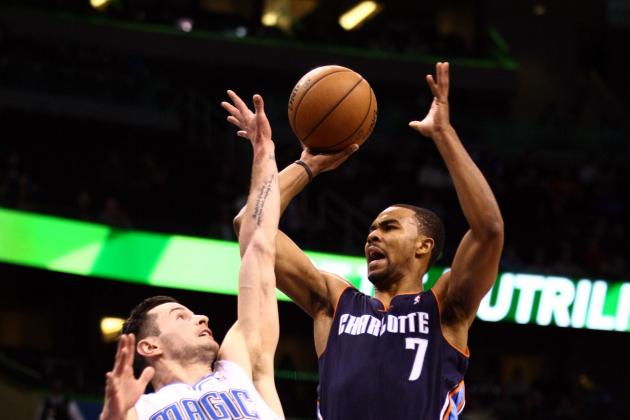 Douglas Jones-USA TODAY Sports

Things have obviously gone sour for the Orlando Magic to start the post-Dwight Howard era, but Tuesday's 105-92 loss to the shambolic Charlotte Bobcats drove that point home even further.
The Magic finished with six players scoring in double-figures, including all five starters, but simply couldn't stop the 'Cats' "terrifying" trio of Kemba Walker, Gerald Henderson and Byron Mullens. Charlotte's three-headed monster finished with a combined 68 points and rebound-based double-doubles for Henderson and Mullens.
The win was just the 13th of the season for the 'Cats, giving them two positive results in their last three outings. As for the Magic, they've now lost 25 of 28 games since a promising 12-13 start. Surely, Magic general manager Rob Hennigan is pleased to see his squad make up so much ground so quickly in the race for pick No. 1 in the decidedly shallow 2013 NBA draft.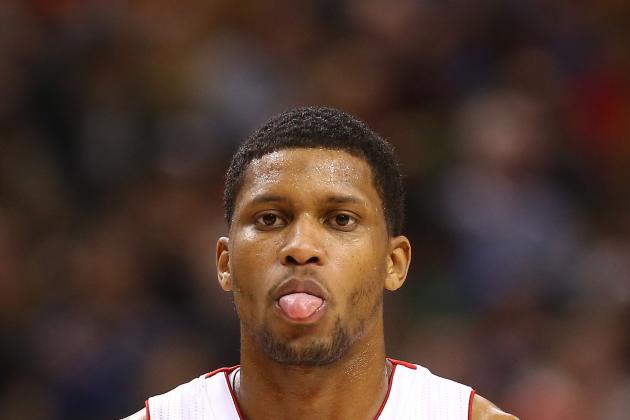 Tom Szczerbowski-USA TODAY Sports

To all those Toronto Raptors fans I've offended of late, mea culpa.
There...you happy now?
The Raptors outlasted the Washington Wizards, 96-88, to extend their current winning streak to a season-high-tying five games. They're now 6-2 since acquiring Rudy Gay from the Grizzlies, with the lone losses coming in a nail-biter to the Boston Celtics and a deceptively close affair against the defending champion Miami Heat.
To be sure, not all of T-Dot's wins are as impressive as they seem at first glance. The Los Angeles Clippers were without Chris Paul when the Raptors ripped them by 25 points, and the Denver Nuggets (barely) saw their seven-game streak snapped with Danilo Gallinari, Andre Iguodala and Wilson Chandler all sidelined.
But wins are wins, and Rudy's undoubtedly had a positive effect on the Raps' fate. He's averaging 20.7 points (albeit on a terribly inefficient 38 percent shooting from the field) since arriving in Canada, with a pair of buzzer-beaters for good measure. His ability to get his own shot has given Toronto hope in late-game situations, and his mere presence has made life easier for the likes of DeMar DeRozan and Kyle Lowry elsewhere on the court.
Still, a return to the postseason seems unlikely for Toronto. At 22-32, the Raps will have to overcome a steep uphill climb just to snag the eighth seed in the Eastern Conference.
It wasn't easy, but the Brooklyn Nets finally broke through against the Milwaukee Bucks. The Nets' 113-111 OT win over the Bucks at the Barclays Center on Tuesday was the franchise's first successful outing against Milwaukee in their last 14 meetings. You'd have to go back to March 3, 2009—when the New Jersey Nets, with Vince Carter and Devin Harris in the backcourt, nipped the Bucks, 99-95—to find the team's previous victory over the deer.
The victory was also the Nets' 10th in a row when taken to overtime.
And to think, all it took was some crunch-time magic from Joe Johnson. The oft-mocked shooting guard hit a three-pointer off the catch at the buzzer to force extra time before coming back with the game-winning jumper over Luc Richard Mbah a Moute to put the result to rest.
With Johnson (24 points, five rebounds, five assists) and Deron Williams (19 points, nine assists) finding their respective grooves, and Brook Lopez (19 points, nine rebounds, three blocks) still playing like an All-Star, the Nets may yet have enough to secure a smidgen of home-court advantage for themselves come playoff time.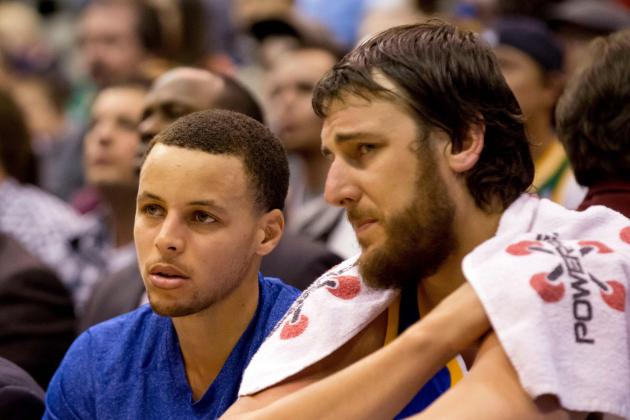 USA TODAY Sports

So much for the All-Star break stemming the swell of losses for the Golden State Warriors. They dropped their sixth in a row Tuesday night, this time to the Utah Jazz, 115-101 . The defeat dropped the Dubs into a virtual tie with the Jazz for the sixth spot in the Western Conference.
Of these six latest losses, five have come away from Oracle Arena and five have seen Golden State's once-solid defense relinquish upwards of 115 points. The lone interloper? A 116-107 result against the Houston Rockets, just a week after Mark Jackson instructed his players to go out of their way to prevent their opponents from setting an NBA record for three-point makes in a single game.
Not that all is bad in the Bay Area these days. Andrew Bogut's been cleared to play back-to-backs, and after an upcoming five-game road trip, they'll finish the season with 16 of their final 22 games at home.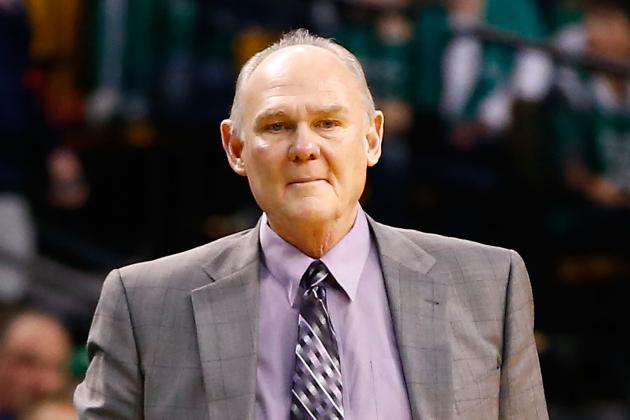 Jared Wickerham/Getty Images

The Denver Nuggets were in dire need of some home cookin' after dropping the last three games of an Eastern Conference swing.
Predictably enough, the Nuggets pulled out a 97-90 win over the visiting Boston Celtics to avenge their triple-overtime loss in Beantown and move their record at the Pepsi Center to a sterling 23-3. Ty Lawson and Danilo Gallinari poured in 26 points apiece while Denver's D, led by Andre Iguodala, held Paul Pierce to 10 points on a paltry 2-of-14 shooting.
Better yet, the win was the 400th of George Karl's tenure in Denver. On the whole, Karl's won 1,108 regular-season games, leaving him 47 shy of tying Phil Jackson for fifth all time.