Boston Celtics vs. Denver Nuggets: Postgame Grades and Analysis for Boston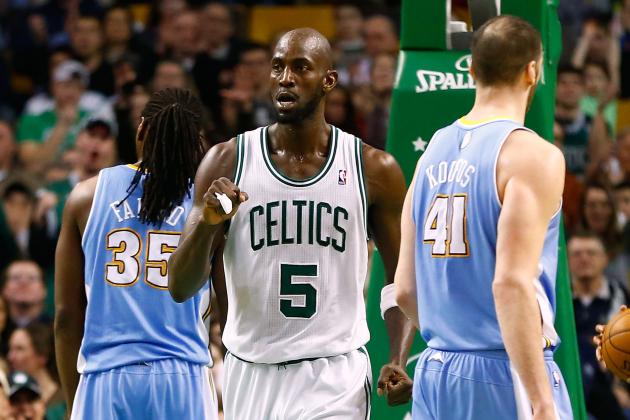 Jared Wickerham/Getty Images

Despite a season-high 17 points from Avery Bradley and a stellar effort off the bench from Jeff Green, the Boston Celtics fell to the Denver Nuggets by a final score of 97-90.
After controlling the boards and slowing the pace in the first half, the tiring Celtics couldn't keep up down the stretch. Denver outscored Boston by nine points in the third quarter, doing most of its damage when Kevin Garnett was resting.
Without their only inside presence, the Celtics just couldn't keep the relentless Nuggets out of the paint. Denver totaled 42 points in the lane on the night, but it also did damage by drawing the Boston defense toward the rim before kicking the ball out for a few back-breaking threes.
Although the Celtics kept the run-and-gun Nuggets under 100 points, Denver's superior work on the glass and more aggressive offensive style eventually wore down a thin Boston team.
Denver's 36 free-throw attempts clearly showed which team was more committed to pushing the pace and forcing the ball toward the rim. When Boston's jump-shooters cooled in the second half, the Nuggets pulled away.
The Celtics fell to 28-25 in defeat, but there's hardly any shame in losing to the Nuggets at the Pepsi Center. Denver improved to 34-21 overall and 23-3 at home.
Begin Slideshow

»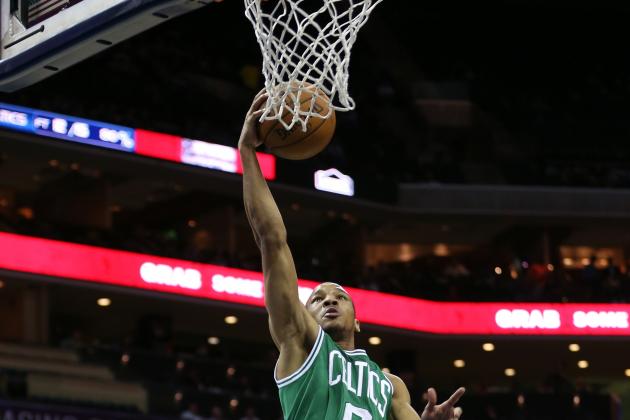 Streeter Lecka/Getty Images

Avery Bradley: B-
Known primarily as a defensive stopper, Avery Bradley was the Celtics' most aggressive backcourt scorer against the Nuggets.
Thanks to a couple of early layups and a quick trigger on some long twos, Bradley scored half of Boston's first 20 points. Tempering some of that early offensive prowess, Andre Miller took Bradley down to the block where his old-man game yielded a couple of easy buckets.
Though he finished with a season-high 17 points, Bradley's sterling start gave way to streaks of inconsistent play over the final three quarters. It seemed as though Boston's fill-in point guard paired every solid play with a poor one.
Perhaps focusing too much on running the offense, Bradley didn't bring his usual defensive intensity. He has to take some of the blame for Ty Lawson's 24-point night, and he definitely took the ball to trouble more than once.
Bradley turned the ball over three times, and was stymied at least that many times as he overdribbled into traffic.
Overall, he complemented his season-best scoring effort with three rebounds, but zero assists.
With Rajon Rondo's absence creating a void at point guard, Bradley's all-around game has been a huge reason for the Celtics' great play of late. But he's still got a long way to go until he'll be considered a reliable big-minute contributor at the position.
John E. Sokolowski-USA TODAY Sports

Courtney Lee: B
Per NBA.com's ridiculously awesome advanced stats tool, Courtney Lee plays quite a bit better with Rondo on the bench—his per-36-minute plus-minus figure goes from minus-four to plus-0.5 when he has been on the court without Boston's ball-dominant point guard.
And now that Rondo's going to be out of the lineup for a good while, Lee will have a chance to make that trend continue over a large sample of minutes.
Against the Nuggets, Lee scored an efficient 15 points on 6-of-9 shooting, but failed to make a meaningful impact in the second half as the Celtics struggled to score.
Lee's final line of 15 points, four assists, three rebounds and two steals looks solid, but it's worth mentioning that his neutral plus-minus figure over his 30 minutes was the second worst among Boston's starting five.
Going forward, Lee will have to find a way to make a bigger impact on defense, and perhaps more importantly, find a way to score without relying on setups from teammates.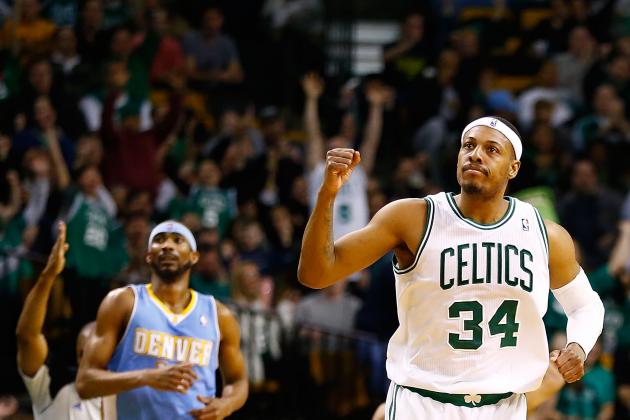 Jared Wickerham/Getty Images

Paul Pierce: D
Over his last four contests against the Nuggets, Paul Pierce has averaged 22 points. And his most recent effort was his best.
In the Celtics' triple-OT triumph on Feb. 10, the ageless small forward put up 27 points, 14 rebounds and 14 assists.
If you're a fan of Pierce's, it might be best to just hang onto those memories because things didn't go quite as well for No. 34 in this matchup with Denver.
Pierce finished with 10 points, six rebounds and six assists, but also fouled out and made only 2-of-14 shots from the field against the dogged defense of Andre Iguodala and Corey Brewer.
Despite his nightmare box score, Pierce never stopped hustling. He dove after a loose ball (which he turned over, to be fair) twice on the same play. The Nuggets ultimately came up with the rock and sprinted out on the break, but it's commendable that Pierce never stopped fighting.
To be honest, the only reason Pierce avoided a failing grade was precisely because his effort never waned.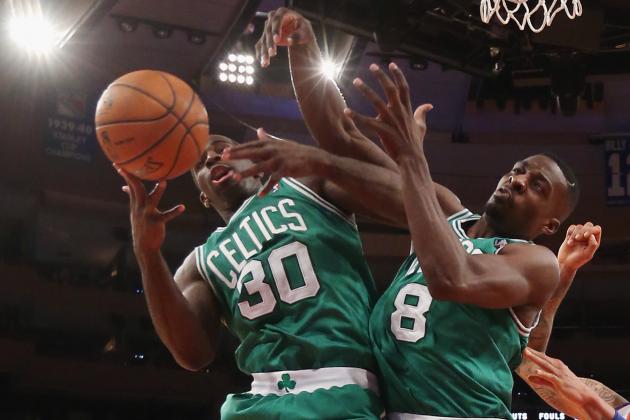 Bruce Bennett/Getty Images

Brandon Bass: D-
Bass continued his maddening, season-long trend of playing well for short spurts, but disappearing for huge stretches. He exceeded his season average of five rebounds in the first half, pulling down seven boards before the break.
But then he hauled in just two more after halftime.
In a game where controlling the boards was an absolute necessity, Bass not only pulled a no-show down the stretch, he also allowed Kenneth Faried to pummel him on the glass. The Manimal's five offensive boards were a huge reason for Denver's late surge.
Defensively, Bass was exposed more than once as Faried and Danilo Gallinari both blew right by him for dunks in the halfcourt set.
It says something that the biggest contribution from Bass might have been a shot to the lower back of Andre Iguodala, which clearly bothered Denver's best player all night.
When a starting power forward doesn't defend, gets dominated by his counterpart on the boards and shoots just 3-of-7 from the floor, it's hard to win. And with Jared Sullinger out for the year, Boston is going to need much more from Bass the rest of the way.
Streeter Lecka/Getty Images

Kevin Garnett: A-
Garnett put up 20 points, grabbed 18 rebounds and dished out six assists in a season-high 47 minutes against the Nuggets last week.
This time around, Boston's 36-year-old center played far fewer minutes (31), but had almost as significant of an impact. And if you're only looking at Garnett's 12 points, nine rebounds and four assists, you're missing the point.
Garnett's defensive game was an absolute clinic in positioning and sound help principles. On the many occasions when a Nugget guard penetrated toward the paint, KG was there, shuffling just a step or two to turn away the drive.
If Faried got loose underneath, KG did his best to leave his own man in an effort to bump him just enough to prevent an offensive rebound. If not for Garnett's subtle plays, Faried would have easily hauled in at least 20 boards.
It's no coincidence that the Nuggets' best run came during a late third-quarter stretch in which Garnett was resting on the Celtics bench. Without its anchor, Boston's interior defense allowed cutters to run free and shooters to find open windows.
Without No. 5 on the floor, Boston is a vastly inferior team. That was the clear case against Denver.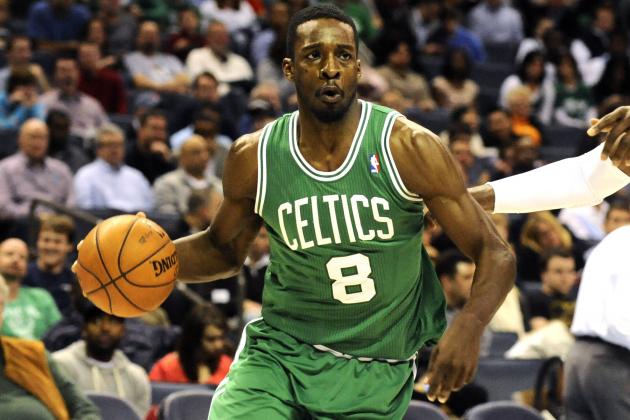 USA TODAY Sports

Jeff Green: A-
In a Boston frontcourt full of old dogs, Jeff Green figured to be the only Celtic big man with the legs to run with Denver's fast-paced style.
To put it simply, Green looked like a greyhound against the Nuggets—and he really was Boston's only forward with the ability to keep pace with Denver.
He scored 20 points on 8-of-12 shooting and even had a few eye-popping defensive plays.
In one instance, Green was switched onto Ty Lawson on the perimeter. That's a terrifying situation for even the quickest guards, let alone a lanky forward.
But Green stuck with Lawson through a handful of crossovers and even swatted away his floater in the lane. He later followed that play up with a nasty chase-down block on a Corey Brewer layup attempt.
Toss in a pair of threes, and five straight points in the fourth quarter that pulled the Celtics to within one point and you've got one of Green's very best efforts this season.
If we're being critical, it would have been nice to see more than two rebounds from a player that spent 33 minutes on the court, but other than that, it's hard to knock anything about Green's game against Denver.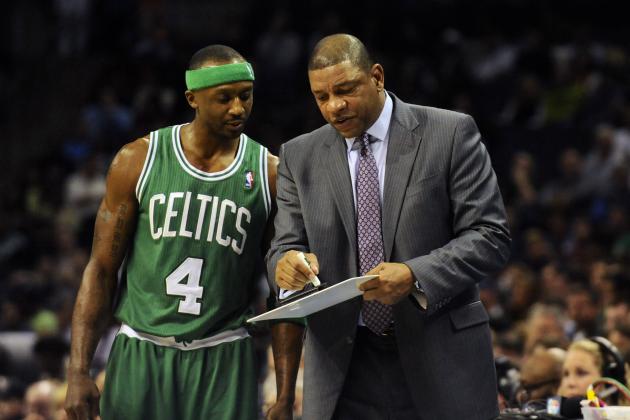 USA TODAY Sports

Bench Grade: F
It might seem unfair to be so harsh on a Boston bench decimated by injury, but there's really no way around the fact that the Celtic reserves were just awful against Denver.
Jason Terry hit two of his five shots from the field, but didn't come close to defending anyone on the other team. When you're a one-dimensional shooter who absolutely kills your team on the other end, you've got to find a way to put the ball in the hole more than twice.
Up front, Jason Collins logged 12 minutes, scored one point and registered a team-worst minus-12 plus-minus rating. And considering the pace Denver forces its opponents to play at, the lumbering Collins might be one of the absolute worst options to utilize.
Rounding out the bench, Chris Wilcox scored two points in 10 minutes, but had no effect whatsoever on the game.
Because Jeff Green's great game fell under the "sixth man" section, the Boston bench was a total failure.