College Football 2013: True Freshmen Who Have the Best Shot to Start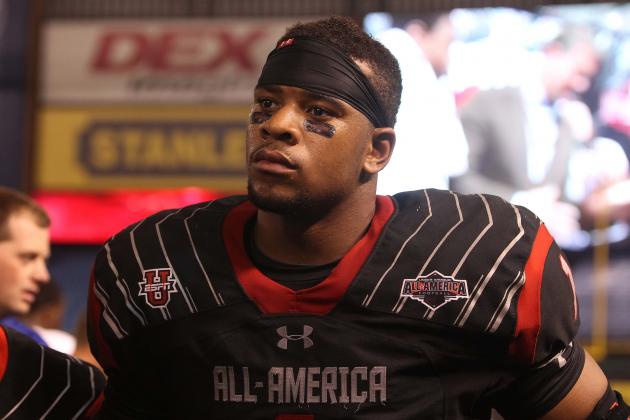 Kim Klement-USA TODAY Sports
Can No. 1 recruit Robert Nkemdiche crack the starting lineup at Ole Miss in 2013?
Stefon Diggs, Devonte Fields,Todd Gurley, TJ Yeldon, Duke Johnson, Amari Cooper and Shaq Thompson are just a few of the highly touted players from the 2012 recruiting class who came in and immediately made a name for themselves on the college level this past season.
Now, the question is, which new incoming freshmen are capable of doing the same thing next season?
Here's a look at some of the big-name prospects from the 2013 recruiting class who have the best chance to win a starting job this offseason.
Begin Slideshow

»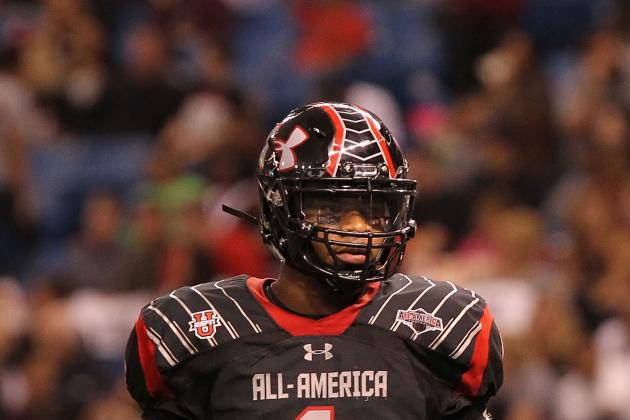 Kim Klement-USA TODAY Sports
Robert Nkemdiche
This year's top consensus No. 1 overall recruit, DE Robert Nkemdiche, will be the freshman player that fans will be watching the closest in 2013.
The 6'4'', 280-pound Nkemdiche has all the physical skills—size, speed, strength, toughness and natural pass-rushing instincts—to become one of the SEC's next great star defenders.
The future Ole Miss Rebel has the chance to make an immediate impact down in Oxford, and he should battle for a starting spot in fall camp.
Nkemdiche and the Rebels' top current DE C.J. Johnson could form a powerful pass-rushing tandem in 2013.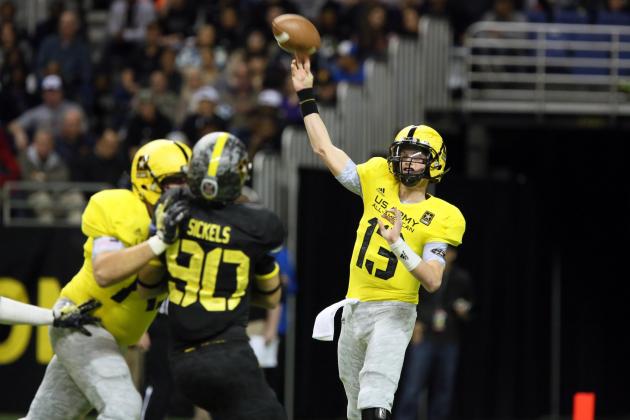 USA TODAY Sports
Max Browne
For the first time since 2008, USC is going to start a season without Matt Barkley at quarterback.
Although Barkley was underwhelming as a senior in 2012, he'll still be remembered as one of the best signal-callers in school history. Obviously, he leaves some mighty big shoes to fill.
The battle to take over the starting job will now be fought by returning sophomore Max Wittek and highly touted 5-star freshman Max Browne.
Wittek didn't show many encouraging signs during his two starts against Notre Dame and Georgia Tech late last season, so the door appears to be wide open for Browne to win the job in his first year, just as Barkley did back in 2009.
The 6'5'', 215-pound Washington native is a big, strong-armed pro-style pocket-passer, who seems like he should have no trouble handling the spotlight at a big-time school like USC.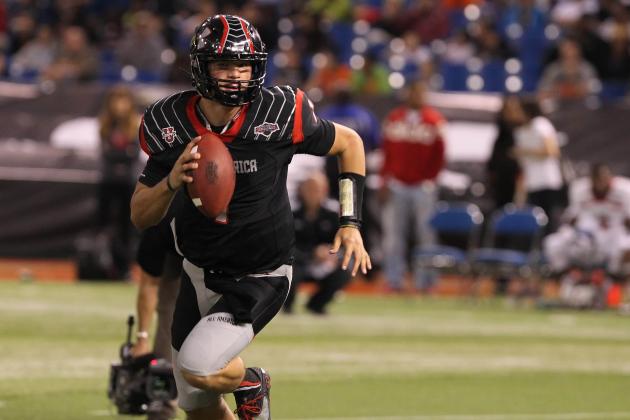 Kim Klement-USA TODAY Sports
Christian Hackenberg
Another highly touted freshman quarterback from the 2013 class who will have the chance to come in and start immediately at a big-time program is Penn State's Christian Hackenberg.
Following the graduation of two-year starter Matt McGloin, coach Bill O'Brien will now be looking for a new signal-caller to groom. There doesn't seem to be a much better option on the current roster than Hackenberg.
There's a reason that the 6'4'', 210-pound Virginia native was ranked as a 5-star recruit by Rivals, Scout and 247 Sports. He's got the perfect combination of size, physical tools, passing prowess and intangibles that you look for in a true game-changing quarterback.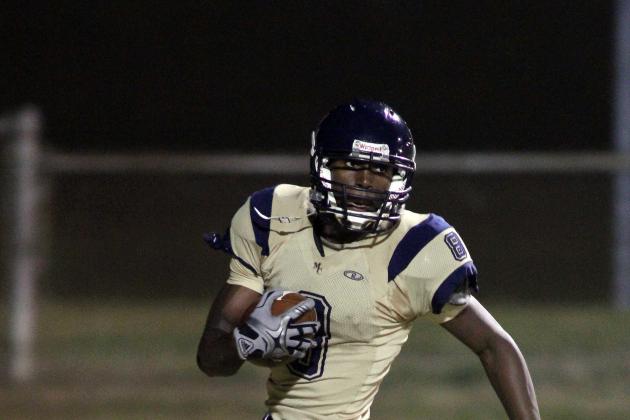 Jeremy Brevard-USA TODAY Sports
Marquez North
Tennessee lost its three most productive wide receivers from 2012, including Cordarrelle Patterson and Justin Hunter, who will both be high picks in the 2013 NFL draft.
The Vols' two leading returning receivers, Vincent Dallas and Alton Howard, combined to catch just 22 passes last season.
Luckily, new coach Butch Jones was able to keep the commitment of Marquez North, one of the top wide receiver recruits of the 2013 class.
Like his predecessors Patterson and Hunter, North is a big, athletic playmaker who has the size-speed combination to present matchup nightmares for opposing defenses.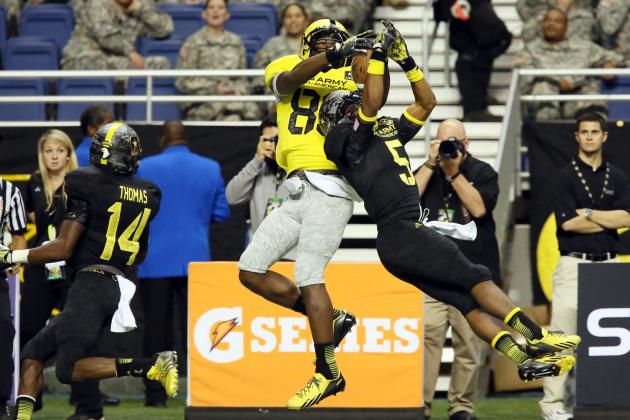 USA TODAY Sports
Ricky Seals-Jones
Not only does Texas A&M bring back college football's most dangerous dual-threat quarterback, 2012 Heisman-winner Johnny Manziel; the Aggies also welcome back one of the most underrated receivers in the country, Mike Evans.
As just a redshirt freshman, Evans led the team with 82 catches last season.
The problem is, the Aggies will have to replace their three other most productive receivers from 2012, Ryan Swope, Uzoma Nwachukwu and Thomas Johnson.
That means that there will be a great opportunity for the team's blue-chip receiver recruit Ricky Seals-Jones to come in and earn a starting job right away.
Like Evans, the 6'5'', 220-pound Seals-Jones is a huge target who possesses incredible athleticism for his size.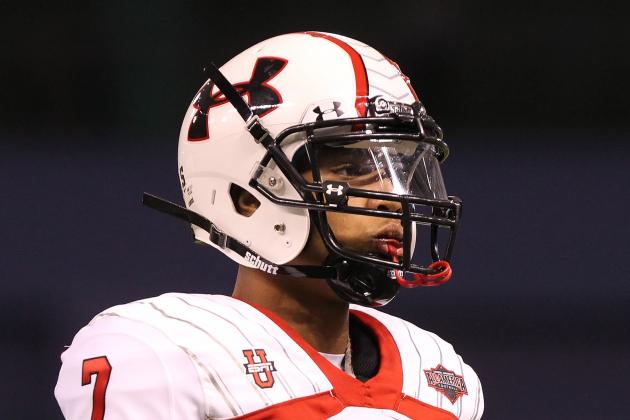 Kim Klement-USA TODAY Sports
Jalin Marshall
Urban Meyer has a new offensive toy to play with, and his name is Jalin Marshall.
Marshall is one of the most athletically gifted recruits of the 2013 class, and he's the type of player who has the chance to shine in Meyer's spread offense.
The 6'0'', 190-pound Ohio native is a versatile and explosive playmaker who can line up all over the field.
Ultimately, Marshall could play a similar role for Meyer at Ohio State as Percy Harvin did for the coach when he was Florida.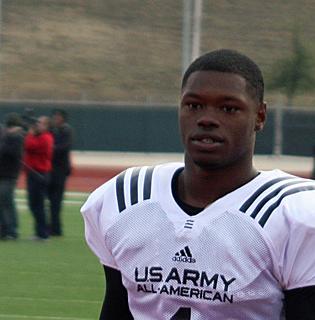 Photo courtesy of 247 sports
Notre Dame will have to replace its two most productive running backs from 2012, Cierre Wood and Theo Riddick, who combined to rush for over 1,600 yards.
The Irish have a very intriguing back in George Atkinson III, but the super-athletic junior carried the ball just 51 times this past season. It remains to be seen whether he's capable of being a true featured back.
Atkinson won't have to be a workhorse, though, if highly touted 5-star recruit Greg Bryant comes in and shows he's ready to get a good chunk of the carries in 2013. Bryant has the speed, strength and natural running instincts to come in and become an instant difference-maker for the Notre Dame offense.
USC will have to replace both of its starting safeties from the 2012 season, T.J. McDonald and Jawanza Starling.
That leaves plenty of room for the Trojans' top recruit, Su'a Cravens, to come in and win one of the two starting spots right away as a freshman.
Cravens was rated as the top safety prospect in the 2013 class by Rivals, Scout and 247 Sports.
The 6'1'', 205-pound California native is the type of natural playmaker that the team desperately needs to help solidify a secondary that lost three key starters from last season.
Alabama usually relies on seniors such as Michael Williams in 2012, Brad Smelley in 2011, Preston Dial in 2010 and Colin Peek in 2009 to be the team's top tight end.
That trend could change in 2013, however, if O.J. Howard turns out to be as good as advertised.
Howard is one of the most physically gifted tight end recruits to enter the collegiate ranks in years.
The 6'5'', 225-pound Alabama native is a supremely athletic pass-catcher, who truly deserves the label of a wide receiver born in a tight end's body.
If Howard can get a good grasp on the offense this season and show that he won't be a liability as a blocker, he has a great shot to win the vacant starting job.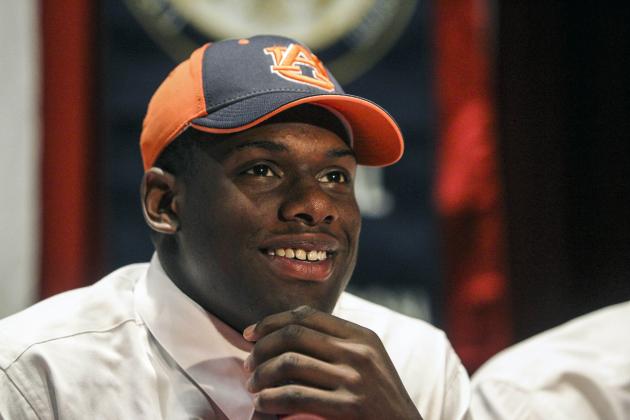 Daniel Shirey-USA TODAY Sports
Carl Lawson
Auburn's defense experienced a big blow when the team's top pass-rusher Corey Lemonier announced that he was leaving the team and declaring for the 2013 NFL draft.
The Tigers are certainly going to miss the presence of Lemonier, who racked up 19 sacks in his final two seasons on the edge of the defensive line.
Luckily, they managed to snatch up one of the premier pass-rushing prospects in the 2013 class, Carl Lawson.
Lawson was one of the most heralded recruits in the country. The Georgia native's clearly got the talent to make an instant impact for an Auburn defense that ranked 13th in the SEC in total defense last season.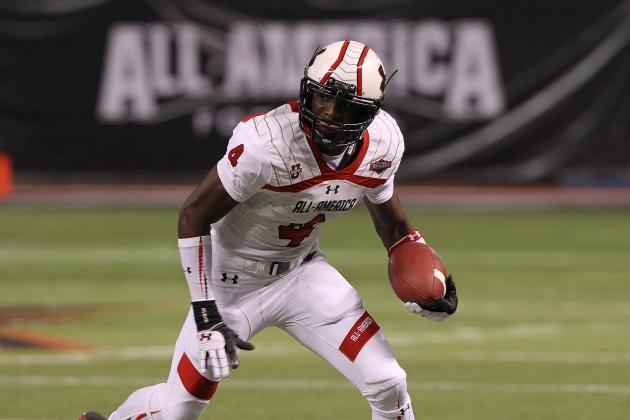 Kim Klement-USA TODAY Sports
Laquon Treadwell
Ole Miss returns its four most productive receivers from 2012, including standout Donte Moncrief, one of the top offensive players in the SEC. Still, it wouldn't be surprising to see incoming 5-star sensation Laquon Treadwell earn a spot in the starting lineup by the time the season kicks off.
Treadwell is the type of explosive playmaker who brings a valuable new dynamic to the Ole Miss offense.
The 6'3'', 190-pound speedster is truly a highlight waiting to happen.
I got the chance to see Alquadin Muhammad in person when I attended the Don Bosco-Bergen Catholic back in 2011.
Although Muhammad was just a junior at the time, he was a player who really caught my eye, as he possessed the long, lean frame and natural athleticism that you look for in a young standout edge-rusher.
The 6'4'', 230-pound New Jersey native still has some bulking up to do, but he's already got the speed off the edge and tenacity to come in make an impact in 2013.
Whether he ends up winning a starting job remains to be seen, but Muhammad should still help add a major boost to a lackluster pass-rush that totaled just 13 sacks last season.
North Carolina's offense is certainly going to miss star RB Giovani Bernard, who ranked first in the nation with 171 yards from scrimmage per game in 2012.
The Tar Heels will bring back two capable rushers in A.J. Blue and Romar Morris, but the real player to watch in the backfield will be freshman T.J. Logan.
Like his predecessor Bernard, the 5'9'', 175-pound North Carolina native may not be the biggest back, but he possesses natural playmaking ability and terrific explosiveness.
Logan, who rushed for over 3,000 yards as a high school senior, will definitely be one of the must-watch freshmen in the ACC in 2013.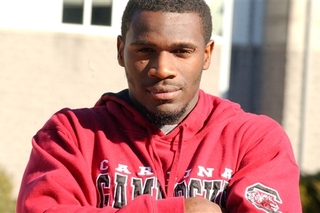 Photo courtesy of 247 Sports
South Carolina's linebacker corps is surrounded by some major question marks after the departures of key linebackers such as Shaq Wilson, DeVonte Holloman, Reginald Bowens and Quin Smith.
The team lacks a truly proven commodity at the linebacker position going into 2013. That's why the team's top linebacker recruit Larenz Bryant should be able to compete for a starting spot right away as a freshman.
Bryant was considered to be one of the top recruits in the state of North Carolina. He's got the type of speed, athleticism and instincts that you look for in a prototypical SEC linebacker.
Fitz Toussaint's recovery and rehabilitation from a broken leg will be one of Michigan's key storylines this offseason.
It's too early to say if Toussaint will be 100 percent and ready to go by the time the season starts. But even if he isn't, it may not be that big of a problem.
The Wolverines are bringing in one of the best running back recruits of the 2013 class, Derrick Green, who was rated as the No. 1 running back in the country by both Scout and Rivals.
The 6'0'', 220-pound Virginia native has the combination of size, speed and power to become one of the Big Ten's next star rushers.
Photo courtesy of 247 Sports
When you look at new Baylor DT Andrew Billings, it's easy to spot a lot of similarities between him and former Bears standout tackle Phil Taylor.
Like Taylor, Billings is a massive 300-plus pound interior force, who possesses tremendous power and surprising agility and quickness for his size.
After losing Nick Johnson, Baylor now needs a new run-stuffer to stick inside, and Billings should be able to fill that role.