Six Under-the-Radar Prospects Cincinnati Bengals Must Focus On at Combine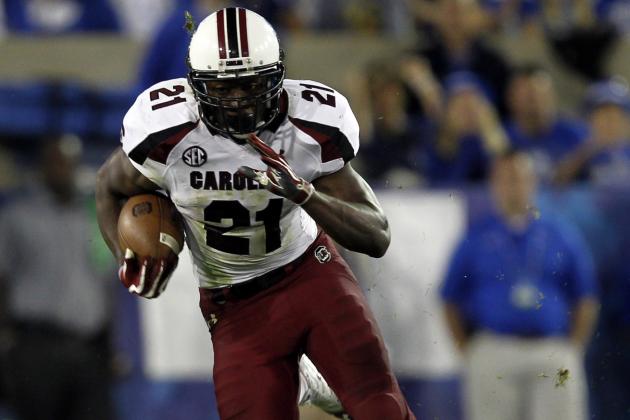 John Sommers II/Getty Images

It truly amazes me how the NFL consistently garners so much attention, even during the offseason. The beginning of the NFL Scouting Combine is being highly anticipated, with thousands of people watching to see who their teams should be focused on.
I am no exception to such a thing. With the Cincinnati Bengals on the cusp of being a great team in this league, it is vital that they focus on the athletes in this draft who will help put them over the hump. Having a down draft and ignoring top-notch players isn't acceptable.
Many names could qualify for this list, but who are the men that Cincinnati needs to be watching closely?
Begin Slideshow

»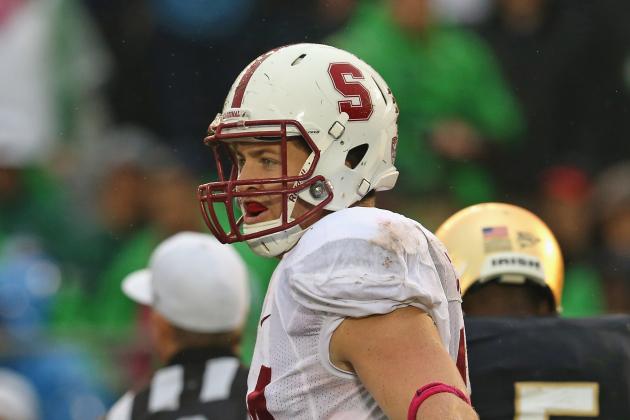 Jonathan Daniel/Getty Images

Chase Thomas, a Stanford product, could prove to be useful for the Cincinnati Bengals, possibly even becoming a better version of Dan Skuta. Cincinnati should be targeting someone like Alec Ogletree in round one of the draft, but Thomas could be a good late second day, or early third day, selection.
Thomas can play both linebacker (strong side) and defensive end, both positions where the team could use some stock. Where he excels is that he can cover the pass in the flat, and is good enough to where he could beat a tight end to get behind the line. In short, he has the basic essentials a linebacker would need, but does them well above average.
The issue with Thomas is that he isn't that quick or strong, so he can't be counted on to make a lot of attempts at a blitz. His most useful quality will be defending across the middle, a duty Rey Maualuga was unable to fulfill.
Thomas was tremendous in Stanford's back-to-back games against UCLA in late November, recording 14 tackles and four sacks. He proved to be a vital part to the Cardinal's defense and could prove to be a diamond in the rough in the 2013 Draft.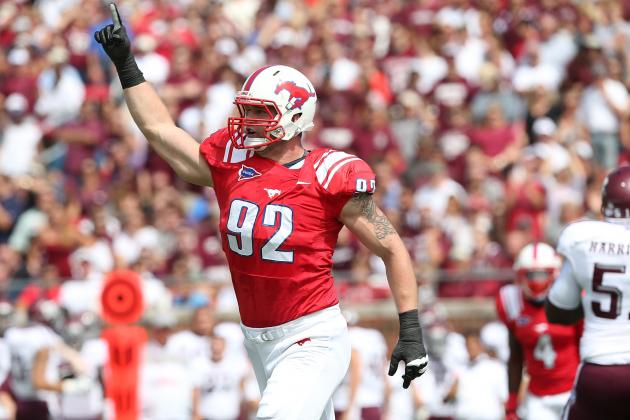 Ronald Martinez/Getty Images

I'm not a firm believer in the Bengals taking a defensive end in the first round, but they will probably have to get one at some point. If both Alec Ogletree and Kenny Vacarro are gone by pick 21, Cincinnati may be forced to go for a solid defensive end.
Margus Hunt, at 6'8" tall, has a monstrous presence and is very bulky. He has extremely long arms, keeps defenders away from his body and often times is able to overpower blockers. Hunt made his way to the quarterback for eight sacks this past season, and his strength tends to lie in blitzing.
The problem, though, is that against a Russel Wilson or Robert Griffin, Hunt will be outrun. He's surprisingly fast for his size, but he will be beat around the edge by these quarterbacks.
Still, the upside for Hunt seems to be endless, as there isn't much evidence that offensive linemen can dominate him. With a good showing at the Combine, you could see Hunt go in round one.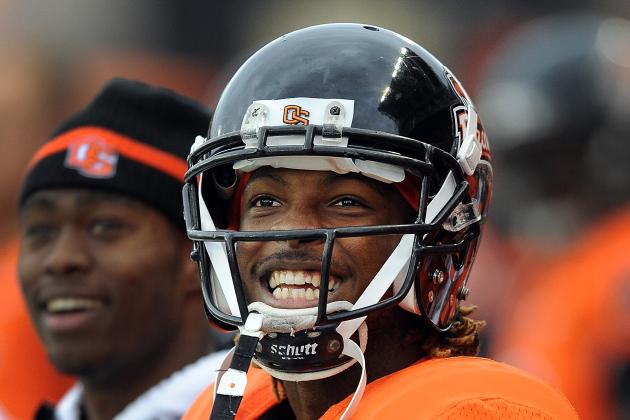 Steve Dykes/Getty Images

Should Markus Wheaton fall into the second round, it's possible that he could be wearing orange and black in the pros, just like he did in college.
Cincinnati does seem to be looking for a true second threat to A.J. Green, and Wheaton could wind up being that guy—even though his name isn't heard much with Justin Hunter and Keenan Allen's names on the board. Wheaton, after his 2012 season, became Oregon State's all-time leading receiver, a very good start towards a pro career.
Defenders will have a hard time keeping up with, as well as out-jumping, Wheaton. Additionally, his speed will be hard to match by most of the guys at the Combine.
The only concern with Wheaton is that he's not a real physical guy and seems to rely solely on speed to get away from defenders. Facing a Cortland Finnegan type cornerback wouldn't go well. Still, you have to see Wheaton as a guy with great hands and the speed to outrun any defender.
Wheaton would be a great way to shore up part of Cincinnati's offense.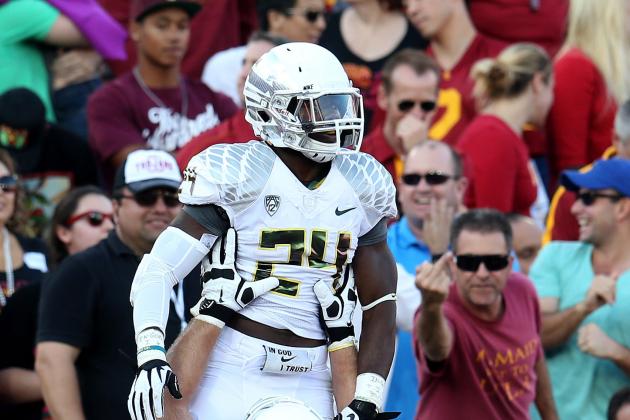 Stephen Dunn/Getty Images

The genes are a good start for Kyle Long, as he is the brother of Rams' defensive end, Chris Long, and the son of NFL Hall of Famer Howie Long.
Long only played one season at Oregon, but he was on the line for the nation's most explosive offense, so you know they were doing their part. He towers at 6'7" tall and weighs over 300 lbs. so he definitely has the look of a lineman.
Clint Boling struggled last season for the Bengals, and the left guard position needs an upgrade. Long proved to be incredibly quick off the snap in 2012 with the Ducks, and he is surprisingly athletic for a man of his stature. He isn't afraid to drop behind the line or go directly after the defense.
His issue is that he is prone to over-exert himself, possibly leaving a wide open gap for defenders to attack Andy Dalton.
Long is likely to be a second or third day option, and with Cincinnati needing line help, he could be a steal in those middle rounds.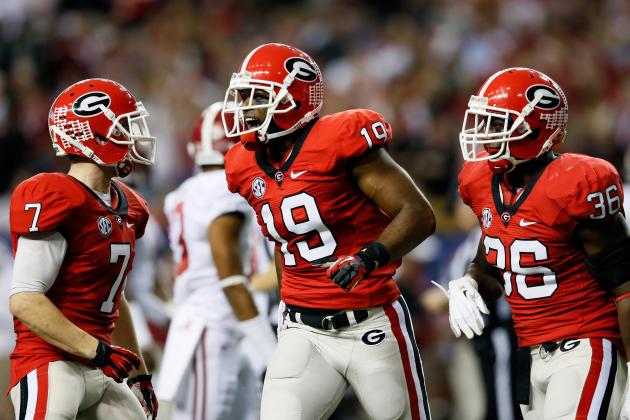 Kevin C. Cox/Getty Images

Most people in Cincinnati would (and rightfully so) rather have Shawn Williams' teammate, Bacarri Rambo, but Williams could be a fierce selection in his own right.
Despite not recording an interception in 2012, Williams proved to be a big part of the Georgia defense. He sticks well to receivers and will be on them as soon as they catch the ball—he won't let anyone slip away and get by him. He is also very good against the run, and pairing him with Reggie Nelson would provide a good tackling secondary, capable of making open-field stops.
Where Williams lacks is in the hands. He will break up a lot of passes, but seeing him make a lot of interceptions just won't happen.
Here's a guy that can lower his shoulder and pry the ball loose upon impact, should the Bengals use a late second round pick or third round pick on the Bulldog.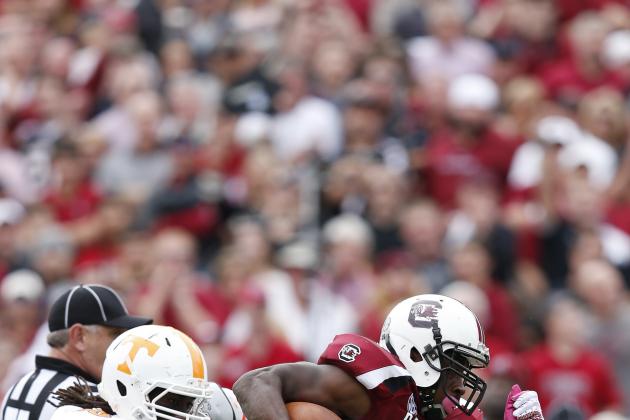 Joe Robbins/Getty Images

Can you really consider a guy like Marcus Lattimore "under-the-radar?" Admittedly, given how early his 2012 season ended, I'd forgotten about him.
It was once a sure thing that Lattimore was going to be a first round pick, and that is now no longer the case. It's now more likely that he slips to the third day of the draft, but he cannot be ignored.
Cincinnati is in need of a running back for the future—BenJarvus Green-Ellis was decent in 2012, but the Bengals have to grab a guy that can carry the load into the future. Lattimore, fresh off two knee injuries over the last couple years, is certainly a risk.
However, Lattimore is one of the best true runners in the draft. He has breakaway speed and is able to elude tacklers pretty easily—his college numbers would tell you that. He also possesses a great deal of strength, a trait that will be key in pass protection.
I don't trust Cincinnati to jump on a running back early, so Lattimore would be a good third day pick to lock up some future security in the backfield.