Updating Major MLB Injuries at the Beginning of Spring Training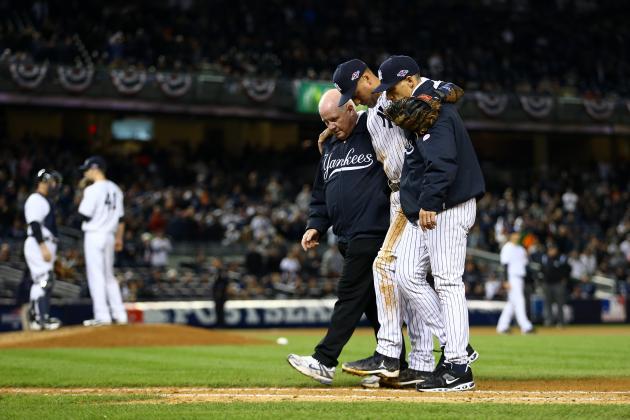 Al Bello/Getty Images
Derek Jeter fractured his left ankle in Game 1 of the ALCS.
There are many significant names on team injury reports at the beginning of spring training.
It's an unfortunate aspect of sports, but with close monitoring and proper rehab, athletes can return to the playing field in a matter of months (depending on the injury).
Here's a look at the status of many MLB stars hoping to make a successful return from encumbering injuries.
H/t to the MLB.com Injury Report
Begin Slideshow

»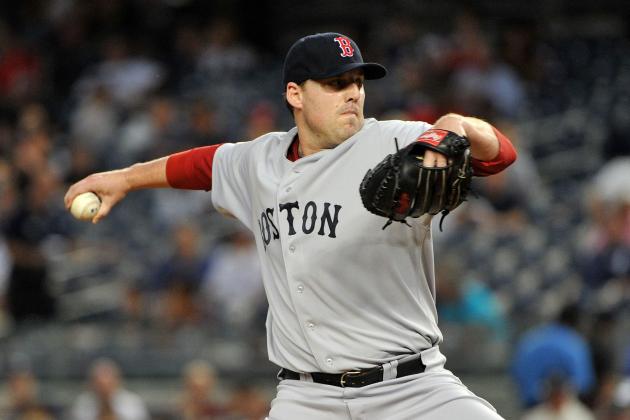 Christopher Pasatieri/Getty Images
Lackey showed up to Red Sox camp in the great shape.
Injury: Right Elbow
Expected Return: Opening Day
After pitching through most of the 2011 season with tightness in his right elbow, John Lackey underwent Tommy John surgery that offseason. He recorded a 12-12 record and an abysmal 6.41 ERA in 160 innings during his second season with the Red Sox.
Lackey missed the entire 2012 season, but has kept on schedule with his rehabilitation and is slated to start the first Grapefruit League game for the Red Sox on Saturday.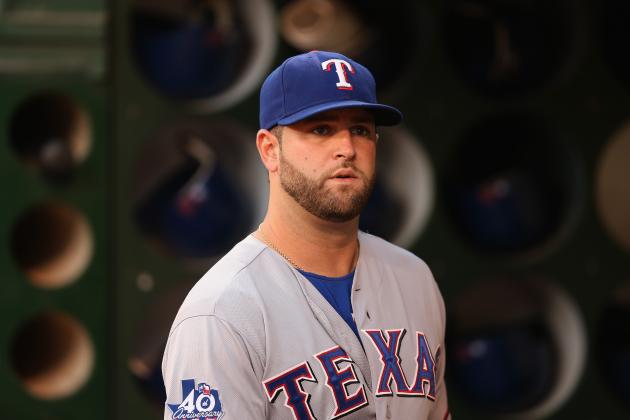 Ezra Shaw/Getty Images
It's all good signs for Napoli so far.
Injury: Hip
Expected Return: Likely Opening Day
Over a month after the Red Sox and Mike Napoli originally agreed upon a three-year, $39 million contract, the two sides settled on a one-year deal with a $5 million base salary.
Concerns over Napoli's ailing hip hindered contract negotiations, but all signs point to the former Texas Ranger being the starting first baseman for the Red Sox come Opening Day.
An MRI last Saturday revealed no additional damage to Napoli's hip, and he took 50 ground balls at first base on Monday.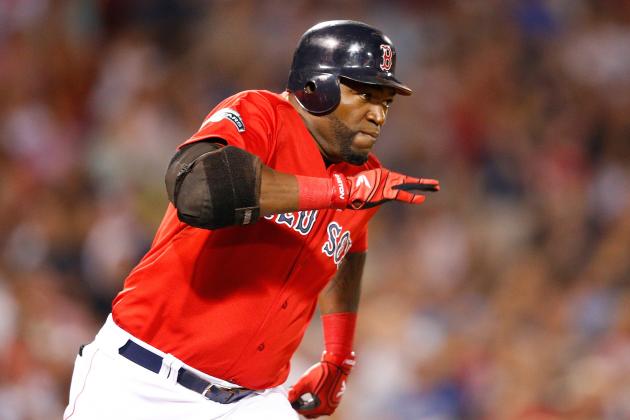 Jim Rogash/Getty Images
Ortiz is an essential piece to the Red Sox lineup.
Injury: Achilles Tendon
Expected Return: Likely Opening Day
David Ortiz has been nursing a strained right Achilles tendon, which he injured last July and which kept him out of all but one of the final 72 games.
The full-time designated hitter for the Red Sox, Ortiz doesn't have to worry about fielding drills, but he still has not been cleared by the medical staff to begin running the bases.
It seems the Red Sox are merely being cautious with their star hitter; he should be ready for Opening Day.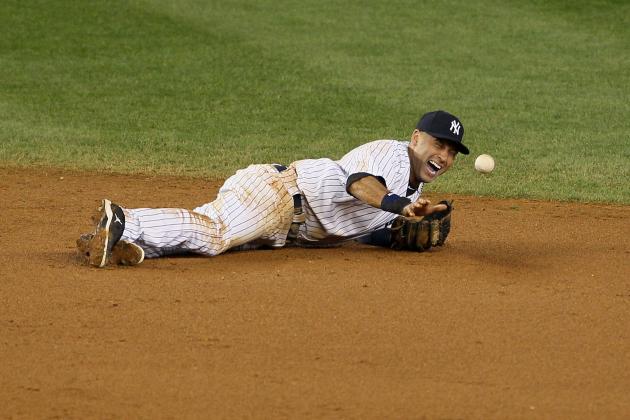 Alex Trautwig/Getty Images
Jeter will be cautious on his ankle for much of the season.
Injury: Left Ankle
Expected Return: Likely Opening Day
It was a Yankees fan's nightmare when the 38-year-old Derek Jeter collapsed while charging left on a grounder during Game 1 of last year's ALCS.
Immobilized by his fractured left ankle, Jeter described his offseason as "absolutely terrible."
While the plate and screws will remain in his ankle for the time being, the starting shortstop moved from the treadmill to the field with the full squad on Monday.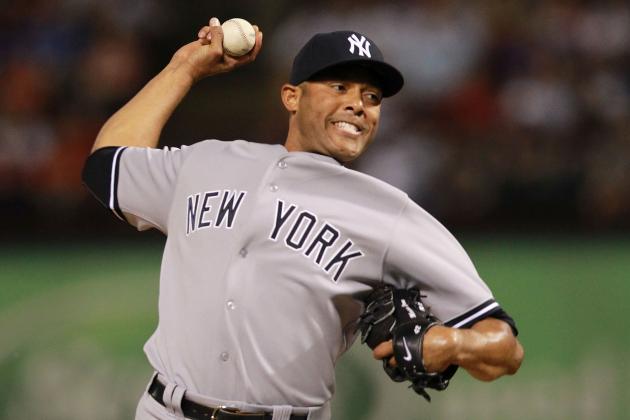 Ronald Martinez/Getty Images
If the cutter is strong, Rivera should continue to be effective at age 43.
Injury: Right ACL
Expected Return: Likely Opening Day
Last November Mariano Rivera vowed that he would pitch again for the New York Yankees after tearing the ACL in his right knee back in May.
He was telling the truth.
Rivera has already thrown multiple bullpen sessions, including a successful 30-pitch toss on Saturday.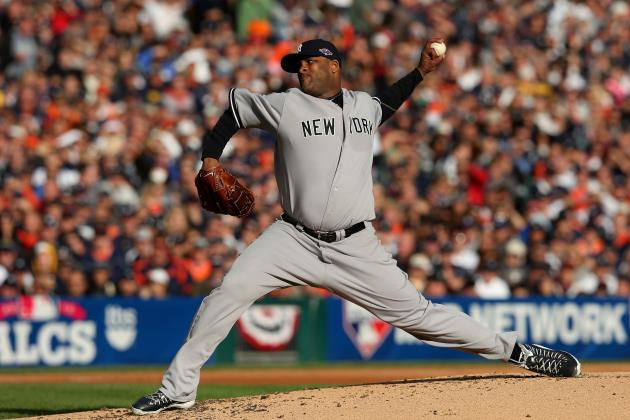 Jonathan Daniel/Getty Images
Sabathia will carry a heavy load at the top of the rotation.
Injury: Left Elbow
Expected Return: Likely Opening Day
C.C. Sabathia joined elders Mariano Rivera (43) and Andy Pettitte (40) in a bullpen session Saturday.
After undergoing arthroscopic surgery on his left elbow to remove a bone spur, Sabathia threw incident-free and, though a bit behind the other pitchers in camp, he expects to be ready come Opening Day.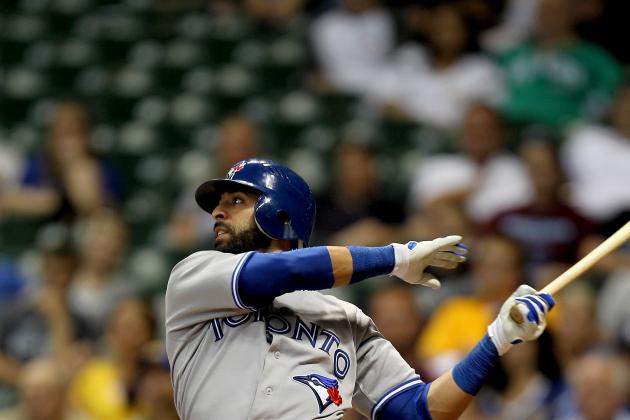 Mike McGinnis/Getty Images
Bautista and the new-look Blue Jays are ready to go in 2013.
Injury: Left Wrist
Expected Return: Opening Day
Jose Bautista had slugged 27 home runs in 92 games before calling it quits on the 2012 season with a lingering wrist injury.
After season-ending surgery on his left wrist in September, Bautista has said that he is fully recovered and has been swinging a bat since January.
All is well north of the border.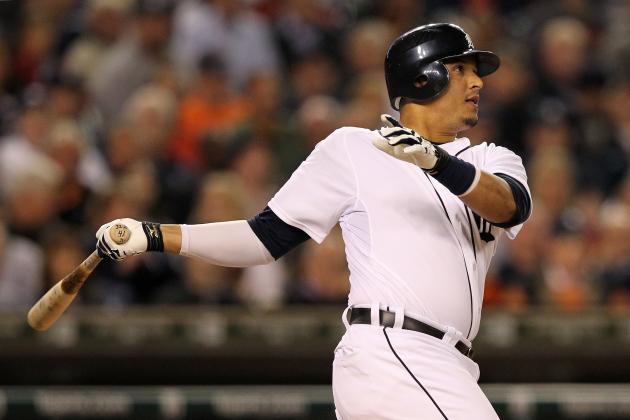 Leon Halip/Getty Images
Martinez can't wait to contribute again for his Tigers.
Injury: Left Knee
Expected Return: Likely Opening Day
The Tigers took live batting practice on Saturday, and Victor Martinez couldn't have been happier to be back in the batter's box.
The 34-year-old tore his left ACL last offseason and missed the entire 2012 campaign.
While he participated in catching drills Saturday, Martinez will be used primarily as a designated hitter in 2013 to avoid putting too much pressure on his reconstructed left knee.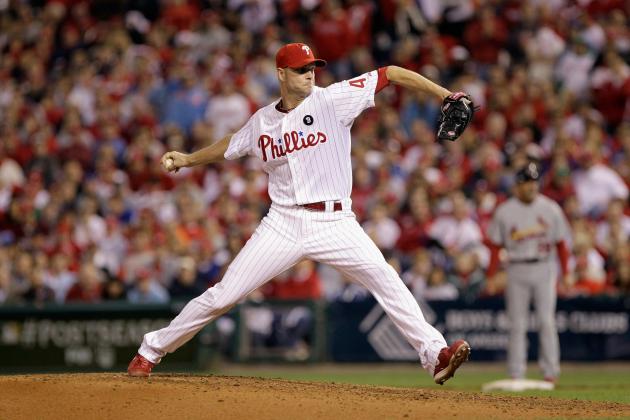 Rob Carr/Getty Images
Madson hopes to return as soon as possible.
Injury: Right Elbow
Expected Return: Mid-April
Ryan Madson was sidelined for the entire 2012 season after he had Tommy John surgery on his right elbow in April.
Regardless, the Angels gave him a one-year, $3.5 million deal to be their closer.
On Monday, Madson resumed throwing on flat ground for the first time after developing soreness in his elbow throwing off a mound a couple weeks ago.
He will start the season on the disabled list.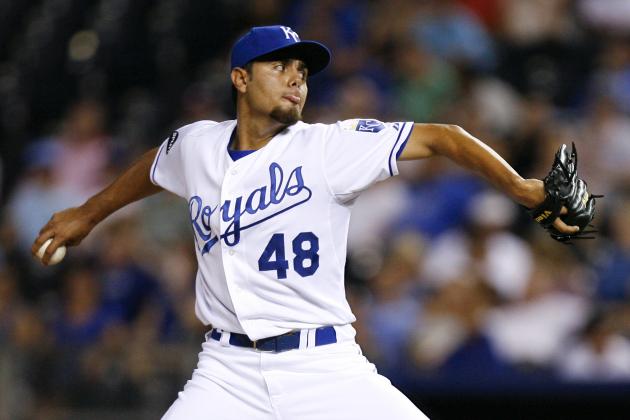 Ed Zurga/Getty Images
Soria is excited for his first season in Texas.
Injury: Right Elbow
Expected Return: Mid-May
Another pitcher recovering from Tommy John surgery, Joakim Soria has vastly improved since his procedure last April.
He has taken great strides in his impending return, throwing confidently in each of his early bullpen sessions, and he anticipates throwing breaking balls in a couple weeks.
Soria has been through Tommy John surgery before, so he knows just how his arm should feel.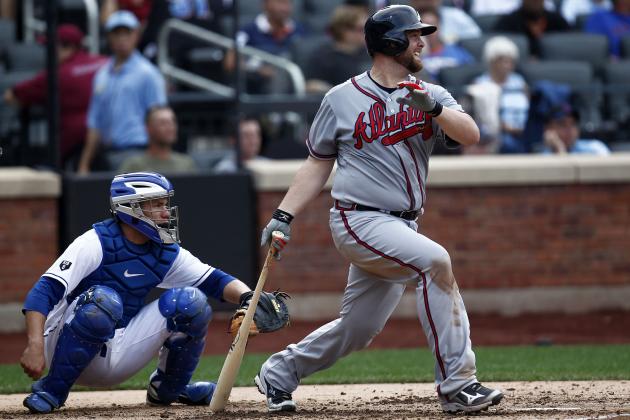 Jeff Zelevansky/Getty Images
McCann will benefit from having the Upton brothers in the lineup.
Injury: Right Shoulder
Expected Return: Mid-to-late April
After making six straight All-Star appearances, Brian McCann struggled in 2012 as he battled through a torn labrum in his right shoulder.
The Braves' catcher underwent shoulder surgery in October and was recently cleared to begin hitting flipped baseballs on Saturday.
McCann would like to be ready for Opening Day, but the medical staff likely won't allow it.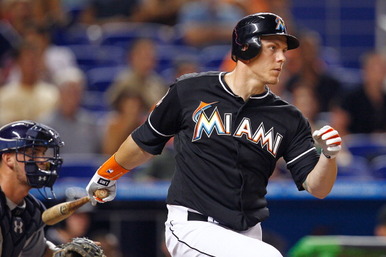 Sarah Glenn/Getty Images
Morrison is moving from the outfield to first base for the Marlins in 2013.
Injury: Right Knee
Expected Return: Possibly Opening Day
It's difficult to say when Miami Marlins first baseman Logan Morrison will be game-day ready.
Morrison went through two knee surgeries, most recently in September, to repair the patella tendon in his right knee.
On Tuesday, Morrison was cleared to begin running on an anti-gravity treadmill—a small, but important step.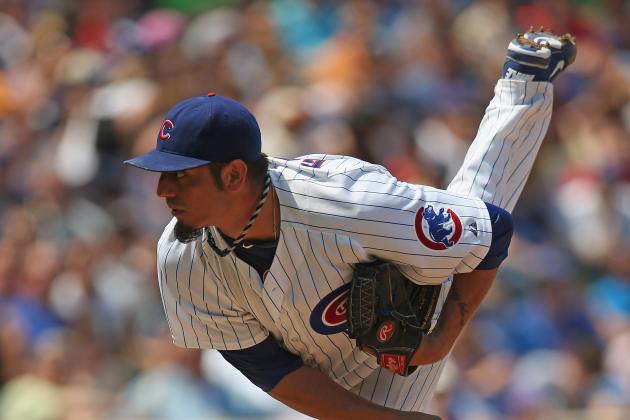 Jonathan Daniel/Getty Images
Much of the success of the Cubs' pitching staff will rely on Garza.
Injury: Right Elbow and Back
Expected Return: Likely Opening Day
Matt Garza, who hadn't pitched since July due to a stress reaction in his right elbow, suffered a mild left lat strain while throwing batting practice on Sunday.
The back strain should only sideline Garza for a few days, and the elbow seems to be fully healed.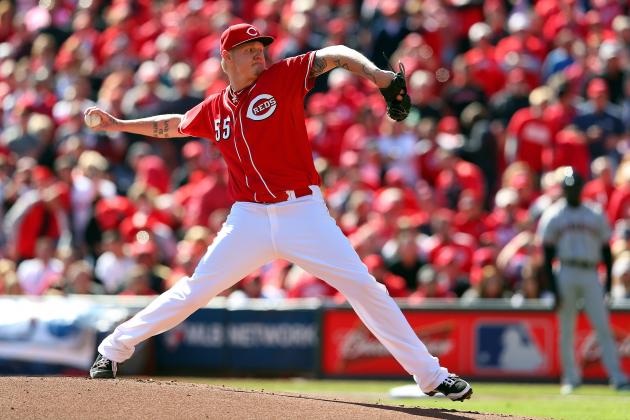 Andy Lyons/Getty Images
Latos will be an integral part to one of the best rotations in the league.
Injury: Right Ankle
Expected Return: Mid- to Late- February
Starting pitcher Mat Latos injured his right ankle while running Saturday and has been walking with a slight limp since.
He did not participate in workouts with other pitchers on Monday, but instead rested the ankle.
It's a mild injury, and Latos should be fine by the end of the month.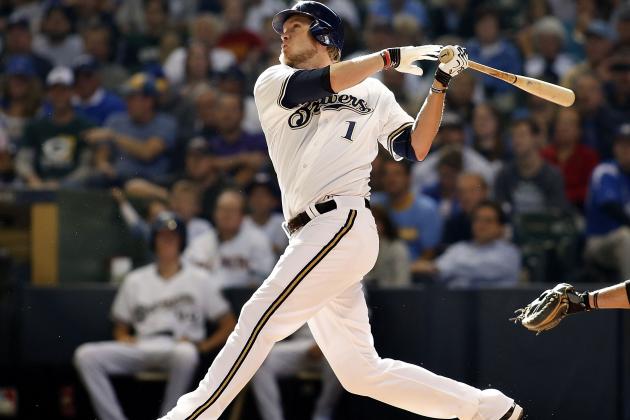 Mark Hirsch/Getty Images
Hart has been a large component in filling the void left by Prince Fielder.
Injury: Right Knee
Expected Return: Late April-Early May
Just as he planned, Brewers first baseman Corey Hart is ahead of schedule after knee surgery to repair a torn meniscus in his right knee.
This is good news for the Brewers, whose backup first baseman, Mat Gamel, re-tore the ACL in his right knee on Saturday and is out for the season.
Hart is scheduled for a follow-up MRI on March 8.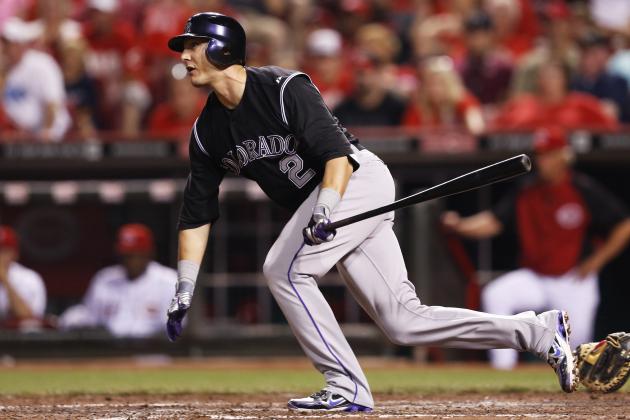 Joe Robbins/Getty Images
Tulowitzki played in just 181 games in 2012.
Injury: Left Groin
Expected Return: Opening Day
After June surgery on his injured left groin, Troy Tulowitzki reported to Colorado Rockies camp feeling locked in and ready to perform at a high level.
Tulowitzki wanted to test out his surgically-repaired groin in the World Baseball Classic, but insurance issues in his contract will prevent it.
The star shortstop has been fielding grounders and hitting for weeks. He also ran the bases at full speed on Friday.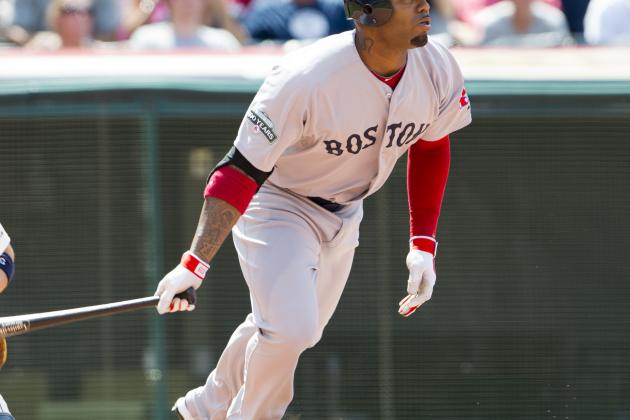 Jason Miller/Getty Images
Crawford hopes to play in his first full season since 2010.
Injury: Left Elbow
Expected Return: Likely Opening Day
Carl Crawford has been plagued with injuries over the past couple years.
He missed the first 89 games of the 2012 season while recovering from left wrist surgery. Then, after playing in only 31 games, the Dodgers outfielder required Tommy John surgery on his left elbow ending his season in August.
Crawford has begun light throwing, between 45 and 60 feet (topping out at 90 feet), and has been swinging a bat over the past few weeks.
He took batting practice for the first time Sunday.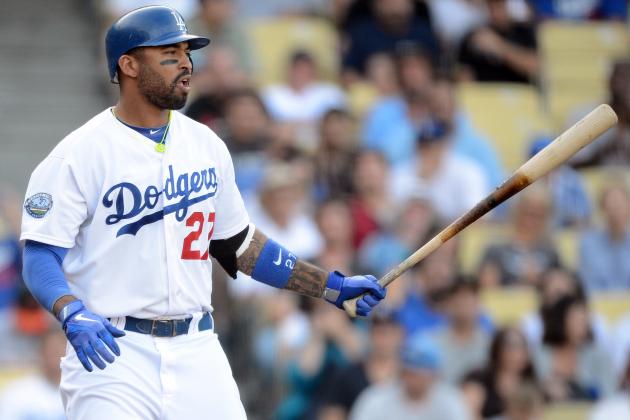 Harry How/Getty Images
Kemp and the Dodgers will be looking to make a World Series run in 2013.
Injury: Left Shoulder
Expected Return: Likely Opening Day
Matt Kemp, the original Dodgers star, injured his non-throwing shoulder in late August when he slammed into the outfield wall in Colorado.
Surgery in October repaired a partially torn labrum and rotator cuff damage.
Kemp is ahead of schedule in his return to full-time play, but won't rush back to play in spring training games too early.