The Weirdest Buzzer-Beaters Ever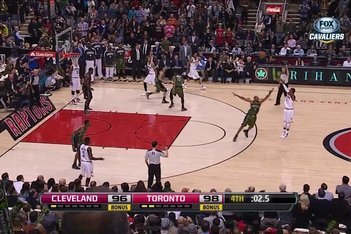 Image via sbnation.com
There's 3.6 seconds left, and your team needs a miracle.
They find themselves 94 feet from the basket, needing at least a two to send the game to overtime.
You're hoping for a miracle, but know the basketball gods haven't been kind in the past.
Inbounding the ball, your speedy point guard gets to midcourt and heaves up a 50-footer. The next thing you see is the ball floating through the net and 15,000 fans going crazy.
This is the drama that a buzzer-beater does to us, which is why we're giving you the 20 craziest we've ever seen.
Begin Slideshow

»
It's not that Lin's buzzer-beater was all that crazy. It's just when it happened that makes it earn a spot here.
In the midst of one of the biggest sports phenomenons we've seen in the past decade or so, the former Knick guard showed why everyone had a case of "Linsanity" when he buried this triple against the Raptors on Valentine's Day 2012.
It's truly the love that keeps on giving.
This shot's just cool.
Winston, a highly regarded prospect in the class of 2016, earned some face time for this trey during a prep tournament last year. But as smooth as he made it look, it didn't have the significance to land much higher on our list.
Trust us, though, we'd have gone nuts if we saw this in person, exhibition game or not.
As much as Cleveland fans hate the guy for the way he left the city at the altar during "The Decision," his trey to win Game 2 of the 2009 Eastern Conference Finals made us go crazy.
Of course, when the first guy to hug LeBron was Sasha Pavlovic (no offense), it's pretty obvious how the series ended up—with the Cavs losing 4-2, sending the Orlando Magic to the NBA Finals.
By now, shouldn't people know not to celebrate something until seeing triple zeroes on the clock?
In case fans, players and coaches haven't quite learned yet, maybe they should just watch this video of a Euroleague game.
Partizan overcame a perceived game-winner by Cibona Zagreb to shock the Croatian team with a 75-foot bomb for the win.
As a Kentucky alum, I'm sure to catch flak for adding this one, but it's been more than 20 years now. So while there's still no love lost toward Laettner and Duke, hopefully UK fans can forgive me.
Just to see how everything had to go just right for this last-second winner to happen. Check out the Sport Science on it—though it still doesn't make it any easier to swallow.
It's one of the most iconic shots in NCAA Tournament history and is still heavily debated.
Note to any player who tries to run out the clock as the Wizards' Michael Ruffin was trying to do here—if you're going to attempt it, please make sure you're successful.
Otherwise, another guy on the court might just get a hold of the rock and bury you with a desperation bucket that's hard to explain, much like Mo Pete did here.
If you're looking for style points, Clarke's one-handed, off-balance shot isn't going to be something that you'll be enthusiastic to judge.
But that's the beauty of buzzer-beaters—it doesn't matter how they go down, just as long as a player gets it off before time expires.
As we've seen in the NCAA Tourney, regardless of what a team's seeded, all bets are off when March Madness hits.
With one of the most memorable moments in tournament history, Valpo's Drew drained this three-pointer to send the No. 13-seeded Crusaders past the No. 4-seeded Rebels in the first round in 1998.
When a player's desperate to get the ball off before the clock expires, sometimes they have to act a fool and try something that can either go very wrong or somehow actually work out for them.
Murray State star Isaiah Canaan proved the latter can cause some serious reactions when he mishandled the ball and was forced to bank in a half-courter from his knees.
After a mad dash for the rock, Long Beach Poly's Carmon was able to scoop it up, compose himself and avoid the outstretched arm of a defender to hit this double-pump heave from beyond half court.
Understandably so, the crowd went wild.
As witnessed by the third grader who tossed up an air ball with the first shot, trying to shoot a ball into a 10-foot hoop can prove to be pretty difficult.
But for Austin Worthern, it was no thing, as he made a 50-footer to put his team up 21-4 with this banked-in triple.
Better check that kid for PEDs with that kind of strength!
Normally, Foster's no-look, underhanded volley for three with .5 seconds left would find itself in the top three. But as difficult a shot as it was, it came at the end of the first quarter and lacked the dramatics some of these other ones did.
Crazy? Absolutely.
Heartbreaking? Not exactly.
With a tie game and 3.6 seconds left, it's not uncommon to see players get a little sloppy with the ball.
It seems to have happened here as Oral Roberts big man Damen Bell-Holter intercepted a long pass and heaved-up a miracle, off-balance shot that happened to bank in for a three-point win.
Too bad there weren't more people in the crowd to rush the floor in celebration.
The improbability of catching, squaring and somehow releasing a decent shot all in one motion is pretty crazy to think about.
Collison's H.O.R.S.E.-like trey sent the game into overtime—where his Mavs came out on the short end. But he still gave us one of the most memorable buzzer-beaters anyone's ever seen.
We've all heard the saying, "It ain't over 'till it's over." This clip defines that, giving fans not one, not two, but three game-winning shots in a matter of 17 seconds.
You're lucky to see a couple in a season, let alone three consecutive.
How is this exactly possible?
It's crazy enough that this kid even got the ball to the rim from about 80-feet away. But when it clanks off the rim, rolls down a wire and into the net, it gets about a million times cooler.
The reaction from the stands makes it hilarious, as the disappointment of coming so close turns into a frenzy of "What did I just see?"
Have you ever tried tossing a basketball overhand like you're throwing a baseball?
Go outside right now and try it, we'll wait...
OK, now that you've done it, you've realized how difficult it is.
Now add the pressure of a sectional final played on the University of Dayton's home court and the difficulty of throwing it from 90 feet away!
This is just incredible to watch. Even the camera guy was slow in keeping up with the path of the ball because he probably thought it would fall way short.
Though this kid doesn't share the story of winning an NBA or NCAA title thanks to his last-second toss, it's probably just as good of a feeling knowing he won the game for his squad.
Kids in eighth and ninth grade are so innocent, aren't they?
Even the little guy who was defending the shooter wanted a high-five and was clapping.
Talk about sportsmanship!
We're guessing this wasn't how Olson thought this would go down.
What initially looked like one of the most embarrassing attempts at a full-court, last-second heave, turned into an unbelievable shot that no one could even imagine ever happening.
It's as if there was a higher power helping out here, like in Angels in the Outfield or something?
This earns our top spot thanks to the level of difficulty and ingenuity that Ortiz showed by sinking this shot to send Wagner to an improbable win over Santa Clara a couple years back.
When trying to win a game of H.O.R.S.E., it's not uncommon to try this shot. But to have it happen at the buzzer for a two-point victory is unthinkable.