Predicting the Stats for the Top 10 New Jersey Devils in 2013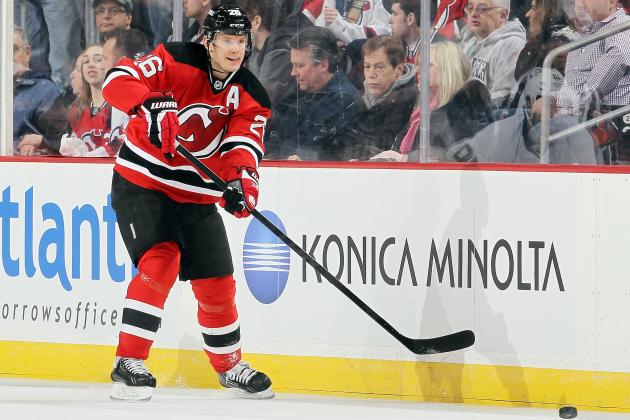 Jim McIsaac/Getty Images
Patrik Elias leads the Devils with 19 points
Stats are going to look different at the end of a 48-game season. Conventional benchmarks like 30 goals for a scorer or 30 wins for a goaltender will not carry the same indications this year.
What stands out so far in New Jersey is David Clarkson's goal production. With 10 goals in 16 games it is quickly shaping up to be a career year.
Ilya Kovalchuk is not finding the net the way he is capable of. Andy Greene is stepping up into the play nicely. Patrik Elias continues to be his consistent self.
Trends will change and ebbs will turn to flows. Sixteen games in, let's target the end of the season and predict where the top 10 Devils end up on the stat sheet. Primarily I'm thinking goals and assists, but for defensemen I will include plus/minus rating.
Begin Slideshow

»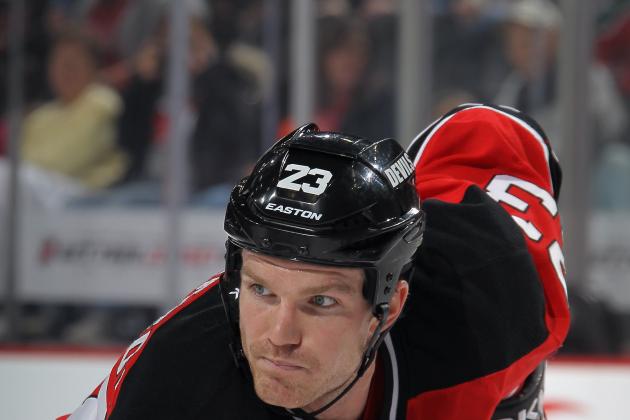 Bruce Bennett/Getty Images
Clarkson has caught fire early in the season
After scoring 30 goals last season Clarkson caught many people by surprise. He does not make his money with finesse and it was questioned whether we would see that type of production again.
Clarkson is proving he can be a consistent goal scorer with a deadly touch around the crease. He doesn't mind getting his nose dirty for those garbage girls.
That being said, teams have taken notice and will begin to target him more. That was on display Monday afternoon against the Senators. Ottawa had it in their game plan to shake it up with Clarkson, and he had his gloves off twice looking to fight.
As a go-to-guy, he will see more of this from other teams, and his scoring pace will slow down. It will still end up being a very good year for Clarkson as he enters free agency.
Prediction: 21 goals and 15 assists.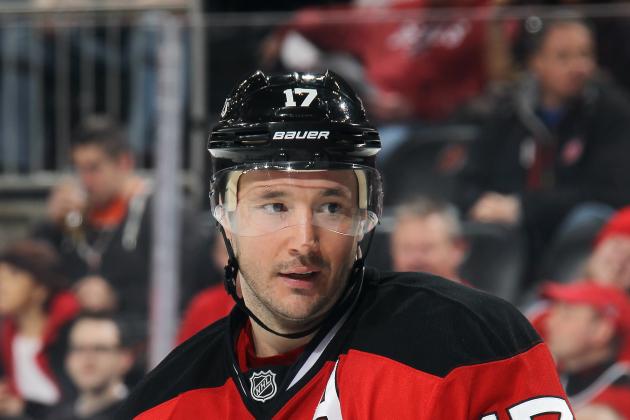 Bruce Bennett/Getty Images
Kovalchuk has just five goals in 16 games.
Kovalchuk is logging a ton of ice time and is making plays (10 assists), but still is not scoring at the rate coaches and fans want to see.
His talent has no limits. As much as anybody in the league, Kovalchuk is a guy who can score in bunches. Don't expect the tape on his stick to stay cold for long, he will end up right where he needs to be at the end of the season.
Prediction: 23 goals 25 assists.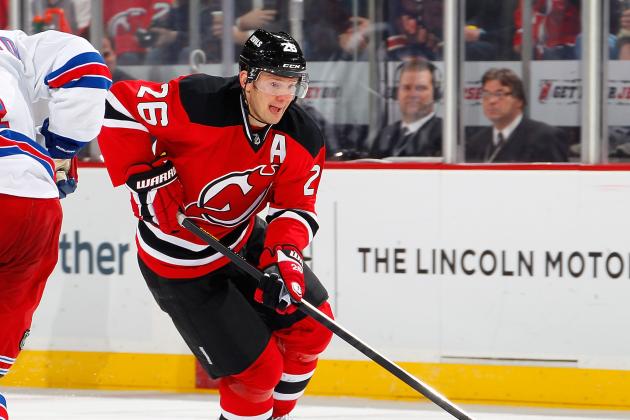 Paul Bereswill/Getty Images
Elias is tied for third in the NHL with 15 assists
Another forward motivated in his walk year, Elias is picking up right where he left off in 2011-12, and where he has been seemingly his entire career.
Third in the league with 15 assists, the Devils' all-time leading scorer will hit a hot streak in the goal department soon.
Prediction: 14 goals and 33 assists.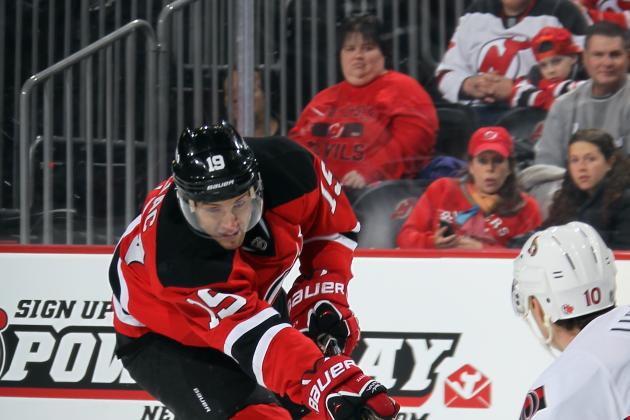 Bruce Bennett/Getty Images
Zajac has just five points so far.
How do you earn $48 million in the NHL? Win faceoffs? Sure. Back check? That's nice. Stay healthy? (which Travis Zajac has done most of his career barring last year's freak Achilles tear.) Fine. This is all good and well, but are you scoring?
Three goals and two assists in 16 games isn't going to cut it for a franchise first line center. Zajac has to find the knack and get involved in some scoring plays.
Prediction: 12 goals and 15 assists.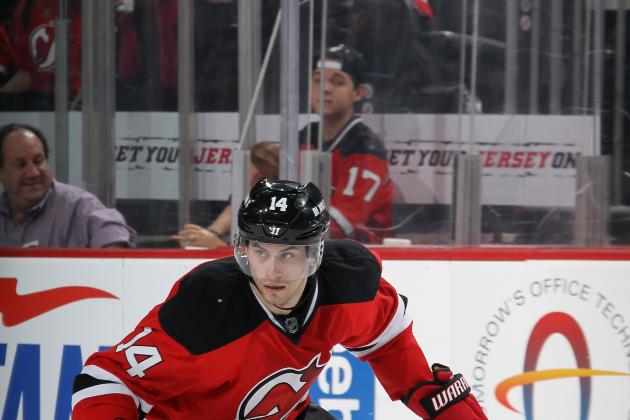 Bruce Bennett/Getty Images
Henrique has cooled down as of late
After registering points in six of his first seven games this year, the second-year center has been held off the score sheet in four straight games.
A Calder Trophy finalist for rookie of the year in 2011-12, Adam Henrique is a big piece of the puzzle moving forward. Hopefully his recent slump isn't a sign of things to come and he will get back to his productive ways.
Head coach Pete DeBoer likes to tinker with the line combinations and probably will continue to do so until he finds the right chemistry. Henrique should be among the top six forwards all year.
Prediction: 13 goals and 20 assists.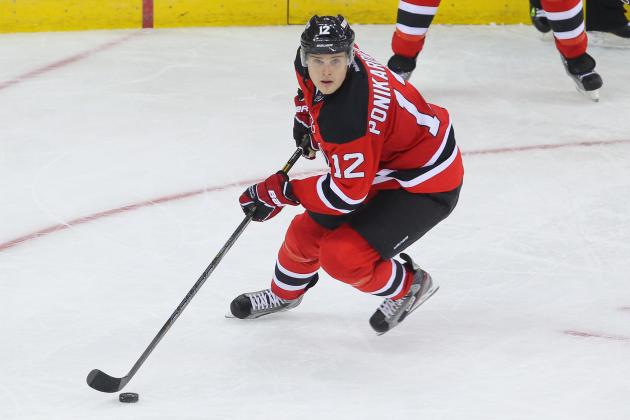 Ed Mulholland-USA TODAY Sports
The Devils have traded for Ponikarovski in two straight seasons.
In the past 13 months, Alexei Ponikarovski has gone from the Carolina Hurricanes to the Devils to the Winnipeg Jets, only to be traded to the Devils a second time one week ago.
Clearly, general manager Lou Lamoriello likes the way he fits with the Devils' style of play.
He came on strong after being acquired the first time and he should flourish in his second tour of duty.
Prediction: 10 goals and 12 assists.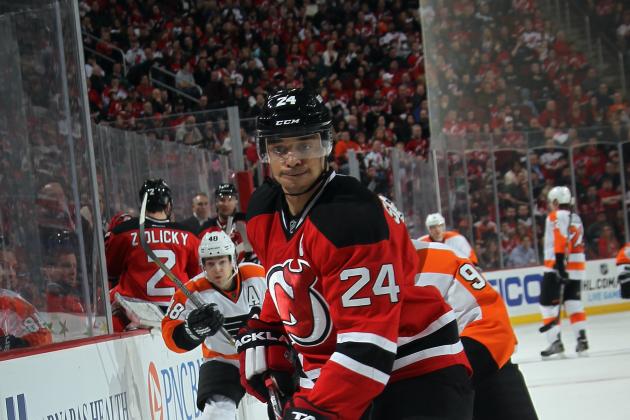 Bruce Bennett/Getty Images
Salvador surprised with a big post season last year.
After a quiet regular season in 2011-12, Bryce Salvador exploded for four points and 10 assists in 24 playoff games last season. That offensive burst helped the Devils reach the finals for the fifth time in franchise history.
However, he seems to have reverted back to his defensive self in 2012-13, and that is just fine. Salvador is a stay-at-home defenseman who uses his muscle in front of goaltender Martin Brodeur.
I expect his plus/minus to improve.
Prediction: two goals, seven assists and plus-six.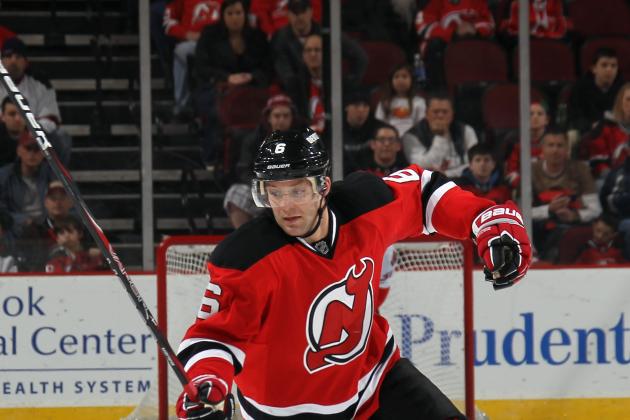 Bruce Bennett/Getty Images
Greene has joined the rush well in 2013
A couple of weeks ago I challenged Greene to step up his production from the blue line in 2012-13.
There is no way he heard me, but he seems to be keyed in so far. He is using his good skating legs and joining the rush, and making heads up plays to go with it.
Believe it or not, Greene is fourth on the Devils in points with eight. He won't finish there, but will be an important component as New Jersey finds ways to generate offense.
Prediction: six goals, 15 assists and plus-15.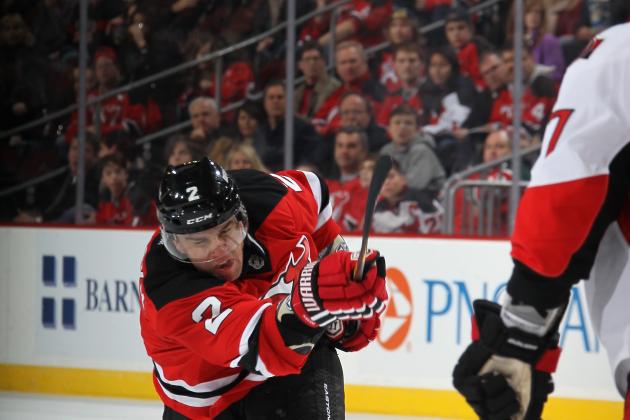 Bruce Bennett/Getty Images
Zidlicky and Salvador make up the Devils' top defensive pair.
Marek Zidlicky reminds me of Brian Rafalski in the offensive zone. He has a knack for getting shots from the point through to the net. There is an almost intangible quality that make his shots so easy to deflect for Devils' forwards.
He will rack up good assist numbers for a defenseman.
Prediction: four goals, 14 assists and plus-4.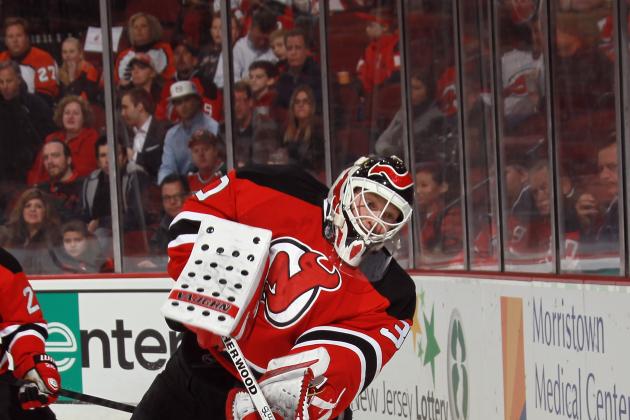 Bruce Bennett/Getty Images
Brodeur handles the puck better than any other goaltender.
No Devils slideshow is complete without Brodeur.
Is it conceivable this guy can actually get to 700 career wins? If he comes back next year and registers another full season, then it is very possible.
This year, the ageless goaltender has put together another strong start. Due to the fact Johan Hedberg has looked good also, DeBoer may want to rest Brodeur as much as he can. So he may only appear in about 30-35 games.
Prediction: 20-9-5, .910 save percentage and 2.33 GAA.
He'll throw in a few assists in there as well. Last year, Brodeur had more points than Cam Janssen, Eric Boulton and Tim Sestito combined.