Big 12 Football: 5 Teams That Will Be Counting on Freshmen in 2013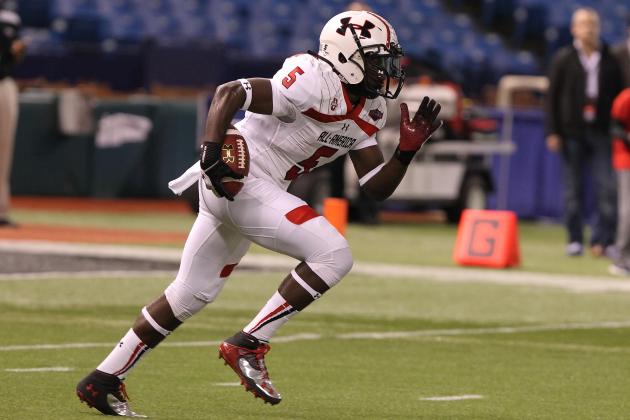 Kim Klement-USA TODAY Sports

Remember when Oklahoma, Texas and Texas Tech were each ranked inside of the Top Five of the BCS standings?
The Sooners had the services of an able-bodied Sam Bradford, complimented by an able-bodied Demarco Murray. The Red Raiders were flying high with the likes of Graham Harrell and Michael Crabtree, and UT was flying banners in protest of tie-breakers.
C'mon, you remember. The Longhorns beat OU in October of '08, only to watch as the Sooners passed them on the leaderboard in November. Mack and the boys were so angry that they didn't lose another game until Colt McCoy's arm went dead in the 2009 BCS National Championship.
As it happened, McCoy's throwing shoulder merely served as a microcosm for the entire league—stamped out by the impact of an Alabama defender.
Nebraska left the league shortly after finding out that football game clocks measure in tenths of seconds—who knew? Colorado left because, well, even terrible ideas seem better with a little herbal assistance.
Next thing we knew, Texas A&M was taking the college football universe by storm with a redshirt freshman neglected by UT, and Missouri was verbally writing checks that it couldn't physically cash. The former development, shocking; the latter, not so much.
Oh, yeah, and both schools now play in the SEC.
Big 12 Country has been turned on its ear of late. Big Game Bob can't seem to win the big game. Texas has been so bad that it scarcely even registers as a big game on the schedules of its opponents. New additions, West Virginia and TCU, fell painfully flat, and Oklahoma State—yes, the Cowboys—have been the league's most consistent team.
To make matters worse, all 10 teams are in desperate need of reinforcements, yet only Oklahoma and Baylor managed to avoid embarrassment on National Signing Day. The absence of incoming impact freshman within the league has little to do with stacked depth charts and much to do with anemic recruiting classes.
At best, no more than five teams are likely to see noteworthy contributions from first-year players. At worst, the Sooners and Bears could be the only squads with fish of any relevance.
Begin Slideshow

»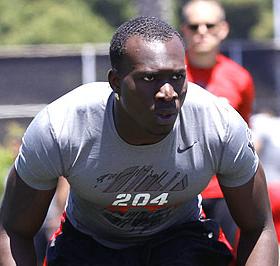 With the departure of Tony Jefferson and Javon Harris, the Sooners will be in search of a pair of replacements. One such player figures to be Fresno, Calif.–native Hatari Byrd.
The 4-star prospect has asserted, on the record, that the position—likely strong safety—is his to lose. The problem I have with Byrd is his lack of flexibility and quickness. He plays with stiff hips and shows only average explosion to the football.
At 6'1" and 200 pounds, he has good size, and has shown above-average ability as a tackler in space. But Central High East (Fresno, Calif.) used Byrd in or near the box in what translates as more of an outside linebacker, and if I didn't know any better, that's exactly where I'd have projected him in Norman, Okla.
Byrd isn't even my favorite player from his high school. That's another future Sooner, defensive back L.J. Moore.
Moore primarily played cornerback for the Grizzlies, but shows above-average ball skills and is adept as a tackler. Oklahoma is solid at corner, particularly with the return of Aaron Colvin. But if Moore—who weighs in at just 170 pounds—can add weight, he could prove to be an asset in the secondary, as well.
Oklahoma–natives Stanvon Taylor (ATH) and D.J. Ward (DE) are also intriguing prospects. Particularly Ward, what with the Sooners' lack of depth and difference makers up front.
Prior to transferring his way to ineligibility, Ward was the top-ranked player in Oklahoma and the top prospect in OU's class. Now that the smoke has settled, he is still likely both; a powerful rush end with 4.54 speed.
Considering the complete lack of experience on the edge—Scout, for example, is currently projecting 6'1" linebacker Rashod Favors as a starter at one of the end spots—Ward could have an immediate impact.
The crown jewel is obviously running back Keith Ford, the top-rated back in the state of Texas. Ford is an electrifying player, as talented a ball-carrier as any. The speed of his ascent to the top of the depth chart, however, remains to be seen.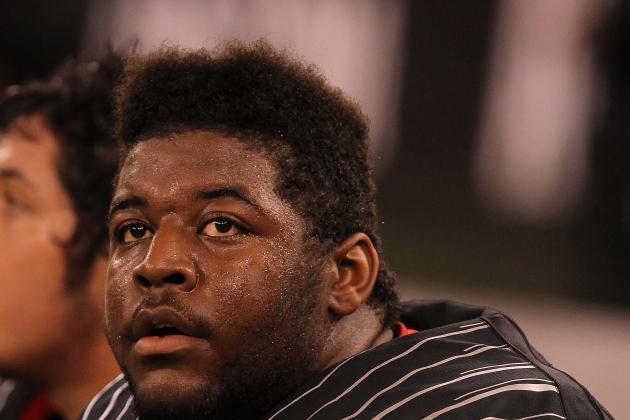 Kim Klement-USA TODAY Sports

DeLoss Dodds can say what he wants, but the little brother to the east wreaked havoc on the Longhorns this month.
Texas' 2013 class ranked 23rd nationally, per Rivals—three spots ahead of Arkansas, which would have been good for 11th-best among SEC schools. The gem of the coup was the top player in Texas—and No. 1 center in the country—Darius James. Unfortunately for the 'Horns, James and fellow offensive lineman Kent Perkins were the only signees ranked inside the state's top 14, per ESPN.
Texas A&M flipped Ricky Seals-Jones, the nation's second-ranked athlete, and Alabama swallowed up former-commit A'Shawn Robinson, an ESPN150 defensive tackle out of Arlington Heights, Texas.
Texas needs playmakers and it needs defenders. It got little of either.
James will likely push junior Dominic Espinosa for the start at center, while Perkins could vie for a tackle spot.
Rami Hammad is a nice prospect at guard, but the Longhorns return considerable depth on the interior of the offensive line.
Deoundrei Davis could see time at linebacker, just as Antwuan Davis or Erik Huhn may be shuffled back to compete for Kenny Vaccaro's vacated safety spot, and I suppose Jacorey Warrick or Jake Oliver could conceivably work their way into the competition at wide receiver—though all of that seems like a mighty reach.
More realistically, the talent that fills the depth chart from the last few classes will simply need to live up to its billing, because there's just not much here relative to what's already in Austin.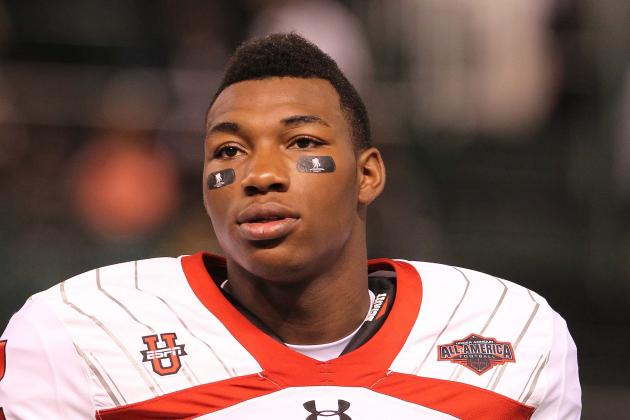 Kim Klement-USA TODAY Sports

Oklahoma and Texas may have put together better classes than Baylor, but the Bears most recent collection of newcomers is more impressive because, well, it's Baylor.
Briles, who may or may not have spurned the University of Arkansas in January, compiled the most impressive coup in school history a month later, adding a handful of potential difference-makers that could see time for the Bears as soon as the first week in September.
Chief among them is third-ranked (ESPN) wide receiver Robbie Rhodes. With Terrance Williams and Lanear Sampson out of the picture, Baylor was in desperate need of exactly what it got in Rhodes. The Fort Worth, Texas–native chose BU over Alabama, Texas and Texas A&M, forcing many to reassess Baylor's standing in the Big 12 moving forward.
Quarterback Nick Florence is also gone, and while conventional wisdom urges the expectancy of a Bryce Petty succession, Chris Johnson is an intriguing addition.
Johnson, the fifth-ranked (ESPN) dual-threat quarterback in the county, is raw—probably a little too raw to play right away—but supremely talented. At the very least, he'll get enough reps to either push Petty onto the field or out of the way.
Andrew Billings could challenge to replace Cameron Kaufhold at guard immediately, though, the Bears are in dire straits along the defensive line, where Billings may, instead, be asked to step in at nose tackle.
Elsewhere, Briles signed an outstanding trio of linebackers, led by Hargrave Military Academy-product Brian Nance, any of whom could snag a spot amidst a unit that ranked 113th in points allowed (37.2) a season ago.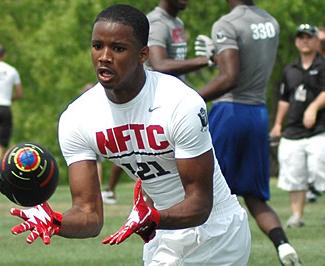 The Cowboys aren't going to stop slinging it all over the yard any time soon, leaving plenty of passes that will need to be caught by someone other than Josh Stewart.
Charlie Moore and Blake Jackson are nice wide receivers, and the group will benefit from the return of Tracy Moore, but there remains a window of opportunity for a newcomer like Ra'Shaad Samples.
The Dallas Skyline product appears to be solid, if not spectacular, on tape; an above-average route-runner with good hands and the ability to separate from defenders after the catch.
In addition to Samples, Oklahoma State will also welcome wide receivers Marcell Ateman and Jerel Morrow into the fold.
The 'Pokes have several needs elsewhere, particularly defensively, but the immediate solution seems unlikely to be found in the remainder of this class.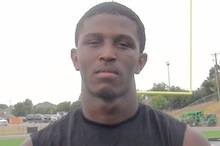 The Class of 2013 was far from spectacular in Fort Worth, but it wasn't altogether void of immediate difference makers.
Perhaps the most glaring inadequacy amid the group of Horned Frogs that head coach Gary Patterson trotted out a season ago was lined up in the backfield. After multiple seasons of being spoiled by the ability of backs like Ed Wesley and Waymon James, TCU was void of a feature back.
Arlington, Texas–native Kyle Hicks is the top-rated player in Patterson's newest class, and figures to compete for snaps from the outset. What Hicks lacks in top-end speed, he appears to make up for with power and vision.
It is also worth noting that Hicks chose the Horned Frogs over Notre Dame, Michigan, Texas A&M, Texas and Arkansas.
Elsewhere, athletes like Cameron Echols-Luper and Ty Slanina are interesting additions, but seem like long shots to contribute early on.