With the NBA trade deadline fast approaching, rumors and speculation abound, many of which involve the Boston Celtics and whether or not they should deal Kevin Garnett. But the Big Ticket shouldn't go anywhere—he's earned the right to end his career in Beantown.
Literally speaking, it's a right KG possesses that comes in the form of a no-trade clause. As such, Garnett has the right to veto any trade the Celtics strike involving him, if that's what he wishes to do. According to Marc Stein of ESPN, that's Garnett's intention.
After spending a solid 15 minutes in the same room with Garnett in Houston as part of ESPN Radio's All-Star Weekend team, I became convinced that KG isn't waiving that no-trade clause. For anyone or any team. My impression is that it's going to take more lobbying than anyone out there can muster.
This was in reference to a potential trade involving the Celtics and the Clippers that would send Garnett to Los Angeles, in exchange for DeAndre Jordan and Eric Bledsoe. Yet as Stein states, it's not about the Clippers, because he doesn't get the sense KG would waive his no-trade clause "for anyone or any team."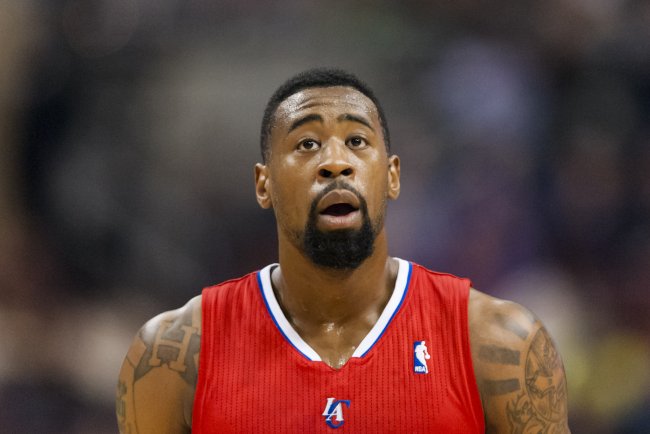 USA TODAY Sports
Figuratively speaking, which is almost just as important in this sense, Garnett has also earned the right to end his career as a member of the Boston Celtics. Sure, he may not have the lasting legacy with the franchise that some of its all-time greats possess, but don't underestimate the impact he's had.
His arrival, along with that of Ray Allen, signaled a resurgence for the organization. The year before he was acquired, the Celtics went 24-58 and posted the second-worst record in the NBA. Less than 12 months after his acquisition, Boston was hoisting the Larry O'Brien Trophy and once again king of the basketball universe.
Yes, basketball's a team game. Yes, the Celtics got that championship largely because of the Big Three, and the then-emerging Rajon Rondo.
But don't be mistaken: KG was the catalyst on that team.
He led the squad in scoring, rebounding, player efficiency rating, defensive rating and win shares during its run through the playoffs. So while the lasting legacy of that championship run may be the Big Three, The Big Ticket was clearly the best of the bunch.
Garnett reminded us all during the 2007 NBA Finals that "ANYTHING IS POSSIBLE"
What matters most to the Boston Celtics? It's not making the playoffs. It's winning championships—something the C's boast more of than any other team. The Lakers are close on their tails, trailing only by one, and to a large degree, you can credit KG's play in the 2007 NBA Finals for that.
He's done everything the team's asked of him since coming over from Minnesota. He agreed to a contract extension with the Celitcs that made the trade possible. He's put in extra dedication on his defense. He made the switch from power forward to center and not only that, he's become one of the league's best centers in the process.
And he did all of that selflessly. Garnett could have remained in Minnesota, where he would undoubtedly always be a big fish in a small pond (or lake in the land of 10,000 of them). He didn't have anything more to prove as his career arc was already on a Hall of Fame trajectory.
Instead, he went to Boston. You could argue he had nothing to lose because the T-Wolves were clearly in decline and had failed to surround KG with a talented roster.
Should Boston keep Garnett and allow him to retire as a Celtic?
On the other hand, he had a ton to lose. He wasn't just going to a normal team with other talented players. He was going to the Boston Celtics, the most storied franchise in NBA history—a place where the team's legacy would surely outweigh his own, unlike in Minnesota.
And with those talented players came huge expectations, which is something else he wouldn't have faced had he stayed with the T-Wolves.
Garnett's career is surely better for making the move. After all, he likely wouldn't have an NBA championship on his resume had he remained with the Timberwolves. However, the Celtics are also surely better off for trading for KG. They, too, likely wouldn't have added another championship to their resume.
He's a historically good player, and that's largely behind the revitalization of the NBA's most historically relevant franchise. For that, he deserves to retire as a member of the Boston Celtics.